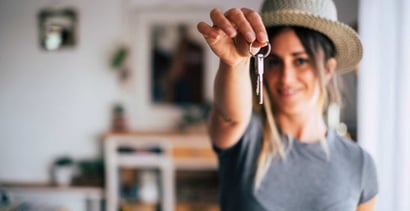 It would be downright un-American to let bad credit come between you and your first home. It's therefore our patriotic duty to show you where you can get a subprime mortgage to finance your slice of the American dream. 
We've compiled a list of conventional and government-guaranteed home loans that accept applicants who have less-than-perfect credit. So raise the flag, strike up the band, and find the financing you need to become a first-time homeowner!
Subprime Mortgages For First-Time Homebuyers
The following list contains loan-finding networks and direct lenders that offer conventional and government-guaranteed loans to first-time homebuyers. All accept applications online and provide comprehensive loan services. 
Many consumers know the Rocket Mortgage name because it's America's largest mortgage lender. If you're a first-time homebuyer, Rocket Mortgage can help you finance the home of your dreams, even if your credit is poor or limited.
Rocket Mortgage's RateShield® program lets you lock in today's rate for 90 days. The lender can help you pay for your down payment and closing costs, but only if you have a credit score of 620 or higher. The Rocket Mortgage website devotes considerable space to homebuyer education.
Quicken Loans is another name for Rocket Mortgage. It offers the same home loans and interest rates as Rocket. The company's experts can help you find the best possible loan solution to get you into your new home. JD Power has awarded Quicken Loans top honors for customer satisfaction in 12 of the last 13 years. The website features in-depth articles devoted to homebuyer education.
The website provides an easy-to-use dialog that will gather your application information. The site also offers helpful resources, including a homebuyer's guide, a refinance guide, current mortgage rates, and a payment calculator. 
Our top pick among loan-finding networks is eMortgage. Rather than providing direct loans to borrowers, the company is an independent comparison service. It works with a network of mortgage lenders that offer loan options to buy a new home or refinance an existing one.
You need only an internet connection to receive competitive quotes on your computer, tablet, or smartphone. You can request quotes for a bad credit home loan by entering a few data items, including loan amount, state, and credit rating. eMortgage uses 256-bit encryption to keep your data secure and private.
Despite its name, the FHA Rate Guide is not a part of the Federal Housing Administration. Instead, it is an online news and information service that provides editorial content and directory information about mortgages and other home loans. 
FHA Rate Guide works with SecureRights, a third-party platform that verifies consumer information, to help shield you from fraud and privacy violations. 
Wells Fargo Home Mortgage provides a program to help you buy your first house. In just minutes, you can find out how much you can borrow and receive a customized mortgage estimate — all without affecting your credit history. 
Current Wells Fargo customers have exclusive access to a one-stop real estate shopping tool. You can apply online for a loan or use the bank's website to find mortgage consultants in your area. Wells Fargo serves all credit types, including consumers with credit scores below 620.
You can prequalify for a first-time mortgage from Bank Of America Mortgage without cost or commitment. The application process, which it calls the Digital Mortgage Experience, employs an online dialogue that quickly takes you through the procedure. 
You can prequalify for a mortgage online by completing a loan request form. The bank's Real Estate Center helps you find your first home and search for home values. You can then submit additional information to gain final approval for a loan.
You can quickly prequalify for a CitiMortgage loan before submitting a formal application. Citi offers its customers special mortgage deals that can provide a closing cost credit or reduce interest rates. 
The bank offers various mortgage options with fixed or adjustable rates, including FHA, conventional, VA, and jumbo loans. Citi's Lender Paid Assistance Program can cut your closing costs by $5,000 if you are an eligible borrower. 
Government Mortgages For First-Time Homebuyers
The US government assists first-time homebuyers by guaranteeing to repay private lenders when participating borrowers default on their mortgages. These programs offer unique benefits but may restrict borrower eligibility. 
The US Department of Veterans Affairs offers its VA-Guaranteed Home Loan Program to military members and veterans. To participate, you must first qualify by applying for the Department's Certificate of Eligibility (COE). Receiving the COE allows you to shop for guaranteed mortgages from VA-approved lenders.
In addition to its loan guarantees, the VA also offers direct home loans to Native Americans. Mortgages from VA loan programs have attractive features, including fewer closing costs, $0 down payments, and no prepayment penalties.
USDA Rural Housing Loans can help you if you want to purchase a single-family home in a rural area. You can enroll in its Guaranteed USDA Loan Program to finance primary rural dwellings if you have a household income that does not exceed 115% of the median household income of the area where the eligible house is located.
The US Department of Agriculture also offers its Direct Loan Program, which can assist you with monthly mortgage payments if your income is less than 80% of your region's Median Household Income (MHI). Direct loans are available only if you don't qualify for a USDA Guaranteed Loan Program.
10. FHA Home Loan
The Federal Housing Administration offers government backing for eligible mortgages. By doing so, FHA loans reduce the risks that participating mortgage lenders face. The added security of a government guarantee encourages lenders to relax their minimum requirements for down payments and credit scores.
To qualify for an FHA-backed mortgage, you must have a credit score of 500 or higher, although minimum score requirements vary by lender. You must make a down payment on the home.
11. Good Neighbor Next Door Sales Program
The U.S. Department of Housing and Urban Development (HUD) offers its Good Neighbor Next Door Sales Program to law enforcement officers, teachers (pre-kindergarten through 12th grade), firefighters, and emergency medical technicians. The program offers a 50% discount off a home's list price. In return, the property must be your sole residence for 36 months after purchase.
The program exclusively lists eligible single-family homes in designated revitalization areas. Properties are available for purchase through the program for seven days.
What Is a Bad Credit Home Loan?
Subprime borrowers can get conventional and government-guaranteed mortgages that pay for the purchase of a home. Poor credit mortgages generally have features that make home purchases easier. For example, government-guaranteed home loans often require a low down payment.
Almost all mortgages, including government-guaranteed ones, originate from banks, credit unions, or other financial institutions. In addition, federal agencies are direct lenders for a few types of mortgages.
Online mortgage sites, such as Rocket Mortgage, Quicken Loans, Wells Fargo, and Bank of America, directly originate loans, but others (i.e., eMortgage, FHA Rate Guide) match loan requests to networks of lenders.
Several different types of mortgages are available to prospective homebuyers, including the following:
Conventional Loans: Mortgages that the federal government does not guarantee

Conforming Loans: These loans follow the FHFA (Federal Housing Finance Agency) standards regulating minimum credit, maximum debt, and maximum loan amount. In 2023, the baseline conforming loan limits are $726,200 for a single-family unit and $1,089,300 in high-cost areas (i.e., Alaska and Hawaii).

Non-Conforming Loans: These are loans that don't adhere to FHFA standards. For example, the borrower may have subprime credit, or the home may cost more than the maximum conforming loan amount.
Most lenders force you to purchase mortgage insurance when your down payment is less than 20% of the home's price. FHA loans require you to pay a monthly Mortgage Insurance Premium (MIP) until you achieve 20% equity in your home. Private Mortgage Insurance (PMI) is the conventional loan equivalent to MIP.
The benefits of taking a government-guaranteed mortgage include acceptance of low credit scores, low minimum down payments (including grants and money you borrow from family and friends), and access to special money-saving programs.
How Do I Get a Mortgage as a First-Time Homebuyer?
When you have poor credit, getting a mortgage isn't as simple as filling out an application. You can take some preliminary actions to increase your chances of getting a mortgage loan approval. Let's review the steps that can help you land a mortgage for your first home.
1. Fix Your Credit Reports
The three major credit bureaus (TransUnion, Equifax, and Experian) collect information about your use of credit — your loans and credit cards — that detail your debt levels and payment status. The bureaus collect this information from your creditors each month and use it to calculate your credit scores and update your credit reports. 
Mistakes in your credit reports can hurt your scores, so cleaning them up before applying for a mortgage is a good idea. Although you can get the reports from the credit bureaus, the easiest way is to request all three reports at once from AnnualCreditReport.com. You are entitled to a free copy of your credit reports from each bureau once a year.
Review the reports for inaccurate, obsolete, and unverifiable information. Examples include credit cards you never owned, loans you never took, late payments you made on time, and hard credit inquiries you didn't authorize.
Look also for misstated balances, events you don't recognize (such as collections and write-offs), and derogatory information that is more than seven years old (with the exception of Chapter 7 bankruptcies, which remain on your reports for 10 years).

You can dispute each questionable item by contacting the credit bureaus online, by mail, or over the phone. Include why the reports are in error and any documentation supporting your case. The credit bureaus must adjudicate your dispute and provide a verdict within 30 days. If you win your challenge, the bureaus must remove the item from your report and notify recent recipients of the correction.
The process is hard work, but you can hire a credit repair agency to do the heavy lifting for you. The agencies usually charge a monthly subscription fee and promise to challenge a set number of items each month. You can cancel anytime, but most subscriptions continue for four to six months.

You should also deal with outstanding issues, such as paying your collection accounts and resolving tax liens. These actions can have a positive impact on your credit reports.
2. Look For First-Time Homebuyer Programs
Federal, state, and municipal agencies offer special programs to help first-time homebuyers obtain mortgages. Banks and credit unions may also sponsor programs for new homebuyers.
The programs available in your area will vary based on several factors, including the cost of housing, your income, and which neighborhoods require revitalization.
Local first-time homebuyer programs can make it easier to obtain a loan, but you may also qualify for down payment assistance, grants, and/or tax incentives. Check out HUD's list of first-time homebuyer programs by state to see the programs available in your area. Any program that uses federal funds requires mandatory counseling from a HUD-approved source.
Be wary of marketing schemes that claim to be first-time home-buyer programs but are actually ads for real estate companies, lenders, or brokers. Always double-check a program before entering into a financial agreement with it.
3. Select a Lender That Works With Subprime Borrowers
Finding a willing lender can be challenging if you have a troubled credit history. That's because each lender determines its down payment and credit score requirements.
The FHA, for instance, doesn't enforce a minimum credit score for its mortgages, but specific lenders can — and usually do — set limits. That's why using an online lending network, such as those reviewed above, can be helpful. These networks can connect you with hundreds of lenders nationwide, increasing your chances of getting a mortgage that meets your needs. 

The reviewed direct lenders have extensive experience helping subprime borrowers. They can provide an excellent start to your mortgage search.
Shopping around for mortgages will have little impact on your credit score. While each credit application usually adds a hard credit inquiry to your credit reports, the credit bureaus give you a break when you rate-shop for a mortgage: Any related credit report inquiries you make within a given period — usually 14 and 45 days, depending on the scoring model — will count as a single inquiry. 
The scoring systems also ignore mortgage-related inquiries that occur in the 30 days before scoring. In other words, your mortgage shopping won't affect your credit if you find a loan within 30 days.
4. Save For a Large Down Payment
Several programs will help you find a mortgage even if you have a low credit score and a small down payment. But your chances of obtaining an affordable mortgage will significantly increase if you make a larger down payment.
The standard for conventional mortgages is a down payment of at least 20% of the purchase price. A down payment of this amount improves your approval chances and eliminates the need for expensive mortgage insurance.
It's possible to obtain a conventional loan with a 5% down payment if you have good credit. But fair or bad credit (i.e., a FICO score below 670) is a challenge you must overcome if you want a conventional mortgage. 
The rules for down payments with government-guaranteed loans are somewhat less strict. For FHA-insured mortgage loans, you can qualify for a 3.5% down payment if your credit score is at least 580. But the required down payment jumps to 10% if your score is between 500 and 579. 
Remember that lenders set their own credit score standards, even for FHA-backed loans, so you may need to make a larger down payment if your score is below 620.

You may qualify for down payment assistance through your state, county, or city government. You can use the National Council of State Housing Agency's list of housing finance agencies to find the assistance programs available to you. 
Be sure you understand the terms of a down payment assistance program and the type of assistance it provides. For example, some programs let you finance your down payment, effectively saddling you with a second mortgage at the same time you take your first mortgage.
In contrast, you can get down payment assistance grants that provide up to 3.5% toward your down payment. You don't have to repay these grants.
5. Stick to a Budget
A mortgage is no good if you can't repay it. It's too easy to get swept up in the excitement of owning your first home and ignore the enormous responsibility you're about to assume.
The best way to remain clear-eyed about the financial aspects of homeowning is to create and stick to a budget. Many first-time homebuyers can wind up house poor when they sink all of their money into their new homes and have little left for living life.
Being a first-time homebuyer can be a remarkable adventure if you clean up your credit, find the right lender, save for a reasonable down payment, and adhere to a budget.
What Is the Minimum Credit Score to Buy a House For the First Time?
The minimum credit score varies by lender and type of mortgage. For example, you may qualify for an FHA home loan with a credit score as low as 500.
VA and USDA-guaranteed mortgages have no minimum credit score requirements, although the lenders participating in these loan programs generally require a minimum credit score of 620.

Providers of conventional mortgages also require a credit score of 620, more or less. Depending on your lender and recent credit habits, a large down payment may allow you to obtain a mortgage despite having a low credit score.
What Are the Tax Breaks For First-Time Homebuyers?
Some state housing finance agencies offer first-time homebuyers mortgage tax-credit certificates (MCCs). With an MCC, you can receive a yearly tax credit for a portion of your mortgage rate.
While not exactly a tax credit, the Federal National Mortgage Association (Fannie Mae) sponsors the HomePath ReadyBuyer program for first-time homebuyers who purchase a foreclosed property from the association. You can receive a grant of up to 3% of the home price that you can apply toward closing costs.
All taxpayers can deduct mortgage interest from their federal income taxes, but only if they itemize their deductions. You can deduct the interest you pay on the first $750,000 of your mortgage. You can also deduct mortgage points and loan origination fees.
Homeowners who itemize their taxes can deduct up to $10,000 of the property taxes they pay to state and local governments. You can also deduct a portion of your home-related expenses if you run your business from your residence. 
Federal and state agencies offer a variety of tax credits to homeowners who improve their home's energy efficiency. These programs change over time, so reviewing the current IRS rules and IRS Form 5695 is essential.
A first-time homebuyer can withdraw up to $10,000 from a traditional IRA or Roth IRA without incurring the 10% penalty for early withdrawal.
What Are the Warning Signs of Mortgage Fraud?
Alas, almost every human endeavor runs the risk of fraud. Mortgage loans are no exception. Pay attention to the following red flags when a lender or broker:
Pressures you to sign the mortgage agreement before shopping around for competing loans
Advises you to take a mortgage larger than necessary
Tries to convince you that you can afford monthly payments that you actually can't afford
Asks you to falsify information, such as overstating your income, on the mortgage application
Doesn't provide the mandatory loan disclosures or discourages you from reading them
Verbally promises terms that don't match those on the loan contract
Directs you to sign blank forms
Refuses to give you copies of signed documents
Pushes mortgages with high prepayment penalties
Offers a loan with an overly high mortgage rate and excessive fees
If you encounter a mortgage lender engaging in these behaviors, walk away and find a different lender.
Get Your First Mortgage Despite Bad Credit
Buying your first house can be a time of great emotional extremes — excitement about the future, dread over making a mistake. The reviewed bad credit mortgage lenders can help calm the waters by providing trustworthy financial guidance concerning the biggest purchase you've ever made. We at BadCredit.org wish you the best in finding a home that lives up to your expectations.
Rocket Mortgage & Other Resources
We hope you've found our guide "11 First-Time Home Loans For Bad Credit (Sep. 2023)" to be helpful in meeting your financial needs. To learn more about Rocket Mortgage, our top recommendation in this guide, be sure to visit the Rocket Mortgage website for full details about the offer.
Our experts rate Rocket Mortgage as one of the best options in home loans for those with bad credit, giving it a 4.8/5.0 rating overall. Among its features:
America's largest mortgage lender
The entire process is completed online
Options for new mortgages and refinancing existing mortgages
Award-winning customer service and cutting-edge digital platforms
More than 90% of clients would recommend us
For more resources similar to this "11 First-Time Home Loans For Bad Credit (Sep. 2023)" guide, see our other popular picks for those with bad credit:
Whether you choose Rocket Mortgage or any other option in our home loans category, be sure to read and understand the terms before signing up. You'll find that taking the time to fully understand home loans is one of the smartest financial decisions you can make.
Advertiser Disclosure
BadCredit.org is a free online resource that offers valuable content and comparison services to users. To keep this resource 100% free for users, we receive advertising compensation from the financial products listed on this page. Along with key review factors, this compensation may impact how and where products appear on the page (including, for example, the order in which they appear). BadCredit.org does not include listings for all financial products.
Our Editorial Review Policy
Our site is committed to publishing independent, accurate content guided by strict editorial guidelines. Before articles and reviews are published on our site, they undergo a thorough review process performed by a team of independent editors and subject-matter experts to ensure the content's accuracy, timeliness, and impartiality. Our editorial team is separate and independent of our site's advertisers, and the opinions they express on our site are their own. To read more about our team members and their editorial backgrounds, please visit our site's About page.