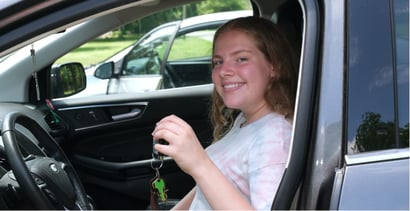 Searching for first-time auto loans can be a confusing — and sometimes scary — process. After all, purchasing a new vehicle is a big expense, and one you may have to live with for several years.
We don't want you to make any mistakes when you sign the contract for your first auto loan. Even the smallest mistake can end up costing you thousands of dollars over the life of your loan.
Since we can't be there with you when you're loan shopping, we put together this all-inclusive guide to help you choose among the best first-time auto loans. With this resource and your own drive and determination, you'll be on the road to automotive — and financial — freedom in no time.
Best Auto Loans for First-Time Borrowers
If your credit score has your bank or credit union ignoring your auto loan application, consider turning to an online auto lending network to find a direct lender that specializes in auto loans for consumers who have bad credit.
Each network will allow you to submit a loan request that it will forward to all of its partner lenders or dealerships. These lenders will quickly make a decision on your request, which could result in multiple loan offers in a matter of minutes.
Once you choose the offer that best suits your needs, you can complete the loan paperwork virtually on the lender's website and receive a printed certificate to bring to the auto dealership of your choice to purchase a vehicle.
Network of dealer partners has closed $1 billion in bad credit auto loans
Specializes in bad credit, no credit, bankruptcy and repossession
In business since 1999
Easy, 30-second pre-qualification form
Bad credit applicants must have $1500/month income to qualify
| Interest Rate | In Business Since | Application Length | Reputation Score |
| --- | --- | --- | --- |
| 3.99% - 29.99% | 1999 | 3 minutes | 9.5/10 |
Auto Credit Express works with finance companies and car lots in the U.S. and Canada and can connect car buyers who have low credit scores with a lender or dealer who can give them a second chance.
Each lender or dealer on the network will provide different loan financing terms and a competitive interest rate, so research your options before officially accepting an offer. Some dealers may consider your application even if you have no down payment or a low down payment.
Free, no-obligation application
Specializes in auto loans for bankruptcy, bad credit, first-time buyer, and subprime
Affordable payments and no application fees
Connects thousands of car buyers with auto financing daily
| Interest Rate | In Business Since | Application Length | Reputation Score |
| --- | --- | --- | --- |
| Varies | 1994 | 3 minutes | 9.0/10 |
With Car.Loan.com, you can complete a three-minute loan request and potentially get connected with a dealer in your area that specializes in bad credit approval or first-time auto financing. The network claims that it has the largest network of auto dealers who are trained in special types of financing and that it finds financing options for thousands of people every day.
If this is your first time financing an automobile or you are a first time buyer, the network's dealers and lenders can walk you through the process slowly and help you to understand the financing terms and conditions of any loan offer you may receive.
Loans for new, used, and refinancing
Queries a national network of lenders
Bad credit OK
Get up to 4 offers in minutes
Receive online loan certificate or check within 24 hours
| Interest Rate | In Business Since | Application Length | Reputation Score |
| --- | --- | --- | --- |
| Varies | 2003 | 2 minutes | 7.5/10 |
What's better than a first-time auto loan offer? Four loan offers. You could receive up to four offers from MyAutoloan.com's partners within minutes of submitting a loan request to the network.
Lenders and dealers on the network provide loan options for new and used vehicle purchases as well as refinancing and private party and lease buyout loans. That type of versatility makes this one of the most popular auto loan networks on the web.
4. Carvana


Carvana is a new-age car dealership that can deliver your new vehicle to your doorstep without you ever stepping foot onto a car lot.
Carvana handles all of its financing internally and has plans available for consumers who have bad credit, no credit, or are a borrower for the first time. Once you purchase your car, you can pick it up from one of its popular car vending machines, or you can have it delivered to begin a seven-day test-to-own period.
5. Capital One Auto Finance


We all know Capital One for its credit cards and catchy "What's in your wallet?" commercials, but not everyone realizes that Capital One is also one of the largest auto financiers in the U.S.
With Capital One Auto Finance, you can search for a car online, apply for financing (or refinancing) through the bank, and begin the purchase process without leaving your computer. The bank's Auto Navigator® program can help you receive prequalified financing before you begin your shopping.
Tips for Your First Auto Loan
Whether you are purchasing your first car or you have owned several cars and are now looking for your first auto loan, several tips can help make the process run smoothly, and possibly save you some money along the way.
It all starts with research — which you are obviously serious about if you've made it this far through this article. By continuing this mission, you are almost certain to improve your odds of getting the best deal possible on your car and your loan.
Research: Take the time to research the car you're considering for purchase. Look at reviews, recalls, and experiences from others who own the same type of vehicle. Invest in a Carfax report that can tell you the full history of maintenance, repairs, and accidents reported for the exact vehicle you're considering. All of this info will give you a better idea of whether this vehicle is the right fit for you.
Read Reviews: We mentioned above that you should read reviews for the vehicle you're considering, but don't stop there. Look at local reviews for the car dealer you're working with. Does the dealership have a history of selling cars with problems? Does it take care of customers whose cars have problems? Continue to read reviews about the lender you're considering. Does the company make it hard to reach customer service? What other issues have borrowers had with the company?
Don't hesitate to ask questions: Don't expect everyone to have your best interest at heart. Auto dealers and lenders want to make money — and they can only do that if they sell and finance cars. If you're confused or something doesn't feel right, ask questions. The dealer is there to serve you. Don't feel embarrassed about any question you may have.
Don't jump at the first offer you receive: Shopping for a new car is an exciting process. It's easy to fall in love with a vehicle and grab the first price offer — or loan offer — you receive. Just know that the first offer is typically the worst offer. Shop around for a loan or try to work with the lender to find a better price or loan term to meet your needs.
Negotiate: This can be very awkward for some people, especially those who do not feel comfortable with their knowledge of cars and financing. Try to find the best deal possible. The worst the dealer can say is "no." If you don't like a deal, it's okay to walk away. Sometimes, that's the best tactic to get closer to the offer you want.
Find ways to lower your interest rate: If you have bad credit or no credit, the lender may try to give you an inflated annual percentage rate or tack on extra fees to offset the risk they're taking by lending you money. You can often lower your interest rate and fees if you have a vehicle to trade in, can add a cosigner to your loan, or increase your down payment.
Perhaps the most important tactic you can take when shopping for a vehicle is to remain patient. This can also be the most difficult strategy to practice. There are a lot of vehicles available on the market. If you don't feel comfortable with the deal you're getting, find another that is better.
That may mean extending your search by a few extra days or weeks. While that may seem like torture, it could save you a lot of money over the long haul.
How Can I Get a First-Time Car Loan?
Just about every bank or credit union prefers to loan money to consumers who have a history of paying back their loans. If you have never financed a vehicle, you do not have such a history.
That may make you feel like you're stuck in a cycle of low-priced car buying, but that doesn't have to be the case.
Online auto lending networks, like those listed above, specialize in helping consumers who have no credit or bad credit achieve loan approval. And since most of the networks partner with many lenders and dealers throughout the U.S., you can very possibly find multiple offers for loans on vehicles in your area.
These networks can help you find two different types of financing. While both can get you into the car you want with a similar car payment, it's important to know the difference between them.
Dealer financing: This is typical with small, independently owned car lots. With dealer financing, the dealer that owns the car extends the loan to you, and you pay the dealer off with monthly payments that include interest and other charges. Many dealer-financed vehicles still have an extended warranty and other important details that you should consider when purchasing a car. But it's important that you make sure that the dealer cannot change your interest rate and that your monthly loan payment will remain the same throughout the life of the loan.
Lender Financing: This means that you are working with an outside financial institution that lends you the money to purchase the vehicle. Typically, the lender will forward the money directly to the dealer to pay for the car. You will then make your monthly car payment, including interest and other charges, directly to the lender.
You could also consider leasing a vehicle, but that is a whole different type of transaction that will not require traditional first-time auto loans.
How Much Should a First-Time Car Buyer Put Down?
For decades, the general rule of thumb has been to submit 20% of the vehicle's purchase price as a down payment. But as the price of a new or used vehicle steadily increases, that number has become unrealistic for many consumers.
While the amount of your down payment will greatly affect your financing options — including your auto loan rate, monthly payment, and loan term — it isn't the only thing a lender considers when extending vehicle loan offers.
The lending networks listed above have car dealer and lender options that will potentially offer auto financing options even if you don't have a down payment. Some will require a small down payment of around $500 to qualify.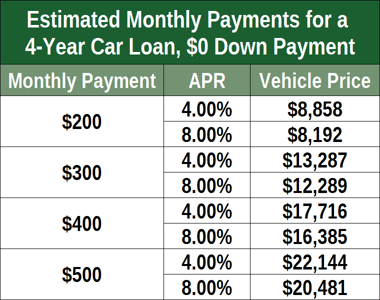 Most lenders want the borrower to submit some sort of a down payment because it gives them incentive to make their monthly loan payment on time. Without skin in the game, lenders fear you could skip payments or default on the loan altogether.
If you do not have a large down payment, you can still increase your stake in the vehicle by adding a trade-in vehicle to the deal. This doesn't always have to be a car in good running condition. Some dealers will accept a trade-in that doesn't run.
You can also set up an automatic payment through a linked checking account, savings account, online banking account, or debit card to show that you are able to make regular, on-time payments. Most lenders will not accept an automatic payment through a credit card.
You demonstrate with this that you are serious about your purchase and are willing to chip in something on your end to make the deal happen.
What Credit Score is Needed to Get a Car Loan?
There is no guaranteed approved credit score that will land you financing. Instead, each lender has its own proprietary methods for deciding whether an applicant is a good or bad car vehicle loan risk.
Your FICO score can range between 300 and 850. Any score below 580 is considered poor credit or bad credit.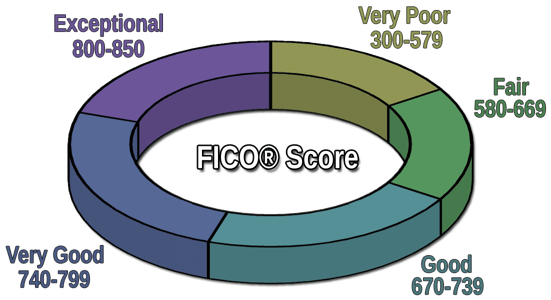 Even if you fall in that range, you could still find financing options through the lending networks we listed above. These networks partner with local dealers and lenders that regularly extend auto financing offers to consumers who have bad credit.
A car loan isn't as high of a risk as a personal loan. That's because a vehicle loan is considered a secured loan — meaning that the purchased vehicle is used as collateral should you stop making payments. With a personal loan, the lender has no recourse, other than to sell your loan to a collection agency if you default.
While a lender will certainly examine your credit score when considering your loan request, he or she will also look at other factors beyond the score.
Even if you have a very good credit score, you could still struggle to find auto financing if you have recent late payments or collection accounts. A current or recent bankruptcy case could also sink your application.
Fortunately, the top three lenders listed above all state that they still accept loan requests from consumers who have a bankruptcy on their credit report. This shows that, even with a poor credit history, you could still obtain car financing.
How Much Auto Loan Will I Qualify For?
There is no way to tell how much money you may qualify for before you apply for an auto loan. In some cases, the lender may require you to find a vehicle that interests you and apply for a loan for the total price of the vehicle.
Other lenders may allow you to prequalify for a loan and give you a certain amount of money to work with when you are shopping for a new car. Either way, the only way to know the amount you will qualify for is to apply for a loan.
That can be a tricky process because too many loan applications can hurt your credit score.
The best way to get a feel for your potential purchasing power without harming your credit score is to submit a loan request to an auto lending network. These networks conduct a soft credit check that has no impact on your credit score and sends your request to all of the lenders and dealers that partner with the network.
You could receive multiple loan offers if you qualify. Each offer will have a different loan amount, annual percentage rate, and loan term.


Examine each offer closely before making a decision. This will give you an idea of how much money you could qualify for without submitting several applications to different lenders and dealers in your area.
Do You Pay the Interest First on a Car Loan?
Unlike a mortgage loan, the interest charges on your auto loan are spread equally throughout the life of your loan. That means you could potentially pay less interest if you pay your loan off early.
A mortgage will front-load your interest payments through the first 10 years of your loan. By doing this, you pay thousands of dollars toward your home with very little impact on your overall loan balance. This is how mortgage lenders protect themselves against borrowers who pay their loans off early to avoid finance charges.
It's always a good idea to attempt to pay a loan off early. Doing so will decrease your monthly bill obligations as well as the amount of money you pay in interest charges and other fees.
Is it Better to Get a Car Loan Through a Bank, Dealership, or Credit Union?
If you're considering a loan from a bank, credit union, or car dealership, you're most likely to find the best deal through a dealership. That's because most dealerships work with multiple lenders — including banks and credit unions — and can find you the best offer based on your credit profile.
Traditionally, bank loans have higher interest rates and are harder to acquire. That's because banks are private financial institutions and most have investors and board members they have to keep in mind when increasing profits.
Banks are far more risk-averse, and their loans will likely cost you more over the long run.

Federal credit unions are member-owned financial institutions, meaning they must invest all of their profits into new and more affordable financial products for its members. That means a credit union loan will likely be more affordable than a bank loan, and your chances of approval may be greater if you're already a member.
That said, you are still likely to find a better auto loan rate and loan term with a dealership that is motivated to sell its vehicles.
What Time of Year is Best to Buy a Car?
Dealerships need to sell vehicles at the end of each calendar year to make room for the following year's newer models. During this time, you can often find brand new vehicles at a deeper discount because they're about to be one year older.
Use this to your advantage when searching for first-time auto loans. A dealership wants to sell a vehicle just as badly as you want to buy one.
While it may seem like the dealer has the upper hand in negotiations, you can regain the advantage in your car buying journey by prequalifying for car financing through an online lending network and shopping around your area for the best vehicle possible.
Research First-Time Auto Loans Online Before Signing the Dotted Line
If you've gotten this far, you probably have a good idea of what to do next. Applying for a first-time auto loan with one of the lending networks above can help you see what types of financing you qualify for, which will help you tremendously when you're at the dealer.
Don't let your emotions cloud your judgment — stay within your vehicle budget, and don't forget to consider the cost of auto insurance. You're officially ready to be approved for your first auto loan!
Advertiser Disclosure
BadCredit.org is a free online resource that offers valuable content and comparison services to users. To keep this resource 100% free for users, we receive advertising compensation from the financial products listed on this page. Along with key review factors, this compensation may impact how and where products appear on the page (including, for example, the order in which they appear). BadCredit.org does not include listings for all financial products.
Our Editorial Review Policy
Our site is committed to publishing independent, accurate content guided by strict editorial guidelines. Before articles and reviews are published on our site, they undergo a thorough review process performed by a team of independent editors and subject-matter experts to ensure the content's accuracy, timeliness, and impartiality. Our editorial team is separate and independent of our site's advertisers, and the opinions they express on our site are their own. To read more about our team members and their editorial backgrounds, please visit our site's About page.