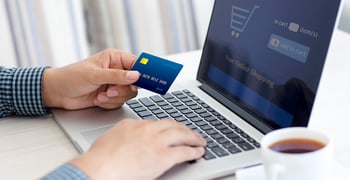 For many folks with poor credit or no credit history, a store credit account is a convenient way to establish or rebuild your credit. One of the more popular store credit accounts is offered by the online retailer Fingerhut, issued by WebBank of Utah.
In this article, we'll explore the minimum Fingerhut credit score needed, as well as the ways to use the account to build credit. In addition, we'll review five credit cards that are fairly easy to obtain and that also allow you to boost your credit score.
Requirements | Alternatives | FAQs
Fingerhut Has No Minimum Credit Score Requirements
The Fingerhut Credit Account is a credit-building product that welcomes applicants with poor or scant credit. It is among the easiest credit products to obtain, and even if you are turned down for the account, you will be automatically considered for a Fingerhut FreshStart® Installment Loan.
Easy application! Get a credit decision in seconds.
Build your credit history – Fingerhut reports to all 3 major credit bureaus
Use your line of credit to shop thousands of items from great brands like Samsung, KitchenAid, and DeWalt
Not an access card
| Application Length | Interest Rate | Reports Monthly | Reputation Score |
| --- | --- | --- | --- |
| 5 Minutes | See issuer website | Yes | 9.0/10 |
Fingerhut is an online merchant that sells a wide variety of goods and services. You can use your Fingerhut Credit Account or loan to pay for your purchases over time.
Neither credit product specifies a minimum credit score. To qualify for the account, you must:
Be at least 18 years old
Have a U.S. mailing address
Have enough income or assets to make monthly payments
Have a Social Security number
Not be a member of a consumer credit counseling service
Not be in active bankruptcy
Have no tax liens, foreclosures, or other serious derogatory items on your reports
Have no past-due FreshStart payments
If you don't qualify for a Fingerhut Credit Account, don't despair. The chances are still good that you're eligible for a Fingerhut FreshStart® Installment Loan.
If you do qualify for the installment loan, you will have to place a $30 deposit before making a purchase. The cost of your initial purchase must exceed $50 but is capped at your assigned spending limit upon approval.
After your initial purchase, you'll have six to eight months to pay off the loan. If you do so successfully, you'll be upgraded to the Fingerhut Credit Account.
The account has no annual fee, but late fees and returned-payment fees apply.
5 Alternatives to the Fingerhut Credit Account
If you'd like a general-purpose credit card instead of a store credit account, consider these five candidates. All cater to consumers with poor credit who may have been turned down by mainstream credit cards from the big issuers.
Checking account required
Fast and easy application process; response provided in seconds
A genuine Visa® card accepted by merchants nationwide across the USA and online
$300 credit limit (subject to available credit)
Multiple card designs available
Reports monthly to all three major credit bureaus
Rebuilding credit depends on factors like making on-time payments, keeping balance below credit limit and paying at least the minimum monthly payment
| Application Length | Interest Rate | Reports Monthly | Reputation Score |
| --- | --- | --- | --- |
| 9 minutes | See Terms | Yes | 8.5/10 |
The Total Visa® Unsecured Credit Card is a genuine Visa card issued by the Bank of Missouri. Because this card is unsecured, it does not require a minimum deposit, but you must have a bank account to qualify.
The card charges a one-time application fee, an annual fee, and a monthly processing charge that is waived for the first year.
The First Access Solid Black Visa® Credit Card from the Bank of Missouri requires you to be at least 18 years old and reside in the United States. There is no minimum score requirement, and you can be approved even if you went through a Chapter 13 bankruptcy.
There is a setup charge and an annual fee, but the monthly service fee doesn't kick in until the second year.
The Surge Mastercard® accepts all credit scores, and offers a credit limit from $300 to $1000. You must be a U.S. resident over the age of 18 with a checking account.
This card, from Utah's Celtic Bank, charges an annual fee, and after the first year, a monthly maintenance fee. There is no application fee.
The Milestone® Mastercard® from the Bank of Missouri is an unsecured card with no minimum credit score requirements, but wait to apply if you were delinquent paying a creditor in the previous two months. Milestone® will decide your annual fee and application fee based upon its assessment of your creditworthiness. If you're late making a payment, your APR will rise.
The Indigo® Platinum Mastercard® accepts applications from consumers with bad credit or no credit. Offered by the Celtic Bank of Utah, this card has a low maximum credit limit, and it charges an annual fee.
It offers some extra benefits, such as road assistance, extended warranty protection, travel assistance, and car rental insurance.
Do You Need Good Credit for the Fingerhut Credit Account?
Good credit is not a requirement for a Fingerhut Credit Account. In fact, this credit account is about as easy to get as any credit card in the United States.
Why so easy?
Well, one reason is that it is a store account for the online Fingerhut website, not a general-purpose credit card. For instance, you wouldn't use the Fingerhut card to make purchases elsewhere or to get a cash advance. Nor can you do a balance transfer with a Fingerhut Credit Account.
The limited scope of the account allows Fingerhut to keep tight control over your credit. It also charges a relatively high fixed APR. In return, you get access to credit despite having a bad score or no credit history.
The account may require a down payment on your first purchase. If you exceed the credit limit, Fingerhut may reject the transaction or may allow it without increasing your credit limit. Of course, you can ask for a higher credit limit, but approval is not guaranteed.
In addition, Fingerhut reserves the right to reduce your credit limit, suspend your account, or terminate it with or without cause. In other words, Fingerhut keeps a tight rein until you prove your creditworthiness.
On the plus side, Fingerhut may occasionally defer your payments without penalty, although interest will continue to accrue.
Can Fingerhut Build Your Credit?
The Fingerhut Credit Account reports your payments to all three of the major credit bureaus, Experian, TransUnion, and Equifax. This gives you the opportunity to build or rebuild your credit, but it depends on you.
If you pay your bill on time and pay at least the minimum amount due each month, your credit score should increase over time. Keep in mind that you must do this consistently — one missed payment can undo all your progress.
On the other hand, if you are delinquent paying your bill, you may go into collection. This can devastate your credit score and will remain on your credit report for seven years. In other words, your creditworthiness determines the impact on your credit score.
By the way, the Fingerhut FreshStart® Installment Loan does not report your payments to the credit bureaus. However, if you repay the loan on time, you can graduate to the credit account, which will report your payments.
The Fingerhut Credit Account can help build your credit score in another way. Over time, you may have your credit limit increased by Fingerhut. If you use only some of your credit, you will maintain a low credit utilization ratio, which helps boost your credit score.
Which Credit Report Does Fingerhut Pull?
Fingerhut does not officially disclose which credit report(s) it pulls when you apply for an account. However, if you dive into the forums, you'll find an indication that Fingerhut pulls Equifax credit reports.
Why is that important? It has to do with the fact that the three credit bureaus are independent of each other. If you examine their credit reports and scores side by side, you'll see that they differ from each other.
So, if you are about to apply for a Fingerhut account, your first move should be to examine your Equifax credit report. You can get a free copy at AnnualCreditReport.com.
The reason you need your credit report is to identify and dispute any errors. If the credit bureau agrees, it will remove the inaccurate information, and that can give an immediate boost to your credit score. Obviously, a higher score will increase your chances of getting your Fingerhut credit application approved.
Typical errors include hard pulls that you don't recognize. A hard pull is a credit inquiry that occurs when you apply for credit or a loan. Too many hard pulls can hurt your score, and if you see any you can't identify, you should have them removed right away.
Which Stores Accept Fingerhut Credit?
Fingerhut plays it close to the vest when it comes to identifying other places you can use its credit account. You have to own an account before you are offered deals from selected partners.
However, Fingerhut is forthcoming enough to mention that florists and insurance companies are two prominent types of selected partners. At one point, Telefora.com was a Fingerhut partner, but these designations can change over time.
The Fingerhut Credit Account is closed loop, meaning it can only be used at the issuing store and selected partners. The account is not associated with any of the major payment networks (Visa, Mastercard, American Express, and Discover).
Although the Fingerhut Credit Account is closed loop, it allows you to purchase a wide array of goods and services from the online website or the printed catalog. The ease of obtaining a Fingerhut Credit Account is somewhat counterbalanced by higher prices at this retailer compared with the prices at competitors such as Amazon.
"I opened up a Fingerhut account to help my credit score. They have numerous items you can buy and while yes, some of them are a little higher than you can get in stores, this does help build your credit. My score has gone up because they do report to the credit bureaus. I would highly recommend checking them out." — Credit Karma Reviewer
The dilemma is that you cannot use your regular credit cards at Fingerhut. If you are a loyal Fingerhut shopper, that's probably fine with you. However, many folks prefer the versatility of an open-loop credit card that can be used for purchases anywhere the cards are accepted.
A Great Option for Establishing or Rebuilding Credit
There is no minimum Fingerhut credit score needed to obtain one of its credit accounts. These accounts allow you to purchase goods and services at Fingerhut and selected partners.
If you'd prefer to own a credit card, we review five credit cards that are fairly easy to acquire, even if you have bad credit. While you can't use credit cards to shop at Fingerhut, you can use them to make purchases wherever the cards are accepted, including competitors who have lower prices than Fingerhut's.
Advertiser Disclosure
BadCredit.org is a free online resource that offers valuable content and comparison services to users. To keep this resource 100% free for users, we receive advertising compensation from the financial products listed on this page. Along with key review factors, this compensation may impact how and where products appear on the page (including, for example, the order in which they appear). BadCredit.org does not include listings for all financial products.
Our Editorial Review Policy
Our site is committed to publishing independent, accurate content guided by strict editorial guidelines. Before articles and reviews are published on our site, they undergo a thorough review process performed by a team of independent editors and subject-matter experts to ensure the content's accuracy, timeliness, and impartiality. Our editorial team is separate and independent of our site's advertisers, and the opinions they express on our site are their own. To read more about our team members and their editorial backgrounds, please visit our site's About page.