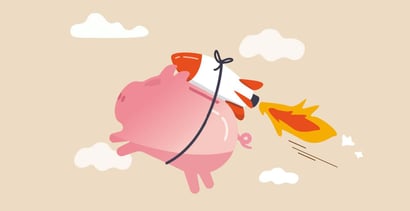 For some consumers, speed is the primary factor when selecting a credit repair company to clean up their credit reports. We agree that speed is essential, but you must balance it with other factors, including effectiveness, price, and service. 
We've assembled a collection of credit repair services that score well across the board, not just for speed. Within reason, all provide fast service, but as we'll explain, credit repair services gear their operations to maximize their interactions with the credit bureaus.
The Fastest Credit Repair Companies
These are our top picks for fast, reputable credit repair companies. Each keeps customers up to date on dispute status and results. In some cases, you can choose from different pricing tiers that impact the number of disputes the repair company lodges each month. If you're looking for the best credit repair service, it's on this list.
Lexington Law continues to rate as the best credit repair company we regularly review. When you subscribe to one of the company's service tiers, a team of paralegals and lawyers spring into action. More importantly, these credit repair specialists know how to operate efficiently and effectively.
The company offers Concord Standard, Concord Premier, and Premier Plus service levels. You choose a level based on the range of services you require rather than the speed and number of monthly challenges Lexington Law will make to the three major credit bureaus. The typical subscription runs for about six months, but you can terminate or extend it at any time.
The top Premier Plus level includes a monthly quota of credit bureau challenges and advanced services, such as identity theft protection, access to financial tools, FICO score tracking, and support for cease and desist letters.
Sky Blue Credit Repair® helped pioneer the credit repair industry and remains a leader today, thanks in part to its unconditional money-back guarantee if you're dissatisfied with its services. Sky Blue is the best credit repair company with an unconditional guarantee.
The credit repair agency offers a single service level at a competitive price, but it charges a substantial one-time review and setup fee of $79. When you subscribe, the company will issue five challenges every 35 days to the three major credit bureaus — Equifax, TransUnion, and Experian.
You also receive score analysis, debt validation, written cease and desist letters to debt collectors, and debt settlement consultations. Thanks to the company's aggressive program, your credit score may improve in only a month or two. Results depend on the number of items in your credit reports that are inaccurate, obsolete, or unverifiable.
CreditRepair.com has a distinguished record in the credit repair industry, having issued more than 23 million credit report challenges in the last decade. Its top-notch mobile app provides an intuitive design that lets you monitor the progress of your disputes with the bureaus.
Its Basic service level is best when you have only a few negative items on your credit reports. You can choose the Moderate or Aggressive service levels if you have more questionable items on your credit reports that may result in a bad credit score.
All service levels actively engage with the three major credit bureaus. You can access your online dashboard, monitor your credit, receive alerts, and analyze your scores. The company claims that its customers improve their bad credit score by an average of 40 points during the first six months.
The Credit Pros is a credit repair service that starts with a free credit analysis. It offers plans at three different pricing tiers so you can decide which best fits your credit situation.
The company identifies damaging items on your reports, provides practical advice, protects your rights as a consumer, and offers education on how credit scoring models work. You receive a 90-day, 100% money-back guarantee.
You also receive identity theft monitoring, debt validation letters sent to creditors, and individual consultations with a Certified FICO Professional. The company also has high ratings from the Better Business Bureau and Trustpilot.
CreditFirm.net is among the industry's oldest and most trusted credit repair firms. It collaborates closely with clients to address issues with their credit reports and set them on a path to success.
The company doesn't charge clients until five days after enrollment, providing them with the time necessary to review their credit reports and decide which options make the most sense.
Licensed attorneys work with the company to ensure all activity is proper and effective. You can log into the company portal to track your progress, including a record of filed disputes and up-to-date results.
Additional Top-Rated Credit Repair Companies
Here are more companies that are legitimate providers of credit repair services. They are worth a look if you want more choices without sacrificing speed. One may be the best credit repair service for your unique needs.
6. Pyramid Credit Repair
Pyramid Credit Repair submits an unlimited number of disputes each month. A single monthly charge provides access to a dedicated credit counselor who will develop a plan to fix your credit reports. 

It's unusual for a credit repair agency to offer unlimited disputes each month. This policy helps Pyramid achieve faster results for its clients. The company claims customers can begin seeing higher credit scores in about 45 days.
7. Credit Versio
Credit Versio is the economical alternative when you want to fix your credit independently. Its do-it-yourself mobile interface walks you through the credit repair process for a lower monthly fee compared to other credit repair companies.
This service requires you to have at least some financial knowledge. Although you do not get access to a live representative to answer your questions, the interface provides how-to videos for each step along the way.
8. Pinnacle Credit Repair
Pinnacle Credit Repair aggressively files disputes to remove improper items from your credit score as rapidly as possible. This quick credit repair company claims that most clients see higher credit scores in as few as 15 days.

In this case, speed comes at a price of around $100 per month and a setup fee close to $200. Wealthier clients can opt for the company's premium service that replaces the monthly fee with a one-time cost of $1,500 to $2,500.
9. Safeport Law
Safeport Law offers a single tier of credit repair services costing around $100 monthly plus the same amount as a setup fee. That may be too high a fee, especially considering you don't get dispute tracking or credit monitoring.
The company provides a 90-day money-back guarantee, 24/7 online progress reports, and credit score tracking and analysis. The guarantee has several qualifications, so check its website for the fine print.
What Is Credit Repair?
Credit repair is the process of disputing items on your credit report that are inaccurate, unverifiable, obsolete, or misrepresentative of your financial history. Under federal law, you have the right to file disputes to ensure your credit reports don't contain false information that improperly harms your credit profile.
Repairable Items
What credit repair doesn't do is remove truthful items from your reports. The data subject to dispute must be inaccurate in one or more ways, including the following:
Erroneous Items: Flat-out errors are the easiest to dispute. Many items fall into this category, and many are innocent. They include spelling mistakes, confused dates, misplaced decimal points, and other transcription errors. Unknown accounts and unrecognized transactions are far more severe as they may result from fraud. The innocent items are easy to fix because the credit bureaus need little work to verify and correct your information.

Obsolete Items: Derogatory items can remain on your credit reports for specified periods, ranging from two years to 10, depending on their nature. For example, hard credit inquiries remain for two years, while delinquent payments can last up to seven years and bankruptcies up to 10. The credit bureaus are supposed to delete outdated items automatically. If they don't, you have to inform them of the problem, and they will remove the obsolete item quickly.

Fraudulent Items: Identity theft is extremely harmful. You can detect it in specific credit report items, including accounts you didn't open, spending you didn't authorize, and address changes you didn't request. The fraudulent data may initially seem legitimate, but further investigation reveals its origins. Be sure to report any identity theft cases immediately and file disputes to have the credit bureaus remove fraudulent information from your report.

Unverifiable Items: These are items on your credit reports that creditors and other information providers cannot substantiate. The most common unverifiable items stem from hard credit checks. These checks occur when you apply for a new credit card or loan. If the information provider cannot prove you authorized the check, the credit bureaus will remove it.
Credit repair requires you or a surrogate to issue a dispute for each questionable item on each credit report. Credit bureaus rely on third parties (typically merchants and lenders) to report your financial behavior, so not every item appears on all consumer credit reports from Equifax, Experian, and TransUnion.
Nonuniform reporting may result in one or two of your credit reports showing disputable items that don't appear on other reports. All three should be error-free since you can't predict which credit report(s) a creditor will use to determine your credit risk.
DIY Credit Repair
You can begin the process by ordering your three credit reports from AnnualCreditReport.com, a federally authorized source of free credit reports. You can get a free copy of each credit report once per year. Although the details differ, the overall credit report format contains four sections for you to review:
Identification: Check for incorrect identifying information (e.g., last name, date of birth, Social Security Number, etc.) that may indicate someone has mixed up your data with another person's.
Tradelines: These are your credit card accounts and loans. Look for mistakes such as accounts and activities you don't recognize, purchases you didn't make, missing payments, and charge-offs that didn't occur.
Public records: The only public record that can appear in your credit reports is bankruptcy. A Chapter 13 bankruptcy will remain for seven years from the date of filing, and Chapter 10 will remain for 10 years.
Inquiries: Hard inquiries (i.e., credit checks when you apply for new credit) can impact your credit score. If any appear, verify that you authorized them.
DIY credit repair requires you to expend time and energy. If you encounter inaccurate negative information, you can file disputes with each credit bureau online, over the phone, or by certified mail:
PO Box 4500
Allen, TX 75013
(888) 397-3742
Consumer Dispute Center
PO Box 2000
Chester, PA 19016
(800) 916-8800
PO Box 740256
Atlanta, GA 30348
(866) 349-5191
Ensure you describe all the circumstances surrounding the dispute and include any supporting documentation you have.
The credit bureau should send you a written verdict within 30 days. If the bureau agrees with you, it will correct or remove the erroneous item and notify recent report recipients. 
You can appeal an unfavorable verdict only if you provide additional information. Credit bureaus can label your disputes as frivolous and ignore them if you repeatedly attempt to remove accurate information.
Even if you ultimately lose your challenge, you can add a 100-word statement to your report explaining your side of the dispute, backed with evidence and facts. Your comment can give creditors more context when they receive credit applications in the future.
Can I Pay Someone to Fix My Credit Fast?
A word of caution: Fixing your credit is not the same as challenging information on your credit reports. The former implies some magical (or fraudulent) promises to remove derogatory items from your credit reports and boost your score by a hundred points.
You can pay for honest third-party credit repair, through which a legitimate organization attempts to remove inaccurate information from your credit reports without promising higher scores.
Many consumers pay for a credit repair service to clean up their credit reports rather than do it themselves. Credit repair services have specialized knowledge that improves your chances for success. 

Many credit repair companies offer prospective clients a free consultation, during which the repair service obtains copies of your three credit reports and determines which questionable items may be wrongfully keeping down your score. The result is an action plan to challenge the misinformation in your reports.
An honest credit repair company only takes on clients with flawed credit reports. If you qualify, you can typically subscribe to the service by paying a one-time setup charge and the first month's fee. 
When you subscribe to the service, you can expect the provider to begin challenging the items in the plan, usually at a set pace. Most credit repair companies submit a minimum number of challenges each cycle.
The best credit repair companies employ sophisticated agents who know the most effective ways to dispute your report items. They understand:
Which items to dispute: Credit repair companies should challenge only items that appear to be questionable. These items may contain incorrect, obsolete, or unverifiable information. A repair service should not dispute provably accurate items, as this wastes your time and money and may cause a credit repair bureau to ignore your frivolous disputes.

How to structure a dispute: Credit repair agencies know how to challenge report items effectively. They use automated methods to carefully compose dispute letters containing the information required to initiate action. These letters use the proper terminology and include the documentation necessary to avoid delays.

How to schedule disputes: The top-quality credit repair agencies know how frequently to lodge a new challenge on your behalf. The credit bureaus process disputes at a steady rate, and inundating them with dozens of challenges simultaneously can backfire by causing delays and perhaps rushed judgments. The repair plan you subscribe to proceeds at a deliberate, reasonable rate.

How to keep things organized: A DIYer may be highly organized or woefully sloppy when keeping track of credit report disputes. Most credit repair companies track each challenge and deliver real-time status reporting. They maintain information for each dispute in highly organized digital files, along with communications with bureaus and other interested parties. Comprehensive record-keeping helps prevent delays, identifies actions, and provides a reference point for additional steps. In other words, things don't fall through the cracks.

How to appeal unfavorable decisions: A credit bureau will likely reject some of your disputes. The credit repair agencies know, on a case-by-case basis, whether it makes sense to appeal a decision. They can register appeals efficiently and help you append personal statements while keeping you informed.
Credit repair companies usually provide additional services to help you address credit concerns. They may offer credit counseling, credit score monitoring, educational resources, direct interventions with creditors, and other personalized services.
The price you'll pay for third-party credit repair services depends on several factors, including the service tier, the length of the subscription, and the additional services you need. Most subscriptions range from $70 to $150 per month, with some companies offering multiple tiers and others a single flat rate. 
Many consumers have only a few credit report errors that may require a month or two to fix. At the other extreme, reports with many questionable items may require a subscription of six or more months, but consumers can cancel at any time.
You can purchase credit repair software for less than $30 if you'd like to do most of the work yourself. The software helps you issue and track disputes but lacks the personal touch.
What Can Credit Repair Services Remove?
Credit repair services can only remove items that shouldn't be on your credit reports. Inaccuracies, including incorrect personal information, account errors, and duplicate accounts are obvious candidates for dispute.
The bulk of disputes may challenge hard credit inquiries. Creditors must prove that you authorized a hard pull when applying for a new loan or credit card. Providing this type of proof is often expensive and time-consuming, so many creditors don't respond to these disputes, allowing a repair service to chalk up an easy win.
Another fruitful area for dispute involves old data. Debts can remain on your reports for a set period (see below), after which the bureaus must purge the items. A repair service can also dispute debts and collections that the credit bureaus cannot verify.
How Long Do Negative Items Stay on My Credit Report?
Ultimately, remaining patient is the only reliable way to remove derogatory items from your credit reports. Credit bureaus must delete all negative items by their expiration dates.
In most cases, that expiration date is seven years after the event. Expired items should fall off of your credit report automatically. You or your credit repair service can file a dispute with a bureau to remove outdated items if they don't automatically drop off your reports.

You don't need to wait for a negative item to expire to see your credit score to recover. FICO and other credit scoring models give more weight to recent credit behavior and less to older items.
In other words, derogatory items have less impact on your credit score the older they get, with some losing most of their influence well before their expiration date.
The pleasant thing is that you can immediately start to offset the damage of negative items by straightening up and flying right, credit-wise. Ensure that your recent payment history is flawless to help make your older transgressions look more like a temporary lapse instead of a trend, thereby reducing their impact.
You or your credit repair company may negotiate with creditors to remove truthfully reported overdue payments, charge-offs, and settlements. While the bureaus cannot remove accurate delinquent payments, a credit repair service may ask the creditors to mark the payments as paid or settled, which looks better to future lenders.
A credit repair company may request a goodwill removal letter from a creditor. The letter asks the creditor to remove an overdue payment from your credit report. Naturally, you must be on good terms with the creditor, and the credit bureau must agree to remove the item.
A more aggressive approach is to generate a pay-for-delete letter in which you agree to repay a charged-off debt in return for the item's removal. Some creditors or collection agencies may agree, but the credit bureau may balk at removing the item. 
After all, the job of each bureau is to accurately report a consumer's risk of defaulting on a debt in the next two years. Goodwill and pay-for-delete letters distort the reporting of this risk, so a credit bureau may reject these deals.
Is Credit Repair Guaranteed to Raise My Credit Score?
Legitimate credit repair agencies do not guarantee higher credit scores. Remember, a credit repair company can't remove a derogatory item from your credit report if it is accurate and updated.
Did you know? It is illegal for credit repair companies to guarantee results.
Instead, you need to focus on building a positive credit history through timely payments and paying down your account balances. Most reputable credit repair companies, including those we reviewed, work to remove unfair, unverifiable, and inaccurate items that are hurting your credit score.
The best credit repair companies usually dispatch letters within a reasonable time frame and update you on progress as it occurs. But credit repair companies can't control how a credit bureau or lender will respond to a communication.
Does Credit Repair Hurt My Credit?
Credit repair companies make money by removing inaccurate, obsolete, and unverifiable items from your credit reports. This service can only boost your score, not hurt it. 

Credit repair may be ineffective, especially if your credit reports don't contain many problems. A needless subscription may drain your wallet but will keep your credit score intact.
If part of the repair strategy involves closing certain credit accounts, be aware that this could decrease your available credit, reduce your average account age, and increase your credit utilization ratio. Any of these outcomes can potentially lower your credit score.
The cost of using a credit repair service could cause additional debt or financial strain, which may indirectly affect your credit if you miss payments on your other debts.
What Are the Differences Between Credit Repair and Debt Settlement?
It's easy to confuse a legitimate credit repair agency with companies that offer debt settlement services. As we explained above, credit repair won't hurt your credit. Debt settlement may.
The goal of settlement companies is to reduce your debt by getting your creditors to forgive some of the money you owe. Creditors are naturally opposed to settlement agreements, but they really dislike forgiving all of your debt.
In other words, creditors would rather collect some money instead of losing it all. You may save money through a successful settlement, but it will remain on your credit reports for seven years, and your credit score may take a big hit — if it hasn't already.
Here's a summary of why you should be wary of debt settlement:
It may lower your credit score: Debt settlement can reduce your credit score by 100 points for each instance of debt forgiveness. But this assumes that your credit score hasn't already taken a big hit. The odds are that your score is already hurting from delinquencies, debt collections, and high outstanding balances. Although settlements remain on your credit reports for seven years, their impact won't even begin to wane for two or three years.
It reduces your access to credit: Creditors aren't going to fall over themselves offering you a new loan after a settlement. They understand the likelihood that you won't repay new debts since that worked for you in the past. Expect to pay a high interest rate and fees if creditors offer you new loans. Expensive loans will be the price you pay for the money you saved via a settlement.
Settlement companies offer no guarantees: Part of debt settlement is diverting your debt payments to an escrow account, which creditors don't like. The backlash may include late fees, harassment, and lawsuits when you default on a loan. The chances your creditors will forgive any part of your debt aren't great. You should ask yourself whether the effort will be worthwhile, especially if you ultimately gain nothing.
You have to share your savings: Unless you plan to negotiate directly with your creditors, you won't avoid the fees that settlement companies charge. Those fees may cost you 30%, 40%, or more of the money you save through forgiven debt.
You may be dealing with dodgy companies: Not every settlement company plays by the rules. Some may promise more than they can deliver and charge more than they said they would. Several states have banned for-profit debt reduction companies due to their tarnished reputations resulting from reports of scams.
It's the last alternative before bankruptcy: Debt settlement may make sense when the alternative is filing for bankruptcy. Before going down this road, consider negotiating lower interest rates and longer repayment terms. Doing so could help you avoid damaging your credit score.
Creditor rage: A creditor may take you to court if it discovers you are working with a credit settlement company. Sometimes, creditors will sue for the total amount due rather than forgive any of your debt. In other words, some creditors would rather force you into bankruptcy than settle.
Forgiven debt is taxable: You must report the forgiven amount as taxable income when a creditor excuses some or all of your debt. A big credit settlement can leave you with a big tax bill.
Not necessarily a long-term solution: Debt reduction won't solve your long-term economic problems if you don't change bad financial habits. You should see long-term financial progress by living within your means and paying your bills on time.
For some consumers, debt consolidation and refinancing may make more sense than debt settlement. For example, you may be better off repaying your credit card debts with a new credit card featuring an introductory 0% APR for balance transfers or through a personal loan.
If you choose the former, be aware that each balance transfer usually charges 3% to 5% of the transferred amount. Only the best credit cards offer 0% APRs on balance transfers.
How Else Can I Improve My Credit?
A credit repair company can remove unfair or inaccurate information from your credit report in an effort to reestablish your good credit. But you must practice healthy financial habits if you want long-term improvement.
Paying your bills on time every month is essential to rebuilding credit. A single past-due payment can significantly hurt your credit score.

To avoid overdue payments, set up automatic payments based on your monthly due dates. This ensures you won't incur a fee or hurt your credit by making late payments. 
You also can build good credit by focusing on your credit utilization ratio to ensure you don't spend more than 30% of your credit card limit. In fact, the FICO scoring system gives your score the biggest boost if you maintain a credit utilization ratio below 10%.
When it comes to loans and credit cards, try to pay more than the minimum payment due each month. Doing so will help you to pay down the debt faster. In addition, larger monthly payments can lower your total debt amount and avoid interest charges. Even the best credit cards generally charge an APR of at least 15%. 
FICO wants you to keep long-term accounts open unless you're trying to reduce annual fees. Closing credit accounts will lower your total available credit and may increase your credit utilization ratio.
The length of your credit history also affects your FICO score. Closing older accounts can shorten your credit history and hurt your score. Consumers with high credit scores often have seven or more years of credit history.
Regularly monitor your credit score to keep track of your progress and quickly recognize inaccurate information. You can obtain copies of your three credit reports by contacting AnnualCreditReport.com.
Beware the Signs of Shady Credit Repair Companies
The last thing you want is to deal with a disreputable credit repair company, as you can spend hundreds or thousands of dollars and have nothing to show for it.
Here are some red flags that indicate danger.
Promises Are too Good to Be True: No credit repair company can guarantee it will remove all derogatory items from your credit report, especially if they are true. Repairing your credit takes time. Be wary of any company that promises quick credit repair.
Legal and Regulatory Discrepancies: US laws, specifically the Credit Repair Organizations Act (CROA) and the Fair Credit Reporting Act (FCRA), prohibit companies from charging upfront fees before they complete their work. The subscription model sidesteps this law. The CROA also mandates that credit repair companies provide a written contract detailing their services, your rights as a consumer, and payment terms. The lack of a contract is a red flag.
Lack of Transparency: A company's lack of transparency about what it will actually do for you is a problem. Legitimate companies explain their services clearly. According to the CROA, a credit repair company must inform you of your right to repair your credit on your own. 
High-Pressure Tactics: Consider the company's legitimacy if it pressures you to make quick decisions or urges you to reveal private financial information. Some shady companies may pressure you to dispute all the information on your credit reports, even legitimate entries, without proper justification.
Bad or No Reviews: Check for reviews and testimonials. Sparse or overwhelmingly negative reviews are a big no-no. Check a company's ratings from the Better Business Bureau and Trustpilot. Look for any complaints and the company's responses. 
Misinformation and Lies: It is illegal for a company to suggest you create a new credit persona by applying for an Employer Identification Number to use instead of your Social Security Number. This kind of credit repair scam can land you in federal prison. Some disreputable companies may also bury hidden fees in the fine print of their contracts. The rule is to read and understand any agreement before you sign it. Ask for professional assistance if you aren't comfortable with that task.
Lack of Communication: Difficulty contacting customer service, unanswered questions, or rude interactions are bright red flags. A legitimate company should keep you updated on its actions and progress. Lack of communication doesn't bode well.
Find a new credit repair company if you get any negative vibes from your current one. Upfront due diligence can save you a lot of grief later on.
Find a Fast Credit Repair Service Today
When an error-riddled credit report brings down your credit score, you want to fix the mistakes without delay. Reputable credit repair services, such as the ones reviewed in this article, are an excellent alternative to doing it yourself.
The costs are moderate when you consider the score improvement you may experience. But if you're up for it, you can do credit repair yourself. And the Consumer Financial Protection Bureau offers templates you can use to lodge disputes.
Advertiser Disclosure
BadCredit.org is a free online resource that offers valuable content and comparison services to users. To keep this resource 100% free for users, we receive advertising compensation from the financial products listed on this page. Along with key review factors, this compensation may impact how and where products appear on the page (including, for example, the order in which they appear). BadCredit.org does not include listings for all financial products.
Our Editorial Review Policy
Our site is committed to publishing independent, accurate content guided by strict editorial guidelines. Before articles and reviews are published on our site, they undergo a thorough review process performed by a team of independent editors and subject-matter experts to ensure the content's accuracy, timeliness, and impartiality. Our editorial team is separate and independent of our site's advertisers, and the opinions they express on our site are their own. To read more about our team members and their editorial backgrounds, please visit our site's About page.