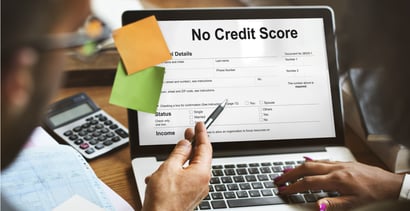 If you haven't yet built a credit history and are in need of financing, you may be wondering where the easiest loans to get with no credit are. These loans can be easiest found online with a little research, which is likely how you got to this point.
In this article, we cover personal loans, auto loans, and business loans that are all available to borrowers with no credit history. Use the links below to jump ahead to the type of loan you're interested in:
Personal Loans | Auto Loans | Business Loans
How to Build Credit | FAQs
Easiest Personal Loans to Get with No Credit
The recommended personal loan providers below are networks and do not fund the loans themselves. Instead, you fill out a single application that is submitted to the traditional and alternative lenders within its network.
This helps improve your chances of approval because several lenders will review your request for a loan and make an offer based on different criteria.
Short-term loans up to $5,000
Online marketplace of lenders
Funds available in as few as 24 hours
Simple online form takes less than 5 minutes
Trusted by more than 2 million customers
| Loan Amount | Interest Rate | Loan Term | Loan Example |
| --- | --- | --- | --- |
| Up to $5,000 | Varies | Varies | See representative example |
MoneyMutual is our top-rated lender network because it is a reputable company that has been servicing personal loan requests for over a decade. No credit is no problem because these are short-term loans intended to help bridge the gap between paychecks, otherwise known as a cash advance.
Borrowers may be approved for a personal loan of up to $2,500, and loans are funded as soon as one business day. Basic qualifications include being currently employed with an income of at least $800 per month and having an active checking account. Other requirements will vary by lender.
CashUSA.com is both a short-term and installment loan servicer. Applicants can apply to receive a minimum loan amount of $500 or as much as $10,000. Your repayment term will vary based on the loan amount and the lender that approves your online loan request.
Applicants must be at least 18 years old, a U.S. citizen or permanent resident, earn a steady income of at least $1,000 (after taxes), have a checking account in their name, and provide work and home phone numbers, as well as a valid email address.
CreditLoan is a great option for those with no credit history or even damaged credit history. Applicants who apply for a personal loan from the CreditLoan network receive an immediate response, according to its website.
CreditLoan requires all applicants to have a bank account for loan approval. If approved, the interest rate and repayment term you receive will vary by the lenders willing to fund your loan. Review each offer carefully before you choose a lender.
BadCreditLoans.com isn't only for those who have bad credit. You can apply for a personal loan of up to $5,000 on the Bad Credit Loans network with no credit. In fact, you may be in a better position to qualify as someone who has no credit compared to someone who has bad credit.
This is because a bad credit score represents past financial mistakes, whereas no credit history means you have a clean slate. You're an unknown credit risk, and if you meet Bad Credit Loans' other criteria, chances are good you'll be matched with a lender willing to lend to you.
PersonalLoans.com is another top lender network that offers the highest loan amount — $35,000 — to qualified applicants. Without a credit history to base a decision, you may not qualify for the top loan amount, but if you have a valid I.D., a regular income, and a checking account, lenders will consider your loan application.
Fill out the simple loan request form on its website, and it will determine which loan products you qualify for. If you prequalify, you'll be redirected to that lender's website to complete the loan application.
CashAdvance.com is the last lender network on this list, and it is another short-term loan provider similar to MoneyMutual. These are small loans that are meant to be repaid within two weeks to one month.
These loans charge high interest rates and are meant to be used as a last-resort loan option. They are essentially payday loans and are not available in all states.
If approved, the lender is required to disclose the exact fees and interest it will charge prior to you accepting the loan offer. You are under no obligation to accept the loan if the terms are unsatisfactory. You may be able to obtain a loan from CashAdvance with no credit check.
Easiest Auto Loans to Get with No Credit
Auto loans are not difficult to obtain with no credit. Consider a young adult who needs a car loan to buy a vehicle to get to and from work. But, due to their age, they don't yet have a lengthy credit history for a loan provider to evaluate and determine their creditworthiness.
This doesn't mean they'll be turned away — many auto lenders are willing to work with borrowers of all credit types because a vehicle is a necessity of life for many. The networks below can help you narrow down an auto loan provider, no matter your credit score.
Network of dealer partners has closed $1 billion in bad credit auto loans
Specializes in bad credit, no credit, bankruptcy and repossession
In business since 1999
Easy, 30-second pre-qualification form
Bad credit applicants must have $1500/month income to qualify
| Interest Rate | In Business Since | Application Length | Reputation Score |
| --- | --- | --- | --- |
| 3.99% - 29.99% | 1999 | 3 minutes | 9.5/10 |
Auto Credit Express is our top-rated auto loan network. It provides options for new auto purchases, used auto purchases, and even refinance loans.
As with most of the networks listed in this article, your ability to repay the loan is what's most important. If you can prove that you're employed with a stable pre-tax income of at least $1,500 a month, getting an auto loan through Auto Credit Express is not out of the question, regardless of your lack of credit history.
The next auto loan network we recommend is Car.Loan.Com, which has closed over $1 billion in car loans since 1994. That includes loans for people with bad credit and even past bankruptcies and repossessions.
Therefore, as someone who lacks any credit, you're in a better position than most of its applicants. And, as you make your payments on time over the life of the loan, you'll build your credit history and score, making it even easier to obtain future loans.
MyAutoloan.com connects auto-loan seekers with up to four loan offers within minutes of submitting its short two-minute offer form. Approved applicants will be sent a check to buy the car they want, or they can use it to refinance their existing auto loan.
Some lenders have restrictions on the type of vehicle you can purchase. For example, cars with salvage titles or those that have been previously repossessed and/or auctioned may not be eligible. MyAutoloan.com is rated as "Excellent" on Trustpilot by more than 600 reviewers.
Easiest Business Loans to Get with No Credit
Obtaining a small business loan with no credit history isn't the easiest feat to accomplish, but it certainly isn't impossible. Below we evaluate three direct lenders that issue loans to entrepreneurs who can prove that their business is profitable, among other qualifying criteria.
10. Kabbage Funding™


Kabbage Funding is a provider of small business loans of up to $250,000. According to its website, "Business financing decisions are made in real time, so small business owners can access their lines of credit as soon as they're approved."
Kabbage does not provide startup funding — its applicants must be operational for at least one year and have a business revenue of $50,000 annually or have earned at least $4,200 a month for the last three months.
11. BlueVine Invoice Factoring


BlueVine Invoice Factoring provides a way for businesses to get an advance on outstanding invoices of up to $5 million, and the approval process is fairly lenient in terms of credit requirements — the minimum credit score needed to qualify is just 530 — which means it's a suitable option for those in need of a bad credit business loan too.
That said, your business must be operational for at least three months prior to applying, and you'll need to earn $10,000 a month to qualify. However, if your business is B2B and you have some large outstanding invoices, BlueVine provides a way for you to tap into that capital without getting a traditional bank loan.
12. Spark® Classic from Capital One® Business Credit Card


If you're looking for startup financing, it's even harder to get approved for a small business loan when you have no credit because you can't show business revenue to coax the lender into financing your venture. But if you're just getting started and only need a little bit of money to help get your business off the ground, don't discount the power of a good credit card.
Capital One created the Spark® Classic card specifically for entrepreneurs with limited credit history. It's a solid option to provide an infusion of cash to acquire the equipment you need to start turning a profit. It is not intended for borrowers with bad credit.
This is not a secured credit card — you will not need a deposit to secure your line of credit. You will, however, need an EIN to apply, so be sure you have that before starting the loan application.
How to Use Your Loan to Build Credit
If you have no credit score, you're likely new to credit, or maybe you have a clean slate years after bankruptcy and are ready to start building (or rebuilding) your credit history. Regardless of your situation, the process of building credit is the same for everyone.
It all starts with understanding the five factors of a credit score, as illustrated below: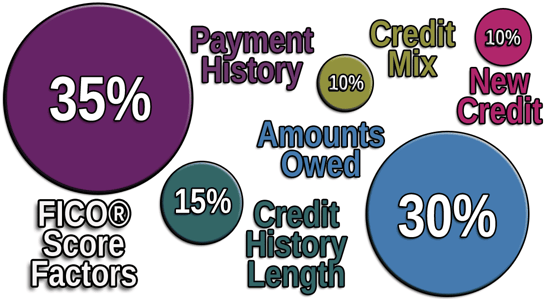 Your payment history is the most influential factor in your credit score, representing 35% of your score. This looks at whether you've made your payments on time, late, or not at all. By taking out an online loan and making regular on-time payments, your score should improve.
The next most influential factor is your amounts owed, or rather, how much debt you currently have. If you have no credit, you don't have any debt (at least not any debt that's been reported to the credit bureaus). This will change when you take out a loan.
Next up is the length of your credit history, which accounts for 15% of your credit score calculation. This represents how long you've managed credit accounts, and, as someone new to credit, the only thing you can do to influence this factor is wait. Time is on your side.
The final two factors, worth 10% each, are new credit accounts and your credit mix. New credit accounts refer to recently opened accounts and the inquiries associated with them. An inquiry is a request to review your credit history, which is almost always necessary to determine creditworthiness unless you opt for a no credit check loan.
When you apply for an online loan, the lender will want to review your credit reports from each credit bureau — Experian, Equifax, and TransUnion — but sometimes only from one credit bureau. To do so, they will place a hard inquiry on your credit report that will remain there for two years. Hard inquiries will slightly reduce your credit score, but its impact will lessen over time.
However, as someone who has no credit score, an inquiry won't affect a score that doesn't exist — instead, if you're approved for financing, the new account will be your first tradeline on your credit report and will generate a credit score within six months of opening the account.
Your VantageScore credit score, however, will likely appear much sooner. This is the second-most widely used credit score and is the kind of score you receive from free credit score apps like CreditKarma.
Credit mix refers to the types of credit accounts you have open. Examples of different types of credit include personal loans, credit cards, student loans, auto loans, etc. These all represent different types of financing that make up your credit mix.
A diverse credit mix is good for your credit score, but because it only counts for 10% of your overall credit score, opening a bunch of new accounts isn't the best way to build your credit score. That is instead left to your payment history and debt load.
The best way to build credit when taking out a loan is to pay on time, all the time. Because credit history accounts for 35% of your credit score, keeping your accounts in good standing is the best thing you can do for your credit.
A late payment will generally be reported to the credit reporting bureaus after it is 30 days late. However, you may be hit with a late fee the very day your monthly payment is considered to be late. Even a single missed payment can be disastrous for your credit score, especially as someone who doesn't have other accounts on their credit report in good standing to help offset the damage.
Once your account is 60 or more days late, it is considered delinquent, and once it's 150 or more days late, the account will be charged-off, which means the account is written off as a loss by the lender due to severe delinquency. This is when you can expect phone calls and letters from debt collection agencies to start rolling in.
Debt collection agencies buy debt from companies that sell defaulted accounts to recoup some of their losses after the borrower fails to pay as agreed. Collection agencies then attempt to collect the money from the borrower and are relentless in their pursuit.
A charge off is among the worst things you can do to your credit score, and it will remain on your credit reports for seven years until it ages off. The Fair Credit Reporting Act imposes limits on how long negative accounts can stay on credit reports.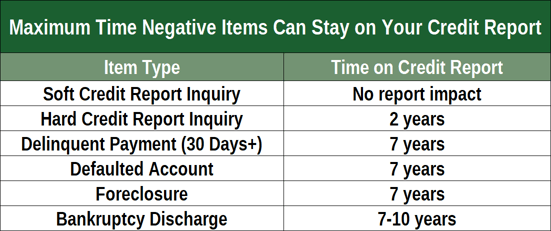 Credit inquiries can only be visible on your reports for two years, charge offs and late payments remain for seven years, and bankruptcies can linger as long as 10 years. Positive accounts, on the other hand, can remain indefinitely, as they will help support the length of your credit history and credit mix.
Can I Get a Loan with No Credit?
Yes, it is possible to get a loan with no credit history. In fact, it's easier to get a loan with no credit history than it is to get a loan with a poor credit history. This is because a low credit score indicates past financial missteps, such as late payments or a lot of credit card debt.
Someone with no credit does not have accounts, otherwise known as tradelines, listed on their credit reports from the three major credit reporting bureaus. This means it's difficult for a traditional lender to determine the likelihood of a borrower repaying the loan when the borrower has no credit history on which to base a decision.
Some people believe that if they have no credit, they have a credit score of zero. This is false because the lowest possible credit score is 300. It just means that you have no credit score at all, but opening your first loan account will change that.
The good news is that your lack of a credit score will likely begin in the fair range — defined by the Fair Isaac Corporation (or FICO, the leading credit score company) as a score of between 580 and 669 — after you are approved for a new loan account. So you don't have to worry about starting off with a bad credit score.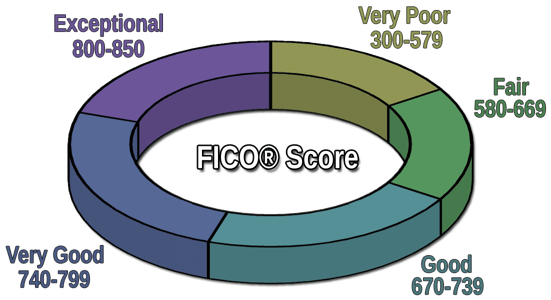 Your credit score will tell you exactly which types of loan products you'll qualify for in the future. The lending networks listed above will match your application with appropriate offers based on your credit history and (lack of a) credit score.
Don't settle for a bad credit loan unknowingly. You shouldn't assume you need to apply for a bad credit loan because you have no credit — you may be able to access competitive interest rates and terms on your loan without being charged outrageous fees.
What is the Easiest Loan to Get with No Credit?
The easiest loan to get is one that doesn't require a credit check. These types of loans are decided by a borrower's income and ability to repay the loan. These are usually short-term loans from a payday lender, i.e. a cash advance.
All of the personal loan companies listed above will prequalify you, which means when you submit your application for an online loan, it will return legitimate lenders that are willing to work with you. Using a lending network is one of the easiest ways to be approved for a loan, because it brings your options to you based on your credit profile, rather than you searching for and applying at individual lenders.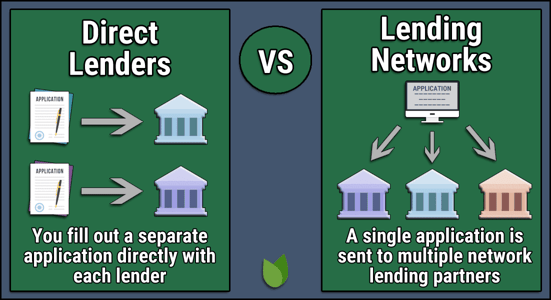 We recommend MoneyMutual for small, short-term loans that are easy to get approved for with no credit check if you make at least $800 per month after taxes.
Can I Get a Payday Loan with No Credit?
Yes, but proceed with caution. Payday loans charge notoriously high fees, upwards of 700% or more, which is why they are outlawed in several states. The gray states on the map below represent where payday loans are illegal.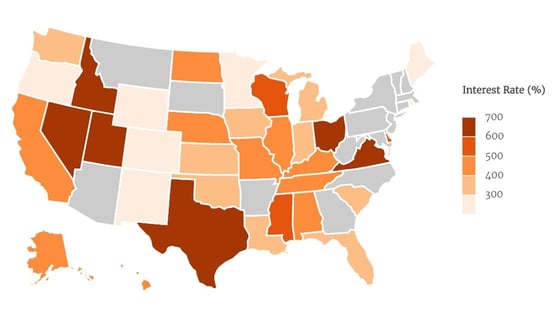 It is only advised to take out a payday loan if you know for certain you can repay the loan as agreed. A 2016 study found that the average borrower of a payday loan is in debt for five months, which cost them an average of $520 in rollover interest charges.
Payday loans are among the easiest, if not the easiest, way to find yourself in a debt trap when not paid on time. If you have the option, ask to borrow money from friends and family before resorting to payday loans.
Remember that with no credit, you're in a better position than someone who has poor credit, and you can likely find a loan with a far better interest rate and repayment term. The networks listed above can help you see what you may qualify for in just a few minutes.
Where Can I Borrow Money Instantly?
Most online lenders fund loans within 24 hours. Some business loan providers can fund loans instantly, but that isn't the case for personal loans. However, MoneyMutual may be able to help you get cash in hand today.
That's because it partners with payday lenders across the country and will direct you to the location nearest you if you qualify after completing its short form. According to MoneyMutual's website, "If you work, and receive a paycheck once a week or every two weeks, you may be eligible for this kind of loan."
Another option is to get a secured loan. A secured personal loan can be a pawnshop loan or a title loan. Essentially, you collateralize something of value to secure the money you need.
At a pawnshop, it may be a piece of jewelry or high-end electronic device, whereas, with a title loan, it is the title to your vehicle that secures the loan. A secured loan is a high-risk loan because you will lose your property if you don't repay it.
A title loan is only possible if you own your vehicle outright and the title is in your name. You can generally only borrow up to 20% of the car's value, which may not be enough for what you need. Roughly 2.5 million Americans spend $3 billion on auto title loan fees each year.
On the other hand, you don't need collateral for an unsecured loan. All of the companies listed above provide unsecured loan options.
Can I Get a Student Loan with No Credit?
Yes. Student loans are designed for, well, students, who are mostly young adults and new to credit. The easiest way to get a student loan is to use the Free Application for Federal Student Aid (FAFSA) to see how much you may qualify for from the federal government.
These loans have low interest rates when compared to private student loans, and are the best option for financing school regardless of credit. Even those with bad credit can qualify for student loans from the federal government.
What Will My Monthly Payment Be?
Several factors will determine what your monthly payment will be, including the amount you borrow, the interest rate you receive, and the length of your repayment term. A $20,000 auto loan with a 48-month loan term and a 10% interest rate won't have the same monthly payment as a $5,000 auto loan with a 12-month loan term and a 14% interest rate.
The chart below shows examples of monthly payments based on varying loan terms: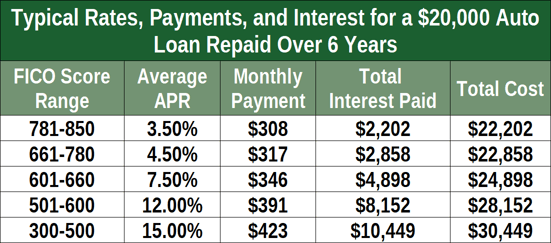 The interest rate you receive will ultimately depend on your credit score. You'll also need to factor in fees, like an origination fee or other finance charges, to your total loan amount, which will affect your monthly payment. Many websites offer loan payment calculators to help you get an idea of what your payments will be, but these are most accurate when you know the interest rate and loan term.
What is an Origination Fee?
An origination fee or finance fee is a charge for servicing your loan. It's a percentage of your total loan amount (usually from half a percent to 5% or so) that the lender charges you for processing your loan application and funding the loan.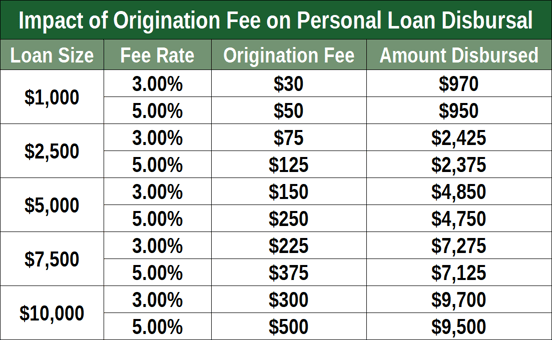 Origination fees are most common with mortgage loans, such as an FHA loan, but some unsecured personal loan providers will charge this fee as well. Of course, the fee is much larger on mortgages because these loans are for much more money than your typical personal loan.
Compare the Easiest Loans to Get with No Credit Online
Now that you've compared the easiest loans to get with no credit you can choose the network that best meets your loan needs and apply with confidence. Whether that's a personal loan, a car loan, or a business loan, the 12 options we've provided are legitimate lenders that all work with borrowers who have no or limited credit histories.
Remember to read the terms and conditions of any loan offer you receive. Each online lender has varying qualifying criteria and will offer different rates and terms. Apply for the loan you can afford to repay on time as agreed.
Advertiser Disclosure
BadCredit.org is a free online resource that offers valuable content and comparison services to users. To keep this resource 100% free for users, we receive advertising compensation from the financial products listed on this page. Along with key review factors, this compensation may impact how and where products appear on the page (including, for example, the order in which they appear). BadCredit.org does not include listings for all financial products.
Our Editorial Review Policy
Our site is committed to publishing independent, accurate content guided by strict editorial guidelines. Before articles and reviews are published on our site, they undergo a thorough review process performed by a team of independent editors and subject-matter experts to ensure the content's accuracy, timeliness, and impartiality. Our editorial team is separate and independent of our site's advertisers, and the opinions they express on our site are their own. To read more about our team members and their editorial backgrounds, please visit our site's About page.