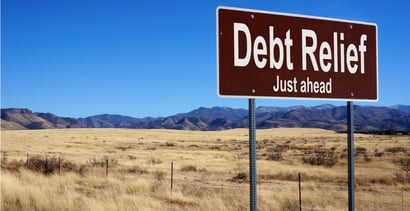 These debt relief reviews may save your life. According to Health.com, "Research shows money stress can make people up to 20 times more likely to make a suicide attempt." And with the average household debt at nearly $53,000, plenty of people are feeling the stress.
Debt relief companies are in the business of reducing debt. They can potentially improve their clients' financial and emotional health, but they can devastate credit scores. We've consolidated reviews from around the web to see how well five of these companies are performing.
National Debt Relief Consumer Reviews
The National Debt Relief program has grown into one of the country's largest since its founding in 2009. It has helped more than 100,000 consumers pay off over $1 billion in debt. 
The company has accreditation from the Better Business Bureau (BBB), where it earns an A+ rating. It receives an excellent Trustpilot score of 4.7 out of 5.
Requires $10,000 or more in credit card debt
Free, no-obligation debt analysis
Specializes in credit card and medical debt
Also handles debt from personal loans, private student loans, lines of credit, and collections
Does not handle IRS, utility, federal student loans or mortgage debt
Long-term program to relieve debt over 24-48 month period
| Better Business Bureau | In Business Since | Free Consultation? | Reputation Score |
| --- | --- | --- | --- |
| A+ | 2009 | Yes | 9.5/10 |
A typical positive National Debt Relief review reads: 
"Things are starting to fall into place. No more harassing phone calls. I am very pleased to have contacted the National Debt Relief program. Thank you." 
But a disgruntled customer wrote this National Debt Relief review: 
"Terrible about making it clear about ongoing monthly and late fees and the large chunk of money due when they settle an account." 
Only 3% of the company's Trustpilot reviews are below average.
CuraDebt Consumer Reviews
CuraDebt has assisted more than 200,000 consumers since its inception in 2000. It belongs to the Online Business Bureau and is a member of the American Fair Credit Council (AFCC) and the International Association of Debt Arbitrators (IAPDA).
CuraDebt earns an A+ rating from the BBB but is not accredited. Its Trustpilot score is 4.1 out of 5. 
100% confidential, no-obligation consultation
Specializes in unsecured debts over $10,000
In business since 2000
Options for debt settlement, consolidation, and tax debt
Get a 100% free, personalized savings estimate from a debt professional
| Better Business Bureau | In Business Since | Free Consultation? | Reputation Score |
| --- | --- | --- | --- |
| (No Grade) | 2000 | Yes | 9.0/10 |
Customer reviews are mostly positive:
"CuraDebt has truly put me at ease and made me comfortable and confident in the support they offer.
A rare negative comment on CustomerLobby reads:
"I've been told for months they were working on [my account] to find out they have not."
Curadebt also offers tax debt relief and counseling services.
Freedom Debt Relief Consumer Reviews
More than 650,000 clients have turned to Freedom Debt Relief since its inception and have received more than $10 billion in debt relief. Freedom Debt Relief fees range from 15% to 25% of the debt it removes. 
The company is BBB-accredited and earns an A rating. Its Trustpilot score is 4.5 out of 5.
Toll-free assessment: 1-855-299-9573
Minimum $10,000 in debt required
Learn about your debt relief options
AFCC accredited member
Resolve debts in as little as 24 to 48 months
$5 Billion in debt resolved – #1 in America
| Better Business Bureau | In Business Since | Free Consultation? | Reputation Score |
| --- | --- | --- | --- |
| A+ | 2002 | Yes | 9.5/10 |
In this Freedom Debt Relief review, a satisfied customer writes: 
"I have had an excellent experience with FDR. They listened, got me where I needed to be, and stuck with me the entire time. Their website is full of material, but mostly I enjoyed the dashboard and seeing my progress." 
On the other hand, a customer lodged the following negative Freedom Debt Relief review with the BBB: 
"I am being charged a monthly fee for them to hold my money when I have asked them to pay the debt in full. They refuse to let me speak to a manager or supervisor. I need the debt paid with the money they are holding. How can I get this done?" 
Subsequently, Freedom Debt Relief arranged a satisfactory resolution. To its credit, the company responds to all BBB complaints.
Accredited Debt Relief Consumer Reviews
Accredited Debt Relief has been in operation since 2011, and it aims to reduce your total debt by up to 50%. It has an A+ rating from the BBB, where it is accredited. It also receives a near-perfect 4.9 score from Trustpilot and belongs to the American Fair Credit Council.
Excerpts from positive reviews include: 
"I highly recommend them if you find yourself in any kind of debt situation that's gotten out of hand."
Negative reviews seem to focus on poor customer service. For example, this Accredited Debt Relief review states:
"I have asked more than five times within three weeks for an account to be completed, each time after they finally figure it out they say "no problem, we'll get this done." And it still hasn't been. They do not care that their customers are trying to rebuild their credit and their lives back. I do not recommend this program anymore."
Accredited Debt Relief recommends its services for anyone who has more than $10,000 in unsecured debt that they can't repay within four years.
New Era Debt Solutions Consumer Reviews
New Era Debt Solutions has been in business for more than two decades and operates in 46 states. It is BBB accredited with an A+ rating. Trustpilot gives it a score of 4.9 out of 5, but it doesn't list any reviews.
A positive review on the BBB website says: 
"I really appreciated the assistance I received from New Era. I had no problems with getting my debts resolved and their customer service was friendly." 
And here's another: 
"This has been a great experience. Using this company was a smart move. I could not have asked for a better result with better client service. Highly recommend this company."
One of the few negative comments reads: 
"They will settle your highest debts first to guarantee their highest payout, even if it is not in your best interest…You do not need this company, you can better your situation on your own. I had a horrible experience and would not recommend this company to anyone." 
The company refuted the complaint but did not resolve it.
So, What Is a Debt Relief Company?
The purpose of hiring a debt relief company is to negotiate with creditors to remove or restructure your debt. You typically pay these companies a portion of the reduced debt plus a monthly fee. 
The results of debt negotiation may include debt consolidation through a personal loan or partial loan forgiveness (i.e., a debt settlement program), debt management, more favorable terms, and enrollment in government-backed loan programs. 
These companies don't guarantee results. If they successfully get a creditor to charge off some of your debt, you'll be saddled with a bad credit score. You also may owe taxes on the forgiven debt. 
How Does Debt Relief Work?
A debt relief service assigns you a certified debt specialist who provides credit counseling when you sign up for service. These counselors are professional debt arbitrators who know how to handle a debt negotiation. 
If you seek debt forgiveness, the certified debt specialist will arrange for you to stop paying your creditors and instead make payments to an escrow account. Your enrolled debt is the amount you owe when signing up for debt relief.

After several months, the company will approach your creditors and attempt to negotiate a better deal for you. The pitch is that you will use the escrow money to partially pay the enrolled debt if the creditor agrees to forgive the rest. In effect, the counselor threatens the creditor that you'll file for bankruptcy if it doesn't accept the deal.
A creditor can agree to the deal, negotiate a different arrangement, or refer the account to a debt collector. For example, if you owe $20,000 to a credit card company, professional debt arbitrators will try to induce card issuers to forgive as much debt as possible. 
If the creditor cuts the debt balance to $8,000, the debt relief company will charge you from 20% to 35% (or more) of the $12,000 reduction. The deal may allow you to pay the new debt balance in monthly installments from your escrow account.
A 30% charge from the debt relief company will provide you with $8,400 in net savings (before interest) after you pay it $3,600 out of your own pocket. You may also have to pay a monthly fee to the company for services such as maintaining the escrow account.
How Do You Qualify For Debt Relief?
Debt relief generally requires you to owe $10,000 or more in unsecured debt, such as credit card debt. You must also be behind on your payments and agree to make future monthly payments to the debt relief company.
Other types of qualifying debt may include:
Bank loans
Credit union loans
Department store cards
Veterinary and medical bill balances
Non-bank personal loans
Other unpaid bills
Some private student loans
Most debt relief companies do not assist customers with these debts:
Child support
Federal student loans
IRS tax debt 
Mortgages
Vehicle loans
How Does Debt Relief Differ From Debt Consolidation?
Debt consolidation reduces the number of creditors you owe money to but not the total amount you owe. It requires you to roll multiple debts into a new personal loan or transfer your balances to a new credit card, reducing your credit installments to one monthly payment. 
A good consolidation loan or credit card charges a lower interest rate than the interest rate you are paying on your current obligations.

Debt consolidation helps you budget your money by simplifying your repayment schedule and paying less in interest. You can set a long loan term to make the monthly payments more affordable, although longer repayment periods cost more in interest. 
Another benefit of consolidating your debt is that it may reduce your psychological stress.
Although many consolidation loans are unsecured debt, you may be able to obtain a secured consolidation loan by pledging collateral. Collateralization increases your chances of getting the loan but puts your property at risk if you default on your payments.
Debt consolidation will not significantly harm your credit score. In fact, it may boost your score by reducing your credit utilization ratio. A debt settlement company may also offer debt consolidation services.
How Does Debt Relief Affect Your Credit?
A debt settlement service asks creditors to charge off some of the money you owe. Charge-offs can lower your credit score significantly and remain on your credit reports for seven years. 
Although charge-offs contribute to a bad credit score, they are not as damaging as bankruptcies, which can stay on your credit reports for up to 10 years.
FICO, the predominant credit scoring system for consumers, has found that prior financial problems often predict future ones. Your FICO score indicates your probability of defaulting on debt within the next two years. 
FICO reduces your credit score to reflect an increased risk of default, which decreases your access to credit and subjects you to higher interest rates. 
Are Debt Relief Companies a Good Option?
Debt relief is not always a good option, but it is better than bankruptcy. Although it may save you money, several risks may arise when you enlist the help of a debt settlement company, including:
Debt relief is expensive: The debt settlement companies charge fees that can quickly mount up. You must pay them up to 35% (or more) of the forgiven debt plus charges for various other expenses. In addition, you must include the forgiven amount in your income when you file your federal income tax return. In some cases, this may move you into a higher tax bracket. 
Your credit will suffer: Debt settlement companies advise you to stop paying your creditors and divert the money into an escrow account. The credit bureaus will record your missed payments and reduce your credit scores. Moreover, missed payments expose you to debt collection, further hurting your credit. Renegotiated debts appear on your credit reports as settled accounts and will lower your credit scores. All these derogatory items remain on your credit history for seven years. They can cause potential lenders to reject your loan applications or charge you a high interest rate.
Results aren't guaranteed: Creditors are under no obligation to negotiate with you. When creditors reject your requests, you may face legal action without benefitting from reduced debt. In some cases, debt settlement program failures may leave debtors with no alternative other than bankruptcy. 
Given these risks, it's a good idea to consider all your options before pursuing a debt settlement service. 
Debt consolidation can make your monthly payments more affordable without damaging your credit. It can buy you the time you need to repay your debts and avoid resorting to more drastic actions.
How Do I Recognize Debt Relief Scams?
Debt relief scams can take several forms. A scammer may falsely promise to negotiate away your debts and then steal the money meant for escrow. Others may collect hefty upfront fees or dishonestly guarantee results. 
Look for the following indications that you may be dealing with a dishonest debt relief program:
Demands for upfront payments
Unwillingness to put promises in writing
Minimizing the risks involved in debt settlement
Advise you to cut off all communications with creditors
Requests for access to your bank accounts
High-pressure tactics to act quickly
Guaranteed results
If you encounter a fraudulent debt relief program, try to stop any check or credit card payments you made. You should also contact the police and file a complaint. 
The FTC recommends you report your experience on its website, the Consumer Financial Protection Bureau complaint portal, and the FBI's Internet Crime Complaint Center.
Consider All Your Debt Relief Options
The debt relief reviews we've presented paint a mixed picture. On the one hand, some reviewers give glowing testimonials, while others accuse debt relief companies of bad faith or worse. Given the potential damage to your credit, we advise that you consider all your alternatives before pursuing debt settlement.
Consolidation is a less drastic way to address your debt problems. You can also decide to sign up for credit counseling or debt management. 
Whichever course of action you pursue, take the time to research the organizations you plan to enlist. Choose legitimate firms (such as members of the American Fair Credit Council) with long track records and high scores from independent review websites. 
Advertiser Disclosure
BadCredit.org is a free online resource that offers valuable content and comparison services to users. To keep this resource 100% free for users, we receive advertising compensation from the financial products listed on this page. Along with key review factors, this compensation may impact how and where products appear on the page (including, for example, the order in which they appear). BadCredit.org does not include listings for all financial products.
Our Editorial Review Policy
Our site is committed to publishing independent, accurate content guided by strict editorial guidelines. Before articles and reviews are published on our site, they undergo a thorough review process performed by a team of independent editors and subject-matter experts to ensure the content's accuracy, timeliness, and impartiality. Our editorial team is separate and independent of our site's advertisers, and the opinions they express on our site are their own. To read more about our team members and their editorial backgrounds, please visit our site's About page.