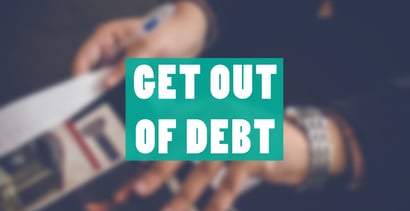 Bad credit and being in debt often go hand in hand. Taking advantage of debt relief options for bad credit can help consumers break out of that cycle.
There's nothing wrong with some debt, as long as you're paying it down and have a plan to get rid of it. But if your debt is so bad that it's causing your credit score to drop, then you'll likely have trouble getting good loan rates and other services that require a good credit score.
If you have bad credit and are in debt, here are six debt relief options for bad credit that may be able to help you solve both problems.
1. Consult with a Debt Relief Company
Debt relief companies can offer a host of services. If you're seeking credit card debt relief, they can negotiate a settlement with your creditors.
If you're unsure how to navigate the complexities of debt relief, a debt relief company can help with debt consolidation, debt settlement and negotiation, and other programs.
Best Debt Relief Companies for Bad Credit
These debt relief companies offer free consultations, so it won't hurt to ask each about their services to help you determine which is the best fit for you. If you are $10,000 or more in debt, then these may be good places to start:
Requires $10,000 or more in credit card debt
Free, no-obligation debt analysis
Specializes in credit card and medical debt
Also handles debt from personal loans, private student loans, lines of credit, and collections
Does not handle IRS, utility, federal student loans or mortgage debt
Long-term program to relieve debt over 24-48 month period
| Better Business Bureau | In Business Since | Free Consultation? | Reputation Score |
| --- | --- | --- | --- |
| A+ | 2009 | Yes | 9.5/10 |
100% confidential, no-obligation consultation
Specializes in unsecured debts over $10,000
In business since 2000
Options for debt settlement, consolidation, and tax debt
Get a 100% free, personalized savings estimate from a debt professional
| Better Business Bureau | In Business Since | Free Consultation? | Reputation Score |
| --- | --- | --- | --- |
| (No Grade) | 2000 | Yes | 9.0/10 |
Toll-free assessment: 1-855-299-9573
Minimum $10,000 in debt required
Learn about your debt relief options
AFCC accredited member
Resolve debts in as little as 24 to 48 months
$5 Billion in debt resolved – #1 in America
| Better Business Bureau | In Business Since | Free Consultation? | Reputation Score |
| --- | --- | --- | --- |
| A+ | 2002 | Yes | 9.5/10 |
A good debt relief company should be able to help you consolidate all your debts into a single payment, negotiate debt repayment, and advise you on the best way to deal with your unique situation. The ultimate goal should be to help you get out of debt.
The company may ask you to put a certain amount of money in an escrow account to cover payments it negotiates on your behalf. But don't think of it as a bank or payment service. You may still have to make payments to your creditors after a debt relief company advises you on how to do it.
Be cautious of a debt relief company that:
Asks for payment upfront
Promises to improve your credit score
Has high monthly fees
Has a high percentage fee for the debt amount reduced
Guarantees debt will "go away"
Guarantees derogatory marks will be removed from your credit report
A good company should be around for years and be transparent about including information on its website about its fees and eligibility requirements for its services.
2. Look into Debt Consolidation Loans
We've written about the best debt consolidation loans for bad credit before, so we won't reinvent the wheel here. But it's worth knowing that taking out one large loan to consolidate and pay off multiple, smaller loans can be a way to switch out high interest rates for one with more favorable terms.
Debt management plans worked out through a debt relief company are one way to do this, but you can also do it on your own. Taking out personal loans or using low-interest credit card balance transfers to consolidate your debt are two ways you can manage this on your own.
Best Providers of Debt Consolidation Loans for Bad Credit
If you have bad credit, you can look for a debt consolidation loan company that focuses on borrowers like you. They may not offer the lowest interest rates for subprime loans, but they should be able to lower your monthly payments by stretching the loan out over years.
That move, however, equates to paying more interest in the long run. Below are two lending networks that offer loans large enough to consolidate other debts.
Loans from $500 to $10,000
Receive a loan decision in minutes
Get funds directly to your bank account
Use the loan for any purpose
| Loan Amount | Interest Rate | Loan Term | Loan Example |
| --- | --- | --- | --- |
| $500 to $10,000 | 5.99% - 35.99% | 3 to 72 Months | See representative example |
Loans from

$1,000

to

$35,000

Large lender network
Fast loan decision
Use the loan for any purpose
Funding as soon as one business day, if approved
| Loan Amount | Interest Rate | Loan Term | Loan Example |
| --- | --- | --- | --- |
| $500 to $35,000 | 5.99% - 35.99% | 3 to 72 Months | See representative example |
If your FICO credit score is "fair" in the range of 580-669 or better, you should be able to get approved for a debt consolidation loan. Making one payment to one lender instead of multiple payments to many lenders can help you manage your bills more easily and avoid late and missed payments.
Doing so could improve your payment history, which makes up 35% of a FICO score.
3. Take Out a Home Equity Loan
A home equity loan can be a smart debt relief option if you have bad credit because lenders are more likely to offer you credit if your property is used as collateral.
It will be easier to get if you have a good credit score and not much debt relative to your income, but getting a home equity loan if you have bad credit shouldn't be impossible. Some companies specialize in loans for consumers with bad credit.
Best Providers of Home Equity Loans for Bad Credit
To get a home equity loan, you must have some equity in your home. As market values of homes increase, equity increases with it, giving homeowners a chance to borrow more money through a home equity loan.
Here are some of the best providers of home equity loans for bad credit:
America's largest mortgage lender
The entire process is completed online
Options for new mortgages and refinancing existing mortgages
Award-winning customer service and cutting-edge digital platforms
More than 90% of clients would recommend us
| Interest Rate | In Business Since | Application Length | Reputation Score |
| --- | --- | --- | --- |
| Varies | 1985 | 5 minutes | 9.5/10 |
Best for cash-out refinance
Utilize your home equity with America's #1 lender
eClosing allows customers to close electronically, greatly speeding the process
A+ rating with the BBB
Receive cash for home improvements, college tuition, or paying off debt
24/7 access to your loan through the Rocket Mortgage app
| Interest Rate | In Business Since | Application Length | Reputation Score |
| --- | --- | --- | --- |
| Varies | 1985 | 5 minutes | 9.5/10 |
Get today's mortgage rates from the top mortgage lenders and banks
Easily compare and choose mortgage lenders with no obligations or fees
Review current mortgage rates side by side
Pick mortgage lenders that meet your specific needs
Compare rates from pre-qualified and approved mortgage lenders — 100% online, 100% free
| Interest Rate | In Business Since | Application Length | Reputation Score |
| --- | --- | --- | --- |
| Varies | 1979 | 4 minutes | 8.5/10 |
These companies specialize in helping people with bad credit get home loans and home equity loans. There are two types of these loans — a lump sum withdrawal of cash through a home equity loan, and an equity line of credit that you can use as needed, called a home equity line of credit, or HELOC for short. Neither requires having excellent credit.
Determining how much equity you have is pretty simple. Take the current value of your house and subtract how much you still owe on your mortgage.
For example, if you bought your home for $200,000 and you've paid off $50,000 of your mortgage and you have a $150,000 mortgage debt, the equity you have in your home is $50,000.
But say your home's market value has increased to $300,000. Your equity has now grown to $150,000. A home appraisal will be used to determine the market value of a home.
A lender won't let you pull out all of that equity from a home, but it could let you borrow up to 80% of your equity. In the above case, that equals a $120,000 home equity loan.
A home equity loan or HELOC is considered a second mortgage, so if you have a low credit score, lenders may want you to have a good debt-to-income ratio, or DTI. The lower the DTI, the better.
This ratio is all of your monthly debt payments divided by your gross monthly income. It helps lenders determine your ability to make monthly payments on the amount you plan to borrow.
4. Seek Credit Counseling
Going to a counselor for help with any problems that life throws at you is often a good idea. Having an objective view of your situation from someone who is advocating for you can help in a lot of ways. Credit counseling is another way to find debt relief help if you have bad credit.
Nonprofit credit counseling agencies offer free general personal finance advice, but they can also help with specific issues such as homeownership, bankruptcy, student loans, budgeting, and debt management plans, which we'll get to in detail next.
Two places to search for a credit counseling agency are the National Foundation for Credit Counseling and the Financial Counseling Association of America. They have certification requirements and require accreditation from an outside organization to ensure that standards of practice are being met.
You should be able to find a counseling service near you that you can visit in person to receive free help. Make sure you fully understand any fees the counseling service charges to decide whether you can afford it.
Nonprofit credit counselors offer free services and are different than for-profit credit repair companies, which charge for services. And, don't confuse credit counseling services with debt settlement companies, which aren't a good idea for most people.
5. Take on a Debt Management Plan
Credit counseling agencies are mainly known for their debt management plans. This is a form of debt relief that's less problematic than bankruptcy or debt settlements, which can hurt credit scores.
A debt management plan is when a credit counseling agency, such as GreenPath, negotiates lower interest rates or reduced payment amounts with your lenders. It can arrange one monthly payment to help you get rid of your debt over three to five years. It's typically used to pay off debt from credit cards.
Debt management plans from nonprofit credit counseling agencies will likely require paying a startup fee of around $40 and monthly fees of around $20 or so. A plan can cut your interest rate by half or more, potentially saving you thousands of dollars in interest over a few years.
You'll generally be unable to use credit cards or get new lines of credit during the three to five years of the plan. If you miss a payment, it could derail the plan and end your interest rate cuts.
Another consideration is whether credit counseling or a debt management plan will hurt your credit score. If a lender sees that you're seeking such help, will your credit score drop?
Going to credit counseling classes won't directly affect your credit scores. Repaying debt through a debt management plan is an indication of credit counseling and shouldn't impact your credit scores.
However, if a comment is added to the accounts in your credit report, lenders may see that they're being repaid through a debt management plan. Lenders could hold that against you, but it shouldn't affect credit scores, according to consumer reporting agency Experian.
If a lender reports an account as settled, which means less was paid than originally agreed, then that can have a negative impact on credit scores — whether you negotiated it yourself or a credit counseling agency did it for you.
6. Renegotiate the Terms of Your Debt
Credit counseling agencies, debt relief companies, and others can work on your behalf to renegotiate the terms of your debt — often for a fee — but this is one area where doing it yourself can save you money and help ensure it's done correctly and quickly.
It isn't as complicated as you may think. Creditors are often willing to work with customers who are looking for better ways to pay off their debts and may offer you better terms, a reprieve from payments for a few months if you've just lost your job, or set up payment plans if you just ask with a phone call or letter.
Some money being paid is better than none at all, and creditors may renegotiate terms to keep some kind of payment coming in. They know that they're more likely to get all or most of the money owed by working with you than they are by waiting until you possibly default and the debt is turned over to a collection agency to resolve. Some debts are sold for pennies on the dollar to debt collectors.
If a problem arises and you can't pay a bill or foresee that a job loss or hospitalization will make debt payment difficult, notify your creditors immediately. Request a lower payment amount and lower interest rate, and, if possible, for a delay of a month or so in making any payments while you get back on your feet.
Tell them that if you can't renegotiate your credit terms, you may have to declare bankruptcy. They would then have to get in line with other creditors to collect payment, if any amount is paid at all.
You may have the most success renegotiating debt terms if you're already delinquent on payments. As missed payments pile up, creditors may be open to a settlement by foreseeing that no payments are coming at all and that partial payment is better than nothing.
Taking a DIY approach means you won't have to pay a debt settlement company fees, and you may be able to pay off the debt a lot faster on your own. Whatever improved terms you negotiate, don't make a payment until you get the settlement terms in writing from your creditor.
FAQs About Debt Relief for Bad Credit
There are a lot of debt relief options for bad credit, each with its own set of details to wade through. Here are some answers to frequently asked questions to help explain these debt relief options more:
Can I Get a Debt Consolidation Loan with Poor Credit?
Yes. The interest rate will likely be higher than if you had fair or good credit, but there are lenders that focus on working with people with poor credit to get debt consolidation loans.
If you have poor credit, chances are that a high percentage of your debt is from credit cards that charge high interest rates to subprime borrowers. The interest rates may be double what they would be for someone with good credit. Getting a debt consolidation loan can help lower your interest rate charges, especially if you have multiple credit cards you're trying to pay off.
When shopping for a debt consolidation loan, look for the best loan terms and check the reputation of the providers. Rates will likely be higher than if you had good credit, but look for rates that are lower than what your credit cards are charging.
Debt consolidation loans from these lenders range from $500 to $35,000, and loan terms can range from three to 72 months.
Along with providing a better interest rate, a good lender will give you information and resources to improve your credit in the long run. Look for a company that has an educational blog, resumé writing tips, scam alerts, and more to help you manage your finances.
Some lenders for people with bad credit, such as Upstart, look at more than a credit score. Upstart offers loans of up to $50,000 and considers your career trajectory and income.
How Will a Debt Relief Program Affect My Credit?
Not much. As explained in item #5 above, having a debt management plan with a creditor shouldn't affect your credit score.
The wording here is very important. How your credit score is affected depends on what type of debt relief you're working on.
Credit counseling and debt management plans that counselors negotiate on your behalf, or that you can negotiate on your own, shouldn't affect your credit score. Debt consolidation also shouldn't hurt a credit score.
A debt settlement, however, will hurt it.
Debt settlement is when you and a creditor agree that you'll pay a lump sum that's typically less than the amount you owe. This payment resolves, or "settles," your debt. It's usually done by third-party companies that you pay to negotiate for you.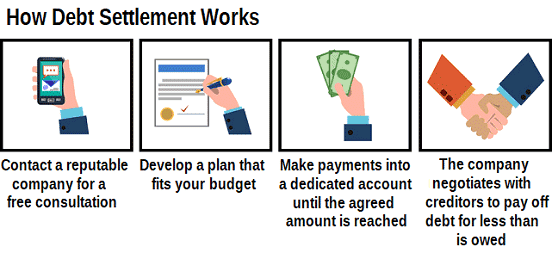 As detailed in item #1, debt relief companies may offer this service and others for a fee. Some of them specialize in helping people with bad credit. If you're seeking this kind of assistance, look for a company that is transparent about its fees and services offered.
A debt settlement will likely cause your credit score to drop, though higher scores will tend to drop more than lower credit scores. One reason debt settlement will hurt credit scores is that debt settlement companies typically ask customers to stop making payments to the creditor while they negotiate your settlement.
The theory is that lenders will be more motivated to settle debts that are at risk of not being paid.
But not paying a credit card bill for several months, for example, will hurt a credit score even before you settle the debt. Any missed payment will hurt your credit score because it shows a poor payment history — which is the most important factor in determining credit scores.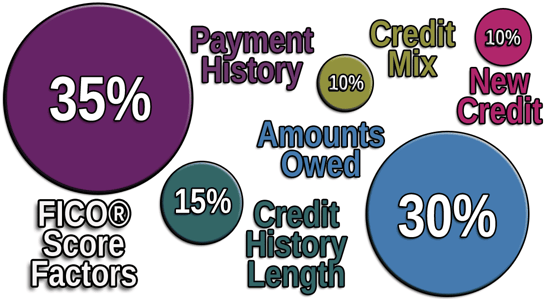 Don't expect a debt settlement company to be concerned with your credit score. Their main focus is lowering or eliminating what you owe.
Is it Better to Settle a Debt or Pay in Full?
Fully paying off a debt is always the best option to improve your credit score. Settling the debt for less than you originally owed will hurt your credit scores.
A credit score measures the likelihood that you'll pay back money you borrowed, such as through a loan or credit card. Having a credit account settled for less than the amount originally owed is a sign that you're unlikely to pay back all of the money you borrowed and will drop your credit score.
Settling an account — where you negotiate with the lender and they've agreed to accept less than the full amount owed as final payment — is better than not paying at all. But a settled account still has a negative effect on credit scores.
A settled account will be reported to the credit bureaus as "settled" or "paid in full for less than the full balance." The "settled" status will stay on your credit reports for seven years from the original delinquency date of the account or from the date it was settled. The older the settlement information on your credit report, the less of an impact it will have.
Paying off an account for the entire amount due — without a negotiated lesser amount — is listed as "paid in full" on credit reports and shows that you paid the full amount due. If the account was closed while in good standing, it will remain on your credit report for up to 10 years.
What Happens if You Ignore Debt Collectors?
Some debt collectors may eventually give up calling and sending you letters if you ignore them long enough, but the ignored debt won't go away.
If it's a legitimate debt, and you're not being called in a case of mistaken identity or the debt was paid but not recorded properly, then the debt will continue being listed on your credit reports until it's either paid off or the credit reporting limit expires.
The Fair Credit Reporting Act is a federal law that limits how long negative information can remain on a credit report. Late credit card payments and collections can stay on a credit report for up to seven years.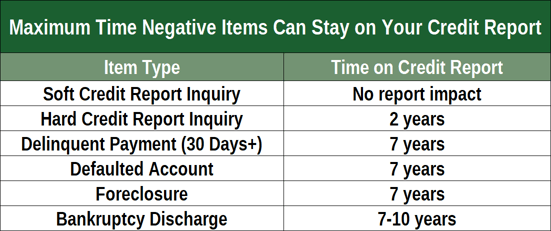 Having a debt fall off your credit report doesn't mean your creditor will forget it. The unpaid creditor will likely keep a record of your unpaid debt and will be unlikely to let you open an account again if you try to do business with them years later.
There's also a statute of limitations for debts that varies by state and limits the amount of time a creditor or collector can sue to force you to pay a debt or garnish your wages. Most states impose this limit for three to six years, though a few allow credit card debt to be sought for as long as 10 years, according to the Federal Trade Commission.
If a debt collector is calling you about an old debt, call your State Attorney General's Office for guidance on unpaid debts that are considered time-barred. A collector may still contact you about time-barred debts, but they can't sue you if you don't pay.
If a debt collector is contacting you and you want the communication to stop, you can send it a cease and desist letter demanding that it stop. The federal Fair Debt Collection Practices Act requires them to stop contacting you if you ask them in writing to stop.
Get Relief from Your Debts
If you're in debt and your credit score keeps dropping, don't despair — debt relief options for bad credit can help.
Unless you do it yourself, you may have to pay one-time or monthly fees to a debt relief company to help you get out of debt. Look for companies that are upfront about any fees, offer advice on the best ways to get out of debt, and specialize in helping people who have bad credit.
Other solutions include debt consolidation loans, home equity loans, credit counseling, a debt management plan, and renegotiating the terms of your debt yourself. You can accomplish all of these, even if you have poor credit, and eventually be debt-free with an improved credit score.
Advertiser Disclosure
BadCredit.org is a free online resource that offers valuable content and comparison services to users. To keep this resource 100% free for users, we receive advertising compensation from the financial products listed on this page. Along with key review factors, this compensation may impact how and where products appear on the page (including, for example, the order in which they appear). BadCredit.org does not include listings for all financial products.
Our Editorial Review Policy
Our site is committed to publishing independent, accurate content guided by strict editorial guidelines. Before articles and reviews are published on our site, they undergo a thorough review process performed by a team of independent editors and subject-matter experts to ensure the content's accuracy, timeliness, and impartiality. Our editorial team is separate and independent of our site's advertisers, and the opinions they express on our site are their own. To read more about our team members and their editorial backgrounds, please visit our site's About page.