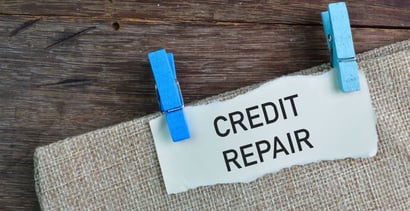 Many consumers have no idea what's in their credit reports. That's unfortunate because this is a case where what you don't know can definitely hurt you. 
Your credit reports (yes, plural – you can have one each from TransUnion, Equifax, and Experian) form the basis of your credit score, hence your credit access. 
Bad credit scores arise for several reasons, including late payments and a high credit utilization ratio (i.e., your card balances divided by the sum of your credit limits). The lower that percentage, the better your scores.
Another factor that may prevent good credit scores is mistakes on your credit reports. Credit report repair, when successful, can significantly improve your credit score, possibly into good credit territory. 
This article describes the leading credit repair options available and pitfalls to avoid. If you're unhappy with your credit score, it's worth a read.
DIY Credit Repair Options
You'll want to explore the following credit repair options if you're the type who likes to solve problems independently. On the plus side, you can control the process while spending little or no money. But you will have to devote significant time and attention to the effort. 
If that sounds good to you, here's how to repair your credit report yourself:
1. Dispute Suspicious Items Yourself Online
Start the process by requesting your three free credit reports from AnnualCreditReport.com, the only federally authorized source of free credit reports. Although the details vary by credit bureau, your credit report contains four sections for your review:
Identification: Look for incorrect identifying information (e.g., last name, Social Security number, date of birth, etc.) that may indicate the credit reporting agency has mixed up your data with someone else's.
Tradelines: These are your loan and credit card accounts. Look for mistakes such as accounts and collections you don't recognize, missing payments, purchases you didn't make, and charge-offs that didn't occur.
Public records: This section contains court information. Verify any data regarding vehicle repos, money owed for child support, adverse legal judgments, bankruptcies, liens, foreclosures, etc.
Inquiries: Hard inquiries (i.e., credit checks from creditors when you apply for new credit) can impact your credit score. If you see any, verify that you authorized them.
As you can see, DIY credit repair requires considerable attention to detail. If you come across inaccurate negative information, you can file disputes with each credit reporting company online or by certified mail:
Experian
PO Box 4500
Allen, TX 75013
(888) 397-3742
Online disputes: https://www.experian.com/disputes/main.html
TransUnion
Attn: Consumer Dispute Center
PO Box 2000
Chester, PA 19016
(800) 916-8800
Online disputes: https://www.transunion.com/credit-disputes/dispute-your-credit
Equifax
PO Box 740256
Atlanta, GA 30348
(866) 349-5191
Online disputes: https://www.equifax.com/personal/credit-report-services/credit-dispute/
Be sure to specify all the circumstances surrounding the dispute and provide supporting documentation if available.
The credit bureau should send you a written decision within 30 days. If you prevail, the bureau will correct or delete the erroneous item and notify recent report viewers. You can appeal if the bureau decides against you, but only if you provide additional information. If you overdo it, the bureau can label your disputes as frivolous and ignore them.
Even if you ultimately lose the dispute, you can attach a 100-word statement to your report explaining your position in detail, backed by evidence and facts. The information gives creditors more context when they evaluate your credit applications.
2. Make a Pay-for-Delete Offer
Did you know you can negotiate with a creditor to remove a derogatory item on your credit report? You will have to send a pay-for-delete letter to a creditor or debt collector offering to pay some or all of the amount you owe, after which the creditor may agree to remove the negative information from your credit report. 
This is a perfectly legal request. It may not work, but it's certainly worth a try.
The reason it may work is that it benefits both parties. That's a win-win: You have a negative item removed, and your creditor receives at least some of the money you owe. Collectors often buy loans and credit card debt for a few cents on the dollar and may be happy to collect at least part of what you owe.

Procedurally, you should first request a debt validation letter from the collector verifying the accuracy of its information about your debt. If the data is correct, you can follow up within 30 days with a pay-for-delete letter. But if you don't recognize or agree with the debt in question, you can demand the collector prove you owe money. 
Otherwise, it must drop its collection activities, and you can request the credit bureau remove the negative item from your credit report. 
3. Make a Goodwill Request For Deletions
If you are on good terms with a creditor that has listed a late or missed payment, consider sending a goodwill request for deletion letter asking the creditor to remove the offending item from your credit report. You can send the request via mail, email, or phone.
You'll have a better chance of succeeding if you have a long and positive relationship with the creditor. You should be completely current on your payments to the creditor before sending a polite letter. 
As with other credit repair letters, examples of goodwill request-for-deletion letters are available online. But you may never get a response from the creditor since a goodwill letter is not an official credit dispute. Your best bet is to cast the late payment as a rare oversight and something you'll never repeat. 
Goodwill letters are less successful for serious misdemeanors, such as repossessions and collections.
4. Be Patient
The sting of negative credit report items dissipates over time: 
The damage to your score takes its strongest toll over the first two or three years, after which the impact begins to wane.
Bureaus must remove items from your report after a set period. Once removed, the items have no impact on your credit score.
The following chart lists the maximum time a derogatory item can remain on your credit report:

A Chapter 7 bankruptcy can remain on your report for up to 10 years. In Chapter 7, the court wipes out your unsecured debt (with the possible exception of student loan debt). In a Chapter 13 bankruptcy, you agree to repay some or all of your debts. It remains on your report for seven years.
Credit bureaus must promptly remove any items that age off your credit report. If they fail to do so, you can remind them by filing a dispute. The credit reporting agency should then delete the item within 30 days. 
For-Hire Credit Repair Services
If you're not the DIY type, you can hire a credit repair organization to repair your credit reports. The following five are legitimate companies with good track records for success.
Our perennial best credit repair company, Lexington Law, has an expert staff experienced at removing erroneous information from credit reports. The company offers four service packages at different price points, allowing customers to choose the proper work scope.
Lexington Law's mission is to actively pursue questionable credit report items no matter which package you choose.
CreditRepair.com, our runner-up for best credit repair organization, recently overhauled its service to operate 100% online. It vigorously engages credit reporting agencies on your behalf and provides an intuitive interface that tracks the status of your disputes.
This credit repair business boasts that its average customer boosts their credit score by 40 points within four months. You can select a service level to fit your budget, and the initial consultation is free.
Sky Blue Credit Repair®, founded in 1989, was a pioneer in the credit repair market. It provides a 90-day unconditional guarantee that is unsurpassed in the industry.
Sky Blue differs from its competitors by offering only one service level. Customers receive a set number of monthly challenges plus cease and desist letters, credit scoring analysis, debt validation, credit monitoring, and debt settlement consultations.
The Credit Pros offers various services, including credit repair, one-on-one credit coaching, settlement assistance, identity theft resolution, credit monitoring, and security clearance assistance. An expert credit consultant will work with you to review your credit history and identify questionable items.
The company's services begin at $69 a month plus a one-time $119 initial fee, so it's not the cheapest option.
Ovation Credit Repair offers two service packages that charge startup and monthly fees. Both services challenge inaccurate, unverifiable, and unfair credit report items. The more expensive package provides a higher level of monthly activity.
Ovation Credit Repair will give you a discount if you recommend a friend, switch from another credit repair company, or share a subscription with another person. You also save money on its services if you are a senior citizen or military member.
FAQs Regarding Credit Report Repair
Here are the answers to some of the questions that BadCredit.org frequently receives concerning credit repair.
How Do Credit Repair Services Work?
Credit repair service starts with a personal consultation in which a credit counselor discusses your concerns. Several credit repair companies, including Lexington Law, offer free consultations to help prospective customers understand the scope and cost of the available services. 

If you wish to proceed, you pay for a monthly subscription in which the credit repair agency disputes questionable data on your credit reports. Your credit counselor will work with the credit bureaus and creditors to address each dubious item on your credit reports.
The agency can quickly fix simple mistakes, such as a misspelled name or incorrect address. Your credit counseling expert addresses more complicated items involving misinformation about your credit accounts by lodging disputes with the credit bureaus and asking for verification or removal. The agency tracks each dispute and reports its progress to you online. It ensures that the credit bureau fixes the offending data for each dispute you win.
What Can Credit Repair Remove From My Credit Report?
Credit repair can remove only erroneous or unverifiable data from your credit reports. Credit bureaus must share information with their clients and will generally refrain from deleting valid data. That's why pay-for-delete and goodwill letters often fail to produce results.
When you or a credit repair organization disputes a credit report item, the credit bureau forwards the case to the creditor. If the creditor cannot (or chooses not to) prove that the item is correct, the bureau will remove it from your report. 
The kinds of items that you can dispute include:
Hard inquiries for new credit that you didn't authorize
Accounts with incorrect or missing data
Accounts you didn't open
Payments you didn't make
Incorrect entries regarding collections, charge-offs, repos, bankruptcies, and other credit events
Significant discrepancies in your credit reports may indicate fraud and identity theft. Some credit repair companies offer services to help address these serious credit problems.
What Happens After a Credit Bureau Deletes an Item From My Credit Report?
A credit bureau has 30 days to adjudicate disputes. It must correct or remove the faulty item from your credit report if it upholds your challenge. It also will notify parties who have received your credit report within the last six months. 
The bureau should send you an updated credit report and/or a letter specifying the action it took. If the removed item was derogatory, you could see your credit score rise within a month or two. 
Can Disputes Hurt My Credit?
No, you can dispute items on your credit report without reprisals. The worst consequence would be for a credit bureau to classify your disputes as frivolous and ignore them.
"Frivolous" disputes are those that repeatedly challenge valid or insignificant report items. For example, it may be frivolous if you have a history of late payments and challenge or appeal each one even though the information is correct.
Is It Worth Paying Someone to Repair Credit?
The value a credit repair agency provides depends on the condition of your credit reports and your willingness to check them yourself. The more serious the report discrepancies, the greater you'll value the repair agency's service. 
Typical repair agency subscriptions cost between $50 and $150 per month. There may also be an initial setup fee, typically around $100.
Most customers maintain their subscriptions for four to six months, but you can cancel or extend yours anytime. Even the best credit repair company loses its usefulness over time as it runs out of items to dispute. 
How Is Credit Repair Governed?
Several mechanisms govern the credit repair industry, including laws, federal watchdogs, and trade associations. They include:
You can also contact your state attorney general if you suspect your credit repair service is dishonest.
What Are Credit Repair Tactics to Avoid?
Be on the lookout for scam artists trying to sell you an illegal credit repair strategy. If you fall victim to one, you'll likely lose money and expose yourself to civil or criminal charges.
One notorious credit repair scam involves credit profile numbers (CPNs), nine-digit numbers formatted identically to Social Security numbers (SSNs). In fact, CPNs may be stolen SSNs. Scammers may charge hundreds or thousands of dollars for a CPN.
In this scheme, you use a CPN instead of your regular SSN when filling out a credit application. You also provide the wrong name and address. This is an illegal way to create a false identity separate from your existing credit history. 
Using CPNs exposes you to federal and state charges of identity theft and misrepresenting your SSN. You can go to prison for using a CPN.
A variation on the CPN scheme is to use Employer Identification Numbers (EINs), which are company identifiers formatted like SSNs. EINs are legal numbers when properly used, but they aren't substitutes for SSNs on credit applications. It is a crime to obtain an EIN under false pretenses.
Another scam involves dishonest credit counseling that falsifies information on your credit reports. The counselor invents creditors, lenders, and transactions to burnish your credit report. This is also a crime.
Consumers should never employ illegal practices to fool a creditor or major credit bureau. Perpetrators will likely suffer unpleasant consequences.
You Have Options For Repairing Your Credit Reports
All too often, Americans fail to check their credit reports for mistakes. But errors do occur, and they can damage your credit. 
Thankfully, you can obtain and review free copies of your credit reports. If you notice questionable information, you can embark upon credit report repair on your own or with the assistance of a credit repair agency. 
Either way, by removing erroneous items from your credit reports, you may be able to improve your credit score and qualify for a higher credit card limit. In the process, you may encounter evidence of a far more severe problem — identity theft. If this happens, seek help from a specialist who can help you recover your identity and prevent future occurrences.
Advertiser Disclosure
BadCredit.org is a free online resource that offers valuable content and comparison services to users. To keep this resource 100% free for users, we receive advertising compensation from the financial products listed on this page. Along with key review factors, this compensation may impact how and where products appear on the page (including, for example, the order in which they appear). BadCredit.org does not include listings for all financial products.
Our Editorial Review Policy
Our site is committed to publishing independent, accurate content guided by strict editorial guidelines. Before articles and reviews are published on our site, they undergo a thorough review process performed by a team of independent editors and subject-matter experts to ensure the content's accuracy, timeliness, and impartiality. Our editorial team is separate and independent of our site's advertisers, and the opinions they express on our site are their own. To read more about our team members and their editorial backgrounds, please visit our site's About page.