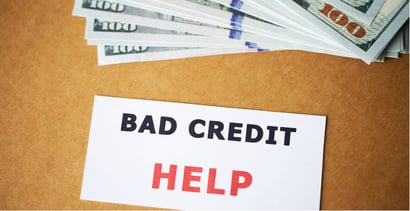 Hiring a credit repair company to help you fix your bad credit isn't free, but finding the best credit repair quotes can at least help you save money by shopping around for the best services and prices.
If you're a DIY sort of person, you can remove negative, incorrect information from your credit reports by yourself for free. Fixing errors on your credit reports should raise your FICO score, which can make getting credit and loans, such as a personal loan, easier.
But DIY credit repair can take longer, and it can be a lot easier to pay a credit repair agency $100 or so per month to improve your credit accounts. Here are seven of the best credit repair services, based on staff reviews and BBB ratings.
1. Lexington Law: $59.95 – $139.95/Month
For $59.95-$139.95 per month, Lexington Law offers everything from basic services of credit bureau challenges and credit interventions to its advanced level of assistance that includes a FICO score tracker, score analysis, and personal finance tools.
Lexington Law is our top-rated credit repair service in part because it has a team of credit people made up of lawyers and paralegals who work with clients to help resolve bad credit issues so they can ultimately have a good credit score.
Most results of any credit repair law firm
Clients saw more than 7 million negative items removed from their credit reports in 2020
More than 221 million challenges and disputes sent for clients since 2004
Get started today with a free online credit report consultation
Cancel anytime
| Better Business Bureau | In Business Since | Monthly Cost | Reputation Score |
| --- | --- | --- | --- |
| See BBB Listing | 2004 | $59.95+ | 8/10 |
Lexington Law starts with a free credit report consultation. From there, you can decide if you want to continue with the service.
Lexington Law's past clients have seen the removal of an average of 10.2 negative items from their credit reports. That's a lot of incorrect items that, when removed, can raise a credit score substantially.
Even a small improvement can save you money. For example, if someone with an average credit card balance of $3,668 were to move from a "fair" credit score of 669 to a "very good" score of 740, they would cut the interest they pay in half for a savings of $2,995, according to Lexington Law.
Paying $100 or so per month for a few months while your credit score improves can be worthwhile.
2. Sky Blue Credit Repair: $79/Month + One-Time Fee
At $79 per month, Sky Blue Credit Repair makes its credit repair service simple with one level of service and no costly upgrades. The service can be paused on its app if you ever need a break.
The one-time setup fee is $79, which is charged six days after signup. The monthly charge is paid after a month of work, never in advance.
Best-in-class support
In business since 1989
Rapid 35-day dispute cycle, tailored to your situation
90-day 100% money-back guarantee
Low $79 cost to get started, cancel or pause membership anytime
| Better Business Bureau | In Business Since | Monthly Cost | Reputation Score |
| --- | --- | --- | --- |
| A+ | 1989 | $79 | 9.5/10 |
Sky Blue Credit Repair starts by identifying the most subtle items to dispute. With your approval, it then disputes 15 items total, or five items per credit bureau, every 35 days in what it says is the quickest pace and best value in the industry.
It reviews your credit profile and offers practical advice to help you with the easiest ways to improve your credit profile and raise your credit scores. It also offers guidance on opening new credit cards and managing the balances so you get the best FICO score benefit.
3. CreditRepair.com: $69.95 – $119.95/Month + One-Time Fee
CreditRepair.com charges $69.95, $99.95, or $119.95 per month, based on the service tier you select, plus a one-time fee of $14.99 to pull your credit reports.
Free online consultation
Helped with over 8.2 million removals on members' behalf since 2012
Free access to your credit report summary
Three-step plan for checking, challenging and changing your credit report
Online tools to help clients track results
| Better Business Bureau | In Business Since | Monthly Cost | Reputation Score |
| --- | --- | --- | --- |
| See BBB Listing | 2012 | $69.95+ | 8/10 |
CreditRepair.com does three things for customers: challenges questionable negative items with all three credit bureaus, disputes negative items by asking creditors to verify what they're reporting, monitors your credit, and deals with additional issues as they arise.
CreditRepair.com doesn't just dispute negative items on a credit report with the credit bureaus — it also communicates with creditors to get wrong information corrected. This is important because creditors with incorrect information can continue reporting the same wrong information to a credit reporting bureau until it's fixed.
4. The Credit Pros: $119 – $149/Month + One-Time Fee
The Credit Pros disputes items on your credit report and says it gets customers results in 30 to 45 days, and sometimes much sooner. Its cheapest plan that offers three-bureau challenges is $119 per month plus a $119 first work fee.
Free online evaluation
One-on-one action plan with a certified FICO professional
24/7 Access to your online client portal
90-Day Money-Back Guarantee
| Better Business Bureau | In Business Since | Monthly Cost | Reputation Score |
| --- | --- | --- | --- |
| A+ | 2009 | $69+ | 7.5/10 |
After a consultation, it follows consumer protection laws and creates and mails a custom dispute letter to each of the three major credit bureaus. Federal law requires the credit bureaus to investigate each item by contacting the source that reported it.
If the source fails to verify the item, it's deleted. If it's verified, then a change isn't made to a credit report. In most cases, creditors and collectors have 30 days to complete their investigations and send the results to The Credit Pros or any other company working on your behalf.
5. Ovation Credit Repair: $79 – $109/Month + One-Time Fee
For $79 to $109 per month and a one-time fee of $89, Ovation Credit Repair says its services can improve an average of 19 items for its customers.
Its top-tier plan costs $109 per month plus an initial $89 fee. It's recommended for people with compound or more extreme, negative items on their credit reports.
Free credit consultation
Unlimited disputes of credit report items
Costs $89 for initial work, then $79-$109 monthly to continue
Cancel anytime
Professional advisor assigned to each case
Essentials Plus also sends validation, goodwill, and recommendation letters to creditors
| Better Business Bureau | In Business Since | Monthly Cost | Reputation Score |
| --- | --- | --- | --- |
| A+ | 2004 | $79+ | 8.5/10 |
The top level includes unlimited challenge validation letters to challenge questionable items with creditors. An unlimited number of creditor goodwill letters are also sent, asking for account errors to be reviewed. Ovation Credit Repair will also send you a personalized recommendation letter so you can deal with potential lender disputes in the future.
The company also monitors customers' TransUnion credit reports and alerts users of changes that could affect a credit score or indicate that someone is trying to use your credit without your knowledge.
6. Credit Versio: $19.95/Month
Credit Versio is a software system that offers guidance on how to repair your credit score yourself with an online interface that walks you through the steps to dispute inaccurate information on your credit reports. The do-it-yourself software costs $19.95-$29.99 per month.


The plan starts after you link your credit reports to Credit Versio's software. Credit Versio uses artificial intelligence to determine which dispute strategies to apply to specific issues. Disputing a collection account is different than disputing a bankruptcy, for example.
It then helps you create the right dispute to achieve a permanent deletion. It can be as easy as completing a form and mailing it to creditors.
Credit Versio's basic service for $19.95 a month limits users to four disputes per month. A higher level at $24.95 per month allows unlimited disputes. The company also has a $29.95 monthly service that monitors credit score changes and looks for signs of identity theft.
7. Disputing Items Yourself: Free
Finding errors on credit reports is the responsibility of consumers, who must report the errors to the credit bureaus so they can be fixed. You can get help by paying a credit repair organization that knows the best credit repair secrets, or you can dispute items yourself for free.
Disputing credit report errors takes some time and work, but it doesn't have to cost money if you do it yourself. Start by getting a free credit report at annualcreditsreport.com for each of the three major credit reporting agencies: Equifax, Experian, and TransUnion. If you find an error at one agency, you should check the other two to see if it's duplicated.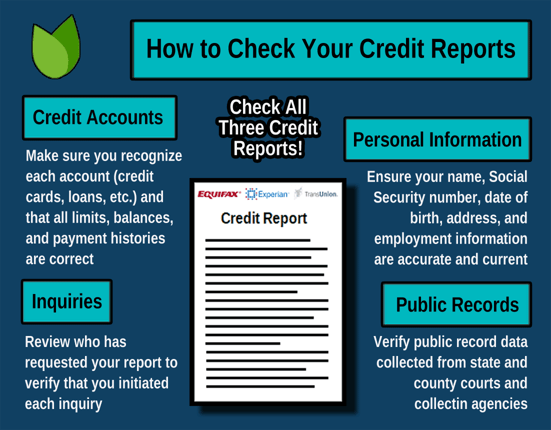 Remember that you're not disputing a credit score, only the information used to determine it. Here are the ways to dispute errors with each of the credit bureaus:
Equifax
The Equifax website for filing disputes is straightforward and easy to use. It has sections on how the process works, what to look for, what you need to start, and what to expect during the dispute process.
Equifax recommends to first check your credit report, and then file a dispute with Equifax for free if you spot any information that may be inaccurate or incomplete.
If you're submitting a dispute online, Equifax says it will contact you by email within 30 days with the results of its investigation into your dispute. It also has a form to check the status of an existing dispute online. If it finds that information on your credit report needs to be updated, Equifax says it will take care of it.
A dispute can also be submitted by mail or over the telephone to Equifax at:
1-866-349-5191
Equifax
P.O. Box 740256
Atlanta, GA 30374-0256
Experian
The Experian website offers four ways to begin to file a credit report dispute:
Start a new dispute online.
Sign in to check an existing dispute.
Get instructions for disputing by mail.
View the results of a phone or mail dispute.
Experian points out that a credit report number isn't necessary to file a dispute online. However, if you have a paper copy of your report from Experian, and you want to contact Experian to get assistance with your dispute, you can call the phone number on the report and reference the report number to get quicker access.
When submitting an online dispute with Experian, you'll be able to view your credit report online. Under the "Potentially Negative" section of the report, there may be information that could be hurting your credit report. You can click on an item to see the details, and if you believe it's inaccurate, you can click on the Dispute button for that item.
Experian says it will send you alerts by email to confirm when the dispute was opened, when there's an update about your dispute, and when the results are available. You can also view the alerts in the mail "Alerts" section of the Dispute Center. Disputes are generally resolved within 30 days.
A dispute can also be submitted by phone or mail:
1-888-397-3742
Experian
P.O. Box 4500
Allen, TX 75013
TransUnion
You will need to create an account with TransUnion, if you don't already have one, to file an online dispute with the third major credit reporting agency.
TransUnion has an online Disputes Support Center that answers a lot of questions about disputes.
The company lists three steps in the investigation process:
You submit a dispute request if you believe any item in your TransUnion credit report is inaccurate or needs updating.
TransUnion contacts the creditor for verification. If the information doesn't require verification, the information will be corrected.
The creditor returns verification, and TransUnion completes the process. It will revise or delete any information in your credit report if it's inaccurate. If the creditor verifies the accuracy of the disputed information, no change will be made, according to TransUnion.
You can usually review the investigation results within 30 days. If you don't agree with the results, TransUnion recommends, as other credit reporting agencies do, to contact the creditor directly and provide any documentation you have to support your claim.
You can also file a dispute with TransUnion over the phone or by mail at:
1-800-916-8800
TransUnion
Consumer Dispute Center
P.O. Box 2000
Chester, PA 19016
Is it Worth Paying Someone to Fix Your Credit?
Another way to put this is: How much is your time worth? For as little as $20, a service such as Credit Versio will guide you on how to resolve credit report inaccuracies on your own.
You can also do it for free on your own time by reviewing your credit reports regularly and contacting the credit bureaus and creditors to fix errors. It's easy enough — but it takes time.
If you don't have too many errors to resolve, then you may want to do it yourself. But if there are several errors to fix, then a credit repair company may be worthwhile.
Instead of spending hours doing a boring task that can take months to resolve, you can pay a company from $80 to $140 per month to do almost all of the work for you. Some companies charge a one-time fee of around $90, so include that in your costs.
Using a service for six months can add up to $700 or so. That's about $115 per month for a credit repair process done on your behalf by a team of people. It's not impossible to take the task on yourself, but DIY credit repair can be a lot of work.
If you decide to hire a credit repair organization, start by researching the company and seeing what type of reputation it has. Our reviews of credit repair companies are a good place to start, as are reviews from the Better Business Bureau and other online reviews.
To avoid being the victim of a credit repair scam, read what the Federal Trade Commission recommends doing, such as knowing how to report fraud and what your rights are.
The Credit Repair Organizations Act, or CROA, makes it illegal for credit repair companies to lie about what they can do for you and to charge you before they've performed their services. This law is enforced by the FTC. Companies must also give you a three-day right to cancel without charge, an estimate of how long it will take to get results, and a firm estimate of costs.
What is the Best Credit Repair Company?
Lexington Law is the best credit repair company that we recommend. We rank Lexington Law as the top-rated reputable credit repair company because it has been around for a long time, uses legal professionals to help customers, and has removed millions of inaccurate items from its customers' credit reports.
Most results of any credit repair law firm
Clients saw more than 7 million negative items removed from their credit reports in 2020
More than 221 million challenges and disputes sent for clients since 2004
Get started today with a free online credit report consultation
Cancel anytime
| Better Business Bureau | In Business Since | Monthly Cost | Reputation Score |
| --- | --- | --- | --- |
| See BBB Listing | 2004 | $59.95+ | 8/10 |
Lexington Law has competitive prices for four different service levels. The top tier provides cease and desist letters, FICO score tracking, and identity theft protection.
When shopping for a credit repair service, look for one that has these services:
Flat payment structure with lower-than-average monthly fees
24-hour customer support
High BBB score
Mobile app
Has been in business for at least a decade
Free consultation
Doesn't charge a fee before services are provided
Service that can be canceled at any time
Lexington Law checks all of these boxes.
Can Credit Repair Companies Really Fix Your Credit?
Yes, a credit repair agency can fix your credit. It can take a fair amount of time, depending on how poor your credit is, which is why a monthly subscription for six months or so may be needed to improve your score.
A credit repair agency starts by examining and summarizing your credit reports. Remember, they can only fix errors, so don't expect accurate information that hurts your credit score to be removed. Here are some of the things they're looking for:
Simple mistakes: Spelling errors, misreported amounts, an incorrect name, and other simple things that are incorrect on your credit file can usually be investigated and corrected quickly by a credit reporting bureau.
Out-of-date items: The law requires some negative items to be removed from credit reports after a certain length of time. Hard inquiries in a credit check, for example, can remain for two years. Some bankruptcies can stay for 10 years. Most items can stay on a credit report for seven years.
Unsubstantiated items: If a creditor or lender can't substantiate something on your report, then that negative item must be removed.
Fraud: Identity theft can be spotted in a credit report in a number of ways. A new account that you don't recognize may be opened in your name to take your money. Or a name similar to yours but with a different middle initial may be used to open a credit card in your name. A credit repair company can help you resolve identity fraud issues.
After determining what they can correct, repair companies will usually start by fixing easy problems, such as wrong names and addresses. If you agree, it will start challenging questionable items through formal dispute letters that ask that the items be validated or removed.
If a debt collector has been trying to get money from you to pay your debt, the credit repair service may write a cease and desist letter to the collection agency requesting that it stop contacting you. This letter could resolve issues when the creditor has confused you with another consumer, the statute of limitations has expired, the debt hasn't been verified, or you want to deal with the matter in court.
Within 30 days of sending dispute letters to credit reporting agencies, creditors, and others, the credit repair company may follow up and ask what action each party has taken.
How Long Does Credit Repair Take?
It's difficult to predict how long it will take to repair your credit since every credit situation is different. There may be a lot of errors to fix or not many at all.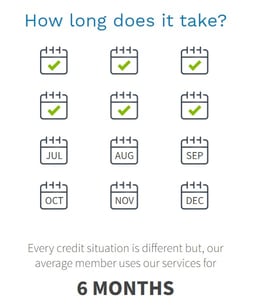 The credit restoration company CreditRepair.com says on its website that past members have seen an average increase of 40 points to their credit scores in just four months, and have typically stayed with it for six months.
That sounds like a lot of time, but remember how long it has taken to drop your credit score to where it is now. It has probably been a slow process over the past year or so, though a bankruptcy or other major money problem can cause a drastic drop.
A credit score can rise fairly quickly after errors are fixed. The easy errors can be fixed within a month, maybe two months. After that, more complex errors, such as account reporting errors, may take longer to resolve.
For example, a credit card payment may be listed as missed or late when you know you paid it on time. The repair company will need your help in finding proof of on-time payment.
Is it Better to Pay Off Collections or Wait?
A debt collector knocking at your door, calling constantly, or sending you debt collection letters is never a fun experience. You may be tempted to get the collection agency off your back by paying the money back.
If you legitimately owe money in collection debt, then paying or settling with the debt collector will help you avoid having a lawsuit brought against you. Your credit reports should then be updated to show your collection account at a zero balance.
However, there are some instances where you may want to wait to pay these debts off.
Collections can be reported for up to seven years on credit reports. There's no requirement that a debt collector or credit reporting bureau remove a collection (defaulted account) because it has been paid.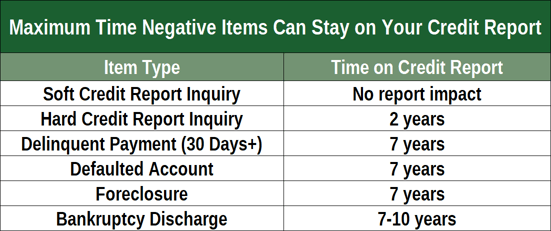 You have the right to dispute a collection account that is incorrect — because you've paid the money, for example — so the credit bureau corrects or removes the inaccurate information. Otherwise, the collection will fall off your credit report in seven years.
If you don't want to be sued for owing an outstanding debt, it can be tempting to at least set up a minimum monthly payment plan with a debt collector so that at least some money is being paid and the creditor won't sue you.
A payment of just $10 can start the statute of limitations on debt all over again, meaning a debt collector has more time to sue you over a debt. Instead of starting from the original date of the debt and only having what's remaining of the seven-year time limit, you've reset the clock at seven years, and the statute of limitations is extended.
So, if you have an unpaid debt that's been hanging around for five years, it may be worthwhile to wait two years for it to fall off naturally from your credit report instead of paying any of it now.
Is Lexington Law a Good Company?
In our estimation, Lexington Law is the best credit repair company. Founded in 2004, its lawyers, paralegals, and other experienced staff of legal experts have helped remove more than 10 million erroneous items from client credit reports.
Lexington Law offers three levels of service. All include direct, active engagement with the three major credit bureaus to challenge incorrect and questionable items on credit reports.
Its moderate-price service, called Concord Premier, includes credit alerts, credit report monitoring, hard inquiry clean-up, and a full credit score analysis. The advanced level, called PremierPlus, offers those same services plus cease and desist letters, a FICO score tracker, identity protection, and personal finance tools.
Clients typically use Lexington Law for six months, though you can have a subscription for any length of time you want and can cancel at any time.
Lexington Law has more than 2,200 reviews on BestCompany.com, with a user score of 8.5 out of 10.


One drawback of the company can be seen as a positive. The credit repair company is slower than other credit repair companies in improving client credit scores, according to BestCompany. That's because it limits how many unfair and inaccurate negative items it challenges each month per credit bureau.
That means it can take longer to repair credit scores. But what it also does is help prevent the credit bureaus from assuming any frivolous activity by Lexington Law on behalf of its clients by filing as many challenges as it can.
Can a Removed Collection Come Back?
If a credit repair service gets a collection removed from your credit report, it's only because the information was either inaccurate or not current. Don't expect the credit repair service to remove a legitimate debt from less than seven years ago that you haven't paid off.
That said, if a collection is removed through work you did yourself or by a credit repair company you hired, don't expect it to stay off. It should stay off if removed due to an error or wrong information, but that doesn't mean it always will.
Collections usually stay on credit reports for seven years. Sometimes creditors make mistakes, such as listing a payment as late when it was really made on time. If on-time payment can be proven, a consumer can get that error fixed.
However, even after fixing such errors, creditors, lenders, and other financial institutions, including debt consolidation and a debt collection agency, can continue making mistakes and report the fixed error again.
It's rare, but items such as collections that are removed from credit reports can reappear after the dispute has been settled. The Fair Credit Reporting Act, or FCRA, calls this a reinsertion.
This federal law doesn't allow negative information that had previously been removed from a credit file after a dispute to be reinserted on the credit file unless the furnisher of the information certifies that the information is true and accurate. Consumers must also get written notification of the reinsertion.
So, if you successfully disputed and had a delinquent account on your credit report removed, the credit reporting agency can only put the account back on your account if it received information from the company that the account was accurate and it gave you notice of this.
This is most likely to happen if your debt is sold. If the original creditor can't collect money from you, it may sell it to a third party or debt collector. It may then be reinserted on your credit report with a different name as a new collection account.
This violates the FCRA. If the collection was previously removed from your report, it can't be added later as a new collection account by a debt collector that has purchased your debt.
What is the Difference Between Credit Repair and Credit Counseling?
The differences between credit repair and credit counseling aren't large, but they are worth knowing.
Credit repair entails resolving errors on credit reports, either on your own or by paying a credit repair service. Its services can include credit monitoring.
Credit counseling, on the other hand, is meant to help you learn how to manage your money and avoid debt that can cause a credit score to fall. It can be free through a nonprofit credit counseling agency or through a credit counseling service that charges fees.
Nonprofit status doesn't guarantee that credit counseling services are free, affordable, or even legitimate, the FTC warns.
Certified counselors can help people manage their money and debts, develop a budget, and offer free educational materials and workshops. They'll also advise you on how to correct mistakes on your credit report.
They may recommend enrolling in a debt management plan, or DMP, to help you get out of debt. You deposit money into the DMP each month to pay unsecured debts, such as credit card bills. Your creditors may agree to lower your interest rate or waive some fees if you join a DMP.
How Much Will My Credit Score Improve with Credit Repair?
Removing incorrect information from credit reports should improve a credit score, but it may not be as big of an improvement as you're hoping for, especially if you have a fair number of legitimate negative marks.
Negative marks that are timely and verifiable can only be removed with time, usually seven years, and there's nothing a credit repair service can do to get rid of them earlier.
With that in mind, it's worth knowing how removing certain kinds of errors can affect a credit score.


The biggest improvement can come from fixing a payment listed as late but which was actually paid on time. On-time payments account for about 35% of credit scores. Disputing a late payment that shouldn't be on your report can help your score go up more than anything else.
Other things that can affect a credit score are:
Amounts owed: 30%
Credit history length: 15%
Payment history: 10%
New credit: 10%
Again, only errors can be fixed. After timely payments, amounts owed make up a large part of a credit score.
An example of an error to fix is if a decimal point was accidentally moved, making a $1,000 credit card debt look like you owe $10,000 and may be over your credit limit. That's a big difference in the amounts owed.
If you've noticed that your credit utilization has increased, which is the amount of credit being used, but you're not charging more to your credit cards, then this could be a sign of an error.
Exactly how much a credit rating can improve with credit repair is difficult to know. But the bigger the impact a factor, such as on-time payments, has on a credit score, the more a credit score will improve when the error is corrected.
Compare the Best Credit Repair Quotes Before Choosing a Company — or Doing it Yourself
We've provided the best credit repair quotes based on top credit repair reviews and the best ratings. For an average price of about $100 per month, you can leave the work of removing errors on your credit reports to someone else.
Plan to have the service for about six months, though you may need it for less time if you don't have many errors to fix. You can cancel the service at any time.
A cheaper option is to do it yourself. Each of the three major credit bureaus has details on their websites on how to file a dispute. The first step is to get free copies of your credit reports. You then look for errors and can file online forms to ask credit reporting bureaus to fix them.
This should be done annually whether you have poor credit or not. Errors can lead to a slow decrease in a credit score and eventually could affect the interest rates you pay on loans and credit cards. Getting new credit can also be harder with falling credit scores.
Don't let simple errors lead to poor credit. Fixing them on your own or by hiring credit people can resolve them and ultimately make getting credit and a good interest rate a lot easier.
Advertiser Disclosure
BadCredit.org is a free online resource that offers valuable content and comparison services to users. To keep this resource 100% free for users, we receive advertising compensation from the financial products listed on this page. Along with key review factors, this compensation may impact how and where products appear on the page (including, for example, the order in which they appear). BadCredit.org does not include listings for all financial products.
Our Editorial Review Policy
Our site is committed to publishing independent, accurate content guided by strict editorial guidelines. Before articles and reviews are published on our site, they undergo a thorough review process performed by a team of independent editors and subject-matter experts to ensure the content's accuracy, timeliness, and impartiality. Our editorial team is separate and independent of our site's advertisers, and the opinions they express on our site are their own. To read more about our team members and their editorial backgrounds, please visit our site's About page.