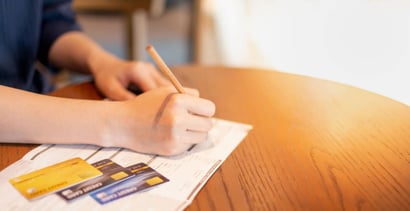 How are you supposed to know which credit cards to apply for with bad credit when hundreds of cards vie for your attention? We've assembled a collection of unsecured and secured credit cards specifically designed for folks with a history of credit problems. 
What the cards lack in bells and whistles, they make up for in their accepting attitude. Keep reading to find out which is the best credit card for you.
Unsecured Credit Cards to Apply For With Bad Credit
Unsecured cards grant cardholders a credit line without requiring a security deposit. These unsecured cards address the needs of consumers with poor credit who want a credit card. They may not be perfect, but one may be perfect for you.
The PREMIER Bankcard® Mastercard® Credit Card extends all the benefits of a genuine Mastercard to consumers who've experienced credit problems. The bank that issues this card has received Mastercard's Performance Excellence Award several times. 
You can choose the design of your PREMIER Bankcard® Grey Credit Card for no additional fee. This is a great card even for those with poor credit. Build credit by using your card responsibly and paying on time each month.
The Aspire® Cash Back Reward Card offers the highest rate of cash back we know of for an unsecured card for bad credit. You'll pay an annual fee and a hefty purchase APR, but that's not unusual for a card for poor credit history. And the purchase APR isn't as high as some other cards on this list. 
Surge® Platinum Mastercard® from Celtic Bank comes with Mastercard Zero Liability Protection, safeguarding you from unauthorized charges. The card's mobile app lets you pay bills, view statements, and check due dates, among other features. You also can monitor your Experian VantageScore at no additional cost.
The Fortiva® Mastercard® Credit Card is also issued by The Bank of Missouri and offers much of the same benefits as the card above. You can prequalify before you apply to see whether you have a shot at approval without harming your credit score. 
Celtic Bank's Reflex® Platinum Mastercard® closely resembles the Surge® Platinum Mastercard® except that it explicitly welcomes applicants with no credit history. You may receive a higher credit limit if you always pay your monthly bill on time. 
Secured Credit Cards to Apply For With Bad Credit
There are a couple of reasons to prefer secured credit cards over unsecured cards. First, the cards seldom pull your credit. Second, they usually offer better perks and lower interest rate ranges. One of these cards may be a wise choice if you can scrape together the refundable security deposit.
Merchants who accept Visa welcome the OpenSky® Secured Visa® Credit Card worldwide. Features include fraud protection and email alerts. The APR is relatively low, and so are the card's fees. You can quickly apply for the card in four short steps, and there's no credit check involved.
The First Progress Platinum Select Mastercard® Secured Credit Card offers the most balanced combination of annual fee and APR among the issuer's secured card trio. The APR for cash advances is higher than that for purchases. 
The Applied Bank® Secured Visa® Gold Preferred® Credit Card offers an instant decision when you apply. There is no application fee nor a penalty APR for late payments. This secured Visa credit card has a low regular APR, a good thing since it does not provide a grace period on purchases.
The PREMIER Bankcard® Secured Credit Card boasts a relatively low APR, small minimum security deposit, and a moderate annual fee (See Provider Website for full Terms & Conditions). You may qualify for a higher credit limit or an unsecured credit card by employing this secured Mastercard responsibly. You can use any Cirrus ATM to get cash advances with this card.
The Merrick Bank Secured Credit Card charges no setup or maintenance fees. Its annual fee is low and bills monthly after the first year. You can choose among several card colors at no additional cost.
What Is a Credit Card For Bad Credit?
The starting point for understanding the meaning of bad credit is the risk it represents. Specifically, we're talking about the chances that a borrower will default on a debt. Credit card issuers keenly perceive default risk and design their products accordingly.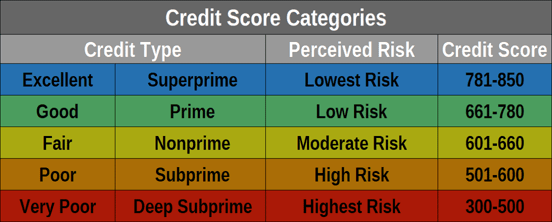 Credit scoring is the lynchpin for the entire system of risk assessment on which credit card companies depend. The idea behind credit scoring is to assign numbers to consumers based on their creditworthiness. 
In the FICO Score and VantageScore systems, the most-used credit scoring models, the range of credit scores runs from 300 (worst credit) to 850 (perfect credit). 
A scoring system forecasts the likelihood that a consumer will default on debt within two years. If you have excellent credit, your default risk is low. When your credit is poor, default risk rises to the point that issuers must design safety measures into their credit cards. 
If you have a low credit score, you're on the receiving end of the issuers' credit card safety measures.
Tight Credit Limits
A typical unsecured credit card for bad credit tightly controls the amount of credit it is willing to give its cardmembers. Many of these cards offer starting credit limits of $200 to $300. Customers who attempt to spend beyond their credit limits face denied transactions and penalty fees. 
In due course, a card may offer higher credit limits to customers who have consistently paid their bills on time. A ceiling of $1,000 or higher is eventually possible but unlikely because many creditworthy cardholders would rather migrate to better credit cards instead.

Secured cards may allow higher credit limits, but because the credit is collateralized, issuers face minimal losses from defaults.
High Fees
Issuers attempt to collect money upfront by charging significant fees. Naturally, the more they can accumulate, the less damage defaults will cause.

Frequently, an unsecured card for poor credit imposes fees that better cards omit, including:
Setup fee: This is a one-time program fee you must pay after signing the credit agreement for a new card. Charges up to $100 are not uncommon. You must first deliver the setup fee before the credit card account is activated. Failure to do so within the allotted period (typically 60 days) will terminate the card application. Only cards for poor credit impose this fee.
Annual fee: A recurring charge you pay upfront and on each yearly anniversary. These fees usually range from $35 to $99. The annual fee temporarily reduces a card's initial credit limit. For example, suppose the issuer approves you for a $300 credit limit but imposes a $75 annual fee. When your credit card arrives, its available credit will be $300 – $75, or $225. You must pay the annual fee to restore your entire credit line. Note that the annual fee may change after the first year. Annual fees can apply to any credit card, not just cards for bad credit.
Monthly servicing fee: This is a nuisance fee that only cards for bad credit charge. A typical cost is $6.25 per month, waived for the first year. 
Credit limit increase fee: Some cards for bad credit charge an amount equal to a percentage of the increase. For example, a card imposing a 20% credit limit increase fee will charge $20 for a $100 increase to an existing credit line.
Additional card fee: Cards may assess this fee, usually around $30, when you add an authorized user to your credit card account. The user receives a copy of the credit card with their name on it. Cards for good credit seldom charge this fee.
Secured cards for bad credit may impose an annual fee but seldom assess these other bad-credit charges.
Of course, many other fees usually apply, including those for cash advances, late payments, and returned payments. All credit cards charge these fees.
High Interest Rates
When your credit is poor, you can expect to pay a high interest rate on your debt, including for a bad credit loan and on credit card balances. A lender specializing in bad credit loans, such as subprime personal loans, charges significantly more than does a conventional lender.

Credit card interest rates, expressed as an annual percentage rate (APR), are relatively high across the board, and the rates for a subprime unsecured card typically range from 25% to 36%.

A credit card for bad credit usually charges a higher APR for cash advances than it does for purchases. Many also include an even higher penalty APR that kicks in after a late payment. Once initiated, the penalty APR may remain in place for an indefinite period.
Secured credit cards tend to have lower APRs than do their unsecured cousins. These interest rates make sense since secured cards are less risky. However, we feel that most secured credit cards impose APRs that are too high, given their diminished riskiness. 
Be alert to APRs that are too low, as they may indicate that the card does not provide a grace period on purchases. The grace period extends from the end of a billing cycle to the monthly payment due date. If it exists, the grace period must be at least 21 days. 
You won't face new interest charges if you pay your bill in full before the end of the grace period. But if you already had an outstanding balance at the start of the billing cycle, the grace period will not apply until you fully repay.
Only a few credit cards do not offer a grace period. They charge interest starting on the purchase date (unless you repay the purchase amount on the same day). All credit cards must disclose their grace period policies in a standard Schumer Box, under the heading "How to Avoid Paying Interest on Purchases."
Miserly Perks
For the most part, unsecured cards for folks with a bad credit score don't spend much on perks. These cards follow a familiar pattern:
No rewards (cash back, points, or miles) for purchases
No signup bonus
No 0% introductory APR for new cardmembers
Few benefits beyond liability protection. Some cards offer a choice of designs at no extra cost.
No provision for balance transfer transactions
Cash advances may be unavailable for the first few months
By avoiding costly perks, credit card issuers can better marshal their money to cover losses from defaults.
Many secured cards are less stingy than their unsecured counterparts. You can find plenty of examples with rewards, bonuses, and good perks. 
What Are the Differences Between Unsecured and Secured Credit Cards?
To obtain a secured credit card, you must post cash collateral equal to your credit limit. An unsecured card does not require collateral, relying only on the willingness of cardmembers to pay their bills. 
Because secured cards are inherently less risky than unsecured cards, a bad credit score is seldom an obstacle to ownership. Many secured cards do not pull credit, protecting an applicant's credit scores. 

You'll also find that virtually all secured cards report your monthly payment activity to all three major credit bureaus. Reporting to each credit bureau is the most efficient method for rebuilding credit — assuming you pay your bills on time consistently. Some unsecured cards for poor credit report to all three of the major credit bureaus, but it's not a given. 
Secured cards offer better rewards and benefits than do their unsecured counterparts for subprime consumers. If you can afford the security deposit, you'll get much better value from a secured card. For example, the nRewards® Secured Credit Card from Navy Federal offers rewards as you build credit.
Typically, you can expect the credit card company to refund your deposit and upgrade you to an unsecured credit card if you consistently pay your bills on time over the initial six- to 12-month period.
You can get a business credit card for bad credit in unsecured and secured varieties. Company owners usually must personally pledge to pay their business credit card.
Some folks may confuse a secured card with a prepaid card since both require upfront payments. But a prepaid card is a debit card, not a credit card.
If you are looking for easy approval, consider applying for a store credit card. For example, the Fingerhut Credit Account is an unsecured store credit card that welcomes consumers with very poor credit.
How Do I Apply For a Credit Card For Bad Credit?
Credit card issuers make it exceedingly easy to apply for their wares online. Most offer a prequalification step to inform you whether you have a shot (but no guarantee) at final approval.
To prequalify, you fill out a short form disclosing basic information about your income and expenses. Issuers do not perform hard inquiries at this stage.
A hard inquiry (or hard pull) means that a creditor has requested an applicant's credit report. You authorize a hard inquiry when applying for a loan or credit account. 
Hard inquiries can slightly lower your credit score, something to remember if you're rebuilding credit. The damage is usually no more than five to eight points and lasts only a year (although hard pulls remain on your credit reports for two years).
If you successfully prequalify, the next step is to submit your card application, including any additional data the credit card issuer may require. Alternatively, you can skip the prequalification step and apply for the card directly.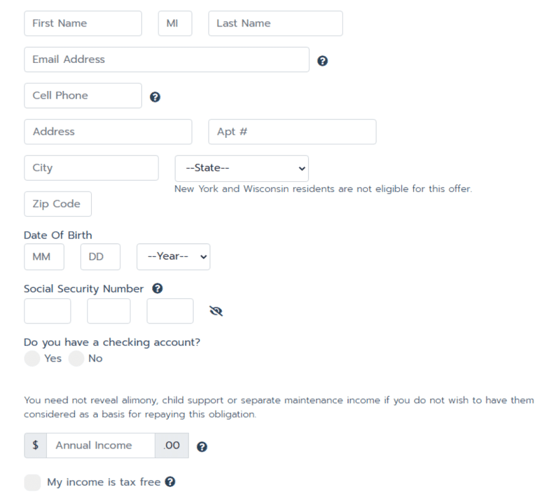 Most of the time, issuers can give you a final decision in just a few minutes. The credit card issuer may ask for additional information and documents, which means the process may take more time.
If you receive final approval, the credit card issuer will present you with a credit card agreement containing all the terms and conditions, including your credit limit and APR. Please read this carefully before signing, as all sorts of surprises may lurk therein.
You then e-sign the agreement if you are happy with the issuer's offer. Depending on the card's requirements, you may have to fork over a security deposit or setup fee to open the account. 
The credit card should arrive in your mailbox within seven to 10 days. Upon the card's arrival, confirm receipt with the issuer online or over the phone, sign the back of the card, and go shopping! Some issuers expedite shipments, either for free or at extra cost.
What Are the Types of Unsecured Credit Cards For Less Than Good Credit?
Credit card issuers are a wily lot. They slice and dice their credit card offerings to match the risk profiles of their intended audiences. 
For Fair Credit
Fair credit, sometimes mislabeled as average credit, applies to consumers who have had a few financial hiccups but no severe mistakes. For example, if you made a single late payment, your score may drop into the fair range. Conversely, multiple late payments will saddle you with a low credit score.
You may also reside in this category if your credit utilization ratio (i.e., credit line used relative to how much credit you have available) is consistently higher than 30%.


Credit cards for fair credit are OK but not great. They usually offer modest rewards and benefits, certainly better than those from cards for bad credit. Their APRs are lower and credit limits are higher. 
For Poor Credit
This credit score is harsh whether you call it poor, very poor, bad, or subprime. Credit cards in this category offer limited access, high costs, and few rewards. 
Secured cards are designed almost exclusively for this type of credit. As detailed earlier, unsecured cards in this category are inferior. 
For No Credit
Starter credit cards target consumers who've never used debt. From the issuers' viewpoint, it's better for applicants to have no credit rather than bad credit. 
Issuers of student credit cards assume most applicants have limited or no credit. These cards are remarkably attractive, no doubt in an attempt by issuers to curry long-term brand loyalty. 
Secured credit cards are perfect for newbies who don't happen to be students. If you can come up with the security deposit, you can obtain a secured card and use it to start building credit history.
Some unsecured cards look kindly upon credit newcomers while others look away. We help you distinguish between the two by noting in our summary boxes each card's target audience. 
Can I Convert My Secured Credit Card Into an Unsecured Card?
It's easy to convert your secured card to an unsecured one. Usually, all you have to do is pay your bills on time for six to12 months after opening your card account. This type of good behavior prompts most issuers to upgrade you to an unsecured card and refund your security deposit. 

Of course, sometimes things don't go to plan. Circumstances may force you to miss payments or pay less than the minimum required. 
Secured card issuers rely on your collateral to compensate for any shortfalls. They have the right to withhold your deposit and reduce your credit limit. Repeated offenses can easily prompt issuers to cancel your card and refund whatever collateral remains in your account.
Compare Credit Cards For Bad Credit Before Applying
The reviewed credit cards to apply for with bad credit represent a thin slice of the credit card universe. By summarizing and ranking these offerings, we've given you the means to begin comparing the cards with one another.
Press the APPLY HERE link to gather additional information and prequalify for a card that catches your fancy. Make sure you understand the differences between the cards before signing the cardmember agreement.
Advertiser Disclosure
BadCredit.org is a free online resource that offers valuable content and comparison services to users. To keep this resource 100% free for users, we receive advertising compensation from the financial products listed on this page. Along with key review factors, this compensation may impact how and where products appear on the page (including, for example, the order in which they appear). BadCredit.org does not include listings for all financial products.
Our Editorial Review Policy
Our site is committed to publishing independent, accurate content guided by strict editorial guidelines. Before articles and reviews are published on our site, they undergo a thorough review process performed by a team of independent editors and subject-matter experts to ensure the content's accuracy, timeliness, and impartiality. Our editorial team is separate and independent of our site's advertisers, and the opinions they express on our site are their own. To read more about our team members and their editorial backgrounds, please visit our site's About page.