In nearly every great science fiction movie is the character who always seems compelled to push buttons. In particular, he or she is usually the one to "accidentally" push the Big Red Button; you know, the glowing button of doom that starts the alien invasion or accidental rocket launch? That button.
While we don't have many Big Red Buttons in the real world, we have something almost as irresistible — and just as potentially destructive: credit cards. As with button-pushing, giving into credit card temptation can get you into a whole heap of trouble, and can send you on a frantic search for information on credit card debt relief.
But, unlike in the movies, the superhero protagonist isn't going to show up just in the nick of time to save you from credit card debt. You'll want to find a debt relief program for that. To help you on your search for a debt relief hero, we've compiled nine important facts on debt relief programs.
1. Not All Debt Relief Programs are the Same
Depending on your situation, you may be eligible for a number of debt relief options. These can include consolidation, payment plans, debt settlement, and, as a last resort, bankruptcy. But, just as every superhero has his or her own strengths and weaknesses, so, too will each of your debt relief options.
Credit card consolidation involves taking out a single personal loan to pay off your existing credit card debt. You will need to meet the qualifications for a loan with a lower interest rate than the one your current debts carry to make this worthwhile.
A variety of payment plans can be obtained through negotiations with your credit card issuers, or, if the debt has gone to collections, whoever holds the debt. Payment plans may sometimes include receiving a lower interest rate or extended payment terms to make the monthly payments more affordable.
Debt settlement involves making payments to an escrow account held by a debt relief/settlement company, which holds the funds until such a time as you reach an amount that your creditors may find acceptable. Then, the company works to settle your debt with your creditors for that amount. Debt settlement can resolve your debts for less than you actually owe, but comes with costs to your credit score.
Bankruptcy comes in two main options for consumers: Chapter 7 and Chapter 13. Regardless of its type, bankruptcy should always be the last resort. While it may eliminate your responsibility for some or all of your unsecured credit card debt, it will have lasting impacts on your credit. For example, those who file under Chapter 7 may lose property and the bankruptcy data will remain on their credit reports for 10 years after filing.
you will likely lose property, and the negative bankruptcy information will remain on your credit report for ten years after the filing date. Should you get into debt again, you won't be able to file again for bankruptcy under this chapter for eight years.
2. You Need to Research Your Options
The old cliché "knowledge is power" is particularly important in the world of personal finance. Research all of your debt relief options before making any decisions. And that also includes your options for debt relief companies. Not all companies will offer the same programs, pricing, experience, or service. Be sure to check out the company's website, reviews, and reputation with organizations such as the Better Business Bureau (BBB).
Our Top Picks: National Debt Relief & Consolidated Credit Counseling
Given a nearly perfect score by our experts, National Debt Relief is a solid option for anyone carrying significant credit card debt. The company offers a variety of program types, including consolidation and debt settlement.
Requires $10,000 or more in credit card debt
Free, no-obligation debt analysis
Specializes in credit card and medical debt
Also handles debt from personal loans, private student loans, lines of credit, and collections
Does not handle IRS, utility, federal student loans or mortgage debt
Long-term program to relieve debt over 24-48 month period
| Better Business Bureau | In Business Since | Free Consultation? | Reputation Score |
| --- | --- | --- | --- |
| A+ | 2009 | Yes | 9.5/10 |
We're not the only ones who like National Debt Relief. The company also has an A+ rating from the BBB, as well as a 4.86 composite score from BBB reviewers.
2. Consolidated Credit Counseling Services
This offer is currently not available.
| Better Business Bureau | In Business Since | Free Consultation? | Reputation Score |
| --- | --- | --- | --- |
| N/A | N/A | N/A | N/A |
Consolidated Credit Counseling also has an A+ rating from the BBB, and an 85% positive customer review rating.
Other Expert-Rated Options
As with anything in life, of course, there is no "one size fits all" in debt relief. Make sure to compare a few companies to find the best fit. Start with our expert reviews.
100% confidential, no-obligation consultation
Specializes in unsecured debts over $10,000
In business since 2000
Options for debt settlement, consolidation, and tax debt
Get a 100% free, personalized savings estimate from a debt professional
| Better Business Bureau | In Business Since | Free Consultation? | Reputation Score |
| --- | --- | --- | --- |
| (No Grade) | 2000 | Yes | 9.0/10 |
Toll-free assessment: 1-855-299-9573
Minimum $10,000 in debt required
Learn about your debt relief options
AFCC accredited member
Resolve debts in as little as 24 to 48 months
$5 Billion in debt resolved – #1 in America
| Better Business Bureau | In Business Since | Free Consultation? | Reputation Score |
| --- | --- | --- | --- |
| A+ | 2002 | Yes | 9.5/10 |
5. DebtBenefit.com
This offer is currently not available.
| Better Business Bureau | In Business Since | Free Consultation? | Reputation Score |
| --- | --- | --- | --- |
| N/A | N/A | N/A | N/A |
Never enter into an agreement with a company with which you are not comfortable; pushy sales people or overall poor customer service may be signs of a company without your best interests in mind.
3. Debt Relief Programs Can't Make Your Debt Disappear
Commercials full of lavish promises aside, debt relief programs can't just make your debt disappear. That said, in some circumstances, especially when you enlist the help of a good debt relief company, you may see a decrease in your overall balance, whether through a lowered interest rate or settlement resolution.
4. The Government Won't Pay Off Your Debt
No matter what you've heard, there is no government program that will magically make your credit card debt go away. Additionally, no president, current or former, is going to pay off your debt; Obama isn't going to do it, and neither is Trump.
5. Bankruptcy is the Only Way to Avoid Repayment
In fact, the only way to avoid paying off your credit card debt is to declare bankruptcy. In particular, Chapter 7 bankruptcy can eliminate your need to repay some or even all of your unsecured credit card debt — but not without a different kind of cost.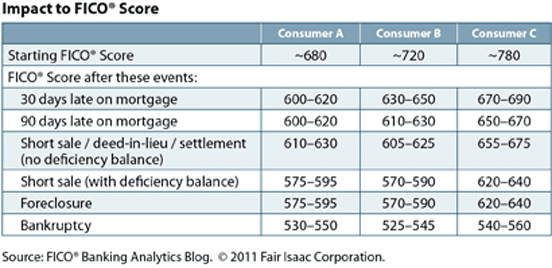 The consequence of choosing to file for bankruptcy is extensive credit damage — but, it's also a fresh start. Like many things in life, it's a give-and-take situation. You can free yourself from the debt burden you were carrying, but it may limit your credit options in the future. A bankruptcy can stay on your credit report for seven years and may need to be disclosed on some government forms for up to 10 years. Bankruptcies can also make it difficult to qualify for many types of new credit, especially mortgages. And, if you do receive new credit, you will likely pay the highest interest rates and fees.
6. Debt Settlement Can Negatively Affect Your Credit
Undergoing debt settlement will not have the same effects on your credit as filing for bankruptcy, but it can still have a fairly large negative impact. A settled debt will usually have a note describing them as such on your credit report, indicating to potential lenders that you could not meet a previous obligation and may, therefore, be a risky investment. Additionally, if you have not already defaulted on your debts, you will end up doing so during debt settlement, resulting in additional (and, often, fairly severe) credit impacts.
7. Using a Debt Relief Company Can Make the Process Easier
While it is technically possible to utilize most credit card debt relief options on your own, the process can often be frustrating for those of us who are not financial professionals. Credit card issuers are notoriously unresponsive to consumers looking for lower interest rates, payment plans, or debt settlement options.
A good debt relief company, on the other hand, will have the resources and know-how to negotiate with stubborn creditors for the best results. And, just as importantly, a quality company will have the means to keep on top of the issuers and collection agencies throughout the process, ensuring everything goes smoothly from start to finish.
8. A Good Repayment Program Can Help Your Bad Credit
Though debt settlement and bankruptcy are some of the more appealing options to those looking to get out of debt quickly, they aren't for everyone — especially anyone who wishes to maintain or improve their current credit score. If you're trying to repay your credit card debt and rebuild your credit, a manageable payment plan may be the best way to go.
Whether you are able to negotiate lower interest rates, an extended payment term, lowered fees, or some combination thereof, keeping to your new payment plan is the key to successfully improve your credit situation. Making your agreed-upon payments, on time, in full every month will show that you can reliably, and responsibly, make payments toward your debt. It will also help illustrate your determination to meet your credit obligation, helping to decrease your overall appearance of risk to future lenders.
9. Credit Card Debt Relief Programs Don't Work Overnight
In the movies, the disastrous results of pushing the Big Red Button can often be resolved in just an hour and a half, with the triumphant hero saving the day, the planet — and the love interest. Sadly, in the real world, the consequences of falling afoul of credit card debt are not so easily overcome.
Depending on the type of debt relief program you choose, you may spend weeks, months, or even years completing the process (or, in the case of bankruptcy, recovering from it). But, just as with the heroic protagonist who saves the day, hard work and dedication — and the help of a good debt relief company sidekick — can help you to defeat your debt, so you can find a happy financial ending.
Advertiser Disclosure
BadCredit.org is a free online resource that offers valuable content and comparison services to users. To keep this resource 100% free for users, we receive advertising compensation from the financial products listed on this page. Along with key review factors, this compensation may impact how and where products appear on the page (including, for example, the order in which they appear). BadCredit.org does not include listings for all financial products.
Our Editorial Review Policy
Our site is committed to publishing independent, accurate content guided by strict editorial guidelines. Before articles and reviews are published on our site, they undergo a thorough review process performed by a team of independent editors and subject-matter experts to ensure the content's accuracy, timeliness, and impartiality. Our editorial team is separate and independent of our site's advertisers, and the opinions they express on our site are their own. To read more about our team members and their editorial backgrounds, please visit our site's About page.