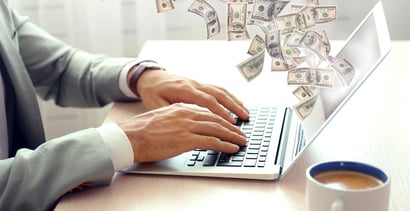 No matter how much money you make, one of the best things you can do for your financial peace of mind is to keep a modest emergency fund ready at all times. That way, you can seamlessly handle most of those little surprises that would otherwise require a frenzied search for financing.
And while consumers of any credit type can benefit from a well-stocked emergency fund, it can be even more important when you have a low credit score that would preclude you from easily qualifying for affordable financing. Of course, it's not always easy to save money when you're dealing with debt and poor credit.
If you need to get your hands on some extra cash quickly, online cash requests can be a useful tool. You can request an online loan, get a cash advance on your next paycheck, or request a money transfer from a friend or family member, often receiving funds within a business day (or three). Keep reading for our expert advice on these approaches to making a cash request online to help out in those unforeseen times when you need some fast cash but your emergency fund is not stocked.
1. Online Loans | 2. Online Cash Advance | 3. Money Transfers | Alternatives | FAQs
1. Apply for an Online Loan
For consumers with bad credit, personal installment loans are often the most affordable way to finance emergencies that require $500 or more. Installment loans can have terms of a few months and up to six years, and they are repaid through monthly installments with set due dates and amounts.
The variety of online lenders and lending networks means even consumers with poor credit have a good chance of finding a compatible lender with a few searches. Online lending networks, in particular, can make it easy to connect with a lender with a single application thanks to databases containing hundreds of partners.
Loans from $500 to $10,000
Receive a loan decision in minutes
Get funds directly to your bank account
Use the loan for any purpose
| Loan Amount | Interest Rate | Loan Term | Loan Example |
| --- | --- | --- | --- |
| $500 to $10,000 | 5.99% - 35.99% | 3 to 72 Months | See representative example |
CashUSA.com is an online lending network that connects personal loan lenders to qualified borrowers. The platform's large partner network allows it to help consumers of all credit types, including applicants with poor credit. Loan amounts can range up to $10,000, though amounts, rates, and fees will all vary based on the applicant's creditworthiness.
Loans from

$500

to

$10,000

Get connected with a lender
Simple form & quick funding
Get your money as soon as next the business day, if approved
| Loan Amount | Interest Rate | Loan Term | Loan Example |
| --- | --- | --- | --- |
| $500 to $10,000 | 5.99% - 35.99% | 3 to 60 Months | See representative example |
A lending network that specializes in helping consumers with low credit scores, BadCreditLoans.com has lending partners experienced in offering subprime personal loans. The network requires no minimum credit score to apply, and qualified applicants can receive loans of up to $5,000.
Loans from

$1,000

to

$35,000

Large lender network
Fast loan decision
Use the loan for any purpose
Funding as soon as one business day, if approved
| Loan Amount | Interest Rate | Loan Term | Loan Example |
| --- | --- | --- | --- |
| $500 to $35,000 | 5.99% - 35.99% | 3 to 72 Months | See representative example |
PersonalLoans.com is a personal loan lending network that helps borrowers with a wide range of credit scores. The network's partners offer loans of up to $35,000, though bad-credit borrowers are unlikely to qualify for the maximum loan amount. Loan terms can extend up to 72 months, and rates and fees vary based on your credit history.
Avant
Avant is an online direct lender that offers personal installment loans. Applicants need a credit score of just 580 to apply for a loan, with a minimum verifiable income of at least $20,000 a year.


Loan amounts from $2,000 up to $35,000
APRs from 9.95% up to 35.99%
Minimum credit score of 580
Minimum income of $20,000
Avant offers loans as large as $35,000, though applicants with poor credit may not qualify for the maximum loan amount. Avant does not charge a prepayment fee for paying off your loan early, but the lender can charge an administration fee of up to 4.5% and additional rates and fees can vary by state.
Credit Unions
Local credit unions can be great places to find personal loans with reasonable rates and flexible credit requirements. Even better, many credit unions will let you apply for a loan online, particularly if you're already a member. You can search for a local credit union online through the Credit Union Locator tool provided by the National Credit Union Administration.


Loan amounts will vary by CU
APRs from 3.00% up to 35.99%
Minimum credit score will vary
Minimum income will vary
You'll need to join the credit union from which you wish to get a loan if you are not already a member. Living, working, studying, or worshiping in the geographic area of the credit union is typically enough to be eligible for membership, though you'll likely also have to open a credit union checking or savings account.
2. Find a Cash Advance Online
In some cases, while you may need quick cash, a long-term installment loan is simply overkill for the situation at hand. For some of these issues, a handy dandy credit card might actually do the job — especially one with a good grace period.
If a credit card isn't an option, however, you may consider getting a cash advance on your next paycheck or another type of short-term loan. While this is often an expensive option, online lending networks and new financial technology companies can help you find the most affordable solution for your short-term financing needs.
Short-term loans up to $5,000
Online marketplace of lenders
Funds available in as few as 24 hours
Simple online form takes less than 5 minutes
Trusted by more than 2 million customers
| Loan Amount | Interest Rate | Loan Term | Loan Example |
| --- | --- | --- | --- |
| Up to $5,000 | Varies | Varies | See representative example |
MoneyMutual is an online lending marketplace that has been in business for many years. The network handles short-term personal loans for amounts of up to $2,500, and funding can occur in as little as 24 hours. There is no minimum credit score to apply, but the service may not be available in all states.
Short-term loan of

$100

to

$1,000

Large network of lenders
Loan decision as fast as a few minutes
Funding as soon as the next business day, if approved
| Loan Amount | Interest Rate | Loan Term | Loan Example |
| --- | --- | --- | --- |
| $100 to $1,000 | 200% - 2,290% | Varies | See representative example |
Another online lending network, CashAdvance.com specializes in small loans of up to $1,000. The network has no minimum credit score, but applicants will need a monthly income of at least $1,000 and 90 or more days on the job. Rates and fees will depend on loan size, creditworthiness, and state of residence.
Earnin App
Earnin is a fintech company that offers users fee-free cash advances that are actually advances. Users download the app and track their hours at work. At the end of the day, users can "cash out" their pay to receive up to $100 per day or $500 per pay period.


Withdraw up to $500 per pay period
No cost; option to add "tip" up to $14
No minimum credit score requirement
Must have hourly, salaried, or on-demand job
When the user receives a paycheck, Earnin automatically deducts the amount the user was advanced. The service charges no fees, but gives users the option to leave a "tip" of up to $14 based on what they can afford and think is fair. Users must be paid through direct deposit into an active checking account, as well as download the app. Users also need to download the Earnin app and give Earnin permission to withdraw funds from your checking account
Credit Unions
Some federal credit unions also offer small — $200 to $1,000 — loans called Payday Alternative Loan (PAL). Since they're from credit unions, these loans tend to have lower fees than those charged by similar loans from other providers.


Loan amounts will vary by CU
APRs from 3.00% up to 35.99%
Minimum credit score will vary
Minimum income will vary
You can search for a local credit union online through the Credit Union Locator tool provided by the National Credit Union Administration. You'll need to join the credit union from which you wish to get a loan if you are not already a member. Living, working, studying, or worshiping in the geographic area of the credit union is typically enough to be eligible for membership, though you'll likely also have to open a credit union checking or savings account.
3. Receive an Online Money Transfer
If you're dealing with an emergency situation, one of the most helpful resources you have may be your friends and family. Borrowing funds from loved ones can help get you through a rough spot without the need to take on an expensive loan (just remember to pay them back).
As with most things, technology has made it easier than ever to send and receive money from friends and family no matter where they live. A number of apps are available that will allow fast money transfers with low or even $0 service or transfer fees.
Venmo
Paypal owned Venmo is a money transfer app that enables users to send money to friends and family right from their phone. The service charges no fee to send or receive money from your Venmo balance, or to transfer money from your Venmo account to a linked bank account.


No fee to receive/withdraw money into Venmo account or with standard bank account transfer
No fee to send money from Venmo balance or bank account
No monthly or annual fees
According to Venmo, transfers from your Venmo account to a linked bank account initiated on a business day before 7:00 pm ET should be available in your bank account the next business day. However, you can choose to pay a 1% fee to transfer the money to a debit card, with funds transferring in around half an hour.
Zelle
Zelle is a bank-to-bank money transfer platform that is supported by thousands of banks and credit unions. Zelle is integrated into the mobile banking apps of many financial institutions, but it also offers its own standalone app. There is no fee to send or receive money through Zelle.


Participating bank or credit union account or access to Zelle mobile app required
No Zelle fee to send or receive money
Transfers to eligible bank accounts in minutes
Although Zelle advertises that money sent can be available within minutes, this only applies to enrolled recipients with eligible bank accounts. If not already enrolled, it can take up to three days for money to transfer. Additionally, keep in mind that transactions can't be reversed, so double-check your transfer before hitting "send."
TransferWise
TransferWise is another company that helps consumers transfer money, but this one has broader reach than our other picks. Users can send and receive funds in dozens of currencies from around the globe. Creating an account is free, though currency conversion and adding money to your account comes with fees.


Send and receive money in 40+ currencies
No cost to create an account
Receive money in EUR, USD, GBP, AUD & NZD for free
Convert currencies for 0.35% to 2.85% fee
Accounts are open to many consumers, though residents of Hawaii and Nevada are ineligible, as are residents of countries that cannot be provided with USD bank details. The time it takes to complete a withdrawal or transfer can vary based on the currency involved.
Alternative Ways to Get Money Fast Online (Without a Loan)
The so-called Gig Economy is in full swing, and it's easier than ever to find quick, temporary gigs to help make some extra cash. No matter what skills you have, chances are pretty good someone out there is willing to pay you for them.
For example, users of the gig-finder sites Upwork and Freelancer.com can browse hundreds of freelance jobs in fields from programming to design to legal to administration. Jobs include a range of both one-time gigs and longer-term projects, with some opportunities lasting six months or more.
People who don't have the skills (or time) for a freelance position can still make some easy money online with something we all have: their opinions. Many companies will happily pay you to fill out surveys and user-experience questionnaires to help them improve their goods and services.
Consumers who like the idea of a short-term job can consider a task-based gig site like TaskRabbit or Wonolo. These sites offer short-term work and same-day jobs in your local area, with tasks involving everything from installing shelves to delivering a package to picking and shipping orders. Most sites will pay you after the job is complete.
If you like the idea of having your vehicle pull its own weight, the gig economy is ideal for you. In addition to task-based jobs around town, you can find a variety of money-making opportunities if you have your own vehicle.
This includes the now-ubiquitous rideshare driver — Uber and Lyft are said to pay out once a week, though you could have your hands on cash tips faster — as well as jobs delivering everything from Amazon packages to groceries to restaurant meals.
You don't necessarily need to take on more work to make some extra money, of course. The world wide web has made it remarkably easy to sell or rent just about anything, from your unused household goods to your empty bedroom to your hand-made crafts.
Here are a few ways — and places — to sell or rent your way to some extra cash:
While some of these alternatives will require more time to get paid than others, you can pick and choose options based on your personal needs. Even if you decide to use a loan or cash advance for this emergency, consider using some of these alternatives to build up your emergency fund for the next emergency.
Can You Get an Instant Loan Online?
Although digital communication has made it possible for a great amount of high-speed happenings and instant gratification, some things still take time. So far as the typical loan is concerned, filling out an application and getting a loan decision can, indeed, be nearly instant — but getting your money may take a day or five.
In other words, it's rare to find an instantly financed loan, even online. That's not to say you can't find some less-than-savory characters offering same-day payday loans that can tempt you with the speed of payment — because you can.
But, most legitimate lenders that do their due diligence will typically take at least one business day to fund a loan. If you need cash immediately, a money transfer or credit card cash advance may be your best solutions. Avoid expensive payday loans when at all possible.
The best way to ensure your loan process goes smoothly and quickly is to have all your proverbial ducks in a row when you apply. This includes being able to provide all of the required information — name, address, income, etc. — as well as being able to submit any necessary documents to verify this data, should it be required.
Is CashRequestOnline.com Legitimate?
One of the most difficult aspects of finding a loan online is that it is all too easy to stumble across a legitimate-looking lender that is actually a scam artist in disguise. Thankfully, while the internet may be part of the problem, it can also help with the solution by providing a number of ways to research a potential lender.
For example, one of the first results that pops up when looking for information about online cash requests is CashRequestOnline.com — a very conveniently named lending network. However, while this lending network may show up in your search results, that doesn't mean it's safe to do business with — make sure you do a few searches about the network itself before you apply for a loan.
Here are a few ways you can check out a potential lender or lending network online:
Investigate the website. Lenders and networks in the U.S. are required, by law, to include various privacy and disclaimer notices informing you of your rights. The site should also look professional; obvious spelling errors, broken links, or other quality issues should be a red flag.
Query the BBB and Consumer Affairs. Searching a company's record on consumer watchdog sites, like the Better Business Bureau (BBB) or Consumer Affairs, can help you determine how well a company handles complaints. The lack of a profile with any consumer watchdog service could mean the company hasn't been around long or that it has managed to stay under the radar.
Research customer reviews. The best way to gauge how a company operates is to get the scoop straight from previous and current customers.
Investigate the parent company. Many online lenders and lending networks have a catchy name that had an available URL, but the actual companies behind them have very different names. You can typically find the real company name in the fine print of the disclaimers or privacy notices, allowing you to investigate the real company behind the curtain.
In the specific case of CashRequestOnline.com, going through these steps offers mixed results. The website itself looks nice enough, with a clean and modern design and the requisite disclosures.
However, searching for online reviews from either customers or the major watchdog sites returns very limited information. The network does not appear on any consumer watchdog sites, nor is it mentioned on any of the other popular finance sites.
Looking at the parent company, the site is operated by a company called Napayshni LLC, which appears to own a number of similar lending network websites with nearly identical terms of use — all of which appear to have been published on the same day at the beginning of 2018. This calls into serious question the legitimacy of the company's operations.
TL;DR: If you wish to use CashRequestOnline.com — or any of the many lending network websites apparently owned by Napayshni LLC — do so with extreme caution and at your own risk, as the site may be a scam.
Borrow Smart
Regardless of your financial status or credit scores, a solid emergency fund is a must-have tool for dealing with the ups and downs of life. If you've already tapped your fund or you have yet to start one, however, you may need to turn to personal loans, credit cards, or other forms of financing to get through a rough spot.
Whatever method you use, be sure to use it responsibly. Repaying any debts on time and as agreed will not only prevent extra costs, like late fees, but it can also help boost your credit score as you build positive payment history.
Advertiser Disclosure
BadCredit.org is a free online resource that offers valuable content and comparison services to users. To keep this resource 100% free for users, we receive advertising compensation from the financial products listed on this page. Along with key review factors, this compensation may impact how and where products appear on the page (including, for example, the order in which they appear). BadCredit.org does not include listings for all financial products.
Our Editorial Review Policy
Our site is committed to publishing independent, accurate content guided by strict editorial guidelines. Before articles and reviews are published on our site, they undergo a thorough review process performed by a team of independent editors and subject-matter experts to ensure the content's accuracy, timeliness, and impartiality. Our editorial team is separate and independent of our site's advertisers, and the opinions they express on our site are their own. To read more about our team members and their editorial backgrounds, please visit our site's About page.