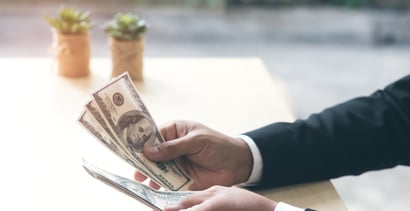 Cash advance loans put money in your pocket when you need it. The importance of the lending services reviewed here is that they all can provide you with a cash advance loan through their networks of direct lenders.
They work simply and quickly: Submit a loan request, get a link to a direct lender, finish the application process online, and, if approved, receive your money the next business day.
While these loan-matching sites are efficient, they are by no means the only source of fast cash. Read on to learn about your alternatives — this information will help you decide your best course of action when you need cash.
Cash Advance | Installment | Alternatives | FAQs
Online Cash Advance Loans
Sometimes, you need cash to cover a shortfall until you receive your next paycheck. These two online loan matching services can get you a short-term cash advance quickly and efficiently.
Their business model is to collect fees from lenders, not borrowers, so you can use their services for free.
Short-term loans up to $5,000
Online marketplace of lenders
Funds available in as few as 24 hours
Simple online form takes less than 5 minutes
Trusted by more than 2 million customers
| Loan Amount | Interest Rate | Loan Term | Loan Example |
| --- | --- | --- | --- |
| Up to $5,000 | Varies | Varies | See representative example |
MoneyMutual can get you a quick cash advance of up to $5,000. Just fill out its brief online loan request screen to launch the process, and MoneyMutual will find the right direct lender on its network for your needs.
If matched with a lender, you'll be forwarded to its site to quickly complete the application process. Approval decisions are made quickly, and you can receive your cash advance on the next business day.
The BillsHappen® lending network can help you get a fast cash advance when money is tight. You may be matched with a payday lender or an installment loan provider, depending on your request and credit history. But all credit types are welcome to apply.
Be sure to closely compare the interest rates and loan terms before accepting a loan offer.
CashAdvance.com is a source for online payday loans in the range of $100 to $1,000. It uses a network of direct lenders that can quickly approve and fund your loan.
To qualify, you must be employed, age 18 or over, a U.S. citizen, and have an income of at least $1,000 a month after taxes. CashAdvance.com operates in most states within the U.S.
Cash Advance Installment Loans
If you need larger amounts of cash, a short-term cash advance may not cut it. These four online cash advance services can link you to one or more providers of cash advance installment loans.
You repay these cash advances in fixed installments over several months as outlined in the terms of the loan. These lending services all work with bad-credit consumers and can provide loans despite their low credit scores. They all provide rapid decisions and quick funding.
CashUSA.com can find you an installment cash advance for as little as $500, with repayment terms ranging from three to 72 months. You must be at least 18 years old, a U.S. citizen, and have an income of at least $1,000 per month.
The CashUSA.com cash advance network specializes in loans to consumers with bad credit. The service is free to the borrower and can provide cash in as little as 24 hours.
Since 1988, CreditLoan has been helping consumers, some 750,000 of them, receive online cash advances. You can borrow amounts ranging from $250 to $5,000 for terms of three to 60 months.
Lenders on the CreditLoan network welcome consumers with bad or scant credit, all at no cost to borrowers. You can use the website's personal loan calculator to help you figure out how much you'll have to repay each month for a given cash advance amount.
Bad Credit Loans can help you obtain an online cash advance installment loan of $500 to $5,000. You can qualify if you are a U.S. citizen of age 18 or older with a valid email address.
The process is easy — you first complete a short loan request, and then fill out a loan application for the lender provided by Bad Credit Loans. If approved, you can expect the loan proceeds to appear in your bank account as soon as the next business day.
PersonalLoans.com arranges installment cash advances for amounts of $500 to $35,000 with repayment periods of three to 72 months. You are eligible if you are at least 18 years old, a U.S. citizen or resident, and a recipient of regular income.
This loan matching service finds you a lender that will specify the interest rate and terms of the cash advance.
The 24/7 Lending Group can get you a cash advance as small as $500 to see you through to your next paycheck. But if you need a larger amount with a longer repayment period, you may qualify for an installment loan.
Loan approval occurs after you receive an offer for a loan, follow the link to the lender's website, and complete the application. You may receive up to four loan offers to choose from, and funds can be deposited into your bank account as soon as the next business day.
Finally, SmartAdvances.com is another service that can help you secure a cash loan in a matter of minutes. Simply answer a few questions to see which personal loan offers you may qualify for.
You won't be charged a fee to use any of these services.
Alternatives to Cash Advance Loans
It's important to remember that you have options when you need cash. Some let you obtain extra money right away, while others take a little longer. Here's a short list of alternatives:
Borrowing from family and friends: A lot depends on your relationship with people close to you, their relative wealth, and other circumstances. The upside is that you may be able to get an interest-free loan with a long payback period, notwithstanding your credit score. It also keeps your need for a cash advance private — the loan won't show up on your credit report. The downside is that you might alter your relationship with family members and friends, and not for the better.
Peer to peer (P2P) lending: A P2P loan is between borrowers and lenders (frequently individuals) via an online marketplace. The advantage of this method is that it gives many potential lenders an opportunity to provide you with a loan even if you have bad credit. Of course, you can expect to pay a higher interest rate than you would if you had a good credit score. Nonetheless, P2P lenders often use non-standard underwriting methods beyond credit scores. The disadvantage is that you may not receive any offers, or the offers may be for less money than you want.
Side gigs: The internet offers many opportunities for folks willing to work extra hours. These side gigs can involve assignments you can perform from home, including freelance writing, childcare, or fielding help desk questions. Sometimes, a side gig evolves into a full-time job or a new career.
Selling things: Turn all that extra stuff clogging up your house into fast cash with a garage sale. Folks are always looking for great bargains. If you know how to advertise and run a garage sale, you can liquidate unnecessary belongings and free up space. If you have valuable items, you can bring them to a pawn shop or even sell them at auction. Another alternative is to sell items on the internet using services like eBay, Shopify, and Craigslist.
Don't forget that your credit card can be a source for a cash advance. If your card allows it, you can get a credit card cash advance without any preparation.
The amount available depends on your credit line and current balance. The card charges interest from the day of the cash advance — there is no grace period.
What is a Cash Advance Loan?
A cash advance loan is a non-secured loan that quickly provides cash to be repaid over a defined period. An online cash advance loan is short term. It plugs a cash gap until your next payday.
Our top-rated provider of online cash advances is MoneyMutual. It is a loan-matching service that connects consumers with bad credit to its network of direct lenders who can provide up to $5,000 to borrowers.
You pay back the loan in a week or two, whenever you get your next paycheck or benefit period. You can get a decision in less than an hour and funding on the next business day.
If you need a long-term loan, consider an installment loan. Terms typically run as long as 72 months or as short as three. You repay the loan in fixed monthly installments.

Our top-rated provider of installment loans is CashUSA.com, which can provide you a loan starting at $500. It is a loan-matching service with its own network of bad credit lenders that can fund installment loans quickly.
The benefit of loan matching services is that you fill out one loan request that then circulates across a network of lenders. This service is free and saves you a lot of the time it would take to locate the best lender for your circumstances.
Is a Cash Advance Bad?
Cash advances, also referred to as payday loans, can be good or bad, depending on your unique situation. Any loan is bad if you can't repay it because that usually has negative credit repercussions.
Cash advance loans geared toward consumers who have bad credit must charge enough to pay for the money lost from delinquent or defaulted loans. That translates into a higher APR.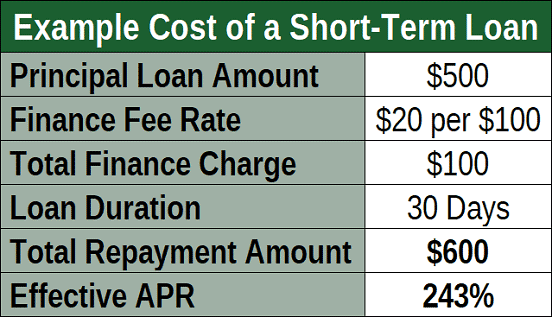 However, if you take a short-term cash advance, the high interest rate applies for only a week or two. In many cases, this can keep the loan affordable.
Installment loans have higher total costs since a relatively high APR applies to periods of up to 72 months. You may end up paying a lot of interest, but it will be stretched out over many months or years.
While frivolous borrowing is usually not a good idea, a long-term installment loan may be worth the cost if you really need the loan. A "good" cash advance is an affordable one with a reasonable APR and used for a necessary reason.
For example, if you need medical care or have some other important necessity, a cash advance could make a lot of sense. Conversely, using a cash advance, or any loan, to support a gambling habit or some other negative behavior is definitely a bad idea.
How Can I Get Money Fast in an Emergency?
In a true emergency, many folks turn to family and friends for a fast cash loan. This can be the quickest source of money and the easiest to obtain.
Cash advance loans from the loan matching services reviewed here can get you emergency cash in a day or two if you are approved. These can be quite useful if your credit is bad since they all cater to consumers with low credit scores.
These networks can move fast because they consist of lenders who compete for your business. You enter your loan request and application online, and the loan proceeds are deposited electronically into your bank account.
A credit line or asset can also provide fast cash. Sources include:
An overdraft-insured checking account
A home equity line of credit
A retirement account withdrawal
A 401(k) loan
An annuity or insurance policy that allows loans
An automobile refinance loan
A loan from a pawnshop
A title loan or payday loan
The last two bullet points represent very risky loans because you can lose property or incur high fees if you miss a repayment date. Indeed, payday loans can push you into a debt spiral that ends in bankruptcy.
The safest course of action is to create an emergency fund so you can avoid borrowing, or at least borrow less when misfortune strikes.
Do Cash Advance Loans Affect Your Credit?
Typically, short-term cash advances that you repay on your next payday aren't reported to the three credit bureaus. This means they do not provide you the opportunity to build your credit.
However, if you are delinquent and go into collection, the collection agency may report you to the credit bureaus and therefore hurt your credit score.
In contrast, installment loans are usually reported to the credit bureaus and can affect your credit score. There are five ways credit reporting influences your credit score:
Payment history (35% of FICO score): You may improve your credit score by repaying the loan on time each month. Missed payments can hurt your score, as can collections, defaults, and bankruptcies.
Amounts owed (30%): Your cash advance increases your credit utilization ratio, which can hurt your credit.
Length of credit history (15%): A long-term cash advance installment loan can increase your credit score, as it adds to the average age of your debts.
Credit mix (10%): Your first installment loan increases the mix of credit sources you use, and this can improve your credit score.
New credit (10%): Your credit score may suffer if you open several accounts in a short period. Obtaining a cash advance installment loan in the absence of other new accounts should have a minimal impact on your score.
Of all these factors, your payment history is the most important. That's why it's imperative to make your monthly payments in full and on time.
Fast Cash When You Need It, Bad Credit Welcome
We've reviewed cash advance loans that provide you with fast cash when you need it. They all offer rapid approval and funding, and all welcome applications from consumers with bad credit.
Several alternatives are open to you, including borrowing from family and friends, credit card advances, and loans from a 401(k), among other options discussed above. You can avoid interest charges by saving some money each month and putting it into an emergency fund in an insured account at your bank, credit union, or broker. An emergency fund should cover three to six months of your expenses.
Advertiser Disclosure
BadCredit.org is a free online resource that offers valuable content and comparison services to users. To keep this resource 100% free for users, we receive advertising compensation from the financial products listed on this page. Along with key review factors, this compensation may impact how and where products appear on the page (including, for example, the order in which they appear). BadCredit.org does not include listings for all financial products.
Our Editorial Review Policy
Our site is committed to publishing independent, accurate content guided by strict editorial guidelines. Before articles and reviews are published on our site, they undergo a thorough review process performed by a team of independent editors and subject-matter experts to ensure the content's accuracy, timeliness, and impartiality. Our editorial team is separate and independent of our site's advertisers, and the opinions they express on our site are their own. To read more about our team members and their editorial backgrounds, please visit our site's About page.