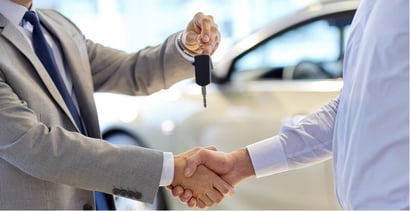 Finding cars for sale with bad credit can be difficult. Thankfully, a less-than-stellar credit score doesn't have to keep you from securing bad credit financing and getting back on the road.
Here's everything you need to know about buying a vehicle when you have bad credit.
1. Preapproval | 2. Research | 3. Sign & Drive | 4. Refinance
Approval Tips | FAQs
1.  Use a Lending Network to Obtain Preapproval
Instead of going through a traditional bank to find a bad credit car loan, look at a lending network instead. When you complete a credit application with a lending network, your information is submitted to dozens of lenders instantly. This improves your chances of being approved for a loan, even if you're a bad credit car buyer.
The following lenders are qualified to handle applicants who have less than stellar credit.
Network of dealer partners has closed $1 billion in bad credit auto loans
Specializes in bad credit, no credit, bankruptcy and repossession
In business since 1999
Easy, 30-second pre-qualification form
Bad credit applicants must have $1500/month income to qualify
| Interest Rate | In Business Since | Application Length | Reputation Score |
| --- | --- | --- | --- |
| 3.99% - 29.99% | 1999 | 3 minutes | 9.5/10 |
Auto Credit Express has been in the business of car financing for more than 20 years and has facilitated more than $1 billion worth of bad credit auto loans. They approve customers for both new and used vehicles.
To qualify, you must have a gross monthly income of $1,500 or more if your credit rating is below 625. You must not have had any auto loan repossessions within the last year unless they were part of a bankruptcy filing. Applicants must also be at least 18 years old.
Interest rates on these loans vary based on your creditworthiness. The loan application takes approximately three minutes to fill out.
Free, no-obligation application
Specializes in auto loans for bankruptcy, bad credit, first-time buyer, and subprime
Affordable payments and no application fees
Connects thousands of car buyers with auto financing daily
| Interest Rate | In Business Since | Application Length | Reputation Score |
| --- | --- | --- | --- |
| Varies | 1994 | 3 minutes | 9.0/10 |
Car.Loan.com has been around since 1994, servicing customers with perfect credit, good credit, and those with poor credit, no credit, and subprime credit. It also accepts borrowers with bankruptcies on their records. Car.Loan.com can connect customers to a local bad credit car dealership that offers bad credit auto financing so they can buy a car and finance it in the same place.
APRs on a bad credit car loan may go as high as 25%, depending on your creditworthiness. To qualify for a loan, you'll need to have a valid driver's license, a permanent address, and meet its income requirements.
Loans for new, used, and refinancing
Queries a national network of lenders
Bad credit OK
Get up to 4 offers in minutes
Receive online loan certificate or check within 24 hours
| Interest Rate | In Business Since | Application Length | Reputation Score |
| --- | --- | --- | --- |
| Varies | 2003 | 2 minutes | 7.5/10 |
To qualify for an auto loan through myAutoloan.com, you need to be at least 18 years old, have an annual gross income of $21,000 or more, and have a minimum credit score of 575. The car you purchase must be under 10 years old and have less than 125,000 miles.
The minimum loan amount must be $8,000 or more. Loans are not available for customers in Hawaii or Alaska. The credit application takes about two minutes to fill out, and borrowers may receive up to four offers in just a few minutes after submitting it.
2.  Research Vehicles within Your Budget
Before you get preapproved, you should figure out what kind of monthly payment you can afford. Don't try to buy the nicest or most expensive car you can. You should make sure to budget in money every month for regular repairs and maintenance.
You should also call your car insurance company and see how much insurance will change. Some people buy a new car and are shocked to discover that their insurance premiums drastically increase, especially if they were driving a much older car before. Give yourself some leeway, especially if you have other loans and debts to pay off.
When you apply with a lender or lending network, you'll be notified of how much you've been preapproved for. After that, it's time to start looking for cars within this range.
If you already have a few car models in mind, look them up on sites like RepairPal, which shows the most common repairs needed for specific cars. If the car you like frequently needs its transmission or engine replaced, keep looking.
Once you find a couple of cars that don't need major repairs, start looking at local and online dealerships. When you find a car that matches your preapproved amount, ask for the Carfax report. This shows a car's previous accident history, whether it was used as a rental car, how many owners it's had, whether it has any active recalls, and its title status.
In general, it's best to buy a car that wasn't used as a rental car, has no prior accidents, wasn't involved in a flood, hasn't had a large number of previous owners, and has a clean title. You'll need the car's Vehicle Identification Number (VIN) to pull a Carfax report. If it's not shown on the website, call the car dealer and ask for the VIN.
Some car lots will include a Carfax report for free to potential buyers, but many won't. It's worth spending the $39.99 for a Carfax report because a bad credit car dealer may not be aware of the car's history — or not be legally required to disclose it.
If you buy a car that has had five previous owners in its three-year history or was used as a rental car, for instance, you may be purchasing a car with significant issues. Be patient when buying a car. It's better to spend a few weeks looking than to pull the trigger and end up with a lemon. One of the biggest mistakes car shoppers can make is rushing into a deal.
3.  Visit a Dealer or Private Seller to Close the Deal
When you find a car that fits your needs, call the dealer to schedule a test drive.
Most dealers will let you test drive the car, but you should also have an independent mechanic inspect it before you buy it. A mechanic may discover issues that haven't been disclosed. You can use this information to negotiate a lower price or have the dealer make the necessary repairs.
If the dealer won't let you take the car to a mechanic, it's time to walk away. You should always be able to have the car examined by someone you trust.
Once the car has been inspected, it's time to negotiate with the dealer. Car salesmen expect customers to negotiate and factor that into the price. If you don't negotiate, you're potentially paying hundreds or even thousands extra.
The salesman may try to sell you an extended warranty and other unnecessary add-ons. Say no to anything extra they pitch to you. Hold firm, even when they swear you'll be missing out on an important feature. If you get flustered easily, it may be helpful to bring a friend with you who can also ask questions and remind you what you're looking for in a car.
4.  Refinance for a Better Rate in the Future
After you've bought the car with a bad credit auto loan, set a reminder on your phone to refinance six months in the future. At that time, if you've been making on-time payments and keeping your credit utilization ratio low, you may be eligible for an auto loan refinance because of your improved credit score. Now that your credit rating is better, you may not need second chance financing as you did with your first auto loan.
Once your credit score is better, you may get lower interest rates if you try to refinance with a new lender. You'll have more lending options than when you purchased the car, and may even be eligible to refinance with a conventional bank.
First, look up your car's current resale value through sites like Kelley Blue Book and Edmunds.com and compare that value to the remaining amount on your auto loan. If the loan-to-value ratio is higher than 125% to 130%, then you may not be eligible for a refinance — unless you quickly pay off a huge chunk of the loan balance.
Next, choose a variety of lenders to apply with, including online banks, credit unions, and any banks that you currently have a relationship with. Applying with different types of lenders will ensure you see the lowest rates you qualify for.
Try to complete all those applications within a two-week span to avoid hurting your credit score. Every time you apply for a loan, it's reported on your credit report and causes a drop in your score of between five to 10 points. However, if you apply for several auto loans within the same two-week period, those will all show up as one application because credit bureaus will see that you're shopping around.
When you're comparing refinance offers, make sure to look at any associated fees and compare APRs, not interest rates. The APR includes both the interest rate and any fees. A lender may have high fees and a low interest rate, tricking you into paying more than if you'd chosen a lender with low fees and a higher interest rate.
In general, you'll get a lower interest rate if you choose a shorter term. Make sure you can easily afford the monthly payments when you refinance.
It's not worth saving on interest if you end up not being able to make your payments and defaulting on the loan. This could also lead to repossession. That will end up causing more credit problems.
Tips for Getting Approved for a Car Loan with Bad Credit
Having a bankruptcy or collection on your credit report doesn't have to prevent you from qualifying for a car loan. Here are some more suggestions on how to get approved for a bad credit auto loan.
Get a Cosigner
Getting a cosigner on your loan application will make it easier to be approved, and you're more likely to get favorable terms.
When a person cosigns a loan, they're agreeing to be legally liable in case the primary borrower defaults. The loan will also immediately show up on their credit report, which could prevent them from qualifying for a house or other type of loan.
That's why asking someone to cosign a loan is a huge favor and should never be done lightly. If a friend or family member does agree to cosign a loan, you should be extra careful to pay the bills on time. A late payment will show up on their credit report and could affect their score.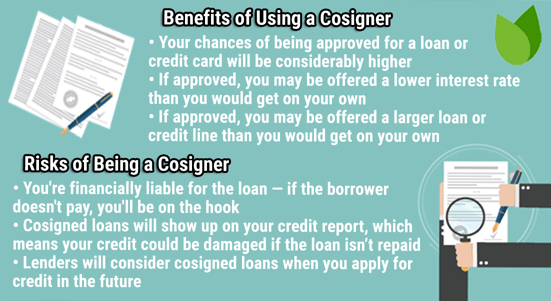 Once you improve your credit score, you can refinance the auto loan and release your cosigner from the loan. Check your credit score regularly. When the score is 670 or higher, you're ready to refinance.
Make a Larger Down Payment
Putting more money down will increase your chances of being approved and getting a lower interest rate. The down payment should be at least between 10% to 20% if you have a poor credit score. However, that may still not be enough to get you approved at the interest rates you want. Putting down 50% can really improve your chances.
When you make a large down payment, be sure that you're still meeting the minimum borrowing amount set by the lender. For example, if a lender has an $8,000 minimum loan amount and you want to buy a $15,000 car, you'll only be able to make a maximum down payment of $7,000.
Remove Credit Report Errors
A report from the Federal Trade Commission found that one in five people have an error on their credit report.
To see if you have any errors, start by checking your credit report at AnnualCreditReport.com. Make sure to view credit reports from all three credit bureaus, Equifax, Experian, and TransUnion. Not all lenders report user activity to all three credit bureaus, so it's important to check all of them.
If you see a mistake, you can dispute it from the credit report directly.  If the error is on multiple credit reports, you'll have to correct it on each report.
It can take a few weeks to get an error removed, so be patient. Contact the credit bureau to check the status if it's been more than 30 days since the dispute was initiated.
Consider putting a credit freeze on your account if you see several errors because they may indicate your personal information has been hacked. A credit freeze prevents lenders from approving new loans or lines of credit in your name and will prevent hackers from using your information to open new loans.
It's free to install a credit freeze, and you can "thaw" a credit freeze when you're ready to apply for a loan or credit card.
Bring in a Trade-In Vehicle
If a lender requires a large down payment on a car because you have bad credit, you can trade in your current car instead. Bringing in a trade-in vehicle will lower the final cost of the car and the monthly payments.
It also means you won't have to put down as much cash because the car will count as the down payment.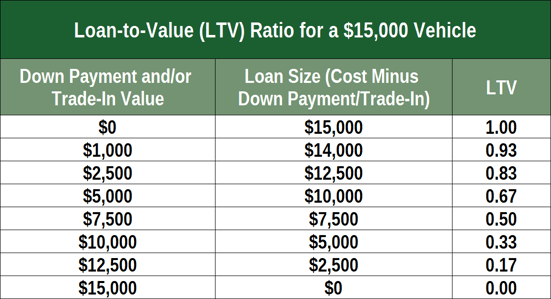 If you don't need a new car urgently, you can also try selling your car to a private buyer and using those proceeds as the down payment. Most people will earn more money selling to an individual than trading in the vehicle to a car dealership, but you'll also have to deal with all the headaches that come with selling a vehicle — scammers, flaky buyers, and lowball offers to name just a few. It's easier to deal with the dealership's finance department.
Can I Get Approved for Auto Financing with Bad Credit?
Even customers with bad credit can be approved for auto financing. The only situations that may prevent you from being approved for an auto loan are if you're currently undergoing a bankruptcy proceeding or you still have an unresolved default or collection on your credit report.
If you're denied for an auto loan because of a low credit score, ask the lender if there was a specific reason. This can help you figure out what to work on so you'll be approved in the future.
How Can I Get a Car with Bad Credit and No Money Down?
You may still be able to get a bad credit car loan even if you can't afford a down payment. However, the lender will likely charge you a much higher interest rate.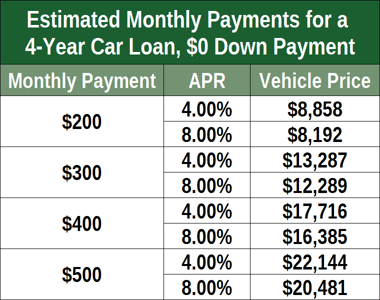 Depending on how bad your credit is, you may also be denied outright if you don't have any money down. This also depends on whether you're applying with a traditional lender or with a lender that specifically works with poor credit customers. A traditional lender will be more likely to require a down payment for those with bad credit.
Where Can I Get a Car with Bad Credit?
Online lenders may be one of the best places to get a car when you have a bad credit history. These lenders are prepared to handle consumers with low or no credit and have lower lending standards than traditional banks.
Credit unions are also popular with those who have bad credit. Their lending standards are more generous than banks, and they charge lower fees and interest rates because credit unions don't have shareholders to answer to.
What is a Subprime Auto Loan?
A subprime auto loan refers to an auto loan given to someone with a subprime credit history, meaning a credit score below 600. Bad credit usually refers to someone with a credit score below 580.

If you have bad credit and find a dealer or car lot that offers subprime auto loans, then you should be a good match. Some lenders refer to subprime and bad credit loans interchangeably.
Will Auto Lenders Need to Check My Credit Report?
Auto lenders will almost always check your credit report. They use information from your credit report and credit score to decide what kind of terms to offer.
Steer clear if you find a dealership that says it don't conduct a credit check. It will likely have higher interest rates than other lenders because they're assuming you have no credit or terrible credit. It may also charge excessive fees upfront or have other hidden costs.
Can I Get a Bad Credit Auto Loan from a Credit Union?
Credit unions are one of the best places to get a bad credit auto loan. Because credit unions are not-for-profit organizations, they don't need to generate revenue the same way a for-profit bank does. Rates and fees at credit unions will likely be lower as a result.
If you have an account with a credit union already, talk to a lending specialist about applying for an auto loan. Many credit unions do not require that borrowers be customers to be eligible for a loan.
Contact local credit unions near you that offer auto loans and ask if they accept borrowers with low credit. If you have an idea of what your credit score is, tell them and ask if they can prequalify you.
Can I Buy a New Car with a Bad Credit History?
People with a poor credit history can still qualify for a new car, but they may have to make a larger down payment, find a cosigner, or search for a dealer that specifically works with bad credit car buyers.


If you're looking for a new car instead of a used one, it may be helpful to call a lender before applying with them and ask if they offer auto loans for new cars to people with fair credit. Some lenders may only be willing to approve loans for pre-owned vehicles in this situation.
Even if you don't qualify for a brand new car, you may still be eligible for a certified pre-owned vehicle. These cars are only a few years old and have been thoroughly inspected by a dealership's mechanic to verify there are no outstanding issues.
Certified pre-owned cars may also come with lower interest rates than other used cars because they're worth more. Certified pre-owned cars are also a much better deal than a new car, which depreciate as soon as you drive them off the lot.
Will Getting an Auto Loan Help My Credit?
If you have a poor credit score and don't have any open credit accounts, then taking out an auto loan may improve your credit. This only applies if you make payments on time every month. If you miss several payments or default on the loan, then your score will decrease.
Depending on who your auto lender is, you may be able to set up automatic payments from your bank. This will prevent you from missing a payment, owing late fees, and having a negative mark on your credit score.
If your lender doesn't offer autopay, then you should set multiple calendar reminders a few days before the due date. Contact the lender as soon as possible if you ever have cash flow problems and are worried about missing a payment. They may be willing to let you defer a payment if you provide advance notice.
To see if your credit score has improved, visit a free site like CreditKarma and create an account there. Your bank may also provide a free credit score update. Some banks like Chase and Discover do this for both customers and non-customers.
It's a good idea to check your credit score regularly. This will also help you identify errors on your credit report, like a late payment, and help you rectify them.
You Can Finance Cars for Sale with Bad Credit Online
Finding cars for sale with bad credit may seem impossible, but many online lenders will work with you, even without a perfect credit history. The trick is applying with the right lenders from the start so you find the best financing option for you and don't waste time on banks that won't approve your application.
The lenders on this list have been verified and proven to work with bad credit car buyers.
Advertiser Disclosure
BadCredit.org is a free online resource that offers valuable content and comparison services to users. To keep this resource 100% free for users, we receive advertising compensation from the financial products listed on this page. Along with key review factors, this compensation may impact how and where products appear on the page (including, for example, the order in which they appear). BadCredit.org does not include listings for all financial products.
Our Editorial Review Policy
Our site is committed to publishing independent, accurate content guided by strict editorial guidelines. Before articles and reviews are published on our site, they undergo a thorough review process performed by a team of independent editors and subject-matter experts to ensure the content's accuracy, timeliness, and impartiality. Our editorial team is separate and independent of our site's advertisers, and the opinions they express on our site are their own. To read more about our team members and their editorial backgrounds, please visit our site's About page.