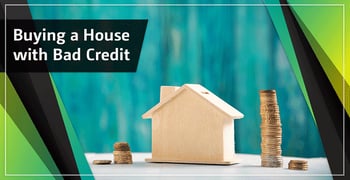 Buying a house with bad credit will be difficult for most consumers, but it is not impossible. Whether you're building your credit score from scratch or rebuilding it after a financial disaster, getting any type of financing can be a challenge with bad credit. And that's doubly true for mortgage loans, which can be a challenge for even those with good credit in some cases.
Perhaps the most common avenue for buyers with low credit scores is an FHA-insured mortgage loan. FHA-backed loans have no minimum credit score requirements and low down payment options, which can help those with bad credit or limited finances.
But while FHA-insured loans are low-risk for lenders, not all lenders will handle FHA loans, so you may have to shop around. That's why one of the first steps to buying a house with bad credit is finding a lender. Below, we'll explore how to find a flexible lender and provide some more valuable information about how — if you currently have less-than-ideal credit — you may still be able to become a homeowner.
1. Find a Flexible Lender
With bad credit, you'll not only need to find a lender that handles government-insured loans, but also one with flexible credit requirements. Although the FHA doesn't have a minimum credit score requirement for its insured housing loans, each lender is allowed to set its own credit score and down payment requirements.
One of the easiest ways to connect with multiple lenders without driving around town to fill out applications is to use an online lending network, like our expert-rated picks below. Online lending networks have dozens of lending partners to increase your chances of finding a good fit.
While online lending networks can be great resources for finding a lender, they don't actually provide any financing themselves. Instead, you'll be presented with compatible offers from partner lenders that match your criteria.
Once you select a partner offer, you'll be redirected away from the lending network to the individual lender's website. It's on the lender's site that you'll receive the loan agreement and complete the loan process.
In most cases, you'll need to have a specific property in mind before you can apply for a mortgage loan. If you've yet to find a property, you can apply for loan pre-approval to get an idea of the loan amount for which you'll qualify.
Of course, buying a home isn't quite as simple as just finding a lender and a piece of property. Unlike other types of loans, mortgages require a much more involved process than applying and being approved.
FHA loan rules require the property to be safe, habitable, and must have a remaining economic life that lasts at least as long as the loan itself. — FHA.com
For one thing, the lender will likely require a property appraisal to ensure the property value is equal to or more than the total borrowed amount. That's because mortgage loans are secured loans in which the financed property acts as collateral.
Additionally, most government-insured loans will require a property inspection to verify that the property is in safe and livable condition. If the property doesn't pass inspection, it may not qualify for purchase with a government-backed loan.
2. Boost Your Score as Much as Possible
Another way to improve your chances of finding a mortgage loan with bad credit is to, well, increase your credit score. This process should ideally start a year or two before you begin looking for property so that any methods you take have time to become effective.
For example, if you have a number of incorrect or unsubstantiated items on your credit report dragging down your score, credit repair can be a viable solution. However, even with an experienced credit repair company, like our top-rated options below, the credit repair process can take months to show results.
The most effective ways of improving your credit score will depend on what's dragging it down in the first place. So, you'll need to start your home buying process by checking your three credit reports to see where you stand.
While there are a variety of companies that will allow you to purchase your credit reports whenever you like, you can get a copy of each main credit report (Equifax, Experian, and TransUnion) for free once a year through AnnualCreditReport.com.
Once you know what items are responsible for your low credit score, you can develop a plan to systematically improve your credit based on the five main credit factors.
The most important part of your credit score is your payment history. Payments made more than 30-days late are reported to the credit bureaus as delinquent, as each delinquent payment can shave dozens of points off of your score.
Since late payments (and other negative items) can only remain on your credit report for up to seven years (some bankruptcies may last 10 years), the best solution is often to wait for the delinquency to age off of your report.
If you can't wait for it to age off of your report completely, letting it season a year or two can help, especially if you work to build a more recent positive payment history. Credit repair can also help remove unsubstantiated or erroneous delinquent marks from your reports.
The second-largest factor in your credit score is your amounts owed, which includes your credit card utilization rates. Paying down your existing debt, especially on credit cards that are close to being maxed out, can have huge positive impacts on your credit score.
3. Save Diligently for the Down Payment & Closing Costs
One of the few things that can potentially help you overcome a low credit score when shopping for a home loan is a healthy down payment.
Most lenders prefer to see a down payment of at least 20% of the purchase amount, and anything less will likely result in the need to pay private mortgage insurance.
Even if you can't manage the ideal 20% down payment, most loans have their own minimum down payment amounts. FHA-insured loans, for example, require that borrowers with credit scores of 580 and above put down at least 3.5% of the purchase price, while borrowers with scores below 580 will need to put down 10% or more.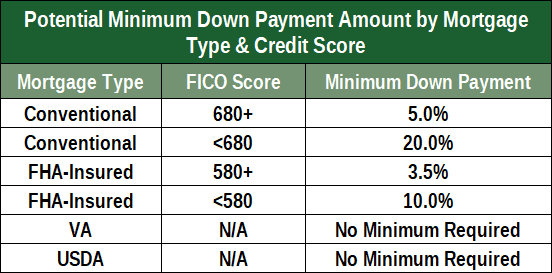 If you're trying to improve your credit score while also saving for a down payment, you may be confused as to where you should apply your funds. Do you pay down debt or save for your down payment?
In general, paying down your debt is a better investment than purchasing a home, particularly if you have high-interest debt like credit cards or short-term loans. You should focus on paying off your outstanding high-interest debt before setting aside down payment savings.
Some government-backed mortgage loans are available with no down payment requirements, but these loans will have their own qualification restrictions. Veterans Affairs loans, for example, don't require a down payment but do require you to be a former or active member of the US military.
Similarly, USDA-insured loans don't require a down payment, but the property financed through a USDA loan must be located in an eligible rural area to qualify. Most government-insured loans also require the purchased property to be used as your primary residence.
The Dream of Owning a Home Can Be a Reality
With balances usually in the six digits and terms lasting 15 to 30 years, mortgages are big loans. As such, lenders are reasonably concerned about offering them to folks who haven't proved their ability to repay their debts.
But that doesn't mean it is impossible to find a mortgage if you don't have a perfect credit score. With the right steps, including working to improve your credit score and saving for a healthy down payment, your dream of owning a home can be a reality.