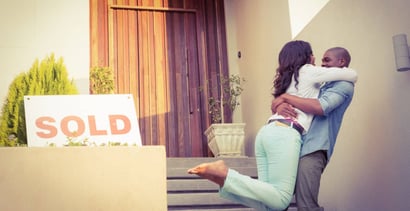 In theory, bad credit shouldn't impede your access to a mortgage since your home will collateralize the loan. In practice, things aren't so simple. 
While it's true that property secures a home mortgage, lenders don't want the expense and effort it takes to pursue collections and foreclosures. That's why house hunters with bad credit must overcome lender reluctance. 
This article shares seven tips to help subprime homebuyers snag a mortgage. Along the way, we'll recommend a few bad credit home loan providers that welcome consumers with all types of credit. 
1. Explore Loan Preapproval Options For Bad Credit
The following companies can preapprove mortgage applications from prospective homebuyers with bad or limited credit. While preapproval doesn't guarantee you'll get a mortgage, it does indicate that final approval is feasible.
The process begins when you submit a mortgage preapproval application. You'll need to share information about your income, desired mortgage amount, employment, and debts with a direct lender or loan-matching network. The latter finds one or more lenders willing to consider your application, a convenient way to get competing offers.
Home shoppers typically want to have a mortgage preapproval so they can make a serious bid when they find a desirable property. Direct lenders will check your credit when underwriting your preapproval request. They're likely to ask for the following information as well:
Proof of income: W-2 statements and pay stubs from the past two years, recent tax returns
Proof of assets: Bank statements, investment account statements
Employment verification: Your lender may call your employer to verify your employment status and salary
Other documents: Social Security numbers for a credit check, photo IDs, etc.
If you receive preapproval, the lender will generate a letter stating the maximum loan amount and expiration date. Mortgage preapprovals are typically valid for two to three months. A lender won't approve the actual mortgage until it receives a copy of your purchase agreement, appraises the home, and verifies all the information it has collected.
2. Clean Up Your Credit
It's wise to improve your credit before applying for a mortgage. Doing so can increase your approval chances and help you get a lower interest rate. Here are several steps you can take:
Check your credit reports: The law entitles you to a free copy of your credit report from each of the three major credit bureaus (Experian, Equifax, and TransUnion) once a year. You can order your reports through AnnualCreditReport.com. Once you receive your reports, you can review them for incorrect, obsolete, and unverifiable items.

Dispute any errors: File a dispute with a credit bureau if you find any mistakes in your credit report. You can do this online through each bureau's website, over the phone, or by sending a letter. A credit bureau must investigate the issue and correct or remove any inaccurate information within 30 days. Alternatively, you can hire a credit repair service to file disputes on your behalf.

Pay your bills on time: Your payment history significantly contributes to your FICO credit score. Pay off past-due accounts as quickly as possible, and ensure you pay all your bills on time.

Reduce your debt: The amount of credit card debt you owe compared to your available credit (i.e., your credit utilization ratio) has a sizable impact on your credit score. Aim to keep your CUR below 10%. You can reduce your debt by repaying balances and avoiding new debt.

Don't close old credit cards: The length of your credit history also affects your score. If you have credit cards you no longer use, keeping them open is usually a good idea, as long as they don't carry high annual fees. This strategy helps you maintain your average account age.

Avoid opening new credit accounts: Creditors make a hard inquiry each time you apply for a new credit card or loan. Multiple hard inquiries within a short period can impact your credit score. It's a good idea not to open new accounts while trying to improve your credit. 
Your low credit score may take several months to improve. That's why it's wise to begin cleaning up your credit at least half a year before applying for a mortgage. 
3. Consider a Rapid Rescore
A lender may perform a rapid rescore to update a consumer's credit report within a few days instead of waiting for the credit bureaus to issue the regular monthly update. 


You can request a rapid rescore if you've corrected derogatory misinformation in your credit reports or paid down debt. You cannot demand a rescore yourself but can ask lenders to do so. Typically, you send documentation to the lender, who forwards it to the credit bureaus.
You should see results within 30 days. Bear in mind that some lenders do not support rapid rescore. Those that do may charge a fee for the service.
4. Improve Your DTI Ratio
Lenders use your debt-to-income (DTI) ratio to see whether you can repay your debts. They calculate your DTI ratio by dividing your monthly debt payments by your gross monthly income.
Lenders typically prefer DTI ratios below 35%. A lower DTI ratio suggests that you have a good balance between your cash inflows and your recurring debts. 

Here are some tips for lowering your DTI ratio:
Pay down your debts: Start by paying off small debts altogether. Follow up by making extra loan payments and paying down your credit card balances.

Increase your income if possible: You can ask for a raise, work overtime, get a second gig, or turn a hobby into an income source.

Avoid taking on more debt: Resist the temptation to assume more debt since that will increase your monthly payment and DTI ratio. Avoid things such as financing a car purchase or buying big-ticket items using credit cards.

Refinance or consolidate debts: Refinancing or consolidating your debts may help lower your monthly payments and reduce your DTI ratio. But be aware of any origination or prepayment fees, as these will increase your overall borrowing costs.

Balance transfer credit cards: If you have high-interest credit card debt, consider getting a new card with a 0% intro APR on balance transfer transactions. Look for promotional periods of at least 12 months. Try to pay off the transferred balance before the promotion ends.

Creating a budget with a provision for paying down your debts is prudent. Disciplining your spending will help you live within your means and should improve your DTI.
5. Come Up With a Down Payment
Most mortgage lenders require a homebuyer to make a down payment, typically between 3% and 20% of the purchase price. A down payment is important for several reasons:
Getting a bad credit home loan: A down payment helps you obtain a mortgage loan. Lenders view a down payment as proof that you have "skin in the game" and are less likely to default on your loan.

Obtaining a lower interest rate: The larger the down payment, the less risk for the lender. Putting down a larger amount can result in a lower mortgage rate for you.

Avoiding mortgage insurance: You'll avoid paying for Private Mortgage Insurance (PMI) on a conventional loan if you can afford to put down 20% of the home's price. PMI protects the mortgage lender if you default on your loan. Avoiding PMI can save you beaucoup bucks on your monthly mortgage payment.
Reducing your monthly payment: A larger down payment means a smaller loan amount, which means you'll pay less each month.

Building equity faster: The more money you put down, the more immediate equity you have in your home. You can tap into this equity to get a home equity loan or line of credit. Also, the more equity you have, the lower the mortgage rate you'll pay.
When deciding how much to put down, factor in your initial expenses, including moving, origination fees, and other closing costs.
6. Recruit a Cosigner
Recruiting a cosigner can make sense if your bad credit score prevents you from getting an affordable mortgage. A cosigner with good credit will help reassure the mortgage lender that it will get paid on time each month.
Here are some cosigner pros and cons to consider.
Pros of Having a Cosigner
Better odds of approval: A cosigner with a good credit score and stable income can help compensate for your lower credit score, thereby increasing your chances of receiving a mortgage.

Potentially better terms: If a lender approves your mortgage, using a cosigner may qualify you for better loan terms or a lower interest rate.
A cosigner should be comfortable with your commitment to repay, and you should trust the cosigner to step in if an emergency occurs.
Cons of Having a Cosigner
Cosigner's risk: The cosigner is on the hook if you miss payments. This responsibility could affect the cosigner's credit and ability to get new credit.

Relationship strain: Having trouble repaying the loan could strain your relationship with the cosigner.

Cosigner's future credit needs: The loan appears on the cosigner's credit report and can affect their debt-to-income ratio, potentially impacting their ability to get new credit.
Before deciding to use a cosigner, consider exploring loan programs for people with lower credit scores, such as Federal Housing Administration (FHA) loans. 
An FHA loan offers subprime borrowers a way to get a federally guaranteed real estate loan on reasonable terms. You can borrow the money for a down payment on an FHA home loan, a feature usually unavailable on a conventional loan. The minimum credit score for an FHA loan is 500.
A VA loan (from the Veterans Administration) doesn't require a down payment. You must prove eligibility to receive a VA loan. VA loans do not have a minimum credit score requirement.
7. Stick to Your Budget
Budgets are fundamental to responsible financial management. Sticking to one can improve your ability to buy a home, even with a bad credit score. Here's how:
Saving for a larger down payment: If you have a low credit score, you can improve your loan approval chances by making a larger down payment. Sticking to a budget can help you save money for this down payment.

Reducing your debt: Maintaining a tight budget can help you allocate more money toward paying down existing debts and lowering your DTI ratio. These actions will improve your chances of getting an affordable mortgage.

Building an emergency fund: First-time homeowners soon discover home maintenance can consume more money than anticipated. Budgeting for an emergency fund helps you prepare for unexpected costs and emergencies. The fund also shows lenders that you have creditworthy instincts.

Establishing good financial habits: Show the world you're in charge of your money. Budgeting can lead to other good financial practices, such as saving, paying bills on time, and reducing debt. Consistently sticking to a budget helps you develop the financial habits you need to obtain and pay a mortgage.
Improving your credit score: By using a budget to ensure you make all your payments on time and in full, you can gradually improve your credit score. Good credit behavior over time is the most effective way to boost your score.

Preventing future debt: A budget can help you live within your means and avoid too much debt. Responsible spending can decrease your DTI ratio and make it easier to qualify for a mortgage.

Consider using personal financial software programs such as Quicken to automate your budgeting and bill paying. These programs make it easier to establish a budget so you can compare it to your actual spending.
Don't Let Bad Credit Keep You From Home Ownership
The American dream of homeownership shouldn't depend on your credit score. We've identified seven ways to get a mortgage when you have poor credit. If you're serious about purchasing a home or other real estate, consider adopting one or more of our helpful tips. 
With suitable preparation, you'll find many mortgage lenders ready to greet you with open arms.
Rocket Mortgage & Other Resources
We hope you've found our guide "7 Tips to Buy A Home With Bad Credit (Sep. 2023)" to be helpful in meeting your financial needs. To learn more about Rocket Mortgage, our top recommendation in this guide, be sure to visit the Rocket Mortgage website for full details about the offer.
Our experts rate Rocket Mortgage as one of the best options in home loans for those with bad credit, giving it a 4.8/5.0 rating overall. Among its features:
America's largest mortgage lender
The entire process is completed online
Options for new mortgages and refinancing existing mortgages
Award-winning customer service and cutting-edge digital platforms
More than 90% of clients would recommend us
For more resources similar to this "7 Tips to Buy A Home With Bad Credit (Sep. 2023)" guide, see our other popular picks for those with bad credit:
Whether you choose Rocket Mortgage or any other option in our home loans category, be sure to read and understand the terms before signing up. You'll find that taking the time to fully understand home loans is one of the smartest financial decisions you can make.
Advertiser Disclosure
BadCredit.org is a free online resource that offers valuable content and comparison services to users. To keep this resource 100% free for users, we receive advertising compensation from the financial products listed on this page. Along with key review factors, this compensation may impact how and where products appear on the page (including, for example, the order in which they appear). BadCredit.org does not include listings for all financial products.
Our Editorial Review Policy
Our site is committed to publishing independent, accurate content guided by strict editorial guidelines. Before articles and reviews are published on our site, they undergo a thorough review process performed by a team of independent editors and subject-matter experts to ensure the content's accuracy, timeliness, and impartiality. Our editorial team is separate and independent of our site's advertisers, and the opinions they express on our site are their own. To read more about our team members and their editorial backgrounds, please visit our site's About page.