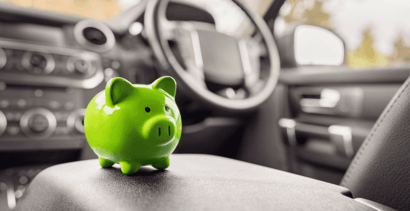 When you need to buy a car, you can't let bad credit stand in the way. Thankfully, consumers with poor credit can readily access car loans from numerous online lenders that specialize in helping subprime borrowers. Expect to pay a higher interest rate to get a bad credit loan, but you can take up to eight years to repay, which makes it easier to afford the monthly payments.
We've laid out five steps that should get you into your next car despite your less-than-good credit. Follow them, and you could be driving your new vehicle off the lot by the end of the day.
Step 1: Check Your Credit
Your credit significantly impacts your access to affordable loans. But the effect is less important for secured loans, such as auto loans. Nonetheless, knowing your credit score and removing inaccurate information from your credit reports can help you qualify for an auto loan with better financing terms.
FICO Auto Scores
The FICO Auto Score is a version of the traditional FICO credit scoring model. The traditional FICO Score is a broad measure of consumer credit risk, whereas the FICO Auto Score helps lenders predict whether borrowers will repay their auto loans on time.
The major difference lies in how the scores weigh the information in your credit report. Compared to the traditional FICO Score, the FICO Auto Score gives more weight to your credit history for auto loan repayments. 

While the traditional FICO Score ranges from 300 to 850, FICO Auto Scores have a range of 250-900.
Because of these differences, your regular FICO score may not match your FICO Auto Score. For example, you may have a "fair" score in the traditional FICO model but a "poor" FICO Auto Score.
Credit Reports 
A credit score is a single number that represents your creditworthiness. The major credit bureaus (Experian, Equifax, and TransUnion) calculate credit scores using the collected information they publish in monthly credit reports.
These credit reports include the following types of information:
Personal identification: This includes your name, address, Social Security number, and your employment information.

Credit accounts: The credit bureaus track the type of accounts you hold (credit card, mortgage, car loan, etc.), your credit history, the account start date, your credit limits and loan amounts, and the balance for each account.

Credit inquiries: When you apply for a loan or credit card, you authorize creditors to obtain a copy of your credit report. These are hard inquiries that can have a small impact on your credit scores. All other inquiries are "soft" and don't affect your credit scores.

Bankruptcies: If you have filed for bankruptcy protection from your creditors, the bankruptcy filing will appear on your credit reports. Bankruptcy can remain on your credit report for up to 10 years, depending on the type of bankruptcy you file.
The credit bureaus calculate your credit score using these factors. Other scoring models, such as VantageScore, use different formulas.
Credit Repair
Inaccurate data on your credit reports can needlessly lower your credit scores. Credit repair is a process for addressing and fixing credit report errors. You can repair your reports on your own or by hiring a credit repair company.
Here's how the process generally works:
Review your credit reports: Get a copy of your credit reports from the three major credit bureaus. The law entitles you to one free report from each bureau every year through annualcreditreport.com.

Identify mistakes: Review the reports for inaccurate, unverifiable, or obsolete data. This may include accounts you don't recognize, hard inquiries you didn't authorize, or incorrect balances.

Dispute inaccuracies: You can dispute any errors or inaccuracies with the credit bureaus. You may do so online or through written dispute letters that report the error and provide corrective information. The bureaus must investigate your dispute within 30 days. If they agree with you, they must correct or remove the disputed item from your report.
Credit repair is not a quick fix. It takes time and consistent effort to improve your credit score. If you don't want to undertake the task yourself, you can pay a credit repair company to do the work for you.
Step 2: Work Your Budget
Before you submit a credit application for a car loan, review your household budget and figure out how much you can afford. Costs include your monthly payments and additional expenses, including insurance, maintenance, and gas. 
In particular, consider the following items:
Down payment: A larger down payment reduces your monthly loan payments. If possible, save enough for a 20% down payment.

Trade-in: You can apply the trade-in value from your old car toward your new car purchase. Trade-ins reduce the total loan amount and may eliminate the need for a down payment.

Monthly payments: Your monthly debt payments (including the car payment) generally shouldn't exceed 36% of your gross monthly income. This percentage is called your debt-to-income ratio (DTI). Some lenders may accept higher DTI ratios, but you must be careful not to stretch your budget too thin.
You can use online tools and calculators that show you how different bad credit auto loan terms will impact your monthly car payments.
Step 3: Research Vehicles You Can Afford
Now that you know your budget, you can start researching vehicles you can afford. Use online car-shopping sites to filter cars by price. Popular websites include CarGurus, AutoTrader, and Cars.com.
Consider these factors as you research your next vehicle:
New or Used
New cars have a higher initial cost, incur elevated insurance rates, and depreciate rapidly, losing up to 60% of their value in the first five years. But they typically have warranty coverage and lower maintenance costs. Plus, many folks take pride in owning a new car.

Used cars are cheaper to buy, depreciate slowly, and cost less to insure. But they have higher maintenance costs. Moreover, you're never 100% sure how previous owners treated the vehicle.
Used car prices have been relatively high since the start of the COVID-19 pandemic. If you decide to buy a used vehicle, make sure you'll save enough to forgo a brand-new car.
Purchase or Lease
Leasing is an alternative way to finance a new car. Consider these lease characteristics before you decide how to pay for your vehicle:
Lower monthly payments: Lease payments are usually lower than loan payments because you pay only for the vehicle's depreciation, interest, and fees during the lease term.

Lower upfront costs: Leases may require a small or $0 down payment. But beware of other upfront costs such as the first month's payment, a security deposit, and various fees.

Get a new car more often: Leases usually last two to three years, which allows you to drive a new car with the latest features every few years.

Maintenance and repair costs: A manufacturer's warranty covers the cars for the lease term, which can reduce your repair costs. But you may have to pay for the vehicle's maintenance and any excess wear and tear.
Mileage limits: Leases come with mileage limits. You'll have to pay extra if you exceed the limit, which can add significantly to your costs.

No ownership: You return the car at lease-end and have nothing to show for your payments. But you can buy the vehicle at its predetermined residual value if you want to keep it.
The dealer may be willing to split a leased car's equity (i.e., the vehicle's current value minus its residual value) with you at the lease's end. You can apply that equity to the purchase or lease of a new car.
Fuel Economy
You may want to consider a vehicle's fuel economy before you buy it. Start with the monthly fuel costs, which vary with the car's EPA fuel efficiency ratings, fuel prices, and your driving habits. 
Over time, a fuel-efficient vehicle offers some protection against volatile fuel prices and may increase the car's resale value. Environmentally aware consumers may limit their choices to fuel-efficient vehicles. You'll also want to check out any available tax incentives if you are considering a hybrid, hydrogen, or electric vehicle.
Long-Term Maintenance Costs
Maintenance costs may not be immediate, but you shouldn't overlook that they can add up over time. Here's how they can impact your budget:
Regular maintenance: This includes oil changes, tire rotations, brake inspections, etc. You can plan for these relatively predictable costs. Some car brands feature longer intervals between required maintenance or less expensive parts and labor costs.
Major repairs: If you plan to keep the car forever, you will likely need to repair or replace major components such as the transmission, timing belt, or alternator. These costs can be considerable, so look for cars that rank high for long-term reliability. Or resolve to trade in your vehicle before it develops significant problems.
You'll also want to factor in unexpected repairs, wear and tear, and standard aging costs. Consider setting aside a portion of your monthly budget for car maintenance and repairs.
Step 4: Compare Your Financing Options & Prequalify
Poor credit may restrict your access to good car loans. The following online lenders welcome borrowers of every credit stripe and are excellent sources for affordable vehicle loans.
Auto Credit Express (ACE) partners with US dealers to help subprime consumers finance their chosen cars. Begin your car-buying process by submitting a short form on ACE's website.
If you qualify, a dealer in your area will contact you before too long. The dealer will arrange an appointment to discuss your options and tour the pre-owned or new inventory in your price range. If all goes well, you may be able to drive your new vehicle off the lot on the same day.
PenFed Credit Union offers bad credit financing to members looking to buy a vehicle. As with most credit unions, its interest rates are probably lower than those of other lenders. That's because members own their credit unions and use the revenues to reduce the institution's interest rates.
You must belong to the credit union to qualify for a loan. PenFed has open enrollment: Anyone can join by opening a checking or savings account with a $5 balance.
LendingTree can generate up to five bad credit auto loan offers in just a few minutes, which lets you quickly begin shopping for a vehicle. This loan-finding service works with an extensive nationwide network of auto dealers highly experienced in bad credit financing.
LendingTree can find an auto dealer in your area to help you shop for a vehicle and walk you through the financing process. LendingTree's partners can expedite your loan so you can drive away in your new car as soon as today. 
Since 1994, Car.Loan.com Auto Loan has been connecting bad credit borrowers with receptive lenders. Drivers with limited or poor credit can submit an online loan request form to Car.Loan.com and immediately initiate a search for local lenders.
The site features the nation's most extensive network of car dealers with expertise in subprime finance. You should receive a decision in only a few minutes, although it may take up to 24 hours for the lender to process your loan request.
The myAutoloan.com lender-matching service can get you up to four loan offers in minutes. You can fill out a credit application for new and used car loans, lease buyouts, refinancing, or financing for private party purchases. The website posts bad credit car loan APRs daily.
myAutoloan.com partners with automobile dealers, banks, finance companies, credit unions, and affiliates. You may get a bad credit car loan featuring a repayment period of 24 to 72 months.
Step 5: Review the Contract and Close the Deal
Now the fun part: You are almost ready to get behind the wheel of your new car. But first, you'll have to handle the following details:
Read the contract: The lender will give you a copy of a contract containing all the loan terms. Take all the time you need to understand the fine print in the agreement.
Finalize the loan contract: Assuming you have no objections, it's time to sign the contract. You may be able to affix your John Hancock electronically or the old-fashioned way — by hand on a paper document.
Registration and insurance: Before driving off, you must ensure you've correctly insured and registered the car. The dealer usually handles the registration, but it's up to you to line up the car insurance.

Drive off: Finally, you can drive off in your new car. The dealer will give you two sets of keys (or key fobs), review the car's operation with you, shake your hand, and wish you well. 
Now that you're responsible for the monthly payment schedule, double-check your budget to account for any last-minute expenses. 
You Can Buy a Car with Bad Credit
The process for buying a car is pretty much the same regardless of your credit. What's special about subprime financing is who you borrow from. The reviewed lenders and lender-matching websites facilitate thousands of auto loans each week for consumers with bad credit. Join the crowd — it's about time you drove a new set of wheels!
Auto Credit Express & Other Resources
We hope you've found our guide "5 Steps to Buy A Car With Bad Credit (Sep. 2023)" to be helpful in meeting your financial needs. To learn more about Auto Credit Express, our top recommendation in this guide, be sure to visit the Auto Credit Express website for full details about the offer.
Our experts rate Auto Credit Express as one of the best options in auto loans for those with bad credit, giving it a 4.9/5.0 rating overall. Among its features:
Network of dealer partners has closed $1 billion in bad credit auto loans
Specializes in bad credit, no credit, bankruptcy and repossession
In business since 1999
Easy, 30-second pre-qualification form
Bad credit applicants must have $1500/month income to qualify
For more resources similar to this "5 Steps to Buy A Car With Bad Credit (Sep. 2023)" guide, see our other popular picks for those with bad credit:
Whether you choose Auto Credit Express or any other option in our auto loans category, be sure to read and understand the terms before signing up. You'll find that taking the time to fully understand auto loans is one of the smartest financial decisions you can make.
Advertiser Disclosure
BadCredit.org is a free online resource that offers valuable content and comparison services to users. To keep this resource 100% free for users, we receive advertising compensation from the financial products listed on this page. Along with key review factors, this compensation may impact how and where products appear on the page (including, for example, the order in which they appear). BadCredit.org does not include listings for all financial products.
Our Editorial Review Policy
Our site is committed to publishing independent, accurate content guided by strict editorial guidelines. Before articles and reviews are published on our site, they undergo a thorough review process performed by a team of independent editors and subject-matter experts to ensure the content's accuracy, timeliness, and impartiality. Our editorial team is separate and independent of our site's advertisers, and the opinions they express on our site are their own. To read more about our team members and their editorial backgrounds, please visit our site's About page.