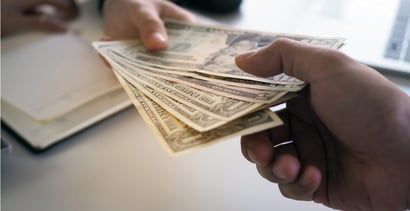 The best small loans for bad credit can help you get the money you need quickly through loans with set monthly payments, which makes budgeting the payments easier. These personal loans, also called installment loans because the same repayment amount is made each month, can be used for any expense.
Whether you only need a few hundred dollars to buy groceries or a few thousand to fix your car, consolidate debt, or cover an emergency visit to the hospital, these lending networks have you covered.
If traditional lenders won't help you with such small loans, the personal loans we recommend are meant for people with bad credit. The loan is made by an online lender that specializes in helping borrowers with poor personal credit scores. These bad credit loans are unsecured, meaning you don't have to put any collateral down, such as your car or home, to get the loan.
Small Personal Loans For Bad Credit
Below are seven online lending networks we recommend. Each network takes your loan request, which can often be completed online in a few minutes, and sends it to direct lenders it partners with.
After reviewing your application, the online lenders decide if they want to offer you a loan. You may get multiple loan offers within a few minutes from several lenders in the network. You choose which one, if any, you want to borrow from, and the money can be transferred to your bank account as quickly as one business day.
Short-term loans up to $5,000
Online marketplace of lenders
Funds available in as few as 24 hours
Simple online form takes less than 5 minutes
Trusted by more than 2 million customers
| Loan Amount | Interest Rate | Loan Term | Loan Example |
| --- | --- | --- | --- |
| Up to $5,000 | Varies | Varies | See representative example |
One of our favorite things about MoneyMutual is that it connects borrowers with lenders for loans from as little as $100. That may be all you need to get you to your next paycheck and avoid expensive loan options such as a payday loan. The goal is to repay the small personal loan quickly.
MoneyMutual has one of the largest networks of online lenders that pay MoneyMutual if they and the borrower agree to a loan. The service is free to borrowers, who fill out a form and submit their information through the online marketplace at MoneyMutual.
CashUSA.com is one of the few lending networks we recommend that helps consumers find large loans. It has bad credit loan options available from $500 to $10,000. That can be enough money to do some home repairs that you've wanted to do for years.
It has a financial education center to help borrowers decide which loan option is best for them, and how to best use a personal loan, such as for debt consolidation.
BillsHappen helps consumers find personal loans from $500 to $5,000, with funds from a lender available as early as the next business day. Using the service is free.
Consumers with any credit score can qualify for a loan. Applicants must meet other requirements, including providing a driver's license, Social Security number, home or cellphone number, bank account, and home address. Borrowers must also be 18 or older and employed with recurring income.
CreditLoan.com has a network of lenders that specialize in helping people with bad credit get personal loans. It doesn't, however, accept applications from people with a pending bankruptcy. Customers who have had a previous bankruptcy should make sure the case has been fully discharged and that the paperwork has been completed before they apply for a loan.
The CreditLoan website has a lot of good information on how having bad credit can affect a personal loan. It details how credit scores are calculated and how to improve your chances of getting approved for a loan, such as getting a cosigner, and only asking for an amount you need.
As its name says, BadCreditLoans specializes in bad credit loans for people with poor credit scores. The company has helped people since 1998 and says on its website that it can help people who can't find loans elsewhere.
Its lending network accepts loan requests from all consumers, even if a recent bankruptcy is shown on an applicant's credit history. Be sure to check that your case is finalized before submitting a loan request.
Among the bad credit loan providers we recommend, PersonalLoans.com offers loans from $500 to $35,000 and helps consumers find the largest loan amounts. Only those with good credit scores will qualify for the largest loan amount.
The company has two separate lending networks. One specializes in bad credit personal loan options and the other helps people with good and excellent credit. There isn't a minimum credit score required if you have bad credit, but not all applicants will qualify.
CashAdvance specializes in payday loan options from its network of lenders that require full payment, plus interest, in 15 to 30 days. With such a short loan term, these loans aren't installment loans that can be repaid in months or years.
Payday loan interest rates can be very expensive. Interest rates can start at 400% and can be higher if you can't pay the debt on time. CashAdvance recommends only using its service as a last option for an emergency loan. These short-term loans should be paid back on or before a borrower's next paycheck arrives to avoid extra fees.
What is a Small Loan For Bad Credit?
Having bad credit can make it difficult to get a loan, even a small loan. Some lenders specialize in lending money to people with bad credit, though at higher interest rates than people with good credit would pay. A traditional lender will likely require at least good credit.
Lenders realize that many people need a small loan from time to time, such as for emergencies or just regular bills until their next paycheck arrives.
This type of personal loan is considered a small loan, though a lender's idea of "small" may not match yours. The lending networks we recommend partner with lenders that offer loans from $100 to $35,000. That's a big range, and the money can be paid back from anywhere from a few weeks or months to a year or more.
The lending networks that we've recommended above work with such lenders. The networks don't provide the loans but help consumers by taking their loan applications and giving them to lenders to review. Customers may get a few loan offers from different lenders to choose from, and they choose the one that works best for them. There's no charge for this service.
Instead of working with direct lenders one at a time by filling out a separate application with each lender, lending networks require a single application that's sent to multiple network lending partners.

The lenders are competing against each other for your business, so each should offer the most competitive annual percentage rate and loan term that it can for your loan. The loan process works fast, with automated underwriting software allowing a loan decision to be made within minutes, no matter what time of the day or night the loan request is made online.
You can then choose a loan offer you like, and you will be forwarded to the lender's website to complete the loan paperwork. The loan processing will happen during regular business hours, so you may have to wait until the next business day for it to be completed. It should take about one hour to finish, after which your lender will forward your money to a linked checking or savings account.
What Can a Bad Credit Loan Be Used For?
A bad credit loan can be used for whatever you need. The cash will usually be deposited into your bank account within one business day of the loan being approved, and you can use the money however you want to.
Some expenses are smarter than others if you consider the high interest rates that can be charged. Interest rates vary depending on your personal credit score and other information, but they can easily hit 35.99% if you have bad credit. That's a high amount of interest to pay for a frivolous expense such as a vacation or a new couch.
These are unsecured loans. That means you don't have to put up collateral to secure the loan. Without collateral, you may be tempted to use the loan for anything and not repay it, but that will only hurt your credit score and could prevent you from getting credit in the future.
Some things borrowers use short-term loans for include:
Home repairs
Food
Pay electricity and other bills
Car repairs
Debt consolidation, such as credit card debt
Hospital visits
Weddings
Emergency expenses
While you can use a bad credit loan to buy a car, or even use it as a down payment on a house, you may be better off getting a secured loan with the car or house you're buying as collateral. Secured loans usually cost less to finance than unsecured loans, for the basic reason that the car or home will go to the lender if you miss loan payments.
Secured loans also have the advantage of not having the money go directly to you, which could give you the chance to spend it on a vacation or something else. An auto loan is paid directly to the dealership or private party that sells you a car. Money from a home loan is paid directly to a broker, who pays the seller, your lender and anyone else owed money from the sale.
Without collateral, a bad credit loan is one of the riskiest loans around. That can lead to high interest rates, low loan amounts, and an origination fee or other charges that traditional lenders don't charge.
What is a Personal Loan?
A personal loan is an overall term for a type of loan that's commonly used to make a big purchase or consolidate debt such as high-interest credit cards at a lower interest rate. The money borrowed can usually be used however the borrower wants, but it must be repaid at the interest rate agreed to.
The repayment terms of a personal loan are flexible and are set in the loan terms. Payments can last for a few months or can be for a year or more.
Personal loans are unsecured, meaning you don't have to put down collateral that the lender can take if you don't repay the loan. They're less expensive than credit cards, which are another type of unsecured loan.
Personal loans also go by other names, including installment loans and signature loans. A signature loan doesn't require a deposit or collateral for approval. Instead, only the borrower's signature is needed on a legal document as a promise to repay the debt.
A personal loan is a type of installment loan. It allows borrowers to repay the loan through a series of monthly payments, or installments, that are the same amount each month. That can make it easy to budget for the payments.
Various loan amounts of up to $35,000 can be borrowed from the lending networks we recommend. A large loan can be repaid in small increments that include interest charges and can be repaid over a few years if necessary. They can usually be paid off early without a prepayment penalty.
Some lenders offer small, short-term loans of $100 or $200 that can be repaid over three months. Other lenders offer large personal loans or business loans that can take years to repay.

Having bad credit shouldn't prevent you from being approved for a personal loan. However, a bad credit score may make it harder to find a personal loan because not all lenders are willing to take that risk.
The lending networks we recommend all work with lenders that focus on helping people with bad credit get personal loans. If this is your first time applying for a bad credit loan, you may want to start with a small loan that you can repay in three months or less. This will give you a lower interest rate than a larger loan would and will get you used to how personal loans work.
Personal loans are sometimes confused with payday loans. They're not. Payday loans don't allow installment payments but must be repaid in 15 or 30 days with one lump-sum payment that includes all of the principal and interest charges.
Payday loans are usually much more expensive than personal loans, with interest rates that can start at 400% and even higher if you don't repay the debt on time.
Another way payday loans differ from bad credit personal loans is that payday lenders don't require a credit check. Instead, proof of income must be shown, making it essentially a secured loan with your next paycheck as collateral. If you don't repay the payday loan, the lender can put a lien on your next paycheck.
Not having to go through a credit check can be more convenient, but it can cost you more in origination fees and extremely high interest rates. Payday loans are often rolled over, which increases the amount due and the interest paid.
How Low Can My Credit Score Be to Get a Small Loan?
Because a small loan for people with bad credit doesn't require collateral, direct lenders for these types of loans use an applicant's credit history and credit score to help determine the risk of the loan and if they should approve the loan.
Minimum credit score requirements vary by lender, but, in general, having a bad or very poor credit score means paying higher interest rates and being offered lower loan limits than those offered to people with good or excellent credit.
A FICO credit score below 580 is considered bad, but it can still be in the range allowed by many of the lending networks and the lenders they work with. Here's a breakdown of the FICO score range:
Exceptional: 800-850
Very Good: 740-799
Good: 670-739
Fair: 580-669
Bad, or Very Poor: 579-300
Lending networks work with many lenders, so applicants can get multiple loan offers after filling out one application with a network. They can also apply at all of the lending networks for free and get more loan offers.
Another good thing about lending networks is that they can help applicants prequalify for a loan by filling out an online form on the service's website. This doesn't require a credit check and it won't hurt your personal credit score.
If you choose to work with one of the lenders it offers, the lender will ask for your permission to access your credit report from a credit bureau. This is a hard inquiry and may marginally drop your credit score. The entire process won't take long and you should be able to get the loan funds within 24 hours of applying.
Lending networks have these general requirements — that don't include a credit check — to prequalify applicants:
Age: 18 or older.
Citizenship: U.S. citizen or resident with a valid Social Security number.
Income: Minimum monthly income or benefits, often around $1,000.
Bank account: Active bank or credit union account in your name.
Identification: Social Security number, valid email, work and home phone numbers, and bank account details.
Prequalifying doesn't guarantee you'll get the loan when you officially apply with the lender. The lender may spot a problem on the full credit report that wasn't on the modified credit pull. A loan prequalification only lasts for 30 days because your lenders can report new information to the credit bureaus that may change your credit score.
Even with bad credit, you can do a few things to improve your chances of being approved for a small loan. Proving you have the monthly income to afford the loan may be enough for approval, as can having a recent history of making on-time payments to creditors and paying your bills on time.
Other things the lender may look at beyond your credit score that can work in your favor include:
Employment history: Staying at a job for a long time instead of jumping from job to job every few months is a sign of stability, and continued employment can mean you're likely to repay your debt.
Address history: Stability is important, whether in a job or where you live. Lenders like borrowers who don't change addresses often, partly so they can find you to make loan payments.
Payment history: We mentioned this earlier, but it's worth noting that repeating old mistakes is worse than mistakes you avoid. Avoid late payments if you had a bankruptcy a few years ago. A settled bankruptcy in the past month or late payments during each of the last three months will likely lead to rejection of your loan application because lenders may see it as a trend.
Existing debt: Paying rent or a monthly mortgage is expected by lenders, as is a monthly car payment. Your debt payments shouldn't come close to your total income, and, ideally, shouldn't be more than a third of your income. Too many credit card bills can increase your monthly bills, so pay them down if you can before applying for a loan, and seek a cushion between your debts and income.
Lenders that work with lending networks expect bad credit borrowers to have some negative items on their credit history. Missed payments and other problems are probably what is causing their low scores to begin with.
But showing a lender that you're working to overcome those mistakes and have a recent history of not doing them anymore can be enough to compensate for them.
What Types of Small Loans Should I Avoid?
A payday lender should be at the top of the list of any type of small loans to avoid. Interest rates can start at 400%, they're due in 15 or 30 days, and your next paycheck is used as collateral if you don't pay.
The image below shows just how expensive a payday loan can be in each state.

Some studies show that almost half of the consumers who accept payday loans end up in default. That can lead to a much higher amount due. A payday loan of $2,500 can lead to more than $50,000 of debt after default fees and penalties are included, as one unlucky couple discovered.
In February 2021, the Federal Trade Commission announced a settlement with a payday lending enterprise the FTC said overcharged consumers millions of dollars by withdrawing money repeatedly from consumers' bank accounts without their permission. The bank withdrawals were done long after the loans' original principal amount and stated repayment cost had been repaid, and didn't stop until consumers closed their bank accounts or found some other way to cut off payments.
The 11 defendants operated under the names Harvest Moon Financial, Gentle Breeze Online, and Green Stream Lending. The FTC said they used deceptive marketing tactics to convince people that their loans could be repaid in a fixed number of payments.
Instead, customers found that long after the promised number of payments had been made, the lenders had applied their funds to finance charges only and were continuing to make regular finance charge withdrawals from their checking accounts.
The settlement requires that any loan made by the company before it was temporarily shut down in May 2020 as part of the case will be considered to be paid in full if the original amount of the loan and one finance charge have been paid.
Title loans are another type of small loan to avoid if you can. Terms for these loans are similar to payday loans, with short terms, exceedingly high interest rates, and a focus on borrowers without other credit options.
A title loan is a type of secured loan, with a car used as collateral. An auto loan must be paid off to qualify for a title loan.
The danger of this loan is that your car could be taken by the lender if you don't make loan payments. If you rely on your car to get to work, as many people do, you could lose your job.
Pawnshop loans don't require credit checks either. The loans are secured by something valuable you bring to a shop to use as collateral. It can be a watch, a wedding ring, a TV, or many other things worth more than the loan amount. Pawnshop loans have high interest rates, and you can forfeit your collateral if you don't repay them.
If you have an emergency expense and own a credit card, you may be tempted to use it for a cash advance on your credit card. This is a bad idea because the annual percentage rate, or APR, for credit card cash advances is usually higher than it is for purchases.
The money is available immediately, which is a good thing, but the loans are expensive. Avoid them if you can, or at least repay them quickly.
What Other Loan Options Are Available For People With Bad Credit?
Loan options for people with bad credit can be limited, and many are tied to high interest rates that make monthly payments much higher than they would be otherwise.
One good option exists at federal credit unions, called payday alternative loans, or PALs. They allow a small amount of money to be borrowed at a lower cost than traditional payday loans and can be repaid over a longer period.
PALs are regulated by the National Credit Union Administration. Loan amounts can be for $200 to $2,000 and have a maximum APR of 28% and an application fee up to $20. Loans are repaid within 12 months through installment payments. Loans can't be rolled over.
A good credit score isn't required to qualify for these loans. PAL repayments are usually reported to the major credit bureaus, which can improve a borrower's credit scores.

Another option if you have bad credit is peer-to-peer lending, also called P2P loans or peer loans. Online matches are made with individuals or businesses that want to borrow money from lenders. This style of lending is also called social or crowd lending, and the money is often used as a business loan.
Lending Club, Upstart, Prosper, and Payoff are some of the P2P lenders. These loans can include high origination fees of 8% and APRs of up to 36%. A credit score of around 640, which is in the fair category and just above a bad credit score, is needed for many of these loans.
Debt consolidation loans are another loan option if you have bad credit. They're usually used to combine a few debt payments — normally credit cards — into a single payment each month and at a lower interest rate than what the high-interest rate cards average together.
For people with great credit, a 0% APR balance transfer can let them make payments on the principal without having to pay interest for a year or so. For people with bad credit, they should look for a debt consolidation loan that has an interest rate that's substantially lower than what they're paying on their credit cards.
These loans should only be used if you plan to pay them off as soon as possible so you can avoid paying interest, or at least much of it. Even with a lower interest rate, the savings could be lost if you take more time paying the new, larger loan off.
Will a Bad Credit Loan Improve My Credit Score?
Adding a bad credit loan or any other type of debt will increase your overall debt and could lower your credit score. Paying the loan on time, however, should overcome any potential credit score drop.

Creditors prefer that borrowers not have more than about 36% of their income tied up in debt. If a bad credit loan increases your debt-to-income ratio, also called DTI, to higher than 36%, then your credit score could fall. The amount of money you owe accounts for about 30% of a credit score.
Payment history accounts for more: 35% of a credit score. So paying your bills on time, including a bad credit loan, makes a bigger impact on your credit score and can improve it more than would having too much debt.
A bad credit loan can also improve a score if you don't already have a personal loan that you're paying off. Credit mix accounts for 10% of a credit score. Lenders want to see that you can handle a few different types of credit, including credit cards, personal loans, a mortgage, and an auto loan.
Adding a personal loan to your credit history can improve your credit file by diversifying your credit mix.
The lenders that offer you loans through the lending networks we recommend should report your loan payments to the credit bureaus. On-time payments should improve your score. Before agreeing to a loan, ask the lender if it will report your payments to the credit bureaus.
What is a Secured Loan vs. an Unsecured Loan?
A secured loan is backed by collateral. This can be cash, securities, your home, or your car. Home loans and car loans are almost always secured loans. Most credit cards are unsecured, though you can get a secured credit card with a deposit.
An unsecured personal loan, such as the small loans we've reviewed, doesn't require collateral. It only requires your signature, which is your promise to repay. Unsecured loans include student loans and personal loans.
In a secured loan, you give the lender a lien on the collateral property securing the loan. It can repossess the collateral if you default on the loan, meaning you don't make payments. A home can be foreclosed on or a vehicle repossessed. The value of the collateral almost always exceeds the loan amount.
Secured loans almost always have lower interest rates than do unsecured ones. This is because secured loans are less risky, allowing the lender to afford to charge the borrower less.
What Interest Rate Will I Pay?
The lending networks we've reviewed say that the lenders they work with charge various interest rates and don't readily show what those would be for someone with bad credit. Others, however, list interest rates from 5.99% to 35.99% from a direct lender, though CashAdvance charges interest rates of 200% to 2,290% for the payday loan options it offers.
Among the networks with listed rates of 5.99% to 35.99%, the assumption is that the lowest rates are for people with the best credit scores, and the highest rates are for those with the worst. The lending networks aren't lenders, but most give examples on their websites of the interest rates their lenders charge.

PersonalLoans.com gives an example of a 12-month loan of $2,000 being offered at 24% interest with a monthly payment of $189. The total amount paid after a year is $2,269. Someone who borrows double the amount and who has twice the amount of time to repay it would pay 12% APR for a total of $4,518 over two years.
The monthly payments for the latter example would be the same as those for the $2,000 loan listed above.
A lower interest rate makes it possible to borrow more money for a longer term, as these examples make clear. The borrower with a bad credit score would be more likely to get the 24% loan, while someone with good credit could be approved for the 12% loan.
What's an Origination Fee and Will I Have to Pay it?
Lenders charge an origination fee for specific processing expenses for providing a loan. Origination fees are usually a percentage of the amount loaned. A traditional lender, such as a bank, is likely to charge an origination fee.
As far as we can find, the lending networks we've reviewed don't charge origination fees. Most don't charge any fees at all and are only paid by lenders they work with when a loan is made. The lenders, however, may charge these fees, and it's worth asking each one before you agree to a loan if it will charge you such a fee.
One of the companies we recommend, BadCreditLoans.com, makes it clear on its website that its lenders and financial service providers will tell customers exactly what to expect before they're under any obligation to take out the loan being offered.
They all follow the Truth in Lending Act, "which means that you'll receive documentation of every last detail of your loan beforehand," BadCreditLoans.com says. "You'll be able to see all applicable interest rates, possible fees, and all other information in your loan, allowing you to make an informed, responsible borrowing decision without any pressure."
After you're approved for a loan, you can discuss the terms in as much detail as you want before signing. There's no obligation to proceed with the loan if you have any doubts about your interest rate or repayment terms.
Another lending network, PersonalLoans.com, says on its website that lenders typically charge an origination fee or other fees. Lenders are required by law to disclose these fees and other important loan information before you accept a loan offer.
Should I Use a Small Loan to Pay Off My Student Loans?
Paying off your student loans is enticing, but not if it's going to cost more money than you're already paying. Student loans are usually paid off by graduates just starting their careers, so taking out a personal loan to pay off another loan can cost a lot more than it's worth.
The average student loan debt is $37,691. That's a large amount of money to borrow with a personal loan, and probably isn't worth getting if you have bad credit, since student loan rates are much lower than those for personal loans.
A better idea is to pay off your student loan at the monthly payment plan you already have. With student loan rates low, you could save your money for other expenses instead of paying off an inexpensive loan. Just be sure to make the monthly payments on time, and if you need a break because the coronavirus pandemic is making it difficult to find a job, you can ask your lender for payments to be put off for a while.
Private student loans are usually more expensive than federal student loans, so if you have a private loan to attend college, you may want to refinance it at a lower rate if you can.
Student loan debt is considered good debt, as is a home loan. Student loans allow borrowers to have a career and boost their future earnings. It's an investment in yourself.
Can I Get a Bad Credit Business Loan?
Having bad credit can make getting a small business loan difficult. The lender-matching services we've reviewed focus on personal loans instead of business loans.
A traditional lender or smaller institutions, such as local credit unions, may be able to help you even if you don't have good credit.
You may qualify for a loan from the Small Business Administration, or an SBA loan. The loans are guaranteed by the SBA and come with competitive terms, lower down payments, and no required collateral. Loans as small as $500 are available.
Can I Buy a House With a Small Loan For Bad Credit?
The lending networks listed above make personal loans, not home loans. While they may not ask or care how you spend the money from a personal loan, you probably won't be able to borrow enough to buy a home anyway. The highest loan amount their lenders offer is $35,000, which can be a sizable down payment on a home, but you may run into other problems.
Your mortgage lender, which will provide a loan for the rest of the money needed to buy a home, will likely want to know where your down payment funds are coming from. It will also run a credit check and see that you've recently gotten a personal loan for a large amount.
Those factors may cause the lender to ask you to get the down payment money elsewhere, such as from savings, since you'll now have two loans when buying a home. A better solution is to apply for loans that help people with bad credit or who can't make much, if any, down payment on a home.
An FHA loan is one possibility. These home loans are insured by the Federal Housing Administration. Down payments for an FHA loan can be as low as 3.5% and require a 580 FICO score.
If you're a military veteran, a VA loan from the Veterans Administration can make a home loan affordable. A VA loan is a mortgage guaranteed by the U.S. Department of Veterans Affairs. No down payment is required, and there's no minimum credit score requirement.
Your Best Options For Small Loans With Bad Credit
The best small loans for bad credit can come from lending networks that work with lenders specializing in helping people with bad credit. Whether you need money quickly to buy groceries, have a medical emergency to pay for, or need to fix your car, they can help you find a loan that can often be funded within 24 hours.
Applications can be filled out in minutes online, and you'll soon be given a list of lenders to choose from without having to submit an application to each individual lender. Once you've chosen a lender you want to borrow from, the application process continues and your loan proceeds could be issued to you within a day.
This type of personal loan is an installment loan, meaning the payments will be set at the same amount each month. This can allow you to budget for the monthly payment and not be surprised by a changing amount due. The loan terms can be for months or years, though it's best to pay short-term loans off as soon as you can.
Advertiser Disclosure
BadCredit.org is a free online resource that offers valuable content and comparison services to users. To keep this resource 100% free for users, we receive advertising compensation from the financial products listed on this page. Along with key review factors, this compensation may impact how and where products appear on the page (including, for example, the order in which they appear). BadCredit.org does not include listings for all financial products.
Our Editorial Review Policy
Our site is committed to publishing independent, accurate content guided by strict editorial guidelines. Before articles and reviews are published on our site, they undergo a thorough review process performed by a team of independent editors and subject-matter experts to ensure the content's accuracy, timeliness, and impartiality. Our editorial team is separate and independent of our site's advertisers, and the opinions they express on our site are their own. To read more about our team members and their editorial backgrounds, please visit our site's About page.