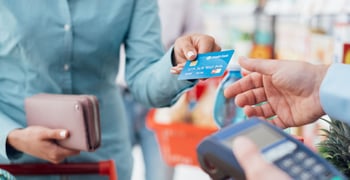 When most people think of credit cards, their minds automatically turn to three of the biggest names in the industry — Chase, Discover, and Capital One. And there's a good reason for that. Based on 2017 statistics, those three issuers accounted for nearly 1 out of every 3 (32.91%) credit cards in the U.S.
Granted, that still means 67% of active credit cards come from different banks and issuers. And, since those big three banks don't always offer cards for consumers with low credit scores or thin credit files, your best bet may be to look at smaller issuers that have a history of working with all kinds of credit ratings. In the article below, we'll take a look at the best non-Chase, Discover, and Capital One cards for bad credit, and even explore some cards from those issuers that may be more bad-credit-friendly than you might expect.
Alternatives | Chase | Discover | Capital One
Top Alternatives to Chase, Discover, and Capital One Cards for Bad Credit
It's important to remember that companies like Visa and Mastercard are credit card networks and not issuers. Most issuers are banks or credit unions that use networks to complete transactions. So, even though your card may be from an issuer you're unfamiliar with, you can still get the benefits — and acceptance — of big networks by looking for a card with a Visa or Mastercard logo.
Easy application! Get a credit decision in seconds.
Build your credit history – Fingerhut reports to all 3 major credit bureaus
Use your line of credit to shop thousands of items from great brands like Samsung, KitchenAid, and DeWalt
Not an access card
| Application Length | Interest Rate | Reports Monthly | Reputation Score |
| --- | --- | --- | --- |
| 5 Minutes | See issuer website | Yes | 9.0/10 |
While the Fingerhut Credit Account isn't technically a credit card, you can still use it online at Fingerhut and all of its merchant partners to purchase name-brand merchandise at discounted prices. And since Fingerhut reports all of your payment history to the three credit reporting bureaus, you can use this account to build, or rebuild, your credit rating and eventually upgrade to a traditional credit card with responsible use.
Checking account required
Fast and easy application process; response provided in seconds
A genuine Visa card accepted by merchants nationwide across the USA and online
Manageable monthly payments
If approved, simply pay a program fee to open your account and access your available credit
Reports monthly to all three major credit bureaus
| Application Length | Interest Rate | Reports Monthly | Reputation Score |
| --- | --- | --- | --- |
| 9 Minutes | See terms | Yes | 8.5/10 |
With the Total Visa® Card, you get the benefit of the Visa network and the millions of retailers that accept its cards. All approved applicants start with a $300 credit limit, but you can earn limit increases with responsible use and on-time payments. Keep in mind that you'll be charged a one-time program fee and an annual fee when you activate your card. These fees will take away from your initial available balance until you pay them off.
The First Access Solid Black Visa Credit Card works on the Visa network and accepts a wide range of credit scores. Like the previous card, a setup fee and an annual fee will decrease your initial available credit limit until you make a payment. This card tends to charge slightly higher interest rates, so be sure to pay your balance in full each month if you add it to your wallet.
The Surge Mastercard® isn't joking when it advertises that it accepts most applicants. This card was designed for consumers with bad, and sometimes very bad, credit ratings and offers credit limits as high as $500 for qualifying applicants. Depending on your credit score, you may be required to pay a refundable security deposit to be approved.
The Credit One Bank® Platinum Visa® offers qualified applicants a level of perks that aren't typically found in subprime credit cards. With 1% cash back and monthly access to your Experian credit score, this card could be one of the more lucrative offerings on this list. Just remember that the cash back won't make up for high interest charges if you tend to carry a balance from month to month. And this card features a higher-than-average APR to offset the cost of those perks. But if you pay your balance in full each billing cycle, you could find the Credit One Bank® Platinum Visa® to be a nice addition to your wallet.
Milestone® offers several benefits that make the Milestone® Mastercard® a solid choice for subprime consumers. Start with a pre-qualifying application that doesn't put a potentially damaging hard inquiry on your credit report. The application lets you know which of the five Milestone® credit cards you may qualify for. The Milestone® Mastercard® also charges no security deposit or program fee, which makes getting started cheaper and easier.
New cardholders of the Indigo® Platinum Mastercard® start with a $300 credit limit, but you could, depending on your credit profile, qualify for a $0 annual fee and no monthly service fee. That helps offset the lower credit limit and gives you more of your available balance from the start. Indigo® says it considers all credit histories and reviews show that consumers with very low credit ratings often get accepted.
The Green Dot Primor® Visa® Gold Secured Credit Card requires a refundable security deposit to open your account. The amount of your deposit will equal your card's credit limit. But this secured card doesn't charge processing or application fees and doesn't require a credit check for acceptance. Green Dot will report your payment activity to the three major credit reporting bureaus, so responsible usage could, in time, help you upgrade to an unsecured card.
The First Progress Platinum Elite Mastercard® Secured Credit Card is not available to residents of New York, Wisconsin, Iowa, or Arkansas. But, if you live anywhere else in the U.S., you can obtain this secured card with no credit check and a refundable deposit of between $200 and $2,000. As with most secured cards, your deposit amount will equal your credit limit.
The First Progress Platinum Prestige Mastercard® Secured Credit Card has the same geographical limitations as the previous card and an annual fee that make it less attractive than other secured offers. Something to note is that you may be turned down if you have a pending bankruptcy filing that has not yet been discharged by the court.
What is the Best Chase Card for Bad Credit?
Chase does not currently offer credit cards for consumers with bad credit or thin credit profiles. The issuer's minimum requirements for its lower-end cards look for at least a "good" or better credit score for Chase to consider your application.
These rules aren't only for Chase-branded cards, as they also include the Chase-issued cards for outside brands — known as a co-branded credit card — such as the AARP, IHG, Amazon, and Disney cards.
At this time, Chase does not offer a secured credit card nor a student card for young adults with limited credit histories, though that could change in the future.
What is the Best Discover Card for Bad Credit?
The Discover it® Secured Credit Card is designed for consumers who need to establish or rebuild their credit history. It offers 2% cash back at restaurants and gas stations on up to $1,000 in combined purchases each quarter. All other purchases earn an unlimited 1% cash back automatically. Discover also matches all of the cash back you earn by the end of your first year — with no limit on how much you can earn.

The card doesn't charge an annual fee and won't raise your APR because of late payments. In fact, Discover will waive your first late payment fee altogether. You can secure your card with a minimum refundable deposit of $200, and as with other secured cards, your deposit amount determines your credit limit.
This, of course, means you need to have $200 available to fund the card. It's essentially a loan to yourself and is strictly for the purpose of rebuilding credit. If you need a credit card to access money you don't already have on hand, an unsecured credit card for bad credit applicants, such as those listed above, is your best bet.
Should you choose a secured card with Discover, the bank will eventually help move you into an upgraded card when you prove you can use the secured card responsibly. All of your payment activity is reported to the three major credit reporting bureaus, which can improve your credit score over time as long as your payments are always on time.
The issuer will also periodically review your account and payment history to see if you can qualify for an unsecured card. If that happens, Discover will issue you a new card and refund your initial security deposit, minus any balance owed on the secured card.
When you combine the cash back and security features, this card offers many of the perks found on unsecured cards with the credit-building benefits of a secured card.
What is the Best Capital One Card for Bad Credit?
The Capital One® Secured Mastercard® is Capital One's offering for consumers with poor credit scores. It doesn't charge an annual fee, and, based on your credit history, you may not have to pay a hefty fee to secure your account.

Capital One uses your credit rating to determine your deposit amount and credit limit. A security deposit in the amount of $49, $99, or $200 will secure a credit line that ranges from $200 to $3,000. You can also deposit more than your minimum-required security deposit before activating your card to receive a higher initial credit line.
This, again, means you need to have the cash available to fund the card should you be approved. So if you need a true line of credit, an unsecured card is the way to go.
You will receive free access to Capital One's CreditWise, which includes free monthly credit score updates, TransUnion credit monitoring and alerts, and free tools — such as the credit simulator — that shows how specific behaviors or actions could affect your credit score.
The Capital One Secured Mastercard also provides free Social Security number monitoring and your APR will not increase because of a late payment.
But what may set this card apart from the competition is its additional cardholder benefits that rarely show up on other secured cards. These include extended warranties for items purchased with your card as well as 24/7 travel and roadside assistance and auto rental insurance.
And, since Capital One issues the card through Mastercard, you can use it at any of the more than 40 millions retailers that accept Mastercard.
Build Your Credit to Earn Approval with All the Major Banks
Owning a secured credit card is kind of like getting your learner's permit. You can do all of the same things that other drivers — or cardholders — can do, but with a few limitations.
But those limitations don't have to last forever. Responsible credit behavior can boost your credit score, get you upgraded to an unsecured card, and have you on the road to a better financial outlook.
But don't think you have to put a name-brand credit card in your wallet to start your credit rebuilding journey. More than two-thirds of the credit cards in the U.S. alone come from issuers other than Capital One, Discover, and Chase. At the end of the day, the name on your card won't determine its value in a merchant's eyes.