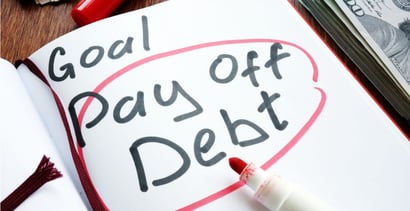 Consumers take out personal loans to pay off debt more than they do for any other reason. Otherwise known as consolidation loans, these loans can lower your monthly payments and the interest you're charged, and help you improve your credit score all while eliminating the debt you've accumulated.
To help you get rid of your pesky debt, we've assembled our list of the best online lending companies. These lenders offer bad credit borrowers personal loans that you can use to put your high-interest debt in the rear-view mirror.
$5,000 Loans | $10,000+ Loans | FAQs
Best Loans to Pay Off Up to $5,000 Debts
An online lending network makes it easy to find the loan you need. After you choose a network to work with, you can submit a short loan request which the network forwards to all of its partner lenders that specialize in bad credit loans.
Within minutes, you could receive an email with multiple loan offers to choose from. In most cases, you can have your money in your account by the next business day.
And since these are classified as personal loans, you can use the loan proceeds in any way you choose — including as a tool for consolidating high-interest debt into one lower monthly payment.
Quick loans up to $5,000
Submit one form, get multiple options
All credit ratings welcome
Requires bank account and SSN
As seen on CNN, FoxNews, and others
| Loan Amount | Interest Rate | Loan Term | Loan Example |
| --- | --- | --- | --- |
| $500 to $5,000 | Varies | Varies | See representative example |
BillsHappen has a fairly wide range of short-term loan options you can use to consolidate debt, pay for an emergency expense, or take care of any other bill that may pop up unexpectedly.
A qualified borrower will need to provide a valid state driver's license number, Social Security number, home or cellphone number, bank account information, home address, and employment or benefits income information. Applicants must be at least 18 years old and a U.S. citizen or permanent resident.
CreditLoan.com offers the lowest minimum loan amount on this list, which won't help you much in terms of debt consolidation. But you may qualify for a loan of up to $5,000, which can help you consolidate several small credit card balances if that's your goal.
This network will even consider your application if you have a recent bankruptcy on your credit report, but it will not accept your application if your bankruptcy case is still pending in court.
BadCreditLoans.com lives up to its name by offering loans to consumers who may struggle to find acceptance through a traditional financial institution. Qualified applicants have between three and 60 months to repay their debt, and a competitive interest rate makes these loans more affordable than making multiple loan payments each month.
The network's lenders accept loan requests from all consumers and will even approve applications from consumers whose credit reports show a previous bankruptcy, but the case must be finalized for your loan application to be considered.
Best Loans to Pay Off $10,000+ Debts
The following companies consist of both online lending networks and direct lenders that can help you pay off substantial debts. Be sure to compare these loan companies carefully because you'll likely be working with them for several years to pay down your debt.
The lenders associated with CashUSA.com offer larger loans to qualified applicants. They can receive the money they need to pay off their existing debt while enjoying a solid interest rate, flexible repayment term, and affordable loan payment.
To qualify, you must be at least 18 years old and a U.S. citizen or permanent resident with proof of at least $1,000 in monthly after-tax income. You must also have a checking account in your name and provide work and home phone numbers, as well as a valid email address.
While PersonalLoans.com does offer loans of up to $35,000, the larger loans are typically reserved for consumers with good credit or excellent credit. Instead, the network's bad credit loans division typically considers applications for loans of up to $7,500.
Qualified applicants must also be at least 18 years or older with a valid Social Security number and checking account. The network also notes that applicants must not have any accounts more than 60 days late, no active or recent bankruptcies, no pattern of late payments, no debt that can't be covered by current income, and no recently charged-off accounts.
6. Freedom Plus

FreedomPlus is a direct lender that offers loan amounts of between $7,500 and $40,000. The company doesn't list a minimum credit score requirement on its website, but the lowest loan APRs are reserved for applicants with excellent credit.
However, FreedomPlus says that loan applicants can qualify for the lowest rates available by adding a coborrower (cosigner) with sufficient income, using at least 85% of the loan proceeds to pay off qualifying existing debt, or showing proof of sufficient retirement savings. FreedomPlus charges an origination fee of between 1.99% and 4.99% of the total loan amount.
7. Upstart

Upstart offers loans of between $1,000 and $50,000 to borrowers who have a minimum credit score of 600. Loan terms of three or five years are available and loan proceeds are deposited one business day after accepting the loan offer.
Your loan amount will be determined based on your credit, income, and certain other information provided in your loan application, according to Upstart, and not all applicants will qualify for the full amount. Upstart charges an origination fee of up to 8% of the loan amount.
8. LendingClub

LendingClub is a peer-to-peer network of lenders that offer consolidation loans of up to $40,000. Borrowers must have a credit score of 600 to qualify. You can submit a loan request on its website to see what types of loan offers you receive without hurting your credit score.
The biggest downsides to this network, however, are that its lowest-offered APR — 10.68% — is the highest among the lending companies on this list, and it charges both an origination fee of up to 6% and a late payment charge for payments made 15 or more days late.
9. Upgrade

Upgrade offers loans of up to $50,000 for borrowers who have a credit score of at least 620. This is another lending network that will match you with a loan offer from one of its two lending partners, Cross River Bank in New Jersey or Blue Ridge Bank in Virginia.
Similar to LendingClub, Upgrade also charges a fee for payments made 15 or more days late and an origination fee of up to 8% of the total loan amount. Your loan funds will be deposited into your bank account within a day of approval, and you will qualify for a lower APR when you sign up for autopay.
Can You Use a Personal Loan to Pay Off Debt?
You can definitely use a personal loan to pay off debt. In fact, you can use a personal loan for any purpose you choose.
A personal loan is a form of unsecured debt that doesn't have requirements as to how you use your loan proceeds. Some secured debt products, including an auto loan, a student loan, or a mortgage loan, restrict how you can use the money you borrow. For example, you can't use an auto loan to pay for home repairs, even though the lower rate offered on an auto loan is desirable.
Many consumers use the proceeds from a personal loan to pay off existing high-interest debt and consolidate multiple debts into one loan with a single, lower monthly loan payment.
The best debt consolidation loans have an interest rate that is lower than what you're currently paying on your existing debt. That way, you save money over the life of your new loan when compared with what you'd pay if you kept your debts with their original lenders.
With the lending networks listed above, you may qualify for a personal loan despite having bad credit. If approved, you could have money in your account by the next business day. You can use those funds to pay off your debts and then repay the new debt to the lender that you choose to work with.
What is the Best Loan to Pay Off Debt?
Though these loans have many names — consolidation loan, balance transfer loan, credit card refinance loan — they're all personal loans.
Personal loans are not only convenient, but they're easy to apply for using a trusted lending network. To apply for a personal loan, first choose which lending company is best for you. All of the featured companies in this review work with bad credit borrowers, but each company has a different minimum and maximum allowable loan amount, APR range, and loan terms.
For loans of $5,000 or less, we recommend BillsHappen. For loans of up to $10,000, we recommend CashUSA. And for loans larger than $10,000, we recommend PersonalLoans.com.
Once you choose your preferred lender, you can submit a short loan request form that typically takes less than five minutes to complete. These lenders use automated underwriting software to make a loan decision within seconds at any time of the day or night.
Depending on the company you choose, you may be offered several loan options to choose from. Remember that every offer will contain a unique interest rate, monthly minimum payment, and repayment term. To save the most money, choose the shortest loan term with the lowest annual percentage rate and a monthly payment you can afford.
Once you choose the loan you prefer, you'll need to complete the loan paperwork and link a checking account or savings account that you want your money transferred to. Once completed, you should have the money in your account by the next business day. You can then use the funds to pay off your existing debts and roll them all into one new monthly payment that should be less than your combined previous payments.
What is Debt Consolidation?
Debt consolidation is the act of using a single, large loan to pay off multiple smaller debts. This eliminates the need to make individual payments to several lenders. Instead, you'll now make one loan payment each month to pay down your consolidation loan.
To better understand this, let's consider this example. A man has two credit cards and one personal loan. One credit card has a $1,750 balance, a $90 minimum monthly payment, and a 22% interest rate. The other credit card has a $1,600 balance, an $80 minimum monthly payment, and an 18% interest rate. The personal loan has a $1,200 balance, a $75 monthly payment, and a 15% interest rate.
If he only makes the minimum monthly payment, those three debts total $245 across three monthly bills. At the current interest rates, the first credit card would take 25 months to pay off with $433 in finance charges. The second credit card would take 24 months to pay off with $316 in interest charges. The personal loan would take 18 months to pay off with $147 in interest charges.
In all, he would pay $994 in finance charges to satisfy the three debts.
If he instead used a consolidation loan to combine the $4,550 in debt at 15% interest, he could pay the combined debt off in 24 months with a $220 monthly payment and $744 in finance charges. That's a savings of $25 each month and a savings of $250 in interest over the life of the loan.
That may not seem significant, but the savings are greater with larger debt balances. The key is to consolidate your debt into a loan with a lower interest rate than the debts you're paying off. If the interest rate on your new loan is higher than what you're currently paying, you will end up spending more to eliminate your debts.
What is the Smartest Way to Consolidate Debt?
The smartest way to consolidate debt is to pay off your highest interest rate debt using a new low interest rate personal loan. This could mean paying off your credit card balances, payday loans, non-federal student loans, or any other debt that has a high interest rate.
Your debt with the highest interest rate should be your priority because it is the most expensive debt you have. If you can roll multiple debts into one loan with a single monthly payment and a lower interest rate, you're sure to help your monthly budget and save money in the long term.
A personal loan for consolidation purposes can also help improve your credit history when you use it to pay off your other debts and make your payments on time every month.

The online lending companies listed above all specialize in curating bad credit loan packages. Depending on your credit history and the company you choose, you could receive multiple loan offers to choose from. And you won't have to dress up and head down to a bank to fill out an application since these companies all provide an online application process that takes a matter of minutes to complete.
The debt relief that these loans can provide is the key to their popularity among consumers. Even rolling your smallest debt into a consolidation loan can lower your monthly bills and increase your savings over the life of the consolidation loan.
Another smart way to consolidate high interest debts is through a home equity loan. These loans charge lower interest rates than personal loans, but you must be a homeowner with at least 20% equity in your home to qualify.
How Can I Get a Fast Personal Loan With Bad Credit?
When most people think of getting a loan, they imagine heading down to a local bank or credit union and hoping to impress a loan officer enough to get the loan they need. But most of these financial institutions won't consider applications from consumers who have bad credit.
So instead of pinning your hopes on a bank or credit union, you may want to consider an online lending network that specifically works with applicants who have bad credit or no credit. These loans are funded faster than traditional bank loans and are far more convenient.
You can apply for a loan through these networks at any time of day or night and receive a loan decision within minutes. Once you choose the loan you want, you can often complete the loan paperwork on the lender's website and have money in your checking account or savings account within one business day.
The best part is that you can complete this entire process without ever leaving your home — the process is easy, convenient, and fast.
When is a Consolidation Loan a Bad Idea?
For the most part, a consolidation loan is one of the best ways to eliminate debt while saving money. But a personal loan or debt consolidation loan may not be a good fit in all scenarios.
To ensure your loan is a good idea, you must:
Consider your interest rate: A consolidation loan only helps if it has a lower interest rate than the debt you're attempting to pay off. You can still save some money with a lower monthly payment if the loans have the same interest rate, but you ideally want to settle into a lower annual percentage rate.
Not extend your loan: Even with a lower interest rate, you can end up spending more money if you extend your loan too long. For example, if you attempt to lower your monthly payment by adding years to your loan, you will actually lose money over the long haul. More payments mean more interest charges. Keep your loan as short as possible, with the monthly payments staying in a range that you can comfortably afford within your budget.
Evaluate the fees: Some loans may provide a lower interest rate but tack on origination fees or other charges that actually make them more expensive than keeping your debt with the current lender. Factor in any up-front costs you may have to pay to make sure you're still getting a good deal.
Stop spending: If you consolidate credit card debt, you will pay off your cards that currently have balances. That can lead to temptation to charge new things to those freed-up cards. This only restarts the debt cycle — and leaves you with new credit card debt and a consolidation loan to pay off. Resist that temptation.
A personal loan is a great way to consolidate debt — as long as you keep your interest rate lower than the interest rate on the original loan. By following these general rules, you'll put money back in your pocket and move faster along your path to freedom from debt.
Is it Better to Get a Personal Loan or a Debt Consolidation Loan?
A personal loan gives you more control of the debt consolidation process since you choose how you use the loan proceeds. Loans specifically designed for debt consolidation often come with added fees for processing your funds, including origination fees, which aren't common among most personal loans. However, a consolidation loan may offer a lower APR, which is often why the added fees are charged upfront.
Neither of these should be confused with debt settlement (or debt relief), which is where you work with a credit counselor or other specialized expert to settle your debt payments for less than what you owe. A single monthly payment is then made directly to the debt settlement company, which then uses that money to pay your creditors the lower negotiated payoff amount.
This service often comes with a fee — as do the credit counseling services often associated with debt settlement companies. Debt settlement can wreak havoc on your credit score and is usually only recommended when you have $10,000 or more in unsecured debt and you can't keep up with your payments any longer.

Another option to consider is a balance transfer credit card if you're looking to consolidate credit card debt. These cards allow you to move a credit card balance on an existing card to the new card you apply for. You can transfer balances from multiple credit cards as long as your credit limit can accommodate each credit card balance.
Credit card consolidation is especially helpful if you qualify for a balance transfer credit card that has a 0% promotional offer for new cardholders. Some cards charge a balance transfer fee but charge no interest or finance charges for the first six to 18 months with the card. That means you can work on paying down your credit card debt while paying no interest for a set period.
And a credit card balance transfer will almost always improve your credit score because adding more available credit to your name will lower your credit utilization ratio, as long as you don't continue to use the cards you pay off with the new credit card (in which case, you'll be in a worse position than when you started).
Whichever method you use, make sure any added fees or charges don't eat away at your savings and keep you from meeting your financial goals.
Is Consolidating Debt Worth It?
Consolidating debt is absolutely worth the effort — as long as you don't extend your loan too long, take on a higher interest rate, or pay too many fees for your new loan.
While your interest rate is very important in determining how much money you'll save, your loan term is just as vital. A low interest rate is great, but if you add more time to your loan — which would happen, for example, if you consolidated a 24-month loan into a 36-month loan — each additional payment you make will require more interest charges.
The key to making the best out of debt repayment is to lower your costs and shorten your repayment horizon. You can do this by taking multiple loan or credit card debts and consolidating them into one loan with only one monthly payment.
But if that loan has a higher interest rate than your existing loans, you can end up paying more to satisfy those debts than if you had kept them as is. If you can keep your interest rate low and don't extend your consolidation loan, you can eliminate your debt faster and more affordably.
And if you don't think that alone is worth it, consider also the credit score benefits you will reap when you pay down your debts.
Roughly 30% of your FICO credit score is calculated from the amounts you owe. The more debt you have, the lower your credit score. As you eliminate that debt you can improve your credit score.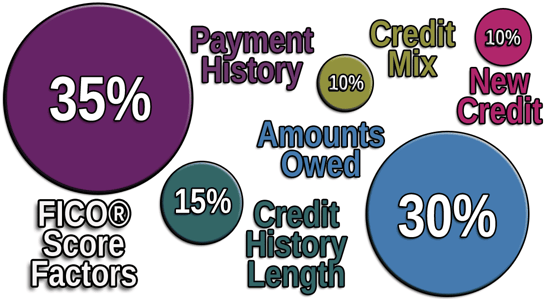 An improved credit score will help you qualify for loans and credit with lower interest rates and more lucrative rewards. Not to mention lower insurance premiums.
Why is Having Debt Bad?
Debt by itself isn't bad. But having too much debt can leave you financially overwhelmed.
The average American household has more than $6,000 in credit card debt alone. While credit card debt doesn't necessarily qualify as good debt, it is manageable if you keep your spending within your means.
That $6,000 in debt may not cause much impact on a household that makes more than six-figures every year. But if you're bringing home $20,000 each year, that debt equals more than a quarter of your entire earnings.
There are also several types of good debt. This can be a mortgage loan — as long as you can afford the monthly payment — that provides you with a home to live in. A mortgage is also a great addition to your credit mix.
Student loan debt is also considered good debt because it enables you to further your career and potentially boost your future earnings. This is like making an investment — only you're investing in your own future.
This isn't to say that you should go out and splurge on a big house and sign up for summer courses. Any debt — good or bad — should fit within your monthly budget and not overextend your finances.
Lenders expect consumers to have some sort of debt. Very few people are completely debt-free. Having debt doesn't make you bad with money or doomed for a life of poverty. But if you continue to add to your debt without paying down previous debts, you can quickly find yourself underwater.
Should I Pay Off a Credit Card or Personal Loan First?
When deciding which debt to pay off first, don't focus on the type of debt. It doesn't matter whether you eliminated credit card or personal loan debt — only that you've reduced your overall debt.
While the type of loan you satisfy doesn't matter to your credit score, you may want to first pay down the debt that charges the highest annual percentage rate of interest — also known as the debt avalanche method. These are the debts that become very expensive the longer you have them. By lowering your balance incrementally, you'll also minimize the finance charges you pay every month.
The debt snowball method is another popular form of eliminating debt quickly. With this method, you pay your smallest balances first, which gives you the personal victory needed to stay focused on your goals. As you knock out those smaller debts, you eventually work your way up to your largest debts that require more time to pay off. But, by then, you will have cemented the habits you'll need to stick to your mission.
While many people have used the debt snowball method with amazing results, we still advise eliminating your highest-interest debt first. While that may not give you the mental charge you need to stay energized through the grueling debt elimination process, it will save you the most money over the long haul.
Either way, the type of loan you tackle first doesn't matter. Motivate yourself to eliminate your debt and get to work on building a better financial future for yourself.
How Long Does Debt Consolidation Stay On Your Credit Report?
Debt consolidation loans do not show up on your credit report any differently than how a traditional loan would appear on your profile. If you use a personal loan to consolidate debt, it will simply be listed as a loan.
When you use the proceeds of your debt consolidation loan to pay off existing debt, those debts will eventually show on your credit reports as paid and closed. Your new loan will appear as active, and your monthly payments will help improve your credit score when your payments are made on time.
Satisfied loans live on your credit report for up to 10 years and will help prove your responsibility and your credit score.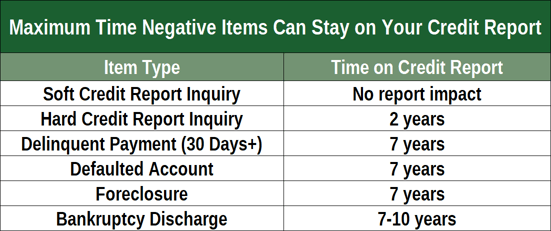 Your credit profile will show no other record of you consolidating debts. If you apply for new credit in the future, the lender that pulls your credit history will not know you used a personal loan or consolidation loan to eliminate previous debt.
Debt settlement or a debt management plan, on the other hand, can harm your credit score significantly. Your accounts will likely be reported to the credit bureaus as unpaid because you'll be making payments to the settlement company. Those late payments and defaulted accounts can live on your credit reports for up to seven years, but the effects on your credit score will wane over the years.
Can a Personal Loan Build Credit?
A personal loan will help to build your credit score as long as you make your payments on time every month.
Your payment history makes up 35% of your credit score. The calculation does not consider how big the payment is — only that it's on time.
Late payments appear on your credit history as 30 days late, 60 days late, or 90 or more days late. The longer you go without making a payment, the worse it is for your credit score.
A lender will not report your late payment until you're at least 30 days late. Making your payment before it's 30 days late will still likely cost you a late payment fee, but it should not impact your credit score.
Find the Best Loans to Pay Off Debt Online
Revolving debt is a part of everyday life. Most of us use credit cards, loans, or other financial products to pay for our everyday purchases, cover a large expense, or take care of an emergency.
But when those debts start to build up, each extra payment you add can cripple your monthly budget. Before you know it, the finance charges are mounting, and you have trouble envisioning a way out.
But when you consider loans to pay off debt — such as those listed above — you can begin the process of paying off your debts while saving some money along the way. Just be sure to study the interest rate, loan term, and fees associated with any personal loan or debt consolidation loan you're offered.
Advertiser Disclosure
BadCredit.org is a free online resource that offers valuable content and comparison services to users. To keep this resource 100% free for users, we receive advertising compensation from the financial products listed on this page. Along with key review factors, this compensation may impact how and where products appear on the page (including, for example, the order in which they appear). BadCredit.org does not include listings for all financial products.
Our Editorial Review Policy
Our site is committed to publishing independent, accurate content guided by strict editorial guidelines. Before articles and reviews are published on our site, they undergo a thorough review process performed by a team of independent editors and subject-matter experts to ensure the content's accuracy, timeliness, and impartiality. Our editorial team is separate and independent of our site's advertisers, and the opinions they express on our site are their own. To read more about our team members and their editorial backgrounds, please visit our site's About page.