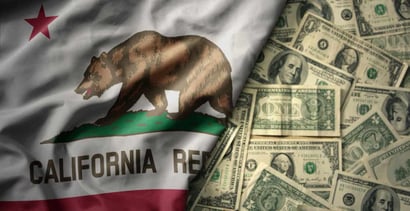 Everything is more expensive in California. Its cost of living exceeds the national average by 42% and varies widely throughout the state. Sunnyvale is the state's priciest city (124% more expensive than the rest of the US), while Fresno's cost of living exceeds the country's average by only 7%.
Even though Californians earn 11% more than the national average, the gap between income and expenses in The Golden State creates financial pressures for millions of its residents. Unsurprisingly, many residents require a personal installment loan to get through tough times. 
This article reviews the top online lending networks offering installment loans in California. We also provide a list of storefront lenders in the state's largest cities. California residents have many loan options, so it is essential to perform research before choosing a lender you can trust.
Best Online Installment Loans in California
The following online loan-finding services operate in California and throughout the nation. They can find multiple direct lenders offering bad credit installment loans. These websites cost nothing to use and won't impact your credit score. They offer guaranteed installment loans, meaning they guarantee an instant prequalification decision.
MoneyMutual prequalifies loan applicants and matches them with the right lender for their financial circumstances. Millions of consumers nationwide trust MoneyMutual to receive instant approval safely and securely. 
You can borrow up to $5,000 and receive the funds by the next business day. The repayment term for these bad credit installment loans varies from two to 72 months, depending on the lender. Always scrutinize the offers you receive before e-signing a loan agreement to ensure you obtain the best personal loan.
24/7 Lending Group is a lender network that specializes in finding personal installment loans for consumers of every credit stripe. The network's direct lenders set the terms for their loan offers. You can obtain instant approval for a personal loan in minutes by completing a short, secure request form.
Once you submit your request, you'll quickly receive links to lenders willing to accept your application for an installment loan. You can compare your offers and complete the application process with the lender that provides the best personal loan terms. If you agree to a loan offer, the lender will deposit the funds in your bank account in as little as 24 hours.
CashUSA.com specializes in finding subprime installment loans between $500 and $10,000. You can use the proceeds for any reason and repay the loan over three to 72 months. 
You can prequalify for a loan if you are 18 or older, have the necessary income, and satisfy a few basic requirements. The online installment loan request form is simple and secure, and you may receive multiple offers in minutes. Loan offers will include interest rates based on your qualifications and provide repayment periods of three to 72 months.
BadCreditLoans.com is another lending network that can help California residents obtain larger installment loans of up to $10,000 with as many as 60 monthly payments, depending on the lender. 
Despite its name, people with fair and good credit can still use it to obtain a personal loan with a fair interest rate. The service is free to use, and California residents can use the opt-out request form to avoid having their personal information sold to third parties under the California Consumer Privacy Act.
PersonalLoans.com is an extensive network dedicated to helping consumers of all credit types, from excellent to very poor. Only borrowers with good credit will be eligible for the top loan amount of $35,000. Still, those with poor credit are welcome to prequalify without a credit check for a smaller amount.
If PersonalLoans.com can't find you a direct lender within its network, it may send your request to third-party networks to find a lender willing to offer you a loan. This practice increases the likelihood of receiving an offer.
What is an Installment Loan?
An installment loan is any loan you repay at regular intervals. This article focuses on unsecured personal loans, but installment loans are available as car loans, mortgages, and other secured types.
What they all have in common is that you collect the bad credit installment loan proceeds as a lump sum and repay the money in fixed monthly installments. Each monthly payment consists of an interest charge and a portion of the principal you owe.

Unsecured personal loans don't require collateral. Lenders find these loans riskier because they cannot simply grab the borrower's property for non-payment. In contrast, a lender can seize the collateral backing a secured loan if a borrower fails to repay. This ability to confiscate property protects providers of secured loans from losses and puts extra pressure on borrowers.
The opposite is true for unsecured loans. Lenders do not receive a lien on a borrower's property. They must resort to collections or legal action to get their money after a borrower defaults. That's an advantage for borrowers, who don't have to worry about a lender seizing their property without a court ruling.
An installment loan's annual percentage rate (APR) shouldn't exceed 36%, and many (especially secured loans) are far less expensive. But bad credit usually limits you to higher-APR loans.
How Do Online and In-Person Installment Loans Differ?
Online and in-person installment loans serve the same primary purpose: They provide borrowers with a lump sum of money repayable over a set number of installments. However, some key differences between the two could make one option more suitable than the other, depending on your needs.
The following chart summarizes the differences:
| CRITERIA | ONLINE (VIA LOAN-FINDING SERVICE) | IN-PERSON |
| --- | --- | --- |
| Application Process | The process is entirely online, from application to document submission. | You must visit a physical location and submit manual paperwork. |
| Speed of Approval | Approval is often quick, sometimes within minutes, due to automated algorithms. | Approval may take longer due to manual review. |
| Accessibility | 24/7 availability allows you to apply at your convenience, | You can visit the lender during business hours. |
| Interaction | Your interaction is primarily digital, with limited personal contact. | You meet face-to-face and receive immediate responses. |
| Loan Terms | A wide range of options is often available. | The lender may offer you fewer customization options. |
| Regulations | Lenders must comply with federal and state laws. | Storefront lenders are generally well-regulated, making some safer. |
| APRs | Interest rates can vary widely but are usually no higher than 36%. You may receive a competitive rate due to multiple loan offers. | Loans may have standard rates based on the storefront lender's guidelines. |
| Loan Duration | The loan term is flexible, usually ranging from three to 72 months. | Lenders may have preset loan durations. |
| Prequalification | Online networks offer prequalification, allowing you to gauge eligibility without a hard credit check. | Lenders may or may not offer prequalification. They may require a formal application process that impacts your credit. |
This chart offers a straightforward way to understand the main differences between the two loan options. APR and loan duration can vary significantly between online and in-person lenders, so reviewing these terms when selecting a loan option is crucial.
How Does California Regulate Installment Loans?
In 2019, the California State Legislature passed the Fair Access to Credit Act. The Act prevents lenders from charging more than 36% interest on consumer loans of $2,500 to $10,000. 
Before enactment, California had no interest rate cap on loans greater than $2,500. The state's Department of Business Oversight discovered that more than half of these pre-legislation loans carried APRs exceeding 100%.
The California Financing Law (Fin. Code, § 22000 et seq.) requires the licensing and regulation of consumer and commercial loan providers. The law prohibits lenders from engaging in misrepresentations and fraudulent and deceptive acts. It provides administrative, civil, and criminal remedies for violations of this law.

The law requires lenders to have a minimum net worth of at least $25,000 and to maintain a $25,000 surety bond. In general, principals of the lending company may not have a criminal history or a record of non-compliance with regulatory requirements. Storefront loan managers must pass a criminal background check before the state will license them.
In California, lenders may make unsecured or secured loans. Borrowers may secure their loans with personal property. If the principal amount exceeds $5,000, borrowers can secure loans solely by real property or a combination of real and personal property.
Californians with a complaint against a lender may file with the Department of Financial Protection and Innovation (DFPI). When the DFPI receives a complaint, it contacts the lending company for the information and documents it needs to complete an independent review. The DFPI also requires the licensed lender to investigate the complaint and respond to both the borrower and the Department regarding the issues raised.
What If a Lender Denies My Installment Loan Application?
When a lender denies your loan application after checking your credit, it must send you an Adverse Action Notice (AAN). This notice will include the specific reasons for the denial, such as a poor credit score, insufficient income, or a high debt-to-income ratio. Understanding these reasons can help you address the issues before reapplying.
The notice also provides information about the credit reporting agency that supplied the data leading to the denial. You have the right to a free copy of your credit report from that agency, which you should take advantage of to verify the information.
Consider using the AAN to ask the lender about what specific steps you can take to become eligible for a loan in the future.
Other responses to a denial may include the following:
Review your credit report: Examine your credit report for any errors or inaccuracies. If you find any, dispute them immediately, as they may harm your credit score.
Improve your credit score: Take steps to improve your credit score, including paying off debt, making timely payments, and reducing credit card balances.
Reapply with a cosigner: If possible, consider reapplying for the loan with a cosigner who has a strong credit history.
Seek alternative lenders: Various lenders have different requirements. Online lenders, for example, often have criteria less stringent than traditional banks. You can also consider peer-to-peer lending platforms.
Explore other loan types: If installment loans are unavailable, another type, such as a title loan or payday loan, may be feasible, although they often come with much higher interest rates.
Opt for a secured loan: If you own property, such as a home or car, you can use them as collateral for a secured loan, which should increase your approval chances.
Consider non-loan options: Look into other ways to meet your financial needs, such as borrowing from friends or family, selling assets, or exploring grants.
Consult an expert: You may find it helpful to consult a financial advisor or credit counselor to explore your options and build a strategy for improving your creditworthiness.

Although a loan denial is a setback, it's also an opportunity for you to examine and improve your financial situation. Taking the proper steps can help you become a more appealing candidate for future loans.
What Happens If I Don't Repay My Loan in California?
You could face severe financial and legal consequences if you don't repay your installment loan in California. Here's a breakdown of the repercussions.
Credit Score Impact
Your lender will report missed payments to one or more credit bureaus, negatively affecting your credit score. A lower score can make it difficult to obtain loans or credit in the future. Moreover, employers may try to deny you a job based on your credit report. 
The California Consumer Credit Reporting Agencies Act requires a prospective employer to obtain your permission before it can request a copy of your credit reports. State law prohibits most employers from pulling your credit reports, except when applicants seek:
Managerial positions
Positions with the State Department Of Justice
Law enforcement positions, including peace officers
Positions for which information in the credit report requires exposure
Certain other positions that require dealing with confidential information, signatory powers, trade secrets, or regular access to at least $10,000 during the workday.
If a California employer fails to hire you because of your credit report, it must provide you with a copy of the report and a written explanation of your rights under the law. This rule also helps you dispute any errors in the report.
Late Fees and Higher Interest Rates
If you miss a payment, most lenders will charge a late fee. Your interest rate may also increase, making your loan more expensive overall. 
In California, a court recently ruled against excessive late fees. The ruling stated that if the main reason for the late fee was to force timely payments by the "imposition of charges bearing little or no relationship to the amount of the actual loss incurred by the lender," then the fees violate Section 1671 of state law and become unenforceable penalties.
The borrower's home secured the loan in question. Whether the ruling pertains to unsecured borrowing is unclear.
Collection Efforts
A lender may send your account to a collection agency if you continue to miss payments. Collection agencies use various tactics to recover the owed amount, including constant calls and letters.

In California, debt collectors can only garnish your paycheck, bank or credit union account, or benefits after they win a court judgment. The state law limits the garnished amount and shields your Social Security and Veterans' benefits.
Legal Consequences
In California, a lender can repossess and sell collateral (such as a car) if you default on a secured loan. For unsecured loans, the lender can sue you for the unpaid amount. It can garnish your wages or levy your bank or credit union account if it wins the case. 
Adverse Action on Cosigner
If your loan has a cosigner, both of you are equally responsible for the debt. Non-payment will affect the credit score of both parties, and you may be subject to the same collection and legal actions.
California law requires creditors to translate loan contracts for cosigners who primarily speak Spanish, Chinese, Tagalog, Vietnamese, or Korean, regardless of the language in which the parties negotiated the agreement.

If you cannot repay a loan, communicate with your lender as soon as possible to explore options such as refinancing or creating a new payment plan. You may also want to consult with a financial advisor or legal counsel to understand the full scope of the issues. Failure to repay a loan can have severe consequences, so it's crucial for you to act responsibly and be aware of the potential penalties.
In-Person Options For California Installment Loans
California is awash with lenders. You can find a storefront dispensing installment loans in virtually every city within the state. Moreover, you can arrange a personal loan through an online installment loan network anywhere in California.
California residents can apply in person for a bad credit installment loan from a storefront lender. Here is a concise list of lenders situated throughout the state:
ACE Cash Express
100 Main Street
Los Angeles, CA 33333
ACE Cash Express
222 Orange Drive
San Diego, CA 33333
Advance America
5568 Monterey Hwy 
San Jose, CA 95138
All Coast Funding
1390 Market St #200
San Francisco, CA 94102
Oportun
4817 E Butler Ave
Fresno, CA 93727
Primo Personal Loans
1302 21st Street STE 3001
Sacramento, CA 95811
NCCL No Credit Check Loans
111 W Ocean Blvd #410
Long Beach, CA 90802
LendUp – Alternative to Payday Loans
1750 Broadway Floor 3
Oakland, CA 94612
Mariner Finance
3603 Coffee Rd Suite 200
Bakersfield, CA 93308
OneMain Financial
1682 W Katella Ave
Anaheim, CA 92802
Speedy Cash
9781 Magnolia Ave
Riverside, CA 92503
Lendmark Financial Services LLC
3421 Brookside Rd Suite C
Stockton, CA 95219
United Credit
2100 Main St #350
Irvine, CA 92614
The state's strong economy, high interest rates, and diverse population contribute to the abundance of installment loans in The Golden State. Before you apply for one, please read and understand the loan contract to help avoid unpleasant surprises down the line.
Advertiser Disclosure
BadCredit.org is a free online resource that offers valuable content and comparison services to users. To keep this resource 100% free for users, we receive advertising compensation from the financial products listed on this page. Along with key review factors, this compensation may impact how and where products appear on the page (including, for example, the order in which they appear). BadCredit.org does not include listings for all financial products.
Our Editorial Review Policy
Our site is committed to publishing independent, accurate content guided by strict editorial guidelines. Before articles and reviews are published on our site, they undergo a thorough review process performed by a team of independent editors and subject-matter experts to ensure the content's accuracy, timeliness, and impartiality. Our editorial team is separate and independent of our site's advertisers, and the opinions they express on our site are their own. To read more about our team members and their editorial backgrounds, please visit our site's About page.