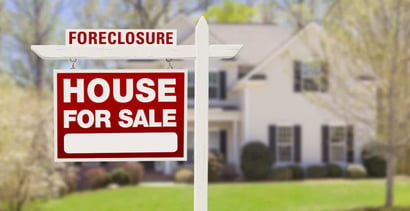 Handing your house keys to the mortgage lender after foreclosure must be one of life's saddest experiences. You may feel you'll never again enjoy owning your own home. But you can indeed rebound from foreclosure. Government-backed and conventional lenders can extend you a mortgage in one to seven years, and non-qualified loans are available without a wait. 
We'll cover all three mortgage types in this article. You'll discover that there is light at the end of the tunnel, and in some cases, there's no tunnel at all.
Best Conventional Mortgages After Foreclosure
The typical waiting period for a post-foreclosure conventional loan is seven years. But certain extenuating circumstances, such as job loss or other events beyond your control, may cut the wait time to three years.
Private lenders, such as banks, credit unions, and mortgage companies, make conventional loans. The Federal Housing Administration (FHA) doesn't guarantee these loans, although two government-sponsored enterprises (GSEs) may do so: the Federal National Mortgage Association (Fannie Mae) and the Federal Home Loan Mortgage Corporation (Freddie Mac). 
Rocket Mortgage and its partners offer conventional and government-backed mortgages. Conventional mortgages need not conform to Federal Housing Administration guidelines. Nonconforming conventional mortgages cost more, but you may be able to get one with a lower credit score than that required for a conforming mortgage. Rocket Mortgage gives its take on foreclosures on its website.
Rocket Mortgage does business under its own name and as Quicken Loans. Its website offers several helpful articles regarding foreclosure and how to prevent it. In particular, it explains options such as a request for forbearance, a deed in lieu of foreclosure, a loan modification, or a short sale.
eMortgage, an HSH company, is an independent, advertising-supported publisher, comparison service, and mortgage advertiser. Through its vendor, Quinstreet Media, it can find prospective homeowners various types of mortgages using an extensive lender network. HSH's website addresses how to avoid foreclosure scams. 
LeadPoint, Inc. does business as SecureRights and FHA Rate Guide. It works with a network of third-party linked sites that may offer you quotes for their loan products. As such, FHA Rate Guide isn't responsible for the content of these linked sites. An offer's actual interest rate, APR, and payment depend on the loan selected, verification of information, your credit history, the location and type of property, and other factors.
Bank Of America Mortgage can offer you a direct home loan, regardless of whether you are a bank customer. It provides a few foreclosure alternatives, including temporary payment assistance (to lower or suspend payments for a short period) and loan modification (to make mortgage payments more affordable). If you want to avoid foreclosure on your Bank of America mortgage, please contact the bank at 800-846-2222 to discuss your options.
CitiMortgage makes direct home loans and offers several options to avoid foreclosures, including loan modifications, partial claims (additional loans to help borrowers repay missed mortgage payments), deferments, and repayment plans. 
What Is Foreclosure?
Foreclosure is the legal repossession of a home after a borrower fails to make mortgage payments. Following foreclosure, the lender evicts the homeowner and attempts to sell the property. Mortgage lenders have the right to foreclose because the home is collateral for the loan.
The two types of foreclosure are:
Judicial foreclosure: The lender must use the courts to obtain foreclosure permission by demonstrating the borrower's delinquency.
Nonjudicial foreclosure: Also called the power of sale, this procedure avoids the courts unless the homeowner sues the lender.
It typically takes about three years to complete the average foreclosure, although the time varies by state. Hawaii, New York, and Indiana have the lengthiest foreclosures; Wyoming, Arkansas, and Tennessee have the shortest.
A preforeclosure process precedes the final seizure of the home. It includes the following events:
The borrower fails to make one or more mortgage payments.
The lender sends a missed-payment notice to the borrower.
After two missed payments, the lender sends a demand letter to the borrower explaining how to resolve the issue (i.e., by making payments).
The lender files a notice of default after a specified number of missed payments, informing the state court and the borrower of the start of foreclosure legal actions.
During this period, the lender may invite the borrower to resolve the issue through alternative means, including backdated payments, loan modifications, or short sales.
In a judicial foreclosure, the lender can seize the property following a court ruling. In a nonjudicial proceeding, the lender can take the property and put it up for sale without a court order.
A short sale is a foreclosure alternative in which the lender agrees to let the borrower sell the house for less than the mortgage balance. Lenders absorb the loss, and borrowers avoid a foreclosure on their credit reports, although they may owe taxes on any forgiven debt.
Can I Get a Mortgage With a Foreclosure On My Credit Report?
Despite having a foreclosure on your credit report, you can get a new mortgage after a suitable waiting period. Depending on the type of mortgage you seek, the wait may last from one day (for nonqualified mortgages) to seven years (for conventional mortgages).
Foreclosure inflicts severe damage to the borrower's credit scores and remains on credit reports for seven years, after which the credit bureaus remove it.

Unless borrowers actively repair their credit after foreclosure, they may face limited access to mortgages, high interest rates, and steep fees. But post-foreclosure mortgages guaranteed by the FHA may provide a low-cost route back to home ownership.
What Are the Waiting Times For Government-Backed Mortgages After Foreclosure?
The post-foreclosure waiting period is three years for new government-backed mortgages from the Federal Housing Administration (FHA), three years for new mortgages from the U.S. Department of Agriculture (USDA), and two years for new mortgages from the Veterans Administration (VA). But extenuating circumstances may shorten the wait.
FHA
The FHA requires you to wait at least three years after a foreclosure before you are eligible for an FHA mortgage. But extenuating circumstances, such as a job loss, may cut the wait time to one year if you improve your credit over that period. 
Requirements for an FHA-guaranteed loan include the following:
A minimum credit score of 500
A minimum down payment of 3.5% (with a credit score of 580 or higher) or 10% (for a score between 500 and 579)
A maximum debt-to-income (DTI) ratio ranging from 43% to 56.9%
A loan amount no greater than the FHA loan limits for your county
You must pay FHA MIP (mortgage insurance premiums)
You can arrange an FHA mortgage through a government-approved lender.
USDA
The U.S. Department of Agriculture requires a three-year wait following a foreclosure, accompanied by improvement to your credit score.
USDA loan guarantees require the following:
A minimum credit score of 620
No down payment is required
A maximum debt-to-income (DTI) ratio of 41%
You must pay a loan guarantee fee, similar to mortgage insurance
USDA mortgages are available for properties in rural areas.

VA
A Veterans Administration mortgage requires a two-year wait following a foreclosure. Other requirements include the following:
A VA loan does not require a minimum credit score, but most VA lenders demand a minimum score of 620
No down payment required
A maximum debt-to-income (DTI) ratio of 41%
You must pay a funding fee, but mortgage insurance isn't mandatory
You or a family member must be a veteran or on active military duty.
What Is a Non-Qualified Mortgage?
A nonqualified (or nonprime) mortgage does not meet the standards set by the federal government. That's why the post-foreclosure waiting period for a NQ mortgage is only one day, but it will likely have a higher interest rate than a government-backed or conventional loan.
Generally, NQ mortgages require a minimum FICO Score of about 500, but some do not have any credit score requirements. You can expect to make a down payment of 10% to 20% to get a nonqualified mortgage. Debt-to-income and loan-to-value ratios and loan size limits vary by lender, and most lenders require mortgage insurance. NQ mortgages may not be available in all states.
While NQ mortgages are easier to get, they may have undesirable features that are prohibited with qualified mortgages, including:
Risky features: An NQ loan may offer an artificially low introductory interest rate that results in negative amortization (i.e., your debt increases over time
Unlimited DTI: You may have to pay a much higher percentage of your monthly income toward the mortgage
High upfront costs: NQ mortgages may have unusually high upfront fees
Longer loan terms: NQ mortgages may have loan terms exceeding 30 years, meaning you'll end up paying more interest
A NQ mortgage is the fastest solution following a foreclosure. It also may suit the self-employed, business owners, and folks with uneven income, low credit scores, or high debt levels. Real estate speculators may also favor NQ loans.
You Can Get a Mortgage After Foreclosure
Foreclosure doesn't inflict permanent damage on your credit. You can recover your good standing by being patient, paying your bills on time, and keeping debt levels low. Depending on your needs, you can get a nonqualified mortgage without delay, a government-guaranteed loan after one to three years, or a conventional mortgage after seven. 
In many cases, you have better alternatives than foreclosure. Please speak with your lender, a real estate agent, or a financial advisor to explore your options when you are unable to pay your mortgage.
Advertiser Disclosure
BadCredit.org is a free online resource that offers valuable content and comparison services to users. To keep this resource 100% free for users, we receive advertising compensation from the financial products listed on this page. Along with key review factors, this compensation may impact how and where products appear on the page (including, for example, the order in which they appear). BadCredit.org does not include listings for all financial products.
Our Editorial Review Policy
Our site is committed to publishing independent, accurate content guided by strict editorial guidelines. Before articles and reviews are published on our site, they undergo a thorough review process performed by a team of independent editors and subject-matter experts to ensure the content's accuracy, timeliness, and impartiality. Our editorial team is separate and independent of our site's advertisers, and the opinions they express on our site are their own. To read more about our team members and their editorial backgrounds, please visit our site's About page.