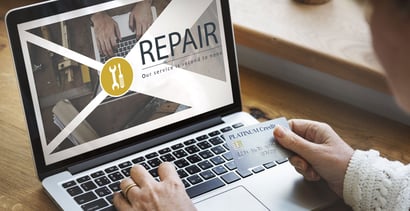 Like it or not, your credit tells people a lot about you. Having negative credit report entries or a low credit score can impact your life in ways you may not even realize. Repairing bad credit is one way to ensure you make the best impression you can, and the best credit repair businesses can help you do this efficiently and effectively.
Your credit can impact everything from getting a loan to landing your dream job. It can also affect how much interest you pay on credit cards or a car loan; so you really do pay a price for it.
Repairing your credit can put you back in control of your financial life and can help you make the right impression when it really counts.
Best Companies | How to Choose | FAQs
Best Credit Repair Businesses Online
For many people, the first step in repairing their credit begins with choosing the right company to work with. And, with all of the choices out there, this is often easier said than done.
Factors such as how much it will cost, the time it can take, even what they claim they can do, all need to be part of your decision. Then, of course, is the matter of reputation and reliability.
To help you make the best decision possible, we've put together this list of highly-rated online credit repair companies that are fair, reputable, and offer a range of tools and services you can choose from.
Since 2004, Lexington Law Firm clients saw over 81 million items removed from their credit reports
Get started today with a free online credit report consultation
Cancel anytime
| Better Business Bureau | In Business Since | Monthly Cost | Reputation Score |
| --- | --- | --- | --- |
| See BBB Listing | 2004 | $99.95+ | 8/10 |
Lexington Law is one of the most prominent and well-respected online credit repair agencies in the business. It is an actual law firm staffed with certified attorneys and paralegals that specialize in all aspects of consumer protection and credit reporting law.
With 27 years in the business, Lexington Law has helped hundreds of thousands of clients in their credit repair efforts.
Free online consultation
CreditRepair.com members saw over 8.6 million removals on their credit reports since 2012
Free access to your credit report summary
Three-step plan for checking, challenging and changing your credit report
Online tools to help clients track results
| Better Business Bureau | In Business Since | Monthly Cost | Reputation Score |
| --- | --- | --- | --- |
| See BBB Listing | 2012 | $69.95+ | 8/10 |
CreditRepair.com offers an initial free, personalized consultation and credit report evaluation, along with an individual plan of action. If you choose to move forward, a flat fee of $49.95 a month will get you started with the company's three-step credit repair process.
This includes checking the items on your credit report to focus on, challenging the creditors to verify and substantiate the entries, and ensuring your report is updated to reflect any change in debt status. CreditRepair.com keeps clients informed of progress with a personal online dashboard and score tracker using an online app.
Best-in-class support
In business since 1989
Rapid 35-day dispute cycle, tailored to your situation
90-day 100% money-back guarantee
Low $79 cost to get started, cancel or pause membership anytime
| Better Business Bureau | In Business Since | Monthly Cost | Reputation Score |
| --- | --- | --- | --- |
| A+ | 1989 | $79 | 9.5/10 |
Sky Blue Credit Repair has been in business since 1989 and offers one of the lowest-priced services of any reputable credit repair agency. For a $79 monthly fee, Sky Blue provides a detailed Pro Analysis of your credit report to identify likely entries to challenge.
This level of expert analysis can speed up the credit repair process by identifying compliance issues that may be holding your score down. The company also claims to perform more disputes in a shorter time-frame — up to 15 items every 35 days — further expediting the outcome.
How to Choose a Credit Repair Company
Before deciding to work with a credit repair company, you need to ask yourself some questions. The first and most obvious question being: If I can review my credit report and dispute erroneous or inaccurate entries directly, why should I pay someone else to do it for me?
While it's true that credit repair companies can't do anything that you or I can't do on our own, what they do offer is expertise. They also bring a wealth of resources and an understanding of laws governing the credit and debt collection industries. What you're paying for when you hire a credit repair company is the experience that comes from knowing the business inside and out.
Of course, there are other questions you need to ask before deciding on just which credit repair company to choose. Here are some to consider:
Do they offer expert analysis of your credit report to identify entries that should be disputed?
Many companies simply ask you to identify items on your own, and they will file the dispute with the reporting agency. The better companies use formulas or their knowledge of the law to identify and remove negative entries or negotiate settlements with creditors.
Do they offer extra services like goodwill letters or formal notification letters to creditors or debt collectors?
Again, the larger and more reputable companies offer extras like this when needed — sometimes for an additional fee — often as part of the contracted service.
As your credit score begins to improve, does the company offer tips and guidance on how to maintain and rebuild your credit score?
Having negative and erroneous items removed from your report is only half the battle. A good credit repair company may also advise establishing new accounts as needed to help increase your score and offer guidance on how to maintain it over time.
Finally, BBB ratings can often give insight into the trustworthiness, quality, and reliability of a credit repair company, but they don't always tell a complete story. BBB assigns a letter grade to businesses based on 17 weighted factors.
One factor, for example, is whether the business has appropriate competency licensing — of course, credit repair businesses have no licensing requirement.
Another factor that can lead to lower scores for credit repair companies than may otherwise be expected is that scores are heavily weighted toward consumer complaints, and consumers who are looking for credit repair often bring unrealistic expectations and intrinsic biases. You should always take the BBB ratings of a business into account, but make it part of an overall evaluation of the company.
How Does Credit Repair Work?
Credit repair, whether done by you or a company you contract with is the process of disputing erroneous or inaccurate entries on your credit report. It begins with a detailed review of your report to identify derogatory items or entries that should not be there.
The idea is that these negative items can be artificially dragging down your credit score. Disputing the inaccurate items and having them removed can raise your score to where it belongs.
That said, no credit repair company should ever promise to increase your score by a certain amount — if they do, they're probably not legit. The best they can do is promise to challenge or dispute a certain number of entries with the credit bureaus. If they are successful, your score will likely increase over time.
One thing to keep in mind is that credit repair is not a magic fix to a bad credit score. Even if negative items are removed, your score may take months to reflect the changes. It's also true that your score can fluctuate up and down during this time, as items are removed or even added again.
Credit repair does not involve the removal of items that are accurate simply because they are negative and may be dragging down your score. However, credit repair companies use techniques that can be very effective in removing items from your credit report, even if they were incurred by you.
These techniques can include requests to the creditor to validate information, prove the debt belongs to you, and show that they are legally entitled to collect the debt. Entries that have gone to collection are particularly susceptible to challenges because debt validation becomes more difficult as it changes hands from the original creditor to a collection agency.
What is the Best Credit Repair Company?
Choosing the best credit repair company from among the sea of available options can be a daunting task. It should be staffed by experts — preferably attorneys with experience in debt and credit law.
It should be reputable and well-respected. It should have a proven record of success over many years in business. And it should be large enough to wield clout with creditors.
Fortunately, there is one such credit repair firm.
Lexington Law has been working extensively on credit repair since 2004 and has helped more than 500,000 clients remove millions of negative items from their credit reports. Staffed by a skilled team of certified lawyers and paralegals around the country, Lexington Law is one of the largest credit repair companies in the industry.
Since 2004, Lexington Law Firm clients saw over 81 million items removed from their credit reports
Get started today with a free online credit report consultation
Cancel anytime
| Better Business Bureau | In Business Since | Monthly Cost | Reputation Score |
| --- | --- | --- | --- |
| See BBB Listing | 2004 | $99.95+ | 8/10 |
The company offers tiered service levels to let consumers choose the option that fits their needs and budget. The basic plan coming in at around $90 a month offers credit bureau challenges and creditor interventions. The intermediate and advanced plans at $110 and $130 per month respectively add some advanced technical tools, monitoring, alerts, and extra services.
It should also be noted that credit repair companies, Lexington Law included, can only charge you after completing a service.
Your monthly fee is assessed only after work has been done on your behalf with the credit reporting bureaus. You'll also be presented with a written contract that describes the services to be provided and what you can expect.
Is Hiring a Credit Repair Company Worth it?
Some do-it-yourself types may see hiring a credit repair company as a waste of money. Why pay someone else to do something I can do myself?
While it's true that credit repair is possible on your own, writing dispute letters, challenging erroneous items, and attempting to negotiate a settlement with a creditor is often better left to the experts.
Paying a fee to a credit repair company can be looked at as an investment in your financial future. When erroneous or invalid entries on your credit report are removed, your credit score is likely to improve. As that happens, you end up with the benefits that accompany a higher credit score, such as lower interest rates on loans and credit cards.
The amount of money that can be saved over a lifetime by paying less in interest is difficult to estimate. However, if we take the cost of a 30-year mortgage for someone with average to good credit and compare it to what someone with poor credit would pay, the difference can be tens of thousands of dollars. And that's just from a single loan.
Think about how much more you would pay in credit card interest year after year if you're being charged 28% APR compared to an average of less than 17% with good credit. It can add up to thousands of dollars more than you have to pay.
In the long run, having a good credit score can save you money in ways too numerous to list. If you were to calculate the cost of paying a credit repair company and compare that with how much you could save over a lifetime, it's one of the best financial investments you can make.
How Much Does Credit Repair Cost?
And, speaking of cost, just how much can you expect to pay a credit repair company when you hire one? As is usually the case, it depends on your personal situation.
Almost all credit repair is done on a contract basis, with companies charging a monthly fee for services performed. How long it takes and how much it will cost depends on your unique credit repair needs.
A typical monthly fee charged by a reputable credit repair company can range anywhere between $60 and $180 or more per month. Of course, the services and features you get are generally correlated to how much you pay. There may also be a one-time setup fee for some services.
Many of the larger credit repair companies offer discounts for certain groups, such as members of the military. Others, like CreditRepair.com, offer 50% off your first work fee when you sign up with a partner, friend, or family member. That's a 50% discount for you and a 50% discount for whoever signs up with you.
Some credit repair services offer a flat monthly fee to perform whatever is needed. If your credit profile has several complex or challenging issues like charge-offs, collections, fraud or ID theft, it may be worth choosing a service like this.
How Long Does it Take to Rebuild Credit?
It's been said before but bears repeating, credit repair is not a quick fix. Rebuilding a credit profile that has been impacted by negative entries will take time and effort. The extent to which your credit is damaged due to erroneous or unsubstantiated items versus self-inflicted damage will also make a difference.
Lexington Law claims the average client uses their services for six months. And while every situation is different, the best credit repair companies generally make the process faster and more efficient.
Rebuilding credit is a process, and credit repair is just the first step. In addition to identifying those negative entries that can be legally removed, you'll also need to begin establishing good credit practices. Companies that offer credit rebuilding advice can help you begin the rebuilding process while simultaneously removing disputed items and repairing your credit.
You can learn about ways to rebuild your credit and improve your score from the agencies that help establish these measurements; the credit bureaus themselves. All three of the major credit reporting agencies — Equifax, Experian, and TransUnion — offer tips and advice on their websites for consumers looking to improve their credit standing.
Can I Repair My Credit Myself?
The principles and techniques used by credit repair companies to remove erroneous items from a credit report aren't much different from what you and I can do… if we had the time, expertise, and tenacity to do it. For the intrepid souls who choose to, resources are available to help you do it yourself.
The FTC website has information about your rights and responsibilities when disputing credit report entries by yourself. You can learn how to identify and report items you believe should not be included in your credit report.
The Consumer Financial Protection Bureau (CFPB) also has a wealth of information for do-it-yourselfers who want to learn about credit repair and maintenance. The point is, people can do credit repair by themselves if they want to learn how and put in the time.
We've also written guides about how to dispute items with each of the bureaus:
Remember, credit repair is about identifying, challenging, and removing entries on your credit report that shouldn't be there. Your credit score may improve as a result, depending on the item that was removed and the potential impact it had on your score.
However, it's often faster and easier to let the experts do what they do best.
A Low Credit Score Doesn't Have to Follow You Forever
The world of credit repair may be opaque to most of us, but it isn't rocket science. Rules are in place that protect consumers by requiring creditors, collection agencies, and the credit bureaus to work with us.
A low credit score doesn't have to be a mark that follows us around for life. We can take back control of our credit profile, whether by using a credit repair company or on our own. Repairing and rebuilding our credit is something that anyone can do — if we choose to.
Advertiser Disclosure
BadCredit.org is a free online resource that offers valuable content and comparison services to users. To keep this resource 100% free for users, we receive advertising compensation from the financial products listed on this page. Along with key review factors, this compensation may impact how and where products appear on the page (including, for example, the order in which they appear). BadCredit.org does not include listings for all financial products.
Our Editorial Review Policy
Our site is committed to publishing independent, accurate content guided by strict editorial guidelines. Before articles and reviews are published on our site, they undergo a thorough review process performed by a team of independent editors and subject-matter experts to ensure the content's accuracy, timeliness, and impartiality. Our editorial team is separate and independent of our site's advertisers, and the opinions they express on our site are their own. To read more about our team members and their editorial backgrounds, please visit our site's About page.