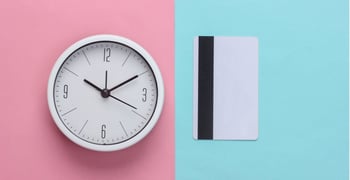 We've assembled here a review of the 11 best credit cards if you've had late payments. Because late payments drive down your credit score, the cards in this category are geared toward consumers with fair credit or worse.
These card issuers are much more likely to approve poor credit applicants, but you won't find many cards with low APRs or no late fees. That trade-off is necessary for issuers so they can approve cards for higher-risk consumers. A card with no late fee is usually reserved for someone with good credit, students, and owners of secured cards.
Unsecured | Secured | Alternatives | Lessons | FAQs
Best Unsecured Cards if You've Made Late Payments
These seven cards are available to consumers who want an unsecured card despite having a blemished credit history. Many folks understand first-hand how sudden financial challenges may make it necessary to delay paying bills.
Expect these credit cards to charge annual and late-payment fees, but a bad credit score won't automatically disqualify your card application.
See if you're Pre-Qualified with no impact to your credit score
All credit types welcome to apply
Up to $1,000 credit limit doubles up to $2,000! (Simply make your first 6 monthly minimum payments on time)
Free access to your Vantage 3.0 score from Experian* (When you sign up for e-statements)
Monthly reporting to the three major credit bureaus
Fast and easy application process; results in seconds
Use your card at locations everywhere Mastercard® is accepted
Mastercard Zero Fraud Liability Protection (subject to Mastercard guidelines)
Checking Account Required
| Application Length | Interest Rate | Reports Monthly | Reputation Score |
| --- | --- | --- | --- |
| 9 minutes | 24.99% - 29.99% (Variable) | Yes | 8.5/10 |
The Surge Mastercard® offers you the basic benefits of a Mastercard, including $0 fraud liability. You may be considered for a credit limit increase in as few as six months. The card provides online account management that lets you make payments, view statements, and check due dates, among other features.
You can download a free app that allows you to manage your account from a mobile device. The card offers optional credit protection (for a fee) that will cancel your outstanding balance due to loss of life. Other events covered by credit protection, such as disability, job loss, and hospitalization, will cancel your minimum monthly payment.
Easy pre-qualification process with fast response
Less than perfect credit is okay
Online servicing available 24/7 at no additional cost
Unsecured credit card, no security deposit required
Account history is reported to the three major credit bureaus in the U.S.
| Application Length | Interest Rate | Reports Monthly | Reputation Score |
| --- | --- | --- | --- |
| 8 minutes | 24.9% | Yes | 8.0/10 |
The Indigo® Platinum Mastercard® Credit Card accepts consumers with less-than-perfect credit, even if they've experienced a prior bankruptcy. The card offers you fraud protection and a choice of card images in a card that features chip technology for extra protection.
You can manage your account online and through mobile-friendly access. The card reports your payments to the three major credit bureaus, which helps you rebuild your credit by paying on time.
Checking account required
Fast and easy application process; response provided in seconds
A genuine Visa® card accepted by merchants nationwide across the USA and online
$300 credit limit (subject to available credit)
Multiple card designs available
Reports monthly to all three major credit bureaus
Rebuilding credit depends on factors like making on-time payments, keeping balance below credit limit and paying at least the minimum monthly payment
| Application Length | Interest Rate | Reports Monthly | Reputation Score |
| --- | --- | --- | --- |
| 9 minutes | See Terms | Yes | 8.5/10 |
The Total Visa® Unsecured Credit Card is aimed at consumers who've faced financial challenges and have struggled to obtain credit. As with most cards in this category, it comes with a variety of fees. In return, you get the basic features offered by a genuine Visa card, such as liability protection and acceptance throughout the United States.
You can order the card in a variety of designs. The initial credit limit may be reviewed after you have paid at least 12 billing cycles on time. The card is not available in Wisconsin or New York, and you can't use it at an automated fuel pump or for online gambling.
The Credit One Bank® Unsecured Visa® For Rebuilding Credit stands out from the pack because it offers cash back rewards on eligible purchases. You can choose from half a dozen card designs and, after 12 months, can request a credit limit increase if you've paid your bills on time and have stayed within your credit limit.
The card is specifically pitched to consumers with fair or damaged credit. The annual fee can be waived, but that's only for folks with good credit. You can customize the delivery of notifications, reminders, and alerts, which can be routed through email, push notification, or text. The card makes it easy to go green with paperless statements and documents.
You can get the First Access Visa® Card even when you do not have perfect credit. The card is accepted nationwide, and the application process is secure and easy. You can choose from among six card designs.
Before applying for this card, make sure you understand the fees and interest rate you'll be paying. You may be considered for a credit limit increase (fee applies) after the account has been open for at least 12 billing cycles. The card is not currently available in New York or Wisconsin.
If your card's look is important to you, consider the Milestone® Mastercard® With Choice off Card Image at No Extra Charge. The card welcomes consumers with imperfect credit, including folks with prior bankruptcies. It takes only a minute to prequalify for this card.
You can apply if you are 18 or older, have not had a Milestone card charged off due to delinquency, and meet the eligibility standards for income, debt, and identity verification. The card does not offer a balance transfer option. However, you do get identity theft protection and $0 liability protection.
Best Secured Cards if You've Made Late Payments
Secured credit cards are a great option for folks who've made late payments because the cards are quite easy to obtain despite having a low credit score. You secure the card by depositing cash collateral into a special non-interest bearing account (FDIC insured) to cover the card's credit limit.
The deposit is refundable when you close the account or upgrade to an unsecured card.
Receive Your Card More Quickly with New Expedited Processing Option
No Credit History or Minimum Credit Score Required for Approval
Quick and Complete Online Application; No credit inquiry required!
Includes Free Real-Time Access to Your Credit Score and Ongoing Credit Monitoring powered by Experian
Full-Feature Platinum Mastercard® Secured Credit Card; Try our new Mobile App for Android users!
Good for Car Rental, Hotels; Anywhere Credit Cards Are Accepted!
Monthly Reporting to all 3 Major Credit Bureaus to Establish Credit History
Credit Line Secured by Your Fully-Refundable Deposit of $200 -- $2,000 Submitted with Application
Just Pay Off Your Balance and Receive Your Deposit Back at Any Time
24/7 Online Access to Your Account
Nationwide Program though not yet available in NY, IA, AR, or WI ** See Card Terms.
Get a fresh start! A discharged bankruptcy still in your credit bureau file will not cause you to be declined.
| Application Length | Interest Rate | Reports Monthly | Reputation Score |
| --- | --- | --- | --- |
| 8 minutes | 9.99% (V) | Yes | 7.5/10 |
The First Progress Platinum Prestige Mastercard® Secured Credit Card is our top pick in this category. Your initial available credit will be equal to the initial credit line minus the annual fee. You must be at least 18 years old to qualify, have a valid Social Security number, and reside in the United States (excluding Arkansas, Iowa, New York, and Wisconsin).
If you're in a hurry to receive the card, you can pay for Expedited Processing Service to shave a week off the processing time. The card comes with a full slate of fees, including annual, cash advance, foreign transaction, late payment, and returned payment fees.
The First Progress Platinum Elite Mastercard® Secured Credit Card is available if you'd like to step up from the Platinum Prestige card. The two cards are nearly identical, except the Secured card trades a lower annual fee for higher purchase APRs and cash advance APRs. The fees for cash advances, foreign transactions, late payments, and returned payments are the same for both cards.
9. Capital One® Secured Mastercard®


The Capital One® Secured Card® charges no annual fee and may give you an initial credit limit higher than your security deposit. The deposit is refundable. There are no fees for balance transfers or returned payments, but fees do exist for cash advances and late payments.
You can use Eno® to pay for online purchases with virtual card numbers. You can also monitor your score using CreditWise®. The card provides $0 fraud liability and automatic credit line reviews.
10. Bank of America® Cash Back Secured Credit Card


The Bank of America® Cash Back Secured Credit Card has many of the features of cards for consumers with good credit, even though it is designed for folks with credit scores below 670. Features include cash back rewards, optional overdraft protection, and a general lack of fees.
The minimum deposit for this card is $300 and is fully refundable. You can choose a deposit amount of up to $4,900, which is one of the highest available from a secured card. The card allows you to access your FICO credit score for free online or within the Mobile Banking app.
Borrowing Alternatives to Credit Cards
Credit cards not only allow you to finance purchases, but many also allow cash advances when you need cash. The advantage of cash advances is that you don't need to apply for one when you need it — just walk into a bank and fill out a form.
However, credit card cash advances are not always the cheapest alternative. Here are some other ways to borrow that may work for you even if you have a low credit score:
Having late payments on your credit history hampers your access to loans. But if you're willing to accept less favorable loan terms, you may be able to overcome a low credit score when you use a lender specifically focused on bad-credit borrowers.
How Late Payments Affect Your Credit Scores
Lenders shy away from borrowers who have a history of late payments. Sometimes, the payment is just late, meaning the borrower eventually makes the payment sometime after the due date. Other times, a borrower never repays a loan, which then goes into collection or default and may be written off or become the subject of a lawsuit.
To a creditor or lender, your payment is late if it doesn't arrive by the due date. You then may be hit with late fees and higher interest rates.
In fact, if you miss too many payments, a creditor may close your account. However, creditors can't report your late credit card payment until it's past due by at least 30 days, at which time it is incorporated into your credit report.
Your account will be marked delinquent and is subject to further action. Late payments remain on your credit report for seven years.
Your payment history comprises 35% of your FICO Score, and late or missed payments may shave dozens of points off your score, depending on the circumstances (such as amount due, how many days late, your existing credit score, frequency of late payments, the scope of your credit history, and other factors).
The good news is that the impact of late payments on your credit score declines after the first couple of years. The bad news is that potential creditors, lenders, employers, and landlords can read all about your late payments for seven years, which doesn't help you attain your goals.
Sometimes, a credit bureau will fail to remove a late credit card payment from your credit report after seven years have elapsed. If you notice this, you can contact the credit bureau and ask them to remove the item.
How to Build Credit with a Credit Card
You don't need a credit card to build your credit, but it sure helps. That's because credit cards are ubiquitous among today's consumers and virtually all of them report your payment activity to the three major credit bureaus (Experian, TransUnion, and Equifax).
The first step is to apply for a credit card if you don't already have one. The card should be targeted to consumers who are "rebuilding" their credit, a euphemism for folks with scores below 670, or those who have no credit history at all. For these consumers, secured credit cards are the ones most easily obtained.
The First Progress Platinum Prestige Mastercard® Secured Credit Card is our top choice. You will need to deposit at least $200 to get a secured card if you have bad credit.
If that amount sounds too steep for your budget, consider one of the unsecured cards in this review, such as our top pick, the Surge Mastercard®. Whichever card you choose, ensure it reports your activity to at least one credit bureau, and preferably all three.
Once you have your card, use it regularly to make purchases. The card can't help your credit score sitting idly in a drawer.
In fact, quite the opposite — if you don't use your card, the issuer may eventually close the account, especially if it charges no annual fee. Closed accounts may hurt your credit score.
The last step — and the most important for building credit — is to pay your credit card bills on time. The due date is clearly identified on each monthly statement.
Make sure your payment arrives by your due date, which may mean mailing it out a week or more in advance if you don't pay it online. Alternatively, you may be able to set up an auto-pay arrangement directly from your bank account. That way, you'll never miss a payment.
Another strategy for paying on time is to make two payments each month. Each payment will be more affordable, and it helps protect you if you forget a payment. Just make sure that each payment at least covers the minimum payment due.


Besides paying on time, consider paying the full balance each month. Not only does that save on interest expenses, but it also helps reduce your credit utilization ratio (i.e., credit used / credit available), a factor that comprises 30% of your credit score. If you can't afford to pay the full balance each month, pay what you can, and reduce your credit card usage.
Over time, your good credit habits will be recognized by the credit bureaus, resulting in higher scores. Be patient — it can take up to six months to start seeing improvements. If you are first establishing your credit history, you should be able to attain a fair-to-good credit score within a year.
Another trick to help you maintain creditworthy habits is to use your credit card as if it were a debit card. In other words, don't charge more on your credit card then you would spend using cash. This will help keep you on budget and paying on time.
Don't be in a rush to add new credit. Opening too many credit card accounts can hurt your credit score.
Lenders and creditors make hard inquiries to your credit report every time you apply for new credit. Hard inquiries account for 10% of your FICO score. In a hard inquiry, a creditor requests a copy of your credit report from one or more of the credit bureaus.
Finally, check your credit reports at least once per year to make sure they don't have inaccurate negative information. You can get free copies at AnnualCreditReport.com, the only website federally authorized for this purpose.
Incorrect and derogatory information can really damage your credit scores, so review your reports closely and dispute any errors or omissions.
Can I Get a Credit Card with a History of Late Payments?
There is no doubt that a history of late payments greatly complicates your access to credit. The problem isn't insurmountable, as demonstrated by the 11 credit cards that may be available to consumers who have had delinquent accounts.
If your credit history makes it impossible for you to get a credit card, you can take steps to improve your future prospects. As previously mentioned, late payments can remain on your credit report for up to seven years, although credit bureaus may drop negative items before the mandatory end date.
Here are several considerations regarding recovering your credit score when late payments are on your credit report:
If you had an account written off after you defaulted on your payments, consider repaying the bill even though the damage has already been done. This will at least show that you intend to make things right, and it may help rehabilitate your reputation quicker.
Remember that late payments drop your score as soon as they're reported to the bureaus, but the impact begins to wane after a couple of years.
Once a late payment rolls off your credit report, it can no longer influence your credit score.
It's never too late to adopt creditworthy habits, such as paying bills on time, reducing your debt level, and refraining from opening or applying for too many new accounts. You may be able to avoid late fees by setting up automatic payments. By timing your automatic payment correctly, you won't risk having your payment arriving late.
You can get a higher score immediately if you or a credit repair company that you hire can remove erroneous negative items from your credit reports.
Consider one of the secured credit cards reviewed in this article, as they don't depend on your credit score. Our top secured card is the First Progress Platinum Prestige Mastercard® Secured Credit Card.
Use a credit builder account available from a community bank, credit union, or private lender to boost your credit score.
Consider using a score-boosting service, such as Experian Boost and other similar products.
Become an authorized user on someone else's credit card. The payment activity of both you and the card owner will be reported on your credit report. Do not attempt piggybacking, in which a credit repair company implies you are an authorized user when you aren't.
Some credit cards permit cosigners, who are equally responsible for paying your card on time. However, even if you have late payments, you may qualify for any of the seven unsecured credit cards in this review without a cosigner. Our pick for the top unsecured card is the Surge Mastercard®.
Given the range of actions available to you, there is no reason to let a denial letter prevent you from eventually acquiring a credit card.
Can I Find a Card that Doesn't Charge a Late Fee?
Most credit cards charge a late fee when you do not pay at least the minimum amount by the billing period's due date. The credit card company determines the size of the fee, and whether the fee is flat or a percentage of your balance. You'll rarely encounter a card with less stringent late fee policies.
The CARD Act of 2009 caps the amount of the late fee that a credit card issuer can charge. The Consumer Financial Protection Bureau can adjust the cap each year for inflation. In 2020, the first-time late fee is $29, while the cap on each subsequent late fee within a six-month period is $40.
The actual average late fee is about $36. Card issuers can charge higher interest if you fail to pay the late fee promptly. The Citi® Simplicity Card, Petal Visa Card, and the Apple Credit Card all waive late fees and penalty APRs for late payments.
Several cards from Discover, including the Discover it® Cash Back, Discover it® Balance Transfer, Discover it® Miles, Discover it® Student Cash Back, and Discover it® Secured Card, also waive the late fee and won't trigger a penalty interest rate for the first late payment. Incidentally, Discover cards charge no annual fees.
What if I Can't Make an Upcoming Payment?
You should try to mitigate the damage if you are unable to make an upcoming payment. You can do this by appealing to the card issuer. Call the credit card company, explain the problem, and ask for extra time to make the payment.
The issuer may or may not be receptive to your request. If receptive, the issuer may offer to extend the due date, waive the credit card late fee, and/or continue to report your status as "current" to the major credit bureaus (as specified in the 2020 CARES Act).
Some issuers may not be so understanding, but it's a smart idea to ask for help, as the alternatives aren't good. Creditors are generally encouraged to accommodate their customers' needs through emergency forbearance, reduced APRs, payment plans to pay off existing balances, and waiving or refunding late fees.
You can request help from your card issuer as needed. You may find that the issuer is offering special programs for those who have lost work due or have other financial emergencies. Ask about these programs to sort out your various options to keep your credit in shape.
If you don't contact the issuer, they will charge you a credit card late payment fee (if that is its normal practice), and perhaps charge you a higher APR on the amount due. The late payment fee can be up to $29 on the first occurrence and then $40 for each additional late payment. The higher APR applies until you make the payment, including the late fee.
Since you'll be paying a higher interest rate, it's in your interest to make the payment as quickly as possible. Certainly, you should do everything you can to pay within 30 days of the due date in order to avoid your late payment from being recorded on your credit reports.
When you make a late minimum payment, call the issuer to verify the payment was received and to find out the minimum payment due on the next due date. Make every effort to pay the required amount by the next due date.
If the reason you are unable to make a minimum payment is that you have balances on multiple credit cards, consider consolidating those balances to a single card through a series of balance transfers. You'll need at least one card that permits balance transfers.
Ideally, you would consolidate to a credit card that has an introductory balance transfer promotion. Typically, the promotion gives you a period of time in which it charges no interest on the transferred balances, although a fee (typically 3%) usually applies to each transfer.
After the transfers, don't use your other credit cards until you've repaid your consolidated balance. This will keep you from digging yourself into a deeper debt hole. Now with just one card payment due monthly, you are in a better position to make at least the minimum payment on time. Try to pay down the balance before the 0% APR introductory period ends, which will usually require payments greater than the monthly minimum.
If you are constantly worried about your ability to make the monthly payments on time but still want to use a credit card, consider sticking to a secured card. With these cards, the issuer takes the missed payment from your security deposit and reduces your credit limit accordingly. You can later replenish your deposit and re-establish your card's original credit limit.
Truthfully, if making the minimum payment is a recurring hassle, then perhaps you shouldn't be using credit cards at all. A debit card may be more appropriate for your needs, as it allows you to make online purchases without using credit and in-store purchases without using cash.
Alternatively, consider a prepaid credit card where there is no possibility of late payments. And if your financial situation is dire, consider locating a credit counselor.
If you find yourself needing a way to get and stay current on your bills, indulge in some out-of-the-box thinking:
Refinance your vehicle or trade it in for a less expensive used one.
Put on a yard sale.
Cut out discretionary spending, such as restaurants and movie theaters.
Replace your cellphone plan with a cheaper, pay-as-you-go service.
If feasible, see about taking on a roommate.
Consider downsizing your home or apartment.
Look for gig opportunities on the internet.
Borrow money from your 401k.
Refinance your home to lower your monthly payments.
The federal government's response to the pandemic has not been encouraging. Perhaps the prospect of an election and a vaccine will turn things around, but till then, do everything you can to minimize your spending and take care of your health.
When is a Payment Considered Late?
The concept of a billing cycle underlies the credit card payment system. Typically, credit cards have 12 or 13 billing cycles per year. Any purchases you make during a given billing cycle will be detailed in the latest credit card statement sent to you in the mail or posted online at the end of each cycle.
Payment Due Dates and Grace Periods
The billing statement will show your account's starting balance and any payments and charges that occurred during the cycle. The last day of the billing cycle is the statement closing date. Any subsequent activity will appear on the next billing cycle's statement.
The other critical data item found on the billing statement is the payment due date. In most cases, the due date is at least 21 days after the billing cycle ends, as required by the 2009 CARD Act. This is the grace period, in which you can pay the full balance without incurring any interest. You must be provided with your billing statement at or before the start of the grace period.
While you can pay the full balance by the payment due date to avoid interest, you can also pay less and finance the remaining balance (i.e., pay interest on the unpaid balance). However, you must make at least the minimum payment specified on the billing statement. Failure to do so by the payment due date results in a late payment.
Unless stated otherwise, most credit cards charge a late fee when you miss the payment deadline. You also may have to pay a higher penalty APR on the unpaid balance. If you can pay your entire balance by the payment due date every cycle, you avoid both interest charges and late penalties.
You may have had an unpaid balance before the start of the last billing cycle. That balance continues to accrue interest during the cycle and the interest will be charged whether you pay the full balance by the current due date. Furthermore, if you have an unpaid balance, you will be charged interest on purchases in the new billing cycle starting on each item's purchase date.
Do not assume that all credit cards offer you a grace period on your current purchases. You need to verify the card's grace period policy by reading the fine print provided in the card's disclosure documents.
There are certain transactions in which the grace period doesn't apply, and you accrue interest from the transaction date. These transactions include:
Cash advances
Convenience check purchases
Balance transfers
The card may also charge fees for these graceless transactions.
An estimated 43% of Americans carry credit card balances over multiple billing cycles, and the average balance in 2019 was $6,194. In the aggregate, consumers owed credit card debt of about $893 billion as of the first quarter of 2020.
Paying your balance in full not only avoids late fees, but it also avoids interest charges. If you had an average unpaid balance of $6,000 for the year and paid an APR of 18%, credit card interest would cost you $665 for the year, assuming you were paying down the card by $500 per period and no longer using your credit cards.
Late Payment Survey Results
According to a survey performed by NerdWallet, Americans paid $3 billion in late fees in 2019, separate and apart from interest charges. Delinquencies in the last four years increased by 22%. Of course, late payments incur additional costs that stem from higher APRs and lower credit scores.
Regarding late credit card payments, the study found:
Forty-six million Americans expect to miss a credit card payment in 2020. Delinquency expectations were higher for men than for women, higher for millennials than for boomers, and higher for low-income consumers than for high-income ones.
The main reasons for missing a credit card payment were (in descending order) forgetfulness (44%), short of cash (30%), the card charges no late fees (9%), traveling (9%), and being too busy (8%).
The bill that Americans most worried about missing was a credit card bill (29%), compared to a mortgage payment (26%), tax bill (18%), electricity (12%), auto loan (10%), and cable (5%).
People in the 18-to-44 age bracket were the most worried about missing a credit card payment. Folks in older age brackets worried more about paying their mortgage payment and their taxes.
The late fee policy of a credit card wasn't a factor in the decision of 49% of people when they selected a credit card. Women were 35% more likely than men to consider late fees.
Of the 43% of people who tried to get late fees waived, women outnumbered men, boomers outnumbered millennials, and high income outnumbered low income.
Of the 90% who successfully got late fees waived, men outnumbered women, boomers outnumbered millennials, and high income outnumbered low income.
Women, Republicans, and low-income people felt more irresponsible for incurring late fees than did men, Democrats, and high-income folks, respectively.
Importantly, these survey results were gathered before the onset of the coronavirus pandemic.
Impact of COVID-19 Pandemic
The NerdWallet survey measured responses regarding credit card usage in the early pandemic months of March and April 2020. The Consumer Financial Protection Bureau reported a study covering March through June 2020.
The NerdWallet survey found that 77% of American cardholders have seen their financial condition impacted by the coronavirus. Of these, 24% of respondents are attempting to pay off their outstanding credit card balances and 20% are paying down less than usual.
Approximately 31% of cardholders report that they would ask the card issuer for help if they couldn't make their minimum payment, while 42% said they would use their savings to make the payments.
In fact, about 16% of cardholders asked to enter a hardship program during the period of the survey. Of those, about 80% succeeded. About 90% of those who entered hardship programs saw a lower credit limit and frozen credit account. That same percentage was able to have their late fees waived.
The CFPB found that the CARES Act helped Americans reduce their credit card debt. The number of households entering delinquency actually declined during the study period. Simultaneously, the number of households seeking credit card hardship relief spiked higher in the second quarter of 2020.
What if I'm Declined for a New Credit Card?
If an issuer declined your application for a credit card, it will send you an Adverse Action Notice listing risk factors that pertain to you.
Adverse Action Notices
When you apply for a credit card, Regulation B of the Equal Credit Opportunity Act requires a response within 30 days. If the issuer denies your application, it must provide a written adverse action notice (or declination letter) by the response deadline.
Adverse action notices may provide two types of possible responses:
Disclosure of the main risk factors for why the application was denied, or
The applicant's right to request the reasons for denial within 60 days after receiving the declination letter.
The information you are entitled to includes:
The identity of the major credit bureau that provided the credit report on which the declination was based.
Your credit score and the scoring system used, or the judgmental system used if the credit score is ignored.
Reasons for the denial (i.e., the risk factors).
Notification that you can get a free copy of your credit report within 60 days.
Notification that you can dispute the information on which the declination was based.
The adverse action notice is valuable because it tells you which items, such as late payments, need to be addressed.
Risk Factors
The regulations encourage the card issuer to disclose up to four risk factors that contributed to its denial of your credit card application. Typical reasons include:
Your credit score is below the issuer's required minimum.
Your history of late payments.
High credit utilization ratio.
Insufficient credit history.
Too many applications for credit or hard inquiries for your credit report.
Foreclosures, short sales, charge-offs, collections, or bankruptcies.
You have too much debt with the issuer.
The regulations advise against providing more than four risk factors lest it proves confusing to the applicant. On the other hand, providing only one or two factors when other ones also apply can lead to future difficulties.
If your application is declined, consider taking the steps that we laid out in the section Can I Get a Credit Card with a History of Late Payments? In addition, understand the five factors that determine your FICO score and how to use that knowledge to raise your score: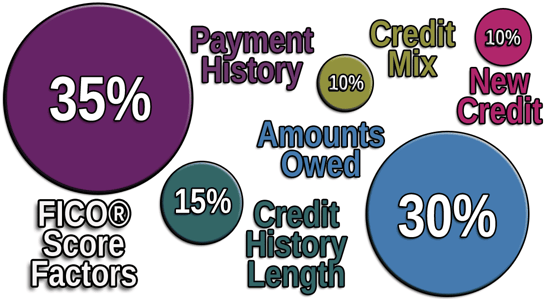 Payment History (35% of score)
This is the dominant factor dictating a creditor's attitude toward granting you credit or a loan. Several types of events in your payment history can crater your credit score and linger on your report for seven to 10 years, including late payments, collections, write-offs, bankruptcies, short sales, and foreclosures. Medical late payments are not included in this category.
Your credit score should benefit If you can avoid late payments and the consequences that typically follow. So try to always pay your bills on time and to pay at least the minimum required amount.
Amounts owed (30%)
This factor deals with the amount of credit you use compared to the credit available to you (i.e., your credit utilization ratio, or CUR). This measure pertains to unsecured revolving credit accounts, such as credit cards. Ideally, you would like to have a CUR below 20% to improve your score, but values up to 30% are OK.
You can improve your CUR by avoiding new debt and paying down old debt. It also helps to prepay your installment loan and reduce the number of credit accounts carrying balances.
Length of credit history (15%)
FICO credit scoring models reward you for having a long credit history, which shows you have experience dealing with financial matters. Your score depends partly on the ages of your oldest and newest accounts, as well as the credit card account average age.
You don't benefit from unused accounts, so it pays to occasionally use all of your credit cards, not just your current favorites.
Credit mix (10%)
This is a minor factor that rewards you for maintaining a variety of different account types, including credit card accounts, a personal loan, a student loan, a mortgage loan, retail accounts, and finance company accounts.
Don't open extra accounts just to increase your credit mix. But know that if you do legitimately need a new account type, your credit score may benefit.
New credit (10%)
You want to avoid opening too many accounts within a relatively short time period (i.e., three to six months). Opening or applying for numerous accounts within a short period will make it look like you are desperate for credit and, therefore, less trustworthy. The effect is aggravated if you have a thin credit history.
Too many hard inquiries within a 30-to-45-day period can also hurt your credit score. Hard inquiries occur when you try to open a new credit card account, and each one may drop your score by five to 10 points. You can avoid most of the damage when you are rate-shopping by confining related hard inquiries to a 45-day period.
Review the Best Credit Cards if You've Had Late Payments Carefully Before Selecting One
In our review of the 11 best credit cards if you've had late payments, we've identified seven unsecured and four secured cards that may approve your application despite having a history of one or more late payments. Only payments that were at least 30 days past due will appear on your credit reports and hurt your credit score.
The cards in this review offer a variety of features and costs. Choose the one that most closely suits your lifestyle needs, whether its ease of acceptance, low APR, low fees, benefits, or rewards. If you can't snag a traditional unsecured credit card, know that almost anyone can get a secured card, notwithstanding your past transgressions.
And remember, a minimum payment is always preferable to no payment at all. Following these guidelines will ensure you have no trouble being approved for a great credit card in the future.
Advertiser Disclosure
BadCredit.org is a free online resource that offers valuable content and comparison services to users. To keep this resource 100% free for users, we receive advertising compensation from the financial products listed on this page. Along with key review factors, this compensation may impact how and where products appear on the page (including, for example, the order in which they appear). BadCredit.org does not include listings for all financial products.
Our Editorial Review Policy
Our site is committed to publishing independent, accurate content guided by strict editorial guidelines. Before articles and reviews are published on our site, they undergo a thorough review process performed by a team of independent editors and subject-matter experts to ensure the content's accuracy, timeliness, and impartiality. Our editorial team is separate and independent of our site's advertisers, and the opinions they express on our site are their own. To read more about our team members and their editorial backgrounds, please visit our site's About page.