BadCredit.org's popular "How-To" series is for those who seek to improve, rebuild or better understand their subprime credit rating.
So maybe you've been less-than-awesome with your credit card usage in the past, but, believe it or not, this is a very common situation. In fact, 30% of Americans have bad credit and are trying to re-establish their financial situations. These consumers may find that their options are limited for credit cards and loans, which is counter-intuitive to getting back on track.
Not only that, but a good number of people have no credit, which can be just as bad when trying to get a credit card. No matter your situation, however, responsibly using a credit card to build credit is a method that can bring those credit scores up and help you join the ranks of people considered a good credit risk. Both secured and unsecured cards can play a role in that plan, and we've chosen the best options for you to read up on.
Unsecured Cards (10) | Secured Cards (3) | How to Build Credit
Top 10 Unsecured Cards to Help Build Credit
If you've struggled with responsible credit use in the past, or are new in establishing a credit history, you may be thinking that an unsecured credit card is out of your reach. Unsecured cards (unlike "secured" cards), do not require you to put down the exact amount of the credit line you need access to as a deposit. You are usually free to access most – if not all – of your credit line right away, without setting all that money aside as security against non-payment.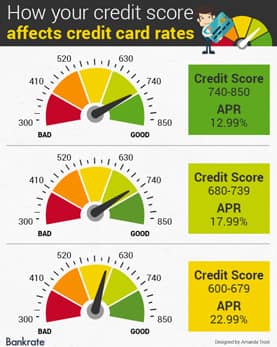 The good news is that banks are often able to approve riskier consumers for the coveted unsecured card by requiring that they pay higher annual fees, other fees, application fees, or even annual percentage rates (APR) on borrowed funds. You may have lower initial credit limits, as well.
With time, however, you can use these cards with high interest rates as a tool to re-establish good credit habits and build a history that will earn you the right to apply for cards with better terms and rates later on.
Here are some of the best unsecured credit cards for getting started on your credit-building journey.
Because the First PREMIER Bank Mastercard reports credit card activity to the credit reporting agencies every month, it's a simple way to start building credit activity on your history right away. In addition, your account can be considered for a credit limit increase 13 months after your account is opened. (A credit limit increase fee in the amount of 25% of the amount of the credit limit increase applies.)  All offers subject to available credit. Deposit may depend on your credit.
Find out if you qualify for the Fingerhut retail credit card within five minutes of applying. Account holders will receive a line of credit to purchase from the popular home goods retailer right away. There are no application or annual fees for this card — but understand that the Fingerhut card can only be used at Fingerhut stores and its few select partners. (See complete WebBank/Fingerhut Advantage Credit Account Terms and Conditions.)
The Total VISA Credit Card is accepted almost everywhere. You'll need a checking account and an $89 application fee to get started, but approved consumers will have access to an initial credit limit of $300.
Build good credit fast with the First Access Visa Card that reports to all three agencies. An activation and annual fee apply to this card, but you are eligible for an increase in available credit as soon as six months after you are approved. Deposit may depend on your credit.
The First PREMIER Bank Gold Card allows you to begin tracking your credit with a free FICO Score, available with your first card statement and provided regularly after that for free. You can use the card anywhere Mastercard is accepted, subject to available credit. The application takes about nine minutes to fill out; responses are generally given in 60 seconds. Deposit may depend on your credit.
The First PREMIER Bank Credit Card may not require a deposit, depending on your credit profile. The credit card account has varying annual fees, depending on your total credit limit (which ranges from $300 – $500). You may qualify for a credit line increase 13 months after the accounts is open (fees apply).
The Indigo Platinum Mastercard is ideal for consumers with poor or no credit looking to establish or rebuild their credit. Annual fees for the card vary from $0 to $99/year, dependent upon your credit profile.
A quick application and a quicker application response make the PREMIER Forward Mastercard a popular card for those trying to rebuild credit. Only you can build a good credit history. Make your payments on time each month and keep your balance low relative to the credit limit for positive marks on your credit report each month. It is universally accepted at locations that use Mastercard services, subject to available credit.
This Credit One Bank Platinum card allows you to apply without leaving a negative mark on your credit history. Qualified applicants will get 1% cash back and a variety of modern card designs to choose from.
Featuring a lower interest rate than many other cards on the list, the Milestone Mastercard also gives you a zero-fraud liability protection you can feel safe using. Sign up for text alerts and never miss a payment — the most important step in building good credit with a credit card.
Top 3 Secured Cards to Help Build Credit
Unlike our unsecured credit card picks above, a secured card will not be issued without having some kind of cash deposit available to help reduce the risk of you not paying back the account. These are most common for people with several negative marks, legal actions, or bankruptcies on their credit reports. They are the only way many people are able to get back on track with their credit.
This list features the top secured cards designed to help you rebuild your credit history and score.
Get a credit line of up to $5,000 with a spectacular interest rate of under 10% for qualified cardholders. The Green Dot primor® Visa® Gold Secured Credit Card also features no minimum credit score requirements.
Pay off this card's balance and get your deposit back at any time. The First Progress Platinum Elite Mastercard is available only in select states.
Know in minutes if you are approved for the First Progress Platinum Prestige card, which features the Mastercard logo and is good wherever Mastercard is accepted. Use it to build your credit with the necessary perk of monthly credit reporting.
How to Properly Use a Credit Card to Build Credit
The cards listed above are designed for those with poor or no credit, which makes them a great way to practice responsible credit card use and build a credit history to be proud of. There are a few rules you will want to follow when using them to get the biggest bang for your credit card buck.
Ensure that your usage is reported to the credit bureaus. Reporting to all three agencies is the best situation, and many cards offer these services to TransUnion, Experian, and Equifax as another perk for cardholders. MagnifyMoney.com suggests that you use your card each and every month (even in the smallest amounts) so there is new activity reported on every billing cycle.
Pay your balance in full each month. Even with the usually higher interest rates that these types of cards charge, you should not be concerned. You will be paying everything down to zero every 30 days, according to ReadyForZero.com. If you can't pay in full, be sure to always pay before the due date, as on-time payments account for 35% of your FICO Score.
Keep your inquiries to a minimum.  Did you know that every time you apply for credit, you are risking an inquiry into your credit report? Over time, this can cause your credit score to fall, so only do this when absolutely necessary. You can also choose to apply for cards that use a "soft" inquiry and won't ding your history (like many mentioned above).
Check your credit history regularly. With the chance to check your credit report from each of the three major bureaus for free, you'll always have the opportunity to examine your accounts and make sure things are reported properly. The Budgetnista suggests that you might want to space them out so that you can see your credit picture over the entire year.
Keep your credit utilization low. We recommend keeping your balance below 30% of its available credit limit at all times, especially if you keep a balance from month to month.
Anyone can work to steadily rebuild their credit over time by following these five simple principles and demonstrating good credit behavior.
There's Not a Fast Fix — Rebuilding Credit Takes Time
It likely took you some time to get into a bad position with your credit, so it only makes sense that repairing it will take some time, too. Be patient with the process, do your research, and know that you are not alone.
If you need a fast fix, say, if you have a large purchase coming up that requires credit approval, many people turn to the help of a credit repair service to get the quickest results possible. Credit repair services can work on your behalf to remove credit report errors and past negative marks to get you back on track before you know it!