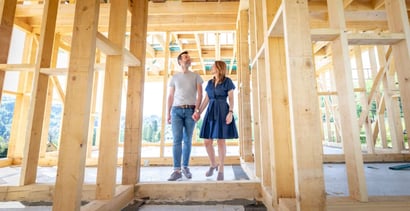 Imperfect credit need not prevent you from constructing, rehabilitating, or renovating your home. Even with a low credit score, you can qualify for a conventional or government-backed construction loan. 
This article reviews both home loan types and addresses several questions prospective home builders frequently ask.
Subprime Government-Backed Construction Loans
The following federal agencies provide government backing for construction financing. Sometimes, they also provide direct loans without a private construction lender. The agencies may also back manufactured home loans.
1. Federal Housing Administration (FHA)
An FHA construction loan can be viable if you plan to build a new home or renovate an existing one. You must have a minimum credit score of 500 and the funds for a 10% down payment.

You need to put down only 3.5% if your bad credit score is 580 or higher. The agency requires a debt-to-income (DTI) ratio no higher than 43% — but accepts 50% in rare cases.
The FHA guarantees construction-to-permanent loans that cover the costs of buying land, building a home, and paying the lender fees. The agency also offers 203(k) rehabilitation loans to buy, renovate, or refinance a fixer-upper.
Loan amounts cannot exceed your area's FHA construction loan limits.
2. U.S. Department of Agriculture (USDA)
The USDA guarantees construction-to-permanent loans that require no down payment. A property must reside in a rural area (as defined by the USDA), and this home loan lets you build and finance a home's construction and purchase in one transaction.

USDA construction financing doesn't impose credit requirements, but most lending banks look for a FICO score of 640 or higher. The DTI ratio ceiling is 41%, and loans require a 1% upfront fee and an annual guarantee fee of 0.35%.
Your total income cannot exceed the USDA construction loan limits for the county of residence. 
3. Veterans Administration (VA)
VA construction loans are available for service members and veterans. These loans disburse piecemeal payments as the work progresses. You don't need to make a down payment or purchase private mortgage insurance, and, in some cases, you can avoid the VA loan funding fee.

You must obtain a certificate of eligibility from the VA to qualify for a loan. The VA guarantees construction-to-permanent loans and construction-only loans. The agency doesn't require a minimum credit score, but your DTI ratio shouldn't exceed 41%.
The VA must approve your construction plans and choice of builder.
Subprime Personal Loans You Can Use For Construction
The following loan-finding networks can get you a personal loan of up to $35,000. You can use the proceeds for any purpose, including small construction projects as well as home rehabs or renovations. These loans are unsecured, shielding your property from foreclosure. 
24/7 Lending Group is a loan-finding network that can quickly match you with a personal loan around the clock. You repay these loans in monthly installments for three months to seven years. 
You can prequalify for an installment loan even if you have poor credit because 24/7 Lending Group doesn't check your credit history before connecting you to a lender. Direct lenders within the network offer loans as high as $35,000, but poor credit may reduce the maximum amount you can obtain.
SmartAdvances.com is a savvy choice when seeking loan offers from multiple direct lenders. This loan-finding service requires a monthly income of at least $1,000 to prequalify for a personal loan. The maximum loan amount, $20,000, may be enough to finance construction or renovation projects.
You can prequalify for a personal loan at no cost and without a credit check. SmartAdvances.com belongs to the Online Lenders Alliance (OLA), which advocates for a fair credit policy consistent with federal law. 
BadCreditLoans.com has been connecting borrowers to direct lenders since 1998. It can provide a broad range of personal loan options and authoritative formation about predatory lenders.
BadCreditLoans maintains a network of lenders that cater to subprime borrowers. A single loan request application can earn you multiple loan offers of up to $10,000 with next-day funding. The company also protects your information with advanced encryption technology.
PersonalLoans.com uses an advanced algorithm to evaluate each loan request before circulating it to the company's lending network. The maximum loan amount is $35,000, which may be enough to build a garage or renovate a kitchen.
To prequalify for a personal loan, you must have a full-time job, be self-employed, or receive regular disability or Social Security benefits. Most loans require a valid checking account. You might not qualify if you have certain financial red flags, including payments more than 60 days late, active or recent bankruptcies, a pattern of overdue payments, debt that current income cannot cover, or recently charged-off accounts.
What Is a Construction Loan?
Construction loans are specialized financial products for building or significantly renovating a home. The two major types of construction loans are construction-to-permanent and construction-only.
Construction-to-Permanent Loans
This loan type combines a construction loan and a permanent mortgage into a single loan. During the initial construction phase, you usually only pay the interest on the loan. Once construction finishes, the lender converts (or rolls over) the loan into a standard mortgage.
You go through the loan application and closing process only once, which can save time and money. These loans assure a fixed mortgage rate after construction finishes.
Construction-Only Loans
This loan type solely covers the construction costs. After construction finishes, you must take out a separate mortgage to repay the construction loan (unless you plan to pay with a lump sum of cash).
Construction-only loans offer flexibility, which may be vital if you want a different type of mortgage after construction. You may favor this loan type if you think your financial situation or bad credit score will soon improve and expect to get better mortgage terms. These loans also make sense if you expect interest rates to drop by the end of home construction.
| FEATURE | CONSTRUCTION-TO-PERMANENT LOANS | CONSTRUCTION-ONLY LOANS |
| --- | --- | --- |
| Nature of the Loan | Combines construction loan and permanent mortgage into a single loan | The construction phase may have a different rate than the subsequent mortgage |
| Number of Closings | One-time close | Two-time close (one for construction and another for a potential mortgage loan) |
| Interest Rates | Locks in mortgage rate for both construction and permanent financing | Construction phase may have a different rate than the subsequent mortgage |
| Duration | Longer term since it includes both construction and mortgage periods | Short-term, typically lasting the duration of the construction phase |
| Complexity | Simplified process with one application and one closing | Requires two separate approvals and two sets of closing costs |
| Flexibility | Less flexibility in changing mortgage terms after construction | Greater flexibility to shop for a different mortgage lender or terms after construction |
| Down Payment & Fees | Potential for a single down payment and one set of closing costs | May require down payments and separate closing fees for both phases |
| Risk for Borrowers | Reduced risk because of guaranteed permanent financing after construction | Chance of not qualifying for a post-construction mortgage loan or getting a mortgage with worse terms |
Each type of loan has advantages and disadvantages, depending on your circumstances. Research how both types will impact your particular financial situation, both short-term and long-term, before seeking a loan.
How Do I Get a Government-Backed Construction Loan?
We described the three primary sources of government-backed home construction loans — FHA, USDA, and VA. Each of these loans has specific requirements, but they share similar application procedures.
The first step is to determine your eligibility for a government-backed loan. VA loans have the most specific qualification standards because you must be a military member or veteran. You also must pick a construction loan lender approved by the government agency guaranteeing the loan. 
The lender will work with the federal agency to help you satisfy all the application requirements, including filling out the often voluminous paperwork. Getting a pre-approval before starting a construction project is wise because you'll know the amount you can borrow. Pre-approval may also streamline the later stages of the loan process.

If you don't plan a DIY project, you must select a licensed builder or contractor approved by the federal agency. You should also decide whether you prefer a construction-to-permanent loan or a construction-only loan. Getting competing offers from multiple builders with solid reputations and experience can save you money.
The lender will evaluate your creditworthiness, the feasibility of the project, and the loan details. This process may require additional documentation and verification. The government agency may need to approve your construction plans and budget.
You can close on the home construction loan after completing the approval step. A construction-to-permanent loan has a single closing. A construction-only loan requires a second closing if you need a subsequent mortgage. 
How Do I Get a Personal Loan For a Small Construction Project?
You may want to consider a personal loan rather than a home construction loan if your budget is in the $10,000 to $35,000 range. Getting a personal loan is much faster since it requires minimal processing. Furthermore, an unsecured personal loan does not expose your home to foreclosure if you default.
An online lending network is the most efficient way to get a personal loan. Lender-matching services work with networks of direct lenders that have extensive experience funding subprime borrowers. Services typically prequalify you for a loan after you submit an online request form.
To prequalify, you must:
Be at least 18 years old
Be a US citizen or resident
Reliably collect a specified minimum amount of income or benefits each month
Have an active bank or credit union account registered in your name
Provide a Social Security number, bank account details, valid email address, and work and/or home phone numbers
A matching service will not perform a hard pull of your credit, and prequalification will not impact your credit score. The service will identify the most appropriate direct lenders and provide website links. You can then finish applying by disclosing any additional required information.
You must give the direct lender permission to access your credit report (through a hard inquiry) from one of the major credit bureaus — Experian, TransUnion, or Equifax — unless you prefer a no-credit-check loan option. The lender will retrieve your credit report, evaluate your application, and likely return a decision in seconds.

If the lender approves your application, it will provide you with a loan agreement that specifies the rates and terms. You should read and understand the terms before accepting a loan. You are not obligated to accept the offer.
You'll need to e-sign the agreement to accept the loan offer. Your bank account should receive the loan proceeds within one to two business days. The lender can automatically debit your bank account to collect the loan payments with your permission.
The loan term generally ranges from three to 72 months. You can usually repay a personal loan without a penalty, and loan networks don't charge anything.
What Is the Lowest Credit Score Accepted For a Construction Loan?
The FHA will accept credit scores as low as 500. The problem is that the FHA is not the lender, only the guarantor. The lending institutions originating these loans have their own credit minimums and likely require scores of 640 or higher. The USDA and VA do not have any minimum score requirements, but they are only guarantors, so the same problem arises.

Subprime borrowers may have better luck with a personal loan network. The networks deal with consumers of every credit stripe, providing multiple options for borrowers with low credit scores. 
You can use a cosigner to compensate for poor credit. A cosigner with good credit can create opportunities to borrow that otherwise would be out of reach. The typical lender (but not credit card provider) welcomes cosigners to reduce default risk. Consider recruiting a cosigner to help you get a loan with a lower interest rate and better terms.
Can I Use a Construction Loan to Buy Land?
You can use a construction loan to buy land, but success often depends on the type of construction loan and the lender's policies.
Many construction loans finance the purchase of the land and the construction of the new home atop that land. In such cases, the loan covers the land purchase upfront, followed by additional payments as the project achieves certain milestones.
Construction-to-permanent loans start as construction loans that pay for land purchases. Once the construction phase finishes, it converts to a traditional mortgage. 
Some lenders offer "land-only" or "lot" loans if you want to buy a piece of land but aren't ready to build immediately. These loans may have different terms, interest rates, and requirements than construction loans. Once you are prepared to build, you may refinance the land loan into a construction loan or obtain an additional loan for construction.

Lenders typically require a larger down payment for combined land and construction loans than for a standard mortgage because lenders consider these loans riskier. Requirements vary, but down payments of 20% to 30% of the total project cost (including the land purchase price) are common.
When you use a construction loan to buy land, the lender typically requires an appraisal to determine the value of the land and the expected value of the completed project. This practice helps the loan provider decide how much to lend.
Consider how soon you plan to start building if you're considering a construction loan to buy land. If a significant gap exists between land purchase and construction, a land-only loan followed by a separate construction loan may be your best option.
How Do Personal Loans Compare to Government-Backed Construction Loans?
You can secure funding for your construction project through personal loans or government-backed loans, but that is about where their similarities end. Your project needs and financial situation will determine which one is best for you.
The following chart compares the two types of loans:
| FEATURE  | PERSONAL LOANS | GOVERNMENT-BACKED CONSTRUCTION LOANS |
| --- | --- | --- |
| Collateral | Typically unsecured – no collateral necessary | Secured, with the home and land as the primary collateral |
| Purpose | You can use them for various purposes | Specifically for constructing or renovating a home, possibly including land purchase |
| Loan Amount | Typically lower than construction loans | Often larger than personal loans, based on the projected value of the completed home  |
| Interest Rates | Vary by lender and credit score | Competitive rates due to government backing but may change as the project progresses |
| Duration | Typically, three to 72 months | Typically 15 to 30 years plus construction period |
| Approval Criteria | Credit score, income, and DTI ratio | Credit score, income, value of the project, builder's reputation, and other standard mortgage criteria |
| Down Payment | Typically, there is no down payment, but  the loan can include an origination fee | Often required, ranging from 2.5% to 20% or more of the project's total cost |
| Risks | Defaults can lead to credit score damage, collections, and lawsuits | Defaults can lead to foreclosure and loss of the home. Interest rates can change between construction phases. |
You may favor the personal loan option for relatively modest construction projects due to its lower risk profile.
Build Your Future With a Construction Loan
A construction loan can fuel a meaningful change to your lifestyle. You can use one to buy land and build the home of your dreams. A personal loan is an excellent option for small projects because it is available without a lengthy waiting period and possibly with no credit check. Moreover, a personal loan sidesteps the risk of foreclosure if you default.
Advertiser Disclosure
BadCredit.org is a free online resource that offers valuable content and comparison services to users. To keep this resource 100% free for users, we receive advertising compensation from the financial products listed on this page. Along with key review factors, this compensation may impact how and where products appear on the page (including, for example, the order in which they appear). BadCredit.org does not include listings for all financial products.
Our Editorial Review Policy
Our site is committed to publishing independent, accurate content guided by strict editorial guidelines. Before articles and reviews are published on our site, they undergo a thorough review process performed by a team of independent editors and subject-matter experts to ensure the content's accuracy, timeliness, and impartiality. Our editorial team is separate and independent of our site's advertisers, and the opinions they express on our site are their own. To read more about our team members and their editorial backgrounds, please visit our site's About page.