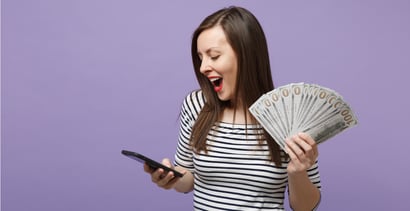 The best cash advances online with fast approval can help you find a short-term cash advance loan that even a bad credit score shouldn't prevent you from qualifying for.
The lending services we review below don't provide the loans themselves but help consumers with bad credit apply for a cash advance loan through their networks of direct lenders.
After filling out a short online loan application, an applicant may then be sent to a direct lender's website, where they'll complete the loan application process. If their loan is approved, the money can be deposited in their bank account by the next business day.
Online Cash Advances With Fast Approval
The seven cash advance lending networks that we review below cater to consumers with a poor credit history. Loan approval is often fast because the lenders the networks partner with are competing for your business. It is worthwhile to review each loan offer you receive and not go with the first lender that makes you a loan offer.
Short-term loans up to $5,000
Online marketplace of lenders
Funds available in as few as 24 hours
Simple online form takes less than 5 minutes
Trusted by more than 2 million customers
| Loan Amount | Interest Rate | Loan Term | Loan Example |
| --- | --- | --- | --- |
| Up to $5,000 | Varies | Varies | See representative example |
MoneyMutual offers a cash advance of as little as $100. That may be enough to keep you afloat until your next paycheck arrives and you can repay this type of instant payday loan. It also helps people get loan amounts of up to $2,500 if they need to tackle bigger expenses and need longer than a pay period to repay the online loan.
CashUSA.com has a higher minimum loan amount, at $500, and goes as high as $10,000 if you need to pay a major hospital bill or need an installment loan with a longer repayment period. Loan terms range from 90 days to 72 months, so you can find a loan with a monthly payment you can afford.
BillsHappen says that every online loan application it receives is reviewed instantaneously by lenders to determine whether they'd like to work with you. If they do, you'll be redirected to their website to complete the lender's forms, review the loan terms, and accept the loan if you agree to it. The cash can then be deposited into your bank account as soon as the next business day.
CreditLoan.com works with lenders that provide cash advance loan amounts from $250 to $5,000 with terms of three to 60 months. The website has a wealth of information to help borrowers determine the cost of a loan, including a personal loan calculator to figure out the monthly payment.
BadCreditLoans.com connects consumers with loans from $500 to $10,000. The site clearly explains how a fast cash loan works and makes it easy to understand what the annual percentage rate, or APR, may be on a loan. Its lending network partners charge from 5.99% to 35.99% APR and offer loan terms of three months to six years.
A borrower can be matched with a quick loan of up to $35,000 through PersonalLoans.com. That isn't exactly a cash advance since your next paycheck is unlikely to be for that much cash. Instead, it's an installment loan that may require having a better credit score than if you were seeking a smaller cash advance loan.
CashAdvance.com is a true payday loan lending network that can provide a cash advance on your next paycheck. Instead of offering a larger and longer installment loan that can be repaid over years, it helps borrowers get a payday loan from $100 to $1,000 that is due in 15 to 30 days. Interest rates start at 400%, which is much higher than the 36% cap for most installment loans and should only be used as a last-resort option for borrowers who are short on cash until their next paycheck arrives.
What is a Cash Advance Loan?
A cash advance loan is a small, short term loan that's usually meant to get a borrower to their next payday. It is not a long-term solution to your financial needs.
An unsecured loan only requires your signature on the loan documents. It's not like a secured loan that requires collateral, such as the car you're buying with a car loan, that the lender can repossess if you don't repay the loan.
While a cash advance loan doesn't necessarily have the same high interest rates as a payday advance, it is similar to a payday loan in that the loan is due in a few weeks or months.
A cash advance loan can be due in a week or two when you get your next paycheck or government benefit check. Quickly paying off an instant cash advance can prevent you from going into long-term debt for what should be an emergency loan.
Still, an online cash advance is a loan that will usually have a higher interest rate than a personal loan with a longer loan term, such as an installment loan that can allow six years to repay. The interest rate is higher because cash advance borrowers often don't have a high enough credit score to qualify for an installment loan, so the lender compensates for that risk with a higher interest rate.
The lending networks we recommend all offer short-term loans. Repayment periods of 90 days are common, so you can repay the loan in a few months instead of having to rush and pay it off within a few weeks.
Qualifying for a longer loan term may require having a higher credit score. The monthly payments on an installment loan may be less than for a short term loan because the payments are spread over a longer time frame. However, the overall cost of the loan can be a lot higher because you're making payments on the loan for a much longer period.
If you're unsure whether you want a short cash advance loan or a longer loan for a year or more, you can see what you qualify for by submitting the online loan application form. Lenders may offer you both types of loans, or only one of them. Either way, you may get a better idea of what you qualify for and can then choose the loan that's best for you.
How Do I Apply For a Cash Advance Online?
The loan application process for an online loan is relatively simple. It can vary by lending network, but it basically starts by asking for your identifying information and can be filled out within a few minutes.
You may also be asked about your income, including how much you earn per month, how often you're paid, and whether your paycheck is sent to your bank account through direct deposit by your employer. A monthly income of $1,000 is needed to qualify and can come from a job or government benefits.
The first part of the loan application process may lead to preapproval for a loan request. If you're preapproved, you may then be sent to a lender's website to fill out an application with more information, including details about your employer and bank account, before loan terms are proposed to you.
Cash from your loan can be sent to your bank account within 24 hours if you agree to the loan terms.
The lender matching service provided by the lending networks is free. You may be connected with several lenders, which can save you time from filling out multiple loan applications on your own.
Is an Online Cash Advance a Payday Loan?
Not necessarily. All the lending networks we recommend can provide you with an online cash advance, which is a type of personal loan. But only one loan option, CashAdvance.com, is an online payday loan marketplace.
The main difference is that a payday loan usually has a much higher interest rate than that of a cash advance loan. While its name implies that it helps borrowers find cash advance loans, CashAdvance.com is a payday loan network that provides payday advances with short terms, usually two weeks.
Its lenders charge from 200% to 2,290% interest on loans of $100 to $1,000. It gives the example of a $200 loan for 14 days costing $230 to repay, which is an effective 391% APR. The chart below shows the average interest rate charged for a payday loan in each state:

While not a type of secured loan, a payday loan is secured by your next paycheck. The lender must have access to your bank account to withdraw your loan amount if you don't repay on time.
An online cash advance can be considered a payday advance, but it doesn't mean your bank account and future paycheck are electronically linked to the lender. Some lenders may, however, ask for access to your bank account so they can automatically withdraw your payment on the due date.
How Fast Can I Be Approved For a Cash Advance?
Approval for a cash advance loan comes in two phases. The first is obtaining preapproval on the websites of the lending networks we recommend. Filling out an online application should only take a few minutes or less and only requires you to provide some basic information.
A credit check probably won't be required for this loan request. Once you hit the submit button, you may be approved within seconds.
Then begins the second phase, when you're sent to a lender's website to provide more detailed information on an application form. This may only take five minutes or so to complete.
The lender may do a hard credit check, which may lower your credit score for a few weeks. If you're approved for a loan and you accept the loan terms, the cash from your loan can be deposited into your bank account within 24 hours.
What's the Difference Between a Cash Advance and a Personal Loan?
Unless you're getting a payday loan with a two-week repayment term and a high interest rate in the triple digits, then the main differences between a cash advance and a personal loan are the repayment term, the amount borrowed, and the interest rate charged.

A cash advance loan is usually for three months or less and is often for about $1,000 or less at an interest rate as high as 36% for someone with bad credit. It's a type of personal loan, though it's often called a cash advance because it's meant to be an advance of your next paycheck.
Another loan option is a personal loan. It's usually an installment loan that can take months to years to repay, sometimes as long as six years. Each monthly payment is the same amount, which makes it easy to budget for. A personal loan can be for as much as $35,000 through the lending networks we recommend.
Depending on your credit score and other factors, a personal loan can have an interest rate much lower than a cash advance loan.
What Credit Score Will I Need For Approval?
The loans we've discussed are meant for people with bad credit. That's considered a FICO credit score of 580 or lower on a scale of 300 (worst) to 850 (best). You may still qualify for a bad credit loan with a FICO Score of 580 or less.

A cash advance loan allows for a lower credit score than an installment loan, though lenders don't say exactly what those score ranges are. Because lower scores are allowed, a cash advance loan will likely have a higher interest rate than an installment loan.
As far as repaying the loans, a short-term cash advance loan that's due on your next payday isn't reported to the three credit bureaus. You won't build your credit by repaying a cash advance loan on time in a few weeks.
Not paying it back on time, however, can lead to a delinquent loan that goes into collections. This will likely be reported to the credit bureaus and can lower your credit scores.
Long-term installment loans are usually reported to the credit bureaus. So making these payments on time can raise a score, just as late payments can lower it.
What's Required On the Loan Application?
Loan requirements differ by lender or lending network, so don't expect each to offer the same loan terms or have the same procedures for applying for a loan.
As we discussed earlier, two types of loan applications will usually be required to get a bad credit loan. The first is an application to prequalify through the lending networks we've reviewed, and the second is a lengthier application from the lender that's giving you the cash for the loan.
The basic information that a lending network may ask for includes your:
State of residence
Name
Email address
Phone number
When you get to the lender's website, you may be asked for more detailed information, such as:
Your main source of income
Whether you rent or own
If you're active military or a dependent of one
If you own your car and want title loan options
Monthly income
Bank account information to deposit your loan amount
How often you're paid
Employer contact information
If you're paid by direct deposit or paper check
Credit score range
Driver's license or state ID number
Social Security number and date of birth
These are some of the most common requirements of applicants, but each lender will have varying approval criteria.
Do I Need a Checking Account to Get a Loan?
Yes, a checking account is generally needed for an online loan. An online lender will need it to deposit your loan proceeds, which helps put the "instant" in an instant cash loan.
A checking account may also be required by a payday lender so it can withdraw funds when your next paycheck arrives to repay the loan.
Even if you've taken out an installment loan that will take a few years to repay, the online lender may want you to link your loan payments to your checking account so automatic payments are made every month.
Can I Get a Cash Advance on My Credit Card?
A cash advance on your credit card is another type of instant loan. If your credit card has an app on your phone, it may include a cash advance app to make getting an online cash advance easier.
Using a credit card for a cash advance loan comes with a few caveats. The biggest barrier to a cash advance loan from a credit card is that it will likely be at a higher interest rate than you'd pay with a traditional loan or possibly through a bad credit loan.
A cash advance on a credit card usually requires paying 25% interest, along with fees of around 5% of the cash advance. It's like paying an origination fee on a mortgage. Daily interest charges begin immediately.
Borrowing money on a credit card doesn't require approval, so you can get the money as quickly as you can get to an ATM. That makes getting cash for an emergency fast and easy, but it will likely cost you more to repay such a quick loan.

Small business owners that rely heavily on credit card charges can get access to quick cash through a merchant cash advance. It's an alternative to a small-business loan. It provides an upfront sum of cash in exchange for a slice of future sales.
A merchant cash advance can have APRs in the triple digits, making it an expensive type of quick loan that a business owner may regret.
Your Best Options for Cash Advances Online With Fast Approval
A poor credit history shouldn't stop you from applying for one of the best cash advances online with fast approval.
The lending networks we recommend work with lenders that specialize in helping people with bad credit quickly and easily get loans. The loans can be used for just about anything, from a $100 loan to help pay for groceries before your next paycheck arrives, to a few thousand dollars for debt consolidation.
Filling out a loan application only takes minutes, if not seconds, and you don't have to pay a fee to the lending networks for their services. If you prequalify for a loan, you may get multiple loan offers so you can choose the loan that works best for you.
Advertiser Disclosure
BadCredit.org is a free online resource that offers valuable content and comparison services to users. To keep this resource 100% free for users, we receive advertising compensation from the financial products listed on this page. Along with key review factors, this compensation may impact how and where products appear on the page (including, for example, the order in which they appear). BadCredit.org does not include listings for all financial products.
Our Editorial Review Policy
Our site is committed to publishing independent, accurate content guided by strict editorial guidelines. Before articles and reviews are published on our site, they undergo a thorough review process performed by a team of independent editors and subject-matter experts to ensure the content's accuracy, timeliness, and impartiality. Our editorial team is separate and independent of our site's advertisers, and the opinions they express on our site are their own. To read more about our team members and their editorial backgrounds, please visit our site's About page.