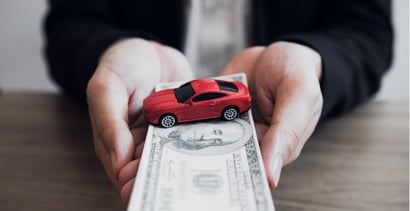 Most people think bad credit car loans are hard to find, and that a poor credit score means you are stuck with a car that stalls as often as it starts.
But since an auto loan is a form of a secured loan — meaning your new vehicle acts as collateral in case you stop paying your debt — many lenders are willing to look past your poor credit history to give you a second chance.
And given the large number of lenders in this space, you can leverage the competition to possibly get a better interest rate and a lower monthly payment than you may expect.
Top Three | Other Recommendations | FAQs
Top 5 Bad Credit Car Loans
Lenders today have made it easier than ever for consumers to apply and receive a bad credit auto loan. Instead of dressing up and heading down to a bank and hoping to impress a loan officer, you can now apply for an auto loan without even getting out of bed.
With the online lenders and lending networks below, you can submit a short loan request form and receive a credit decision in a matter of minutes. If you qualify, you can start the shopping process and, in some cases, have keys in your hand by the end of the day.
Network of dealer partners has closed $1 billion in bad credit auto loans
Specializes in bad credit, no credit, bankruptcy and repossession
In business since 1999
Easy, 30-second pre-qualification form
Bad credit applicants must have $1500/month income to qualify
| Interest Rate | In Business Since | Application Length | Reputation Score |
| --- | --- | --- | --- |
| 3.99% - 29.99% | 1999 | 3 minutes | 9.5/10 |
Auto Credit Express partners with dealers throughout the U.S. that all work with bad credit borrowers to help get them into the car of their choosing. You can start your car-buying process by filling out a short form on ACE's website.
If you qualify — even with a bad credit profile — a dealer in your area will contact you to set up an appointment to discuss your options and the available cars in your price range. In many cases, you can walk in and drive out the same day.
Qualified applicants can receive as many as five car loan offers within minutes of submitting a loan request to LendingTree. Each loan offer will come with a unique interest rate, down payment requirement, loan amount, and monthly payment amount.
If you find a loan that matches your needs, you can accept the offer and complete the loan paperwork the same day. Many approved borrowers complete the entire car-buying process in less than 24 hours.
RefiJet is solely a refinance option for existing auto loans. It does not offer loans for new car purchases. But if your current auto loan has a high interest rate, you could potentially lower your rate — and monthly payment — with a refinance loan from RefiJet.
RefiJet claims it can help car owners lower their car payments by an average of $150 a month by refinancing their current auto loan to a new loan with a lower interest rate.
You need only three minutes to complete a prequalifying form with Car.Loan.com. The network will then send your request to the largest online network of auto dealers trained in special finance. That means your credit rating may not hold you back from getting a new or used car.
The network also claims it works faster than any other network to get you into a car. While it says that most borrowers hear back from a local dealer within 24 hours, many receive a call within minutes of submitting their loan request.
MyAutoLoan.com partners with lenders that offer consumers a wide array of auto financing options — including refinancing options, new and used car loans, and lease buyouts.
Once you submit a short prequalifying form to the network, you can receive an email with up to four auto loan offers in a matter of minutes. Be sure to carefully study each offer because they all contain a unique loan term, payment amount, and annual interest rate.
Other Bad Credit Car Loans to Consider
What follows is a mix of direct lenders and auto lending networks that can help you obtain financing regardless of your poor credit score. Some operate solely online whereas others have locations throughout the country where you can go to select your new vehicle.
6. Carvana


Carvana provides a modern way to shop for a new or used car. Instead of walking the dealership lots while hoping to avoid those pesky salespeople, you can shop for your car online, apply for auto financing through the website, and even have the vehicle delivered to your home.
Carvana allows you to finance your purchase through an outside lender or directly with the network — which provides options for consumers who have a bad credit score. If approved, you can complete the entire loan process in as little as 10 minutes.
7. DriveTime

DriveTime has more than 135 dealership locations in 26 states that specialize in auto loans for consumers who have bad credit. Whether shopping on the lot or online, DriveTime claims it can approve most applicants in two minutes or less — and has done so for more than 4 million car owners since the company's inception.
The dealer tailors each credit application to the consumer's credit rating and even includes the required down payment for approval. With this information, you can shop more confidently while knowing that you are only looking at cars that fit your budget and price range.
8. LightStream

LightStream, a division of SunTrust Bank, provides fixed-rate multipurpose loans with interest rates that can range from 2.49% to 19.99% if you sign up for auto-pay. Depending on your creditworthiness, you could begin shopping for a new car that same day with a very competitive loan term.
LightStream is so confident that it offers the lowest auto rates that it will beat any competitor's offer by 0.10 percentage points if you find a better deal within 24 hours of funding your loan.
9. Carmax

Carmax maintains approximately 190 dealerships throughout the U.S. and offers in-house financing as well as partnered car financing deals with lenders who accept bad credit loan applications.
If you choose not to finance directly through Carmax, your dealer can also help you apply to other lenders, including Ally Auto, Capital One, Exeter, Westlake and Wells Fargo Auto. Whichever path you choose, Carmax can help you potentially receive bad credit car financing and get you on the road that same day.
10. Vroom

Vroom maintains a large online vehicle inventory and can help you apply for bad credit financing directly through the company — or through third-party lenders — from its website. If approved, you can shop for your car online and have it delivered to your doorstep.
Each vehicle comes with a free CARFAX® history report and a limited warranty. You will also have seven days (or 250 miles) to decide whether your vehicle is right for you. If you are not satisfied, Vroom will take the car back with no obligation on your end.
11. Capital One Auto Finance


Most people know Capital One for its catchy, "What's in your wallet?" credit card commercials — but the bank is also one of the largest auto loan lenders in the U.S.
And just like the bank's credit cards, Capital One offers auto loans to consumers of all credit histories. You can fill out a short form on the bank's website to receive loan preapproval and get shopping right away.
12. CarZing

With CarZing, you can receive loan preapproval without incurring a hard inquiry that can potentially damage your credit score. Once approved, you can even customize your monthly payment by modifying your down payment and loan terms through the lender's loan calculator.
CarZing also allows you to browse available vehicles in your area through a robust search engine that combines inventory from many local dealers.
13. Byrider

Byrider is a buy here, pay here dealer that offers same-day approvals — and most borrowers can qualify with no down payment at all.
And since you complete all of your car shopping and financing paperwork in the same building, you can complete the process faster and get on the road in a matter of hours.
14. RoadLoans.com

RoadLoans.com claims it has bad credit car financing packages for any type of consumer — even those who have a bankruptcy on their credit report. Through this lender, you can apply online for a new auto loan or you can attempt to refinance an existing auto loan, which can lower your monthly payment if you are approved for a lower interest rate.
You can also use RoadLoans credit education modules and calculators to better understand your options and learn more about the finance terms your dealer will throw around during negotiations. After all, preparation is important with any deal.
15. Autopay


Autopay maintains a network of lenders that offer new car loans and auto refinancing deals with rates as low as 1.99%. This loan marketplace connects with lenders from around the U.S. that can complete your loan paperwork online in a matter of hours.
When it comes to auto refinance loans, AutoPay claims its customers save, on average, more than $1,000 each year and lower their APR by more than 50%. That's a substantial savings over traditional auto lenders.
16. Tresl


Tresl allows you to prequalify online without needing to provide your Social Security number or incurring a hard inquiry on your credit report. You can even apply in minutes through your mobile device.
The network partners with several lenders throughout the U.S. and can provide loan decisions in a matter of minutes. You can use the network to search for new car loans as well as financing options for company car purchases, lease buyouts, or refinancing.
17. Ally Clearlane

Ally Clearlane can provide you with multiple loan offers in a matter of minutes through the bank's website or mobile application. You can also prequalify for a loan with no credit score impact and receive personalized loan options to choose from.
Clearlane says its customers experience an average total interest savings of $2,899 and have an average monthly payment savings of $117 thanks to its lower interest rates and flexible loan terms.
How Can I Get Approved for a Car Loan with Bad Credit?
Many lenders will consider your car loan application even if you have a bad credit score. This is because a car loan is a type of secured loan that uses the vehicle as collateral.
With a traditional unsecured personal loan, the bank has no recourse if you default or stop making payments. At best, it can sell the debt to a collections agency for pennies on the dollar.
But a secured loan has an item of value backing the debt — in this case, your vehicle. If you stop making payments, the lender can repossess the car and sell it to recoup some of the lost money from the unpaid loan.
This type of loan carries less risk for lenders, so they are typically more forgiving of your low credit score when considering an application.
All of the lenders listed above allow you to apply for an auto loan online through a desktop computer or mobile device. In most cases, you can receive a loan decision within minutes, thanks to online automated underwriting systems.
Some lenders — namely our top five reviewed companies — are online lending networks. This means you can submit one loan request that the network sends to several partner lenders on the network.


Taking advantage of this option allows lenders to compete for your business. It could also net you multiple loan offers to choose from.
You may also find local car dealership loan options, otherwise known as buy here, pay here dealerships. Some of these dealerships will not require a down payment and will finance the entire purchase price of the vehicle.
Other online lending networks may partner with dealerships throughout the country. When you submit a loan request, the network will pair you with a dealer in your area who will set up an appointment with you to go over your bad credit financing options and look at some cars on the lot that match your needs and credit situation.
In just about every case, these networks will accept your loan request and eventually hand you off to the lender you choose to work with. At that point, you will only work with the lender.
The network will not charge you for its services. Instead, it receives a referral fee from the lender if the deal goes through.
Once you connect with your lender, you will submit a formal finance application. This involves a full credit check that will include a hard inquiry for your credit report. The initial loan request typically uses a soft credit pull, which is why many lenders say they can prequalify you without harming your credit.
As long as nothing unexpected shows up on your official credit check, the lender will honor your prequalifying loan request and continue with the paperwork that finalizes your loan. This typically takes no longer than one hour.
In most cases, you can go from submitting your loan request to driving your new car within one business day. Many lenders can complete the entire process in just a few hours.
What's the Lowest Credit Score Needed For a Car Loan?
Your credit score is a very important factor in any type of loan you apply for. But, in the case of an auto loan, there is no minimum required score for approval.
Instead, lenders and the dealership's finance team will look at your entire credit situation when considering your application. In addition to your credit score, a lender will want to see that you have no current past-due bills, collections accounts, or outstanding tax debts to federal, state, or county agencies.
Many lenders that partner with the online lending networks in our top three choices claim they may even consider applications from a borrower who has bankruptcies on file.
That's because an auto loan is a secured loan. A lender knows that, even in the worst-case scenario, he or she can repossess your vehicle and make some money back if you stop making payments. As a result, you could qualify for a loan with a low credit score.
And your credit score may not be as bad as you think. Your FICO score will range between 300 and 850. Any score at or below 580 is considered poor. Anything above that number will fall into the fair (580 to 669), good (670 to 739), very good (740 to 799), and exceptional (800 to 850) range.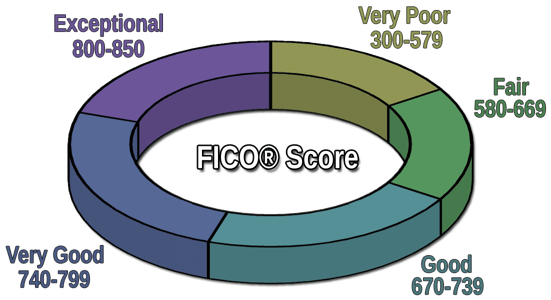 Still, some lenders will work with applicants who fall below a 580 score. While your credit score may not disqualify you from getting an auto loan, it will dictate how much your loan will cost.
Lenders use credit scores to place applicants into categories. Those categories determine the total cost of your loan, including the loan origination fee, interest rate, loan term, and other charges. The lower your credit score, the higher the cost of your auto loan.
These fees help offset some of the risk that lenders assume when approving bad credit car loans. While it may not seem fair, it is generally unavoidable.
How Can I Get a Car With Bad Credit and No Cosigner?
Most of the online lending networks above allow you to submit a loan request without incurring a hard inquiry that can potentially lower your credit score. That means you can apply through multiple lending networks without damaging your credit.
This is important to note because it allows you to shop around for a loan without leaving a trail of inquiries on your credit profile. It will also give you an idea of your available loan options.
With this information, you can gauge whether you can qualify for a loan on your own or if you will need a cosigner.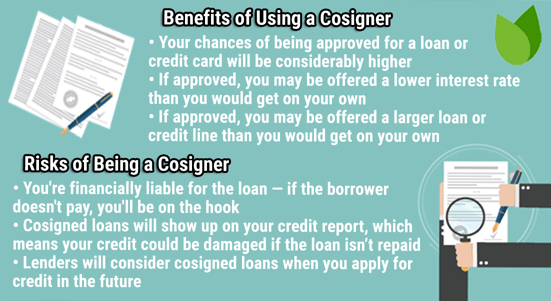 In many cases, lenders will accept your loan request even if you have bad credit. With so many online lenders competing for your business, a credit score that once would not have qualified for a loan is now acceptable to many lenders.
While you will likely have a higher interest rate and lower loan amount than someone who has good credit, the increased cost may be worth it for the safety and security of having your own ride.
If an online lender provides a loan offer that matches your needs, you can accept the deal and begin the process of completing the official loan paperwork. This can often take place online in a matter of hours.
Some networks will partner with car dealers in your area and can match you with a dealer who will set up an appointment to meet with you and go over each financing option open to you. With so many used vehicles available on the marketplace, dealers are motivated to make a deal and find a buyer — even if you have bad credit.
If you have recent late payments or collection accounts, you may have to consider a cosigner to get the best deal possible.
A cosigner is someone who has better credit than you do and who is willing to sign on to your loan to guarantee its repayment. This is a big responsibility because any late payments or defaults will hurt both of your credit scores. Only consider a cosigner if you know for sure that you can make all of your payments in full and on time. Otherwise, you may end up losing a friend or loved one.
What Happens When Your Auto Loan is Approved?
Whether you deal with an online lending network, a dealership's finance team, a bank, or a credit union, the process of finalizing a new or used car loan is the same.
Once you apply for the loan, you may receive a prequalifying loan term. This will tell you how much of an auto loan you qualify for so you can narrow down your vehicle search and stay within your allotted budget.
If you decide to skip prequalifying, you can apply online and shop through a virtual vehicle inventory or you can apply for a loan directly at the dealership.
Once your loan is approved, you will begin filling out the loan paperwork as well as the documents needed to place the car in your name. This typically takes around one hour to complete.
During this process, you will have to sign your name a lot. That is why it is important to understand everything you are agreeing to. This paperwork will include:
The Buyer's Order: This is the first stack of papers you will encounter. It is a summary of your agreement to purchase the car — including the agreed-upon price and any other details you negotiated.
The Bill of Sale: This is your official sales contract. Once you sign it, you are legally bound to the deal. This records all of the necessary information, including the vehicle type, make, model, year, color, and mileage. It will also include the buyer and seller's contact information, the purchase price, the date, and both of your signatures.
Your New Car Title: Once you sign this, the car is officially yours. This is the paperwork you will use to register your new car at the DMV.
This process can get monotonous. The dealer puts paper after paper in front of you and tells you to sign after every X and initial on every line.
Although you may be excited to get your new keys, do not zone out during this process. Signing documents makes you legally responsible for everything on that paper. If you do not understand what you are signing, you could be making a big mistake.
Is it Better to Get an Auto Loan From a Bank or a Dealership?
Getting a loan through a bank or credit union has some prestige in that there is a well-known name attached to the loan. If you have an account with that financial institution, you could find it easier to make your payment each month by simply transferring the money from your account to the bank.
Other than that, a bank or credit union loan isn't any more desirable than a dealership loan.
In many cases, a traditional financial institution may have higher interest rates on their loans. Since dealerships work with many different lenders, they can often shop your loan around to find the best possible offer — and the lowest monthly payment.
The following chart uses Experian data to show what the average auto loan interest rate is by credit score: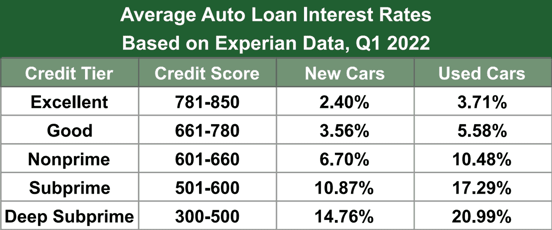 Some dealerships partner with local banks to offer special deals if you finance through the bank. While those deals may shave some money off the initial purchase price, you may end up spending more over the long run if your interest rate is higher than the average car loan interest rate.
Can a Loan Be Denied After Approval?
A lender can deny your loan application at any point before you sign the official loan paperwork. That includes after the lender preapproves your loan request.
In many cases, a lender or auto dealer will use a soft credit check to prequalify your loan. This gives them access to a modified version of your credit profile and provides just enough information to see whether you may qualify for the loan. It also will not place an inquiry on your credit history.
If you accept the lender's offer, you will submit a formal finance application. This will result in a hard inquiry and give the lender access to your entire credit profile. If the lender sees something that was not shown on the soft credit pull, you could lose your preapproval.
Prequalifying for a loan also comes with a time frame for accepting the loan. This rarely lasts longer than 30 days. If your credit score changes during that time, the lender can pull or modify the loan offer.
In short, nothing is guaranteed until you sign the paperwork.
What Credit Score Do Car Dealerships Use?
You have so many credit scores attached to your name that it gets quite confusing at times.
In addition to the score associated with each major credit bureau — TransUnion, Equifax, and Experian — you also have several FICO credit scores. FICO has eight different generations of its basic credit score as well as scores designed specifically for mortgage and auto lenders.
Most dealerships use your FICO Auto Loan score. But, not surprisingly, FICO has six different versions of its Auto Score model.

The reasons for all of the different scores are strictly financial. Every couple of years, FICO releases a new scoring model it claims is improved over previous models. Dealers have to pay a licensing fee to access this new model.
Most dealers pay a fee for a specific scoring model and stick with it for a long time because paying for a new scoring model every year can be costly.
As a result, you will find that dealers use different scoring models. Some use older models that they have used for years. Others may use a more recent version.
Your FICO Auto Score will range between 250 and 900 — which is different than the traditional 300 to 850 FICO score. According to Experian, the average American has a FICO Auto Score of 701.
If you decide to apply for a loan directly through a dealer, you should ask the dealer — or one of the dealership's finance experts — which score it uses. This will help you better understand your credit situation and potential limitations before you apply.
What Do Car Dealers See When They Run Your Credit?
A car dealer will access your credit report to see your full financial history for at least the last seven years. This shows your ability to borrow and repay the money on time. It also shows the dealer how much debt you currently have, which could limit your ability to pay new debts.
Your credit report also shows your history of address changes, paid-off debts, recent credit applications (also known as inquiries), as well as any charged-off or defaulted accounts.
Each loan or line of credit will show whether you have made any late payments. These will show as 30-day late, 60-day late, or 90-or-more-days late. The lender will not see any payments you missed by fewer than 30 days.

Even if you pay cash for your vehicle, a dealer will require you to undergo a credit check. Federal consumer protection and national security laws require that dealers verify the identity of buyers through a credit check. The Patriot Act also requires dealers to confirm the identity of buyers to counteract terrorists who may purchase a vehicle to launder money.
Other federal regulations, known as Red Flag Rules, require dealers to protect consumers against identity theft by verifying their identity through credit checks.
By law, a lender can not conduct a credit check under your name without your permission. When you shop in person, the dealer will typically require you to sign an official credit check notice. If you apply online, this notice will require a virtual approval or signature.
The dealer will need your Social Security number to access your credit report. Do not give this information — or any other sensitive personal data — to a dealer or lender unless you are prepared to purchase a vehicle and agree to a credit check.
If you hand that information over before you are ready, the dealer can run a credit check without you knowing. While it is not legal, it is also not out of the ordinary.
What are Red Flags For Underwriters?
Bad credit auto financing is different from traditional financing. Your average signature loan (also known as a personal loan) has no security backing the debt. If you stop making payments, the lender has no recourse other than to sell the debt to a collections agency for pennies on the dollar.
That is why unsecured loans are harder to qualify for if you have bad credit. But an auto loan is a form of secured debt. If you stop making payments, the lender can repossess your vehicle and sell it to recoup some, or all, of the money lost through the bad loan.
That makes these loans a little easier to qualify for. It also changes what lenders look for on your credit report.
A few things could make your application less desirable, regardless of your credit score. While every lender has different acceptance standards, most of these items are red flags for any lender.
A Pending Bankruptcy: Some lenders may consider your application even if you have a recently discharged bankruptcy, but you will have trouble finding a dealer or lender that will work with you if you have an active bankruptcy case. After all, no one wants their loan discharged without payment.
Recent Collection Accounts: If you stop making payments on a loan or credit card, the lender may sell your debt to a collections agency. This shows on your credit report as a collections account. Lenders will view these items as a major red flag. If you did not repay one loan, you are very likely to skip out on another.
Tax Debts: Although you may currently have the necessary income to repay your loan, ongoing tax debts — either federal, state, or county — could result in a lien that garnishes your wages and makes it difficult for you to make your monthly payment.
Recent Late Payments: Lenders always favor recent financial history over past history. They understand that people change and mistakes happen — they just want to see the mistakes in the past. If you have recent late marks on your loan payment history, a lender will likely question your ability to cover your current debts. Adding a new car loan to that load may make it even less likely that you will start a new trend of on-time payments.
Lenders all have different data they look for when reviewing applications. While one may look past recent late payments, another may completely disqualify you from them.
To make your application stand out, you should wait until any recent mistakes on your credit report are replaced with positive credit information before you apply for an auto loan.
What Credit Score Do You Need For Carvana?
Carvana's creative delivery services of new vehicles quickly made it a popular choice among car shoppers.
Carvana also has in-house bad credit car loan options. It has no minimum credit score requirement, but all applicants must make at least $4,000 per year and have no pending bankruptcies.
You can prequalify for an auto loan from Carvana on its website and begin shopping the dealer's online inventory immediately. Once you find a vehicle you like, you can complete your purchase paperwork online. Carvana will then deliver your vehicle to you for a fee, or you can pick it up at a nearby location.
You then have seven days (or 250 miles) to get to know the car. If you are not satisfied, you can return it with no obligation.
You can also apply for financing through an outside financial institution to purchase a vehicle through Carvana. According to the company, it currently does not work with the following lenders:
Road Loans (Citibank and Santander)
A+ Federal Credit Union
Metabank
Carfinance.com/Car Finance Capital
Ally Bank
Wells Fargo
Chrysler Capital
Ford Motor Credit
Honda Financial
Exeter Finance Corp
If you have any further questions about financing through Carvana, you can contact one of the company's finance experts at 1-800-333-4554.
Find and Compare Bad Credit Car Loans Online
Having reliable transportation has become more important than ever. Whether you are getting to work, taking your kids to school, or shopping for groceries, you need the freedom of your own vehicle to get things done.
And your credit score should not keep you from taking care of yourself and your loved ones. With the options listed above, you can find bad credit car loans and get on the road within hours. Now that is getting things done.
Advertiser Disclosure
BadCredit.org is a free online resource that offers valuable content and comparison services to users. To keep this resource 100% free for users, we receive advertising compensation from the financial products listed on this page. Along with key review factors, this compensation may impact how and where products appear on the page (including, for example, the order in which they appear). BadCredit.org does not include listings for all financial products.
Our Editorial Review Policy
Our site is committed to publishing independent, accurate content guided by strict editorial guidelines. Before articles and reviews are published on our site, they undergo a thorough review process performed by a team of independent editors and subject-matter experts to ensure the content's accuracy, timeliness, and impartiality. Our editorial team is separate and independent of our site's advertisers, and the opinions they express on our site are their own. To read more about our team members and their editorial backgrounds, please visit our site's About page.