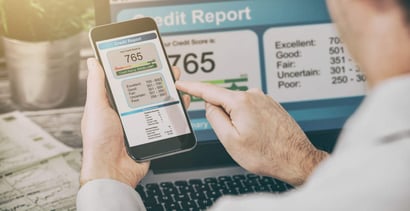 Enrolling in a credit monitoring service is one of the best ways to stay on top of your credit. These services offer daily or monthly Equifax, Experian, and TransUnion credit history and score updates, allowing you to stay on top of your financial health over time. 
By tracking changes, discrepancies, and any suspicious activity on your credit reports, you'll be better prepared to take immediate action if the need arises and make better decisions about your financial future.
This review of the best three-bureau credit monitoring services will cover highly rated services, each offering equally competitive features plus many extras you may deem worthy of the monthly fee.
Top-rated 3-Bureau Credit Monitoring Services to Consider 
It's important to note that free credit monitoring services, such as Credit Karma or Credit Sesame, don't monitor all three bureau's reports and scores. To get that level of monitoring, you'll have to choose a company and pay for its services. The following companies are well-known industry titans that offer three-bureau credit monitoring packages for a fee.
1. FICO® Advanced From myFICO – $29.95/mo.
FICO Advanced from myFICO is a top-rated subscription service that offers insights into all three major credit bureaus: Equifax, Experian, and TransUnion. It offers ongoing monitoring and incoming alerts whenever there is new report activity, such as newly created accounts and late payments.
One of our favorite things about this credit monitoring service is its credit score history graph, where you can check your score's progress over time. It also includes advanced identity theft monitoring, tapping into internet databases, public records, and other data sources across millions of websites to see if your personal information has been compromised.
Another critical aspect of FICO Advanced from myFICO is its score estimation tools. One tool allows you to see how different credit score events will affect your FICO score. For example, paying down an outstanding student loan or credit card balance, offers real-time scoring simulations across each major credit bureau, allowing you to strategically pay off debt. 
Lastly, this credit bureau monitoring service also offers up to $1,000,000 in identity theft insurance with experts on call 24/7 to help you recover.
2. Equifax Premium – $16.95 to $29.95/mo.
Equifax offers three 3-bureau credit monitoring and identity theft protection plans, but only the Equifax Complete Premier and Equifax Complete Family Plan offer VantageScore 3.0 credit scores.
Like other 3-bureau credit monitoring services, Equifax also offers several identity theft protection features such as automatic fraud alerts, credit report lock, $1M in identity theft insurance, and WebScan, which checks to see if personal information such as a Social Security number has been published to the Dark Web. It's another way Equifax offers peace of mind, all included in the cost of a subscription.
3. Credit Sesame Premium – $15.99/mo.
Credit Sesame has a free account that tracks your TransUnion data, but you can upgrade to its Premium model to review and monitor credit scores and report activity from Equifax, Experian, and TransUnion in one easy interface.
One of Credit Sesame's biggest draws is Sesame Grade, its proprietary grading system that assigns users a grade based on their credit score health, with individual grades for all five major factors affecting your credit — payment history, credit utilization, average account age, credit mix, and new credit. This breakdown allows you to identify problem areas you need to work on to build your credit.
Another aspect of this monitoring service we appreciate is its alert system, which keeps you posted on the latest changes to your score. Did you recently miss a payment? Have you recently paid down an outstanding balance? Automatic email notifications will keep you on top of the latest changes with recommendations on what to do next.
In short, Credit Sesame's 3-bureau reporting, scoring system, and intelligent alerts make it a great way to stay on top of your credit scores and reports. 
4. Experian CreditWorks Premium – $24.99/mo.
Experian CreditWorks offers 3-bureau credit reporting and scores through its premium subscription tier. This credit monitoring service tracks each credit report, including new credit inquiries, new accounts, account balance changes, and negative activity, with scores refreshed every month. 
CreditWorks Premium also comes with Experian CreditLock for enhanced identity theft and fraud prevention, including the ability to lock and unlock your Experian credit file. You'll also have access to a FICO Score simulator, which allows you to calculate estimated scores based on account activity such as by paying off an outstanding balance. 
Like most 3-bureau credit monitoring services, CreditWorks also comes with Dark Web monitoring and up to $1M in identity theft insurance. It even provides lost wallet assistance, automatically contacting creditors to cancel or reorder missing bank cards and identification cards such as driver's licenses and medical ID cards.
5. LifeLock Ultimate Plus – $34.99/mo.
Founded in 2005, IdentityForce and Identity Guard competitor LifeLock is arguably the most prevalent identity monitoring service out there. However, it's also well known for its 3-bureau credit monitoring through its Ultimate Plus subscription tier, which alerts you to all Experian, Equifax, and TransUnion report activity and credit scores using the VantageScores 3.0 model.
All changes to your credit files with each of the bureaus are monitored, including new account balances, updates to public records, credit inquiries, and closed accounts. We're also fans of LifeLock's comprehensive alerts and notification features, which include privacy monitors, dark web monitoring, stolen wallet protection, and even banking alerts that help you avoid fraud. This is nice to have in an age where gas pump and convenience store credit card skimmers are commonplace. 
You can save 29% off the monthly cost in the first year by signing up for the annual plan, which will set you back $239.88 (compared to $339.99).
What is Credit Monitoring?
Credit monitoring services such as LifeLock and Credit Sesame allow users to keep track of their credit reports and scores with the three major credit bureaus — Experian, Equifax, and TransUnion.
Standard features of credit monitoring services include incoming email or text alerts that advise borrowers whenever there are new changes to their credit reports, e.g., new accounts opened in your name, changes in account balances, or late fees. 

Some services, including FICO Advanced from myFICO, have simulators that allow you to explore how positive or negative account activity could affect your scores. Provide a scenario, such as paying down a credit card by $3,000, and FICO will automatically simulate a new score, allowing you to see how your score could change.
Another often overlooked benefit of credit monitoring services is identity theft detection and dark web monitoring. Your service provider can send automatic notifications upon detecting unauthorized access to one or more of your credit accounts. 
Additionally, dark web scanning searches the web to ensure your data is not compromised. Any compromised data, such as a published Social Security number, may trigger notifications, prompting you to change your passwords and other security settings.
In short, these services offer an excellent way to stay on top of your credit reports. Remember, the higher your credit scores, the better your borrowing terms across all lines of credit, including installment loans, credit cards, and mortgages.
How Much Does Credit Monitoring Cost?
The cost of credit monitoring depends on the provider and the level of service. Almost all have free one-bureau credit monitoring services, but upgrading to 3-bureau credit monitoring could cost you between $15.99 and $34.99 a month if you choose one of the services in this list.
For example, Experian offers two plans — CreditWorks Basic (free) and CreditWorks Premium (paid).
Its Basic plan only provides an Experian VantageScore, updated monthly. Experian Premium offers Experian, Equifax, and TransUnion credit monitoring (Experian scores are updated daily and Equifax and TransUnion scores are updated monthly) with extras such as identity theft protection and a FICO Score simulator.
How Do I Monitor All Three Credit Reports?
One of the best ways to monitor your credit reports is using a three-bureau credit monitoring service such as FICO Advanced from myFICO. Anyone can benefit by using one of these services, including those with bad credit or a limited credit history. 
Another way you can obtain all three credit reports for free is to access them at AnnualCreditReport.com. You can request one Experian, Equifax, and TransUnion report per week, but your credit scores aren't included. 
Although less effective than 3-bureau credit monitoring services with real-time alerts to account changes, AnnualCreditReport.com's free credit reports are the next best thing for regularly monitoring your credit reports.
Other features offered by 3-bureau services include identity theft protection, lost wallet protection, and Dark Web scanning,  which is included in the price of higher-tier plans. 
Is Credit Karma Good for Credit Monitoring?
Yes, we're big fans of Credit Karma for credit report monitoring and credit score updates. But Credit Karma doesn't offer FICO scores — the most widely used credit score by lenders – Credit Karma uses the VantageScore 3.0 model. 
VantageScore 3.0 considers the same data points the FICO 8.0 model uses, but their importance is calculated differently. Both use a 300 — 850 scoring system and tap into a consumer's payment history, utilization ratio, credit mix, average age of new accounts, number of recent inquiries, and hundreds of other factors to calculate a score.

To add, VantageScore only needs a single account and one month of credit activity to generate a credit score. FICO logs data after at least six months of payment history. So, Credit Karma may be a better choice for new credit users.
Credit Karma can provide directional guidance and financial products and services targeted to your credit history. It is a solid contender for being one of the best free credit monitoring services, but you should still find ways to access your FICO scores.
Is AnnualCreditReport.com a Legitimate Company?
Yes, AnnualCreditReport.com is a legitimate website created by the three credit bureaus. It is the only source authorized by federal law for obtaining free credit reports once per week.
You can visit the website and complete a form asking for your personal information, including your Social Security number, before seeing your credit report, which you can download or save for future reference. Its Accessibility page also contains information on obtaining a credit report in different formats, e.g., braille and audio.
Its website also shares links to Federal Trade Commission and Consumer Financial Protection Bureau topics, such as identity theft and keeping a good credit score, to help consumers better understand their credit information. 
Why Are My Credit Scores Different?
You may see differences in your credit scores for a few reasons, including the credit reporting agency (Equifax, Experian, and TransUnion), the scoring model used, and the frequent updates to your reports with new information.
In the United States, there are three reporting agencies — Experian, Equifax, and TransUnion, each with its own proprietary scoring model. Each scoring model weighs credit data differently, resulting in differences between the bureaus' credit scores. 

And that's just the bureau's models. There's also FICO, which has dozens of different credit score models.
Also, one bureau may be quicker to update credit information than another. For example, Experian may post paying off an outstanding balance a full week before TransUnion, so it takes some time for recent activity to appear on all three credit reports — even more of a reason to sign up for 3-bureau credit monitoring!
Regardless of the differences between your scores, you should review all three credit reports at least once a month through a reputable credit monitoring service or on AnnualCreditReport.com.
Should You Request All Three Credit Reports at Once?
Requesting your credit reports from Experian, Equifax, and TransUnion can be done for free each week now, so there's really no reason not to request all three.
This allows you to comprehensively review all of your data and makes it easier to identify any inaccuracies in your credit files, which you can dispute with the credit bureau that posts them. Additionally, you will catch signs of identity theft or fraud much sooner if you review all three reports regularly. 
Plus, not all lenders pull information from the same bureaus, so it's essential to have access to all three to better understand your creditworthiness. Similarly, not all lenders report to the same bureaus, so there are bound to be differences in your reports you should know about.
Why is My Credit Score Going Down When I Pay on Time?
There are many reasons why your credit score could go down even though you're paying all your bills on time:
Creeping Utilization Ratio. Although you may pay all your bills on time, the utilization ratio across one or more of your credit cards could still be rising past the healthy range (~30%). Credit utilization is part of the metric that accounts for 30% of your FICO Score, so even one over-leveraged credit card could lower your score, even if it's paid on time.
Collections Activity. If one or more accounts have recently escalated to collections and the creditor decides to report it to the credit bureaus, that activity will temporarily take precedence over any on-time payments. Collections activity remains on your reports for seven years, with the most credit score damage occurring in the beginning and waning over the years.
Changes in Credit Mix/Accounts. Anytime you close a credit card, it shortens your average account history and may hurt your credit mix. A longer account history and a more diversified credit mix let lenders know you have a long history of managing different types of credit responsibly, which is much more impressive to them than using a single credit card. Your credit mix and average account age account for nearly 25% of your FICO Score.
Credit Reporting Errors. Unfortunately,  reporting errors by all three credit bureaus are a fact of life. According to a study by the Federal Commission, 1 in 5 Americans discovered an error in one or more of their credit reports. Whether it's an incorrect balance, an account mistakenly marked as closed, or a wrong address, a single error could drop your credit score so severely that it places you into the next scoring bracket (e.g., from good to fair credit). We encourage you to enroll in paid or free credit monitoring (preferably with identity theft protection) to ensure your data is accurate. 
These are some of the reasons your credit scores could decline despite on-time payments. 
Maintain Healthy Credit With 3-Bureau Credit Monitoring
One of the best ways to control your financial health is by regularly monitoring your Experian, Equifax, and TransUnion credit reports. Outside of ensuring that you're on the right track, credit monitoring allows you to quickly see changes and identify irregularities in your credit reports. 
We're also big fans of Dark Web scanning, identity theft insurance, and educational resources offered by credit monitoring services to help you spark-plug your financial literacy. There's really no best credit monitoring service — whether you choose a free or paid credit monitoring tool, you'll be making a good decision for your financial future. 
Advertiser Disclosure
BadCredit.org is a free online resource that offers valuable content and comparison services to users. To keep this resource 100% free for users, we receive advertising compensation from the financial products listed on this page. Along with key review factors, this compensation may impact how and where products appear on the page (including, for example, the order in which they appear). BadCredit.org does not include listings for all financial products.
Our Editorial Review Policy
Our site is committed to publishing independent, accurate content guided by strict editorial guidelines. Before articles and reviews are published on our site, they undergo a thorough review process performed by a team of independent editors and subject-matter experts to ensure the content's accuracy, timeliness, and impartiality. Our editorial team is separate and independent of our site's advertisers, and the opinions they express on our site are their own. To read more about our team members and their editorial backgrounds, please visit our site's About page.