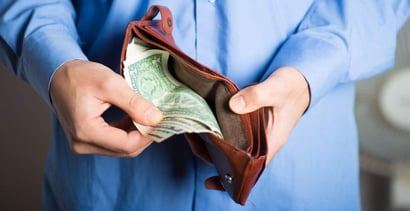 Many of us have been there. A small purchase or a forgotten bill causes your bank account balance to be negative. What's worse is that many banks charge an overdraft fee which could be about $30 to $35, on average. 
Many banks now offer overdraft protection that can help protect against multiple overdraft charges that may even occur in the same day. Some banks charge a one-time or monthly fee for using overdraft protection while offers include free overdraft protection with your checking account. 
The following accounts are some of the best options for both online and brick-and-mortar bank accounts with free overdraft protection. 
Best Online Bank Accounts With Free Overdraft Protection
Overdraft protection typically works by allowing you to transfer funds from a connected bank account when you don't have sufficient funds to pay for a transaction. This helps you avoid an overdraft fee and non-sufficient funds (NSF) fees while paying for the charge that would have caused your balance to go negative. 
Other banks may also avoid overdrafts by rejecting purchases that could cause your account to go negative, preventing you from incurring any charges or fees. The following banking services are a solid option for anyone with average or poor credit looking for free overdraft protection.
Current is a banking solution that offers a checking account with no minimum balance fees, ATM fees, or bank transfer fees. Debit cardholders receive overdraft coverage of up to $200 with no overdraft fee. Also, when you set up direct deposit, you can get paid up to two days earlier to help you avoid an overdraft fee. 
To qualify for overdraft coverage, you need to set up direct deposit of at least $500, and you will start with an overdraft protection limit of $25. Over time, your account will be reviewed for increases up to a maximum of $200. You can track all of this with the Current app, which sends push notifications whenever overdraft protection is used.
Oxygen is a financial technology company that provides banking services for both personal and business expenses. There are four different card options to choose from for digital banking services, including one with no monthly fee. 
Oxygen does not charge overdraft fees, but that's because it doesn't allow account balances to go negative. Card users can also earn cash back on their spending, deposit funds to a high-yield savings account, and manage account activity on the app.
Flare Account offers several banking solutions to its customers, including no-fee cash withdrawals, faster pay with direct deposit, and optional debit card overdraft services. Customers must apply for the overdraft protection program which allows emergency coverage for purchases that exceed the account balance. 
While Flare does not specify the requirements for the optional overdraft protection program on its website, customers are still encouraged to apply online. If you don't have this protection, you may still be able to avoid overdraft fees by repaying the overdraft amount within 24 hours of the first transaction that creates the overdraft.
GO2bank is another mobile bank account that has no annual fee and provides credit building and overdraft protection. You can receive up to $200 in free overdraft protection when your account balance is low or negative. 
To use this feature, you must set up and receive direct deposit and opt in to overdraft protection. GO2Bank will cover card transactions that exceed your account balance, and you'll have 24 hours to bring your balance to at least $0 to avoid any fees. 
Best Brick-and-Mortar Banks With Free Overdraft Protection
Several brick-and-mortar banks also have free overdraft protection. Some of these banks require you to opt-in to this feature while others apply it automatically. It's important to know what your bank offers and compare it with what other institutions provide to make sure you're getting the best support for your needs. 
Below are four banks that offer free overdraft protection. 
5. Citizens Bank
Citizens Bank is one of the nation's oldest and largest banks and offers a variety of banking products, including checking, savings, and money market account options. Account holders can use Citizens Peace of Mind™ to reverse overdraft fees. This feature reimburses the overdraft fee so long as you get your account to a $0 balance or higher by 10 PM ET on the same day the charge occurred.

It helps to have a Citizens Bank savings account or a secondary account with a cash cushion available to transfer. But some other charges, such as the charge for a check that is drawn from a different bank, won't qualify for an overdraft fee reversal rebate.
6. Chase
Chase is a large banking institution that offers several personal bank account options, including Chase Secure Banking and Chase Total Checking. In addition to a free checking account with several features, this bank offers a service called Chase Overdraft Assist that waives the overdraft fee if you overdraw your account by less than $50. 

If you overdraw by more than $50, you will just need to get the overdrawn amount to $50 or less by the end of the next business day (11 PM ET). Most banking customers don't need to enroll in Chase Overdraft Assist since it comes with all checking accounts except Chase First Checking℠, Chase High School Checking℠ , or Chase Secure Checking℠.
7. Wells Fargo
Wells Fargo is another well-known bank that offers an overdraft protection service called Extra Day Grace Period. With Extra Day Grace Period, you'll have an extra business day to make deposits to your bank account to avoid an overdraft fee. 

The bank also offers an account called Clear Access BankingSM that doesn't have any overdraft fees. But this is a checkless bank account with a monthly service fee. Wells Fargo also allows you to get your paycheck up to two days earlier when you enroll in direct deposit for your personal checking account. 
8. U.S. Bank
U.S. Bank provides several checking and savings account options as well as online banking. U.S. Bank offers free overdraft protection for when your debit card transactions cause your account to go negative. Here's how it works: You can link up to three eligible accounts to your checking account so funds can automatically be transferred once you overdraw your account.

If the overdraft amount is $5.01, the automatic transfer will be made in multiples of $50. If the balance is less than $5, the automatic transfer will be $5. Once you have at least one additional account open, you can set up overdraft protection and avoid overdraft fees by either calling the bank or via online banking through the mobile app. 
How Do Overdraft Fees Work?
An overdraft fee occurs when you withdraw or spend more money than you have in your bank account. When this happens, your bank may cover the cost of the transaction, but they'll charge you an overdraft fee. A standard overdraft fee can range from $25 to $35 or even more. 
But some banks may not cover the transaction if you don't have sufficient funds in your account. This could result in you receiving several overdraft charges until your account is positive again. 

For example, if you had set up an automatic withdrawal to pay for a service each month and you don't have the money to cover the charge in your account, the company could keep trying to withdraw the money. Each day that your account remains negative, your bank may charge an overdraft fee. Overdraft fees add up quickly, and some banks may opt to close your account if you fail to repay the fee, or fees, and keep your positive balance. 
Is a Non-Sufficient Fund Fee Different From an Overdraft Fee?
A non-sufficient fund (NSF) fee occurs when a check or automated payment doesn't clear or there's not enough money in your account to cover the charge. The difference between NSF fees and overdraft fees is that with an NSF, your bank may decline the transaction altogether so it won't go through. Or, the bank will return the check unpaid. 
Either way, you could be charged a fee, and if the bank decides to cover the charge and your account goes negative, you could also incur an overdraft fee.
An overdraft allows the transaction to go through, which requires your bank to cover the cost of the transaction and often includes an overdraft fee if you don't have overdraft protection. Overdraft fees typically cost more than NSF fees. 
Do Banks Have a Maximum Overdraft Limit?
Yes, banks are required to set a maximum limit on overdrafts, but it depends on the institution because federal laws do not set these limits. Some banks only allow customers to overdraft by a certain amount, while others set a limit on the number of overdraft fees a customer can incur per day.
Some banks also offer overdraft protection programs that link your checking account to a savings account or line of credit to cover the overdrafts. The maximum overdraft limit for your account may depend on several factors such as your credit score, account history, and the amount of money in your account. 

It's important to note that just because you have an overdraft limit doesn't mean you should plan to use it regularly, since this can still lead to fees. 
Can I Open a Bank Account With a Bad Credit Score?
Yes, you can open a bank account with a bad credit score. But some banks may still deny your application for an account if you have poor credit or a history of overdrafts and failure to pay bank fees. 
If your previous bank sends your account to collections for an unpaid balance, this could negatively affect your credit. Other lenders will see this information when you apply for credit with them. 
While you may not qualify for the best bank account with no fees, many banks offer second-chance checking accounts that allow you to get approved easily. These accounts may require you to meet minimum balance requirements or pay a monthly fee. 
Alternative banking services such as Current are helpful if you don't have excellent credit but still don't want to pay unnecessary bank fees.
How Can I Avoid Overdrafting?
There are several ways to keep your account from going into overdraft. Start by keeping track of your account balance. Some banks even send daily account balance reminders or alerts when your account balance is low. That way, you can try to prevent a transaction that causes you to overdraft. 
Sticking to a budget is also one of the best ways to avoid overspending. Make a list of your expenses, income, and all your bills or monthly debt payments. You can even use a bill calendar and review it weekly to make sure you know when certain charges are going to come through. Budgeting apps help you actively monitor your spending while also tracking financial goals.
Another option is to link your checking and savings account and keep a cash buffer in savings. That way, you can quickly transfer some money to your checking account if the balance gets too low. 

While bank accounts with free overdraft protection are useful, you don't want to get into the habit of relying on overdraft protection and should instead practice healthy money management habits.
Overdraft Protection Can Save You Money in the Long Run
Overdraft fees can be a significant pain point for many bank customers. By understanding how they work and how to avoid them, you can better manage your finances and keep more money in your pocket. 
Remember to consider some of these banking options for free overdraft protection in case you ever need it. Even with overdraft protection, many banks will waive the overdraft fee only if you get your balance to $0 or positive in around 24 hours. 
This is why it's essential to regularly keep track of your account balances and set some cash aside in a savings account. That way, you can easily transfer some money if your account balance gets dangerously low.
Advertiser Disclosure
BadCredit.org is a free online resource that offers valuable content and comparison services to users. To keep this resource 100% free for users, we receive advertising compensation from the financial products listed on this page. Along with key review factors, this compensation may impact how and where products appear on the page (including, for example, the order in which they appear). BadCredit.org does not include listings for all financial products.
Our Editorial Review Policy
Our site is committed to publishing independent, accurate content guided by strict editorial guidelines. Before articles and reviews are published on our site, they undergo a thorough review process performed by a team of independent editors and subject-matter experts to ensure the content's accuracy, timeliness, and impartiality. Our editorial team is separate and independent of our site's advertisers, and the opinions they express on our site are their own. To read more about our team members and their editorial backgrounds, please visit our site's About page.