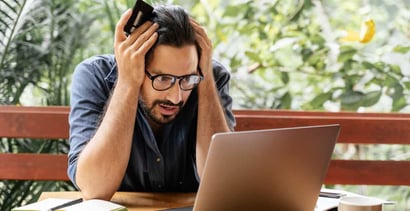 It sounds like the title for a nightmare sequence: Bank Accounts For Bad Credit With Overdraft Protection. You're at a fancy restaurant to meet your fiancé's parents. The waiter returns with the bill, indignantly informing you that your bank declined your card. Your cheeks redden, and your guests furiously storm out as the police come to arrest you. 
You wake up in a sweat. Then and there, you resolve to apply for overdraft protection on your bank account.
Dreams can be ridiculous, but they can also be instructive. We review five bank accounts that could have saved your wedding and kept you out of jail. And that's no dream.
Bank Accounts For Bad Credit Ranked By Their Overdraft Protection Policies
Banks may be reluctant to provide you with an overdraft checking account if you have bad credit. The following online banks have no such qualms. Moreover, they offer benefits you're unlikely to find at a conventional bank.
You can opt-in for a $200 fee-free overdraft line from Overdrive when you open a Current account. Overdrive requires you to have $500 in qualifying direct deposits each month.
The Overdrive overdraft privilege limit starts at $25, allowing you to overdraft your account by that amount on debit card purchases without any overdraft fees. Current reviews accounts periodically for increases of up to $200 at the bank's discretion.
You can open a Chime® Account and receive up to $200 in SpotMe overdraft protection without monthly fees. Chime SpotMe® is an optional, no-fee overdraft privilege that requires a single deposit of $200 or more in qualifying direct deposits to your Chime Checking Account each month. 
All qualifying account holders can initially overdraw their account up to $20 on debit card purchases and cash withdrawals but may be eligible for a higher limit of up to $200 or more later. 
The GO2bank mobile banking account (from Green Dot Bank) operates through a full-featured banking app and comes with a Visa debit card. You can opt-in for overdraft protection coverage of up to $200 after setting up and receiving the required direct deposits.
If you enroll, GO2bank will cover debit card purchase transactions that exceed your available account balance. You have 24 hours to bring your account balance to at least $0 to avoid a $15 fee. (An account will be charged no more than five fees per month). There's no overdraft charge for any transaction less than $5 or a transaction that overdraws your account by no more than $10, including transaction fees.
Oxygen provides a transactional demand deposit bank account (at Bancorp Bank, a Visa credit card issuer) you can use to make online payments and transfers to third parties. The account comes with a companion Oxygen Visa Debit Card. 
You can enroll in the Oxygen Reserve overdraft feature if you make at least five purchase transactions with your card within the preceding 31-day period and receive the qualifying amount in direct deposits to your account. Depending on your qualifying direct deposits, the overdraft limit ranges between $25 and $120. You must replenish overdrawn funds within 30 days.
You can open an ACE Flare Account by MetaBank without tying yourself to a local bank. The account comes with a prepaid debit card to spend your funds. You can opt for overdraft service if you receive direct deposits of at least $400 to your account within 35 days of enrollment.
If you enroll and your available balance is overdrawn by $10 or less, Flare will not charge you an overdraft fee. You'll pay $20 for each transaction (up to five monthly transactions) that overdraws your account by more than $10 unless you replenish the money within 24 hours.
How Does Overdraft Protection Work?
Overdraft protection provides funds to cover a purchase that would otherwise bounce due to nonsufficient funds. Overdraft protection services can vary in several ways:
Covered account: The overdraft protection service may apply to a deposit account, a debit card, or both. 
Coverage requirements: Some overdraft services are free and automatic. Others require you to enroll and jump through one or more hoops, such as making the necessary direct deposit transactions within a given period.
Repayment requirements: You must repay the overdrawn amount promptly. The deadline varies from 24 hours to 30 days. Failure to repay on time could prompt the bank to close your account.
Fees: You can usually avoid a fee if you replenish your account within the required time frame. You may face overdraft fees, typically around $5 to $40 per incident. A bank may limit the maximum fee it will charge within a month.
Conventional banks typically check your credit before enrolling you in an overdraft service. For subprime consumers, the advantage of the reviewed bank accounts is that they may skip the credit check. 
These accounts target folks who may have had problems with previous banks, problems recorded by ChexSystems. Most banks view your ChexSystems record when you apply for a checking account. 
As described below, ChexSystem reports differ from the credit reports that the three major credit bureaus issue. 
While you may not need good credit to get a conventional bank account, you almost certainly do if you apply for overdraft protection, which is a form of credit. Online banking alternatives such as the five reviewed above give consumers with bad credit access to overdraft protection. 
How Do I Apply For a Bad Credit Bank Account?
Bad credit is not necessarily a barrier to bank account ownership. It only comes into play if you want an account with overdraft protection, a type of credit. Many banks only check credit when you ask for credit. The reviewed bank accounts are your best bet if you have a troubled credit history and want overdraft protection.
The online application process is easy. The typical steps are:
Enter your name, email address, and password at the account website.
The account will send you an email. Open the email on your mobile device, click the link to confirm your email address, and download the mobile app.
Enter your email address and password into the app.
If asked, indicate which products you want. Some online banks offer credit cards and debit cards.
Enter the requested data, which may include your birthdate, phone number, address, and Social Security number.
If everything goes OK, the card should arrive within 10 business days. You can add items via the app, such as a funding source for your account and your initial deposit. 
How Does Courtesy Pay Differ From Overdraft Protection?
In addition to overdraft protection, credit unions offer another safety feature, courtesy pay, created by the National Credit Union Administration. Both help you avoid financial disruptions if you don't have the funds in your account to cover a payment.


Credit unions apply overdraft protection to cover checks you write, automatic bill payments, and transactions using your account number. You may also have to ask the credit union to cover ATM withdrawal transactions and everyday debit card transactions.
Courtesy pay allows you to cover transactions using future funds. The National Credit Union Administration allows credit unions to require you to set up your account for direct deposit transactions, which they will treat as early pay to cover insufficient funds up to an agreed limit.
The credit union will probably assess a fee whenever it must cover a payment, and your account will have a negative balance until you replenish it. 
You can also sign up for conventional overdraft protection. You must replenish overdrawn funds from a linked savings account and/or credit card. Fees apply for each overdraft incident, but you won't have to pay NSF (nonsufficient funds) charges. Credit unions typically use overdraft protection ahead of courtesy pay.
Expect the credit union to send you emails or text alerts whenever account protection kicks in. You can set a low balance alert to help avoid overdrafts. 
Credit unions pay overdrafts at their discretion and do not guarantee that they will always authorize and pay all transactions.
Which Bank Is Easiest to Open an Account With?
Second chance bank accounts are the easiest to open. Banks that offer second chance accounts welcome consumers with bad credit to experience a limited form of banking, that is, they may provide debit cards and ATM withdrawal privileges but not checks. 
The reviewed bank accounts are all second chance, and you can also open this type of account at a few brick-and-mortar bank branches (e.g., Wells Fargo, Peoples Bank, Capital One Bank, Chase Secure Banking, and others).
Second chance banks do not check your credit or banking history when you apply for a new account, which helps ensure quick approval. They provide a mobile app to manage your account, pay bills, check balances, and transfer money. You can also access ATMs and accept direct deposits.
Some second chance bank accounts provide paper checks, although most restrict you to a debit card to pay bills and use ATMs (out-of-network machines may charge a fee). 
Second chance banks offer many of the following services:
ATM access
Checking and savings accounts
Credit cards
Debit cards
Direct deposits
Mobile deposits
Money transfers
Online and app account management
Although digital banking services are available around the clock, they have a few disadvantages you should consider:
Impersonal service: You can't interact with a customer service rep in person. But you can communicate via email, phone, or online chat.
Limited services: Don't look for traditional bank services, such as loans, insurance, annuities, mortgages, credit builder accounts, and financial counseling.
International commerce: Businesses will not be able to access a business credit card, currency exchange, letters of credit, foreign payrolls, or global treasury management.
Although basic, second chance banking may be the only opportunity for subprime consumers to open a bank account and access an overdraft protection plan.
Do Second Chance Bank Accounts Offer Rewards Checking?
A couple of online second chance accounts offer rewards checking:
Current offers bonus points on purchases at participating merchants. You can cash out your points in your Current individual account.
GO2bank lets you earn instant cash back when buying eGift Cards from more than 100 popular merchants. 
In addition, second chance accounts may offer you a rewards credit card, although you do not have to accept it. 
What Is ChexSystems and How Does it Work?
ChexSystems collects information about the problems consumers experience with their deposit accounts (i.e., checking and savings) and sells it to financial institutions. The data it collects includes:
ATM, card, or account abuse
Bank-initiated account closure
Bounced checks
Fraud or identity theft
Number of recently opened accounts
Overdrafts
Unpaid negative balance
Most banks check ChexSystems reports when potential account holders apply for checking or savings accounts. A bank will likely deny you an account if ChexSystems flags past problems  —  it keeps five years of data on file.
Second chance banks usually do not use ChexSystems. Banks that do may offer special "fresh start" accounts for applicants with past problems. These checking accounts often impose a monthly fee but allow you to upgrade to no-fee checking after a probationary period.
Unlike the major credit bureaus (Experian, Equifax, and TransUnion), ChexSystems reports only negative information. 

Under the Fair Credit Reporting Act, you can correct misinformation on consumer reports, including those from ChexSystems. The company has a webpage to accept consumer challenges. 
Before submitting a dispute, you'll need to get a free copy of your Consumer Disclosure Report so you can identify the questionable information. ChexSystems has 30 days to investigate disputes and remove incorrect items. 
Two other companies report consumer banking problems. TeleCheck maintains a database of bounced and returned checks. And a consortium of banks owns Early Warning Services (EWS), which reports incidents of account misconduct.
What Happens if I Exceed My Overdraft Protection?
Overdraft limits vary by bank. You can fund it by linking your savings and credit card accounts to your checking. A credit union may also provide you with a courtesy pay service to cover overdrafts up to a certain limit. You'll usually have to pay a small fee for each protective transfer.
If you exhaust your funding resources, the bank will reject and return your overdrawn check for non-sufficient funds and hit you with a penalty fee, typically around $35. Costs can mount up if the shortfall cascades into multiple bounced checks. If the bank uses ChexSystems, it will report each returned check, compromising your ability to open new bank accounts.
You should expect a bank to close your account if you repeatedly bounce checks. To prevent this from occurring, link as many accounts as the bank will allow to cover overdrawn checks. If you use a credit card for this purpose, consider asking for a higher credit limit. 
If possible, add money to your linked savings account. But beware of monthly limits on the number of savings withdrawals, as you may incur a penalty fee if you exceed the quota.
If you are having trouble managing your checking account and are regularly racking up penalty fees, you may want to use a prepaid debit card to make purchases and pay bills. 
You fund these cards with cash deposits and cannot overdraw them. If you don't have sufficient funds, the issuer will reject the debit card transaction without extracting fees or reporting you to ChexSystems.
You don't need a bank account or credit to get a prepaid debit card. These cards offer several other benefits, including:
Direct deposits
Many offer rewards on purchases
Mobile banking check deposit
No credit checks required
No late fees
No minimum balance requirement
Recourse when your card is lost or stolen
The price for this convenience is a monthly fee or a pay-as-you-go charge for each debit card transaction (except for Bluebird by American Express, which waives these charges). Other charges may also apply. Because these are debit cards, you can't use them to build credit.
Credit cards are another alternative, albeit an imperfect one. You can use them to make purchases and pay bills, with the option to stretch your repayments over multiple billing cycles.
You can't overdraft a credit card, but you can attempt to spend beyond your credit limit. The bank may accept or decline such transactions, depending on your arrangements. 
If you agree to an overdraft protection plan for your credit card, the issuer will accept charges that put your balance over your credit limit. You may have to pay overlimit fees of $25 to $35 per incident. 
Credit cards charge you interest on unpaid balances, and their interest rates are high  —  typically 25% to 36% if you have bad credit.
Subprime consumers may find it challenging to obtain a credit card. If you do get one, it will probably have a high APR, high fees, and a low credit limit. You can get a better deal by applying for a secured credit card, but you'll have to deposit enough cash to cover your credit line. 
We know of at least two secured cards that do not check your credit when you apply, and many accept applicants with poor credit.
Will Overdrafts Harm My Credit Score?
Overdrafts will harm your banking record rather than your credit report. But you can damage your credit if you fail to repay the money the bank lent you to cover overdrafts. 
You have 30 days to repay the bank for any overdraft credit extended to you before it reports you to one or more of the major credit bureaus. Late payments can shave dozens of points off your credit score, and incidents remain on your credit reports for seven years.

That's a triple whammy because you may lose access to banking services, loans, and good credit cards. 
More credit damage can occur if the bank sends your debt into collection or writes it off. You can avoid most of the damage by using a bank that won't report you to the banking and credit bureaus, although you still are vulnerable to forced account closure.
Compare Bad Credit Bank Accounts With Overdraft Protection
Our review of bank accounts for bad credit with overdraft protection should help you avoid many problems that stem from overdrawn accounts. Each account has unique features and costs, so it pays to compare offers before committing to one solution. 
Overdraft protection can save you money, embarrassment, and inconvenience. The right online accounts can help you recover from past banking problems and prevent the reporting of new ones. 
---
1 Out-of-network ATM withdrawal fees may apply except at MoneyPass ATMs in a 7-Eleven, or any Allpoint or Visa Plus Alliance ATM.
2 Early access to direct deposit funds depends on the timing of the submission of the payment file from the payer. We generally make these funds available on the day the payment file is received, which may be up to 2 days earlier than the scheduled payment date.
3 Chime SpotMe is an optional service that requires a single deposit of $200 or more in qualifying direct deposits to the Chime Checking Account each month. All qualifying members will be allowed to overdraw their account up to $20 on debit card purchases and cash withdrawals initially, but may be later eligible for a higher limit of up to $200 or more based on member's Chime Account history, direct deposit frequency and amount, spending activity and other risk-based factors. Your limit will be displayed to you within the Chime mobile app. You will receive notice of any changes to your limit. Your limit may change at any time, at Chime's discretion. Although there are no overdraft fees, there may be out-of-network or third party fees associated with ATM transactions. SpotMe won't cover non-debit card transactions, including ACH transfers, Pay Anyone transfers, or Chime Checkbook transactions. See Terms and Conditions.
Advertiser Disclosure
BadCredit.org is a free online resource that offers valuable content and comparison services to users. To keep this resource 100% free for users, we receive advertising compensation from the financial products listed on this page. Along with key review factors, this compensation may impact how and where products appear on the page (including, for example, the order in which they appear). BadCredit.org does not include listings for all financial products.
Our Editorial Review Policy
Our site is committed to publishing independent, accurate content guided by strict editorial guidelines. Before articles and reviews are published on our site, they undergo a thorough review process performed by a team of independent editors and subject-matter experts to ensure the content's accuracy, timeliness, and impartiality. Our editorial team is separate and independent of our site's advertisers, and the opinions they express on our site are their own. To read more about our team members and their editorial backgrounds, please visit our site's About page.