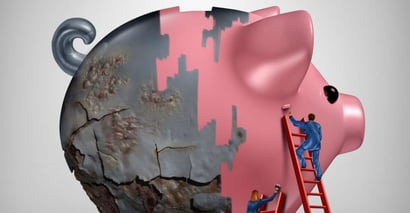 Bad credit normally results from financial mistakes, most notably late payments on a loan or credit card debt. The credit bureaus that assign credit scores usually get things right, but when they don't, your already low credit score could needlessly suffer. 
A credit repair service can help repair your credit by removing inaccurate, unverifiable, and obsolete information from your credit reports. When successful, a credit repair program can add dozens of points to your credit score, improving your access to lower borrowing rates and better credit cards. 
We review the leading credit restoration organizations with the experience and expertise to correct errors in your credit reports. Although they can't guarantee results, they all detail their aggressive efforts to clean up your credit history. If your credit report contains derogatory misinformation, you may find a credit repair program well worth the price.
Best Overall Credit Repair Programs
The following credit repair companies offer monthly subscriptions that range from around $50 to $150. Most subscriptions run for about six months, but you can cancel at any time. Some programs offer multiple price tiers for additional services, such as identity theft protection and credit counseling, that go beyond disputing credit report items.
Lexington Law is one of the market's top credit repair agencies. It boasts a long history of successfully helping numerous clients clean up their credit reports. 
The company's staff includes highly trained paralegals and credit lawyers who work on your behalf to fix your credit history. The entire firm's expertise is available to fight for your rights.
CreditRepair.com provides clients with an online dashboard that provides real-time updates for each credit dispute and all credit score changes from at least one credit bureau. The company has about a decade of experience helping remove millions of negative items from its subscribers' credit reports. 
It claims its credit repair service challenging credit reports yields an average score boost of 40 points within four months.
Sky Blue Credit Repair® has roots going back to 1989. Its longevity stems partly from its industry-leading 90-day unconditional guarantee of a full refund if you are unsatisfied with its services. You can pause or cancel your subscription at any time. 
This credit repair organization offers a single, comprehensive service level with a set number of challenges every 35 days, as well as debt validation, score analysis, debt management consultations, and cease and desist letters.
The Credit Pros cleans up errors on credit reports while educating its clients on how to avoid future credit mistakes. Rates for its credit restoration services range from $69 to $149 per month. This credit repair company promises professional, courteous service that will protect your private information.
During the initial free consultation, one of its credit experts will work with you to identify damaging items ripe for dispute. The Credit Pros has an A+ rating from the Better Business Bureau.
CreditFirm.net offers one service level, requiring a single, low monthly subscription fee without signup or "first work" fees involved. The plan disputes any misleading, incomplete, inaccurate, or unverifiable items on your credit reports.
CreditFirm says its clients "average more account removals than any credit repair company in the business." According to its website, clients average 9.7 removals after three months and 30.1 removals after 12 months.
DIY Credit Restoration Options
If you're wary of spending hard-earned cash on pricey credit repair businesses, consider tackling your credit problems yourself. One option is to personally file online disputes to correct items on your credit reports. Additional actions to consider include using credit-boosting products and purchasing DIY credit repair software.
Filing Online Disputes
You can use the Fair Credit Reporting Act (FCRA) and its protections when challenging inaccuracies online with Equifax, Experian, and TransUnion. The Act provides you access to your credit reports at least once per year, free of cost. 
You can obtain free copies of your credit reports from AnnualCreditReport.com. To order online, you must submit the required personal data, including name, address, and Social Security number. Then choose which bureau's reports you want. 
You can also request your reports by calling 1-877-322-8228 or by mail at the address provided on the form.

When challenging questionable report items at the credit bureau websites, explain each error precisely and include evidence backing up your dispute. The credit bureaus require this information to investigate and adjudicate your challenge, which they must do within 30-45 days. 
It will then provide you with written notice of their results. If you prevail, the bureau must immediately remove the disputed item from your reports. As you may imagine, you may need to endure a lengthy process requiring significant commitments of time and energy.
You can appeal the decision if a credit bureau rejects your challenge. Here are the steps you can take to appeal a rejected dispute:
Review the reasons for the rejection. The credit bureaus explain why they rejected your dispute(s). That information may be valuable if you decide to appeal the decision. 
Gather and submit additional documentation if you have it. Sometimes, the bureaus reject disputes for lack of evidence. If you have a smoking gun, show it to them on appeal.
Submit an appeal explaining why doing so has merit and referring to new information and documents.
Add a brief explanation to your credit report for each rejected item explaining your point of view. You have up to 100 words per item to make your case.
Contact consumer protection agencies, such as the Consumer Financial Protection Bureau (CFPB) and the Federal Trade Commission (FTC), should none of these solutions prove satisfactory. 
Sue in court if you feel strongly enough about the case. If you win, you can collect damages and attorney fees. Ensure you observe the statute of limitations on these types of disputes.
You will want to carefully keep track of your disputes to ensure the bureaus respond on time. Remember to maintain copies of all correspondence and notes.
Experian Boost and UltraFICO 
Can't decide which one is better? Why not use them both? 
Adding positive payment history for utility bills, phone bills, and streaming services with Experian Boost can help enhance the traditional reporting systems the credit bureaus use to calculate your credit score. This can be especially advantageous if you have a thin credit file.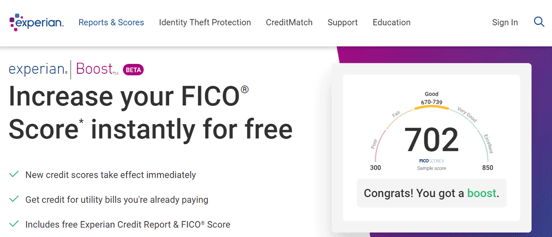 The UltraFICO credit scoring model may boost your score further by reporting banking activities and savings patterns. You must link your bank accounts to UltraFICO so Experian can incorporate the information into your credit report.

More opportunities for better credit offers may arise if you combine these helpful tools from the Experian credit bureau. Just be aware that some lenders don't use these alternative scoring models when they check your credit.
Credit Repair Software
Credit repair software can benefit individual parties and corporations looking to improve their credit scores efficiently by correcting their credit reports. By automating the complicated task of disputing inaccuracies on your credit bureau report, these smart tools improve your outcomes through several essential functions, including:
Identifying and analyzing potential errors on your credit reports from the three major credit bureaus 
Disputing inaccurate, overdue, and unverifiable derogatory items on your credit reports. The software generates dispute letters identifying the potential errors. 
Tracking the status of each dispute as it progresses through the system
Monitoring your credit scores and offering other add-on services that help you manage your credit. Some software packages also support debt management, consolidation, and fraud detection.
Fixing your credit requires more than relying on credit repair software. Nonetheless, this software can play a vital role in recognizing and challenging errors on your credit reports. 
The key to success is selecting the right software package among competing products. Choose one that fits your financial circumstances and personal requirements. 
What Is a Credit Restoration Program?
Credit restoration programs work to improve your credit score by providing a package of services, including scrutinizing your credit reports for potential mistakes and taking measures to remove erroneous items. 
The underlying purpose of these programs is to protect consumer rights. That's why many offer additional services, including debt monitoring, counseling, and consolidation options.

For those with complex credit problems that require special knowledge or expertise, hiring a professional may be worth considering based on individual circumstances. Of course, most good things come at a cost. Many credit repair customers feel the benefits are worth the expense, typically $70 to $150 per month.
While we at BadCredit.org have confidence in the reviewed credit restoration programs, it's safe to assume that some other credit repair companies may engage in illegal or unethical practices. It's ultimately up to you to research and choose a reputable provider with a proven record of success. Remember that it will take time and effort to achieve the desired results.
Is It Worth Paying Someone to Fix My Credit?
It may not make economic sense to pay experts who charge significant fees for credit restoration services you could perform independently. But that's only true if you're comfortable devoting substantial energy and time to disputing credit report errors on your own. 
Paying an outside party to help fix your credit may be worth it if you lack the time, knowledge, or patience to deal with the credit repair process or have more complex credit issues that require professional assistance.
Can I Pay Someone to Wipe My Credit Clean?
Paying someone else to scrub away damaging, albeit valid, information from your records contradicts the Fair Credit Reporting Act's provisions. Credit repair companies that tell you they have the power to do so and collect money on that basis are breaking the law.

Approach with caution any company or person claiming to provide quick fixes for unfavorable credit reports. Keep in mind that, even if legitimate credit repair services perform their services perfectly, they still may fail to raise your credit score. The results depend on your individual circumstances.
Rebuilding credit takes effort well beyond fixing up your credit reports. You must commit to avoiding late payments and maintaining relatively low debt levels to recover lost ground in the world of credit. 
Are Credit Repair Companies Legit?
You cannot rely entirely on the legitimacy of every credit restoration company — you need to research a company's history before selecting a provider. Look for a track record that engenders trust. Reading this article is an example of how to gain confidence that you will be dealing with a legitimate credit repair company.
In addition to BadCredit.org, consumers have several reliable sources for honest information about players in the crowded field of credit repair, including other review sites, the Better Business Bureau, the Consumer Financial Protection Bureau, and Trustpilot, among others.

Legitimate companies work with clients to provide only the services required without overpromising the results or the impact on your credit scores. If you are dissatisfied, you can cancel your monthly subscription anytime.
Credit repair firms promising outlandish guarantees, such as removing truthful data from credit reports, are acting illicitly. It would be best if you avoided them.
Consider Credit Restoration Programs When You Have Bad Credit
Fixing bad credit requires a coordinated effort to pay your bills on time, keep loan and credit card debt levels relatively low, and remove derogatory misinformation from your credit reports. You may, indeed, find it worthwhile to consider legitimate companies if you have credit report problems to fix. 
Whether to tackle repairs yourself or hire outside assistance is ultimately up to you. Before hiring a credit restoration company, remember that none can guarantee you'll achieve a good credit score.
In any case, we advise you not to ignore the problem because errors on your credit reports can raise your borrowing costs and relegate you to poor-quality credit cards.
Advertiser Disclosure
BadCredit.org is a free online resource that offers valuable content and comparison services to users. To keep this resource 100% free for users, we receive advertising compensation from the financial products listed on this page. Along with key review factors, this compensation may impact how and where products appear on the page (including, for example, the order in which they appear). BadCredit.org does not include listings for all financial products.
Our Editorial Review Policy
Our site is committed to publishing independent, accurate content guided by strict editorial guidelines. Before articles and reviews are published on our site, they undergo a thorough review process performed by a team of independent editors and subject-matter experts to ensure the content's accuracy, timeliness, and impartiality. Our editorial team is separate and independent of our site's advertisers, and the opinions they express on our site are their own. To read more about our team members and their editorial backgrounds, please visit our site's About page.