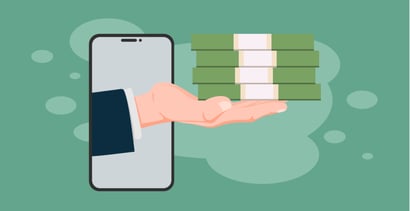 Bad credit loans with quick approval are a great way to get money fast when you need it. They can help you pay bills, cover an emergency, or purchase a vehicle when yours no longer works.
And we don't take quick approval lightly. In fact, most qualified borrowers can apply for a loan through the lending networks below and close the deal by the end of the day. When car shopping, you can apply in the morning and drive your new ride to lunch.
These networks not only work quickly to solve your cash flow problem, but they're very forgiving of past financial mistakes. Even with a bad credit score, you may qualify for a loan with a competitive interest rate, monthly payment, and loan term.
Short-Term Loans With Quick Approval
We classify cash loans as small-dollar loans with shorter repayment terms. We've narrowed down the networks that provide loans of up to $5,000 to qualified borrowers for this list. Not everyone will qualify for the maximum loan amount. You'll have money in your account by the next business day If you close a loan with any of these networks. 
MoneyMutual boasts one of the largest direct lender networks on the internet and has a high rate of bad credit borrower success. You can submit a loan request in minutes without harming your credit and get a loan decision shortly after.
The email you receive minutes after submitting your request may contain more than one loan offer to choose from. Each short-term loan offer will have a unique repayment term and may be an unsecured personal loan or a secured loan that requires collateral for approval. 
BillsHappen® offers small installment loan options that are meant to help you get to your next payday. But unlike a payday loan, this loan option won't break the bank and stretch your budget.
Instead, BillsHappen caps the amount of interest and other fees its partner lenders can charge to each borrower. That means a more affordable loan for you.
CashAdvance.com helps you find payday loans online. There may be no credit check loan options with a fast approval process as long as you provide proof of enough income to repay the loan.
Keep in mind that a payday loan will likely come with a very high interest rate and other origination fees and may require repayment in full as soon as the next time you get paid.
Installment Loans With Quick Approval
The personal loan networks below offer larger loan amounts and more time to repay your debt. And unlike a bank or credit union, you may qualify for quick loan approval even with poor credit. The lenders that partner with the networks below can fund your approved loan by the next business day.
You can find some of the best bad credit loans through CashUSA.com because its lenders offer high loan amounts with no minimum credit score requirements. Every lender that partners with this network specializes in bad credit personal loan products.
The network works to connect you with an online lender that understands your situation and wants to help find you a loan option that can rebuild your credit score over time.
Lenders in the CreditLoan.com network don't require a minimum credit score for approval and specialize in unsecured loan products for consumers who have a bad credit score. 
Personal loans are important financial products because they allow you to use your loan for any purpose you choose. And as installment loans, you can repay your debt over time through a series of monthly payments that fit your budget.
BadCreditLoans.com claims that it often finds bad credit personal loans for people who can't find loans elsewhere. While lenders will want a peek at your credit history before approving you for a bad credit loan, you won't be denied based solely on your credit score.
This network's lenders provide several different loan options for each borrower, which may include a secured loan, payday loan, or an unsecured personal loan.
PersonalLoans.com is a great way to connect with a lender that's ready to work with you. That's because your loan request filters into one of two unique networks. One specializes in loans for consumers who have good credit or better, and the other works with borrowers who have bad credit or no credit.
The bad credit personal loans issued through these lenders may have smaller loan amounts than loans for good credit. But you can still potentially qualify for a five-figure loan with an extended period to repay the debt.
Bad Credit Auto Loans With Quick Approval
You can find more than bad credit personal loans online. In fact, some auto lending networks maintain a larger lender base than their personal loan counterparts.
Our favorite networks, listed below, can connect you with independent auto lenders or car dealers in your area that can help you secure fast financing for your new vehicle. In many cases, you can purchase your car or truck the same day you apply online.
Auto Credit Express partners with some of the largest lenders in the US and has a track record of connecting bad credit borrowers with competitive auto financing. Your loan amount and repayment term will vary based on the lender you work with, and not everyone will qualify for a loan.
But if you do, you'll encounter fast loan processing that can help you close your loan within hours. 
You can submit a short loan request through Car.Loan.com Auto Loan and quickly receive a credit decision in your email inbox. This network can partner you with a private auto lender or connect you to a car dealer in your area that can use its finance department to find a loan for you.
If you work with a car dealer, you can set up a time to tour the lot and go over your financing options. In most cases, you can choose a car that suits your needs and complete the paperwork to purchase the vehicle in a matter of hours. 
myAutoloan.com states that you may receive up to four auto loan offers quickly after you submit your loan request. Each offer will have a unique monthly payment requirement and varying fees.
If you find an offer that you like, you can complete the loan paperwork online and shop digitally for your next vehicle or bring your approval paperwork to a local car dealer to shop in person.
What Are Bad Credit Loans?
Bad credit loans are financial products that allow you to borrow money despite having a bad credit score. 
You can apply for loans in many ways, but the easiest and most convenient way to apply is through online lending networks, including those listed above.
These networks provide a short loan request form that takes fewer than five minutes to complete. Shortly after you submit this form, you will receive an email with your credit decision that potentially includes more than one offer to choose from.
There are many types of loans available to those who have poor credit, including:
A secured loan that requires collateral for approval. Think pawnshop loans that need you to pawn an item of value to secure your loan. If you fail to repay the debt, the lender keeps your collateral. Other secured loans include auto loans, title loans, and home loans.
An unsecured loan doesn't require collateral for approval. Instead, these signature loans only need your signature on a legally binding contract that guarantees repayment.
A personal loan — also known as an installment loan — allows you to use your loan proceeds in any way you choose and repay your debt over time through a monthly payment. 
An auto loan is a form of secured loan that only allows you to use your borrowed money to fund the purchase of a vehicle. Since your loan is secured by the vehicle, lenders may be willing to take the risk with your bad credit score.
A student loan allows you to borrow money to pay for tuition, books, lab fees, or other education-related expenses. Some student loan offers are similar to personal loans in that they offer a flat sum of money that you can use in any way you choose.
A debt consolidation loan allows you to borrow money to pay off multiple debts, usually for credit card or medical debt. You then combine all of these debts into your new loan with a lower interest rate. Debt consolidation is a great way to begin the process of rebuilding your credit score.
A payday loan — also known as a cash advance — is a high-risk loan that charges high interest rates and fees. This is typically a no credit check loan, but you'll likely encounter interest rates that climb as high as 700% with additional penalties and charges if you don't repay the debt in full within 14 to 30 days.
All of the loans above — except a payday loan — will likely report your balance and payment history to at least one credit bureau. Credit scoring models, including FICO and VantageScore, use this information to calculate your credit score. 
With responsible behavior, you can leverage your loan to improve your credit history and get on track to qualify for bigger and better loans in the future.
How Do I Apply For An Online Loan?
You can apply for an online loan in minutes and receive a quick credit decision at any time of the day or night.
Each lending network listed above provides a short loan request form that you can complete in less than five minutes. The form is simple and only asks for basic identifying information that includes your:
Name
Address (physical and email)
Phone number
Employment status
Current income
Social Security number
Loan purpose
The network takes this information and sends it to all of its partner lenders. Thanks to automated underwriting, each lender can make a decision within seconds — whether it's day or night — and make a loan offer if you qualify.
You'll receive an email shortly after submitting your loan request that includes your credit decision and any loan offers you may qualify for.
If you find a loan offer you like, you can choose to accept the offer, and the network will forward you to the lender's official website to complete the loan agreement paperwork. You won't ever pay the network for this service. Instead, it will collect a referral fee from the lender after your loan closes.

You can typically complete the loan agreement paperwork in an hour or less. Just remember that the lender cannot sign off on your loan until they are back in the office for normal business hours. This may delay your loan payout if you apply on the weekend or a holiday.
Once the lender signs your loan paperwork, it will transfer your money to your linked bank or credit union account. You'll receive the funds by the next business day.
Some lenders offer expedited processing that can put money in your account instantly for an additional fee.
You'll make all your loan payments online through the lender from your savings or checking account. Your lender may require you to sign up for automatic payments for loan approval.
How Fast Will I Get My Loan Money?
In most cases, you'll receive your loan money from an online lender by the next business day. But a few circumstances can slow down your payment.
Lenders throughout the US have different business hours, but many don't open on the weekends. Even if your lender transfers your money to you on the weekend, your bank could delay processing the funds until the following business day. That means you may have to wait up to two days to get your money.
The same is true if your loan processes just before, or on, a holiday. Banks recognize Federal holidays and they rarely process transactions on those days. 
Some lenders offer expedited processing for an additional fee. This service wires the money directly to your account and allows you to access the funds within minutes. If you need money quickly, be sure to ask your lender about the options you have to expedite the processing and payout of your online loan.
What's The Difference Between an Installment Loan and a Short-Term Loan?
Short-term cash loans as small-dollar loans that don't exceed $5,000. The networks above partner with lenders that offer both small cash loans and larger installment loans that offer more time to repay the debt.
In some cases, installment loans can offer as much as $35,000 or more.
Both loans technically fall under the personal loan name, since you can use your funds in any way you choose. Installment loans allow you to repay your debt with a monthly payment — or installment.
The exception to this is a payday loan, or cash advance loan, that requires repayment in one lump sum within 30 days, maybe sooner, depending on where you live.

Both loans may charge origination fees and will add interest rates or other finance charges to your loan. Smaller loans will sometimes come with a higher interest rate because they have a smaller repayment window, which decreases the profit that lenders can earn from them. A higher interest rate makes the loans more valuable to the average lender.
With online loans, the lender will pay out via electronic deposit into your linked checking or savings account. Some in-person lenders may offer cash payouts or printed checks that you can deposit at your local bank or credit union.
Can I Get An Emergency Loan With Low Income?
Many lenders base the loan amount they offer on your ability to repay the debt. That means your income plays a large role in determining your loan eligibility. But a lender will look at more than your employment wages when calculating your income.
Aside from regular employment, you can also include any other regularly occurring payments you receive on the income portion of your loan application. This may include alimony, child support, government benefits, retirement income, investment returns, rental property proceeds, structured settlement payments, and annuities, among other income streams.
Lenders don't ask for your income information simply to make sure you're employed. They want to make sure you have a reliable income that allows you to make your monthly payment on time. They see no difference between income earned from traditional employment or from other legal means — as long as it's dependable and predictable.
Can I Get A Quick Auto Loan With Bad Credit?
Many online auto lenders offer quick approvals of loans for consumers who have bad credit. In most cases, you can apply for a loan and drive off in your newly purchased vehicle on the same day.
Auto loans are secured loans that use your purchased vehicle as collateral. If you fail to repay your debt, the lender will repossess the vehicle and sell it to recoup the money lost in the bad loan.
This security makes it easier for lenders to consider applications from those who have bad credit. The loans are far riskier and won't appeal to lenders who operate on razor-thin margins without that collateral.
You can also improve your chances of qualifying for a quick bad credit auto loan if you do the following:
Add a down payment: Lenders prefer you to have some skin in the game. When you add your own money to the purchase of a vehicle, you're less likely to back out on the loan if finances become tight.

Add a cosigner: This is someone who has better credit than you and is willing to sign on to your loan to guarantee its repayment. This is very risky for the cosigner, so make sure you're able to make your payments on time every month before taking the leap.

Add a trade-in vehicle: Many auto dealers guarantee a specific trade-in value for old vehicles — even ones that don't run. This will lower the overall purchase price of your vehicle and result in a smaller loan amount. You'll have an easier time qualifying for a smaller loan than a large one if you have poor credit.

Clean up your credit: Before you apply for a loan, check your credit reports to ensure everything is accurate and up to date. If you see inaccuracies reported that negatively affect your credit score, consider hiring a credit repair service or disputing the item yourself before applying for a loan.
The options above are just a few things that you can do to appear more favorable in the eyes of a lender. You shouldn't apply for a loan on a whim. Before you submit an official application, get all of your paperwork prepared and know your financial limitations. Preparation will go a long way during loan negotiations.
How Much Can I Borrow If I Have Bad Credit?
Every lender has different loan maximums and minimums, and their standards for approval will differ. Different loans also come with different repayment terms. As a result, it's impossible to tell exactly how much you can borrow if you have bad credit.
Lenders define bad credit as falling within a very large range — often between a FICO credit score of 300 and 579 — so not every score is handled the same. 
For example, someone who has a 350 credit score won't be approved for the same loan as someone with a 550 credit score. 

You also should consider the type of loan you're applying for when estimating loan amounts. For instance, you may qualify for no more than a $5,000 personal loan — but that money won't get you anywhere if you're looking for a mortgage. Different loans have different financial requirements.
Since we touched on personal loans and auto loans above, we'll stick to those loan types.
Nearly all of the personal loan networks listed above cap their loans at between $5,000 and $10,000. As a general rule of thumb, you can't get a loan larger than that through these services. Each lender chooses whether to offer you a loan and how much it offers, so you may not qualify for a maximum loan amount.
Even if you have a bad credit score, the higher your income, the more loan funds you'll likely qualify for, whether you're applying for a personal or auto loan.
Are Online Loans Easier to Get Than Bank Loans?
If you have bad credit, you'll have an easier time qualifying for an online loan than you would for a traditional bank loan.
Most banks are publicly traded companies that must make profits to satisfy investors. Bank executives have the task of making sure the institution is profitable each quarter. That means avoiding risky loans — such as bad credit loans — that could lead to losses.
As a result, most banks reject loan applications from borrowers who have bad credit. That leaves you with a hard inquiry on your credit report and no loan money in your account.
The online lending networks above specialize in bad credit loans, and your initial loan request won't affect your credit score. Additionally, your loan request is sent to many lenders at once. That improves your approval odds and forces lenders to compete for your business — which may yield you the best offers possible. 
Lending networks may also return more than one loan offer for you to choose from. And you'll receive a loan decision quickly — often within minutes after you apply. With a bank or credit union, you may have to wait hours or days to hear back from a loan officer who slowly pores over your application to assess your credit risk.
The wide selection of lenders and loan types available online also mean that you may find options designed for your unique needs and financial abilities. Lenders need to loan money to stay in business. With so much competition online, these lenders are often willing to work with you to close a loan.
With a bank, it's often a take-it-or-leave-it proposition that takes all of the power out of your hands.
Can I Get a Loan With No Credit Check?
Lenders rely on three main pieces of information to assess your creditworthiness: your credit score, your current debts, and your verified income. Most personal and auto loan lenders won't consider a no-credit-check loan option. It's simply too risky to fund a high-dollar loan without any idea of who they're lending to. 
But most payday lenders will approve your loan without requesting access to your credit rating. These are typically small-dollar loans that require repayment in full on your next payday. Instead of a credit check, these lenders will require proof of sufficient income to repay the debt with your next paycheck.
While this is a convenient type of loan, it's often the most expensive loan on the market. In most cases, you can expect to pay at least $15 in finance charges for every $100 you borrow. That adds up quickly if you need a large amount of money.

And if you cannot repay the debt on time, the lender will roll the loan into a new loan with even higher fees and penalties and will continue to do so until you pay the debt in full. This tactic results in some consumers accruing tens of thousands of dollars in finance charges on loans that started as low as $500.
While a no credit check loan appeals to those who think their credit score won't qualify for a traditional loan, it's rarely worth the cost. 
Instead, you can submit a loan request to one of the lending networks above, and it will have no impact on your credit score. This will also give you a rough idea of your borrowing power in a matter of a few minutes.
Will An Online Loan Help Me Build Credit?
Most online loans will report your balance and payment history to at least one credit bureau. This can help you build your credit score with responsible behavior.
The lone exception is typically payday or cash advance loans. These loans will not show up on your credit score unless you default on your payment.
Credit bureaus use the information provided by lenders to build your credit profile. This data determines your credit score.
As you'd imagine, positive information, such as a low balance and on-time payments, will help your credit score over time. Negative information, such as a default or late payment, can quickly whittle your score down.

Over time, the newer information will push older data further down your credit history. Since the most recent data carries the most weight in your credit score calculations, you can quickly improve your score by only adding positive information to your credit history.
Just be sure to make all of your payments on time. One late payment can undo all of your hard work in an instant — and it could take years to overcome that single mistake.
Find Bad Credit Loans With Quick Approval Online
No one wants to wait around to get a loan. Whether you need some quick cash or a new set of wheels to get you to work, time is precious, and life doesn't stand still for anyone. 
With the lending networks above, you can quickly qualify for a loan at any time of the day or night from the comfort of your own home. Each lender that offers bad credit loans with quick approval online can get you on your way without any fuss — even if you have a damaged credit history.
Advertiser Disclosure
BadCredit.org is a free online resource that offers valuable content and comparison services to users. To keep this resource 100% free for users, we receive advertising compensation from the financial products listed on this page. Along with key review factors, this compensation may impact how and where products appear on the page (including, for example, the order in which they appear). BadCredit.org does not include listings for all financial products.
Our Editorial Review Policy
Our site is committed to publishing independent, accurate content guided by strict editorial guidelines. Before articles and reviews are published on our site, they undergo a thorough review process performed by a team of independent editors and subject-matter experts to ensure the content's accuracy, timeliness, and impartiality. Our editorial team is separate and independent of our site's advertisers, and the opinions they express on our site are their own. To read more about our team members and their editorial backgrounds, please visit our site's About page.