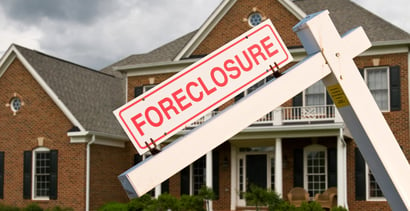 Foreclosure is a shattering process. You face the loss of your home, the disruption of your lifestyle, and the likely forfeit of any home equity you've built up over the years. That's why you need to understand your options before it's too late.
One set of options involves bad credit loans to stop foreclosure. While not without cost and risks, a refinance loan or reverse mortgage may allow you to keep your house and manage your debt.
Continue reading to see our evaluation of five loan companies that can help you avoid foreclosure despite your bad credit score.
Options | Providers | Government Programs | FAQs
Mortgage Loan Options for Stopping Foreclosure
A foreclosure becomes likely when you have seriously fallen behind on your mortgage payments. Typically, a mortgage lender will mark you as delinquent once you are 90 days late on your payments.
Eventually, the lender will give up on trying to collect and either sell your loan to a collection agency or commence foreclosure procedures.
Unless you can stop it, a foreclosure will allow the lender or collection agency to seize and sell your house to recoup the loan. You receive any excess above the mortgage balance and fees.
Several forms of recourse may be available to you to stop a foreclosure, including:
You are unlikely to qualify for other types of loans if you have bad credit and have fallen behind on your mortgage payments. And, because you have bad credit, even if you could arrange, say, a personal loan, the loan amount likely won't be enough to cover missed mortgage payments.
Refinance Loans
When you refinance your mortgage, you take out a new loan to repay the existing one, including any delinquent payments. The refinance terms may make it easier for you to afford your monthly repayments.
Typically, this is accomplished by extending the length of the repayment period. In some cases, the lender may also reduce your interest rate. These moves mean you owe less each month, although your overall costs may increase.
However, beware of foreclosure bailout loans, explained below, which carry a high interest rate, are often fraudulent, and can eventually result in foreclosure anyway.
Let's be clear about this — many lenders will be unwilling to refinance your mortgage if you have bad credit, foreclosure is looming, and you are delinquent on your payments. Missing payments damages your credit score, and foreclosure destroys it.
But as the five lending sources in this review illustrate, it's not impossible to obtain refinancing. These sources specialize in loans to bad-credit homeowners with delinquent mortgages who are determined to fix the problem.
Loan Modification
A loan modification shares the same goal of refinance loans — to reduce your monthly payments. By paying less each month, some homeowners may be able to stop foreclosures with cooperative mortgage lenders. The basic differences between the two are:
Refinancing requires a new loan to replace the existing one. The new loan may have a longer term or lower interest rate. Refinancing requires a new closing and the accompanying fees.
Loan modifications are permanent changes to existing mortgages that reduce interest rates and/or increase repayment periods. There are no closing costs since the loan remains in place.
Many banks offer loan modifications when the alternative is foreclosure. The federal government once offered the Home Affordable Modification Program (HAMP), but it expired in 2016.
HAMP was succeeded by the Flex Modification Program offered to homeowners whose mortgages are owned by the government-sponsored enterprises Freddie Mac or Fannie Mae. This program reduces mortgage payments by about 20%.
Mortgage Forbearance
Some mortgage lenders will attempt to avoid foreclosing on a delinquent borrower by offering a mortgage forbearance agreement. This is not a refinance transaction.
Rather, it's an agreement in which the borrower agrees to a mortgage repayment plan that will eventually bring the borrower current.
The plan may reduce or suspend mortgage payments for a specified period, coupled with an agreement by the lender to hold off on foreclosure. This option is usually reserved for cases where the borrower is in a temporary financial crisis, such as unemployment or a health issue.
Reverse Mortgages
Another strategy for stopping a foreclosure is to take out a reverse mortgage and use it to repay the existing mortgage. A reverse mortgage is a loan in which you don't have to repay the debt through monthly payments.
Instead, you receive the loan proceeds as a lump sum, in monthly installments, or as a line of credit. Interest accrues over time and is payable, along with the loan principal, when you give up the home.
You can use a reverse mortgage to stop foreclosure by applying the lump sum to the old mortgage. This reduces or eliminates your remaining equity, along with any monthly payments or lines of credit you receive.
One of the most popular reverse mortgage programs is the Home Equity Conversion Mortgage (HECM) program offered by the Federal Housing Administration (FHA). This is a loan guarantee program available through FHA-approved lenders.
To qualify for this program, you first meet with a HECM counselor to discuss the following eligibility requirements and program pros/cons:
You must be at least age 62 to qualify.
You must own the property outright or have a substantial amount of equity in it.
You must occupy the property.
The reverse mortgage amount is limited to your equity in your home (i.e., the value of the home minus the mortgage balance). Additionally, the amount you can borrow through a HECM cannot exceed the lesser of the home's appraised value or the program limit ($765,600).
You cannot be past due on any federal debt.
You must be able to afford continuing expenses such as property tax, insurance, and HOA fees.
The property must meet all HUD and FHA property and flood requirements as a single- or multi-family home, condominium, or manufactured house.
The program includes the costs for mortgage insurance premiums, an origination fee, a servicing fee, closing costs, and other third party costs. You can roll these costs into the loan or pay them separately. These costs tend to be high.
A reverse mortgage is itself subject to foreclosure based upon certain events. The lender can call the loan if the homeowner dies, sells, or moves out of the home, or fails to meet contractual requirements to pay insurance premiums and property taxes. The lender can foreclose on the property if a borrower doesn't repay the full amount due on the called loan.
A reverse mortgage may impact your access to Medicaid.
Clearly, you have much to consider when you want to stop a foreclosure. You may be able to successfully prevent foreclosure through the efficient use of a home refinancing loan or reverse mortgage.
Providers of Bad Credit Loans to Stop Foreclosure
The following five companies offer various solutions that can prevent foreclosure even if your credit is poor.
1. LendingTree
This offer is currently not available.
| Interest Rate | In Business Since | Application Length | Reputation Score |
| --- | --- | --- | --- |
| N/A | N/A | N/A | N/A |
LendingTree, an early pioneer of peer-to-peer (P2P) lending, is a marketing lead generator and duly-licensed mortgage broker. Its online marketplace helps registered borrowers and lenders find each other.
Simply enter basic information about yourself, your finances, and your property. LendingTree uses your loan request to provide you with up to five offers for various types of loans, including home refinancings and reverse mortgages. There is no charge for using LendingTree.
Options for home purchase or refinance
Get 4 free refinance quotes in 30 seconds
Network of lenders compete for your loan
Trusted by 2 million+ home loan borrowers to date
Interest rates are near all-time lows
| Interest Rate | In Business Since | Application Length | Reputation Score |
| --- | --- | --- | --- |
| Varies | 2004 | 4 minutes | 8.5/10 |
FHA Rate Guide does not arrange loans. Rather, it offers free information about providers of FHA loans.
You can use this information to identify sources of FHA-guaranteed refinance loans as well as reverse mortgages available through the FHA Home Equity Conversion Mortgages program. FHA Rate Guide is best suited to consumers who do not want to be automatically matched to lenders but would rather pursue their own course of action.
Easy to OwnSM programs give options for those with lower income, limited credit history, and low down payment needs.
Provides the potential for minimal out-of-pocket expenses with seller contributions.
Offers loans that don't require monthly mortgage insurance.
Requires less cash upfront for your down payment and closing costs.
| Interest Rate | In Business Since | Application Length | Reputation Score |
| --- | --- | --- | --- |
| Varies | 1852 | 6 Minutes | 8.0/10 |
Wells Fargo Home Mortgage offers an array of home loan products, including refinancing loans and loan modifications. It does not offer reverse mortgages.
It's loan modification programs may allow you to permanently lower your interest rate and/or extend your loan term so that your monthly payments will be smaller. Wells Fargo encourages its customers who are facing foreclosure to seek a loan modification.
Loan programs include down payment and closing cost assistance.
Variable and Fixed-Rate loans available with flexible qualification guidelines.
No maximum income/earning limitations.
| Interest Rate | In Business Since | Application Length | Reputation Score |
| --- | --- | --- | --- |
| Varies | 2008 | 5 Minutes | 7.0/10 |
Bank of America Mortgage provides various types of home refinance loans, including fixed- and adjustable-rate refinance loans and loans guaranteed by the Federal Housing Administration and the Veterans Administration.
Bank of America does not provide reverse mortgages but does offer loan modifications and temporary forbearance if you want to avoid foreclosure and stay in your home.
Low or no down payment required; flexible credit guidelines.
Seller can contribute up to 6% of sales price.
Streamlined refinance programs that speed the closing process.
Closing costs can be rolled into the loan.
Opportunities Within Neighborhoods (OWN) programs offer low down payment options, flexible credit criteria and other attractive features to meet the needs of many low- and moderate- income borrowers and those purchasing homes in low- and moderate - income areas.
| Interest Rate | In Business Since | Application Length | Reputation Score |
| --- | --- | --- | --- |
| Varies | 1998 | 9 Minutes | 8.0/10 |
CitiMortgage offers a full range of mortgage products, including mortgage refinance loans. Its Office of Homeownership Preservation is a centralized resource that offers various types of assistance to help avoid foreclosure, including payment deferment, loan forbearance, and loan modification.
It also offers options, such as a short sale or deed-in-lieu of foreclosure, that allow you to give up your home without foreclosure.
Government Programs May Help
Several federal and state government agencies, as well as non-profit counseling organizations, offer programs that can help you avoid or deal with foreclosure.
HUD Foreclosure Avoidance Counseling: The Department of Housing and Urban Development approves housing counseling agencies and reverse mortgage counselors in each state. These counselors provide free advice on a number of home-related topics, including defaults and foreclosures. You can learn about documents you may need, how to make a budget to account for your monthly expenses (including mortgage payments), and where to find local resources that can help.
Homeowner's Hope Hotline: This is a free service of the Homeownership Preservation Foundation and has helped more than 9 million folks avoid foreclosure. It will help you develop a custom action plan if you can't make a mortgage payment or catch up with payments. It can also help you deal with a mortgage modification or a mortgage scam.
NeighborWorks: This is a support structure composed of more than 240 community development organizations that can help you avoid or mitigate foreclosure. It also works to raise awareness of loan-modification scams.
Court-approved credit counseling agencies: A section of the federal bankruptcy laws (11 U.S.C. § 111) requires bankruptcy courts to maintain a list of nonprofit budget and credit counseling agencies. You must use these resources if you enter into bankruptcy. If you file for bankruptcy (perhaps as a result of foreclosure), these agencies provide mandatory counseling from trained experts.
National Foundation for Credit Counseling (NFCC): This is a nonprofit financial counseling organization composed of certified credit counselors who can help you develop a plan to climb out of debt. The organization offers a variety of services, including foreclosure prevention counseling and reverse mortgage counseling.
National Council of State Housing Agencies (NCHSA): Your state may offer resources to help you deal with foreclosure issues. You can find contact information for your state housing agency at the NCHSA website.
For more tips on consumer assistance resources, see the foreclosure prevention page at the Federal Deposit Insurance Corporation website.
How Can I Get a Loan to Stop Foreclosure?
When you have trouble paying your mortgage, reputable mortgage lenders turn to foreclosure only as a last resort. Foreclosure can be expensive and time-consuming.
In addition, the lender must dispose of the property seized through foreclosure with no guarantee that the lender will find a buyer or that the sale will recoup the mortgage balance.
The five resources reviewed above can help you refinance your home to stave off foreclosure.
The two types of loans you can use to avoid foreclosure are refinance loans and reverse mortgages. If you can arrange to refinance your mortgage, you close on a new mortgage that you use to repay your old one.
For it to be effective, a refinance loan should ease your ability to make your monthly mortgage payments and repay your delinquent payments.
You can also consider a reverse mortgage to help ward off foreclosure. In a reverse mortgage, you use your home equity to receive a lump sum to repay your existing mortgage. If you have any remaining equity, you can receive it in monthly payments or in a line of credit.
A bad credit score can complicate your ability to obtain these two types of loans. However, if you are at least 62 years old and have considerable equity in your home, you may be able to arrange a reverse mortgage even with bad credit.
All five resources in this review may help you obtain a refinance loan, but your bad credit profile may make it difficult to reduce your interest rate. Nonetheless, you may be able to receive a longer loan term that will reduce your monthly mortgage payments.
Is it Ever too Late to Stop Foreclosure?
You can't stop a foreclosure once your lender has auctioned your home to a new owner and any redemption period has expired. Until this occurs, you have several ways to stop foreclosure.
If you are delinquent in making your monthly mortgage payments, you should expect your lender to run out of patience in as little as 90 days. However, the Dodd-Frank Act requires lenders to delay most foreclosure proceedings until your payments are 120 days past due, although there are exceptions.
You can use this period to arrange a new loan, a loan modification, loan forbearance, short sale, or some other remedy.
Foreclosures are regulated by state law, so you need to understand your rights in your state. You also need to know whether the foreclosure will be judicial or nonjudicial.
Nonjudicial Foreclosure
In a nonjudicial foreclosure, the lender follows state rules that allow it to foreclose on your home without court proceedings. The basis is a state-permitted power of sale provision in your mortgage note or deed of trust.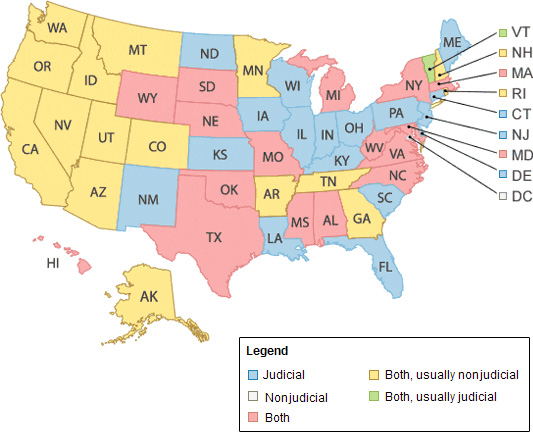 The process begins when you receive a notice, often called a breach letter, from your lender about your delinquent payments. The notice explains that your mortgage is in default.
You usually have 30 days to respond to a notice of default. If permitted, the lender can then accelerate the loan, i.e., demand immediate and full repayment. Failure to pay off the loan within the specified period leads to foreclosure.
The lender's next step is to have the foreclosure trustee schedule a foreclosure sale. You'll receive a notice of sale that specifies when your home will be auctioned. You can stop the foreclosure by arranging a refinance loan or reverse mortgage before the auction occurs.
Some states offer redemption periods, in which the borrower can continue to reside in the home after the foreclosure sale. During the redemption period, the borrower can avoid eviction by repaying the original mortgage.
Eventually, you will have to leave your home, and in some states, you may be sued for a deficiency judgment. This judgment requires you to pay any shortfall the lender experiences due to a sale price below the mortgage balance.
Judicial Foreclosure
Your state may permit or require lenders to work through the courts to foreclose on properties in default. Judicial foreclosures usually require more time to complete than do nonjudicial ones. In fact, judicial foreclosures can stretch from a few months to several years.
Judicial and nonjudicial foreclosures follow the same early steps, such as sending a breach letter and demanding accelerated payment. However, if you fail to repay the loan within 30 days, the lender can petition for foreclosure in state court.
At this point, you'll receive a court summons notifying you of your right to respond to the foreclosure lawsuit. Typically, you'll have 20 to 30 days to object to the suit, and doing so buys you more time.
The court may issue a summary judgment against you if the facts are not in dispute. However, if the summary judgment is denied, you will have your day(s) in court to dispute the foreclosure.
On the other hand, If you don't respond to the summons, the court will probably issue a default judgment against you and the home will go to auction.
If you lose the foreclosure lawsuit, the house is sold at auction. If the sale price doesn't cover the mortgage balance, the court may make a deficiency judgment that requires you to make up the shortfall.
As with nonjudicial foreclosures, your state may provide you a redemption period that gives you one last chance to avoid eviction by repaying the lender in full. Thus, depending on your state, it becomes too late to stop a foreclosure at either the time of the foreclosure auction or, if permitted, after the redemption period expires.
What is a Foreclosure Bailout?
A foreclosure bailout loan replaces your current mortgage with a new one, usually at a higher interest rate. Providers include hard-money and subprime lenders.
To obtain this kind of loan, you typically need to have substantial equity (i.e., at least 40%) in your home and a credit score of 500 or higher. Normally, the loan amount is capped at 65% of the home's value.
These loans are undesirable because of their higher interest rates, which could increase your monthly costs and eventually result in another foreclosure procedure. In addition, foreclosure bailout loans often charge exorbitant origination fees and may include punishing prepayment penalties. In other words, these loans are often predatory.
To make matters worse, some providers of bailout loans are fraudsters who are looking to trick you out of your money and leave you in poorer shape. Often, these loan providers expect you to go back into default, leading to another foreclosure cycle.
The result could be a foreclosure sale in which the predatory lender is reimbursed for the loan plus fees, interest, and other costs.
Be aware of the following warning signs to avoid falling victim to a fraudulent foreclosure solution:
HAMP modifications: A lender who offers you a Home Affordable Modification Program (HAMP) loan modification is lying to you because this program expired in 2016. If you receive a HAMP offer and a prepayment request, report it to the Consumer Financial Protection Agency.
Advance payments: Never pay in advance to apply for a refinance loan, reverse mortgage, or loan modification. In virtually all cases, these advance fees are illegal or fishy. Be especially suspicious of upfront fees that you must pay by wire transfer or cashier's check.
Third-party modifications: Only your current lender can modify your mortgage. If anyone else offers you a loan modification, it's a scam.
Unknown address: If you receive a solicitation for a bailout loan from your current lender, verify the physical address, phone number, or email address. If you don't recognize these items, it could be a scam.
Pressure tactics: Don't succumb to pressure tactics, such as signing an agreement before reading it. Also, beware of a lowball cash offer for your home. Don't sign over your deed to any organization other than your mortgage company. And ignore any advice to stop making mortgage payments.
If you want help procuring a refinance loan or reverse mortgage, contact a HUD-approved housing counseling agency.
Take Action Immediately to Prevent Foreclosure
You have options to prevent foreclosure, but you must act quickly before you lose your home for good. Our review of five loan sources can help you avoid foreclosure.
The key is to take affirmative action to stop foreclosures before they start. You can get help from any of the sources we've listed but stay alert to scammers looking to capitalize on your misfortune.
Advertiser Disclosure
BadCredit.org is a free online resource that offers valuable content and comparison services to users. To keep this resource 100% free for users, we receive advertising compensation from the financial products listed on this page. Along with key review factors, this compensation may impact how and where products appear on the page (including, for example, the order in which they appear). BadCredit.org does not include listings for all financial products.
Our Editorial Review Policy
Our site is committed to publishing independent, accurate content guided by strict editorial guidelines. Before articles and reviews are published on our site, they undergo a thorough review process performed by a team of independent editors and subject-matter experts to ensure the content's accuracy, timeliness, and impartiality. Our editorial team is separate and independent of our site's advertisers, and the opinions they express on our site are their own. To read more about our team members and their editorial backgrounds, please visit our site's About page.