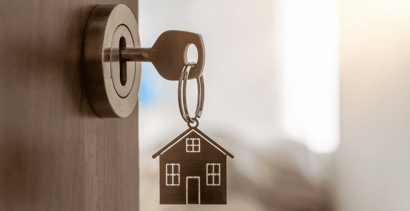 The demand for bad credit loans to buy a house endures because the American dream of home ownership runs deep and wide, regardless of FICO score. The response to consumers with low credit scores is the bad credit mortgage lending industry, which is eager to put you into your next dwelling, whether it's a 3,500-square-foot split level or a 350-square-foot tiny house.
You may assume your subpar credit disqualifies you from purchasing a home. On the contrary! 
We've assembled seven lending sources that make owning a home possible despite your poor credit. Read on to discover which will work best for you. 
Mortgage Options For Bad Credit Borrowers
These seven options include direct lenders, loan networks, government-backed loans, and mortgage information providers. 
Our top recommendation for a bad credit homebuyer is eMortgage. The company does not originate mortgages. It is instead an independent, advertising-supported publisher with a lender network to provide customers with multiple mortgage options.
You can solicit mortgage offers by submitting an online request form. eMortgage® uses sophisticated data encryption to help ensure your security and privacy.
Rocket Mortgage, a direct loan provider, has won the JD Power Customer Satisfaction Award for eight consecutive years. It offers mortgages on single-family and multifamily homes, townhouses, and condominiums to buyers with any type of credit.
Applying for a bad credit mortgage loan is easy — just answer a few questions about what you're looking for and when you will be looking. You must also provide information about your credit and finances. The entire process is fast and entirely online.
Don't let the name fool you — the FHA Rate Guide is not part of the Federal Housing Administration. It is an online information service that preapproves mortgage requests and provides links to direct lenders. 
It takes only minutes to enter the required information and receive up to four quotes. To help protect your security and privacy, FHA Rate Guide works with SecureRights, a third-party service that verifies consumer information.
You can prequalify for a bad credit home loan from Bank Of America Mortgage without cost or obligation. Based on the outcome, you can submit a complete loan application by answering a series of online questions.
The bank offers a range of options with mortgage down payments as low as 3%. The handy online calculator lets you preview your rates, points, and monthly payments for several types of mortgages. 
You can quickly prequalify for a CitiMortgage loan before engaging in the lengthy application process. Citi offers its banking customers special mortgage pricing that can reduce interest rates or provide a closing cost credit. 
The bank offers various options, including conventional, FHA, VA, and jumbo loans with fixed or adjustable rates. Citi's Lender Paid Assistance Program can reduce closing costs by $5,000 for eligible borrowers. 
The US Department of Veterans Affairs provides military members and veterans access to its VA-Guaranteed Home Loan Program. You can qualify by applying for the Department's Certificate of Eligibility (COE). Receiving the COE enables you to shop for mortgages from VA-approved lenders.
The VA also offers direct home loans to Native Americans. Generally, VA loan offerings have very favorable rates and terms, including $0 down payments, fewer closing costs, and no prepayment penalty.
If you want to purchase a home in a rural area, USDA Rural Housing Loans can help in two ways. You can use its Section 502 Guaranteed Loan Program to finance primary rural dwellings with approved lenders. 
The US Department of Agriculture also offers its Section 502 Direct Loan Program, which assists low-income homebuyers with their monthly mortgage loan payments. The USDA loan programs provide various direct and guaranteed borrowing options.
What Are Bad Credit Loans to Buy a House?
Your credit is bad if you have a FICO score below 580. A bad credit score usually stems from failing to meet financial obligations, such as repaying a loan or credit card bill when due. You incur further damage from defaults, write-offs, collections, repossessions, and bankruptcies.
Two factors distinguish bad credit mortgage loans from the rest:
Access: Some mortgage lenders set strict credit standards that prevent them from lending to a subprime homebuyer. On the other hand, some lenders have special programs for bad credit.
Rates: Lenders often charge subprime borrowers higher mortgage rates. The higher interest rate helps offset a lender's risk that subprime borrowers are more likely to default on their loans. 
Both of these factors hinder the ability of poor credit consumers to obtain affordable mortgages. But mitigating these obstacles is the secured nature of mortgages — unlike a personal loan, a mortgage is a collateralized loan backed by your house. 
If you default on a mortgage, the lender will foreclose and sell your home to recoup its loan. The lender faces a much lower risk of losing money on a mortgage than on a personal loan, although there is no guarantee they will recover all their costs.
Lenders also reduce risk by selling their mortgages to loan securitizers such as Fannie Mae and Freddie Mac. These financial institutions pool thousands of home loans that back mortgage-backed securities for sale to investors. 
The result is that mortgage lenders can offload default risk to third parties, which reduces the extra interest the lenders must charge. Lenders typically sell bad credit mortgage loans first and may retain some of the mortgages they issue to borrowers with nearly perfect credit.
Mortgage lenders have additional tools to reduce the costs of default risk:
Mortgage insurance: Lenders routinely require mortgage insurance for borrowers who make down payments of less than 20%. If you have less than perfect credit, you should assume you'll need to make a monthly payment for your mortgage insurance premium until you've repaid 20% of your loan.
Closing costs: Lenders may impose higher fees on bad credit mortgages. For example, subprime borrowers may have to pay a more significant origination fee to mortgage lenders. This upfront revenue for the lender offsets potential losses from borrowers who default. 
Loan guarantees: Several governmental agencies, including the FHA, VA, and USDA, issue loan guarantees to mortgage lenders. The agencies insure lenders against losses due to defaults and foreclosures. These programs give consumers with poor credit much greater access to mortgages. Special rules may apply to a first-time homebuyer.
The bottom line is that bad credit need not disqualify you from getting a mortgage. You can significantly raise your approval chances if you improve your credit score.
What Is the Lowest Credit Score You Can Have to Get a Loan For a House?
Borrowers with credit scores below 500 face the most formidable obstacles because that's the minimum score the FHA requires for its mortgage guarantee program if you are a first-time homebuyer. 
You'll need a down payment of at least 10% if your score is between 500 and 580. Higher scores require a 3.5% down payment.

Most lenders will not offer you a bad credit home loan if your score is below 580, especially if you are a first-time homebuyer. Some mortgage lenders that specialize in bad credit loans may accept credit scores below 500, but these are expensive and hard to find. 
If you have a low score, you must pay attention to two ratios:
Housing expense ratio (HER): This is the percentage of your gross monthly income that goes toward your housing expenses. It's equal to your housing expenses (including taxes, insurance, fees, etc.) divided by your gross monthly income. Most mortgage lenders want you to maintain a HER below 32%
Debt-to-income ratio (DTI): This ratio equals your monthly expenses divided by your gross monthly income. The expenses include your mortgage, student loan balances, auto loans, minimum credit card payments, and other debts. You must keep your DTI ratio below 46%, and many lenders require a ratio below 39%.
The Veterans Administration doesn't impose a minimum credit score requirement on its loan guarantees. Participating VA loan providers set their own credit score requirements. The same is true for USDA loan providers, which typically require a minimum credit score of 640.
Are Conforming Loans Easier to Get?
Conforming loans comply with FHFA (Federal Housing Finance Agency) standards that govern debt levels, credit scores, and loan amounts. Fannie Mae and Freddie Mac purchase, pool, and securitize conforming loans for sale to investors.
Fannie Mae buys mortgages from large banks, whereas Freddie Mac focuses on smaller banks and credit union lenders.
Securitization adds liquidity to the mortgage system, so conforming loans usually charge less interest than non-conforming loans. The 2022 baseline conforming loan limit is $647,200 but reaches $970,800 in high-cost counties.
You should not confuse a conforming mortgage with a conventional loan. Banks and other private financial institutions issue conventional mortgages, both conforming and nonconforming. Agency-guaranteed mortgages are also conforming, but they are not conventional.
Jumbo mortgages finance expensive housing in loan amounts that exceed FHA standards. Fannie Mae and Freddie Mac cannot back jumbo mortgages. Some jumbo mortgages are interest-only, requiring borrowers to make a balloon mortgage payment at the end of the loan term.
Must I Make a Down Payment to Get a Mortgage?
A down payment is an initial sum of money you pay at mortgage closing to reduce the amount you must borrow. For example, if you put 20% down on a $400,000 house, your down payment will be $80,000, and your mortgage amount will be $320,000 (plus fees).
Most mortgages require a down payment of at least 3.5%. Some guaranteed loans, such as those from the VA and the USDA, do not require a down payment.
The FHA loan rules mandate that down payments below 20% require borrowers to pay a mortgage insurance premium (MIP) at loan closing (1.75% of loan value) and annually (0.85%) thereafter for the life of the loan. Homeowners usually make a monthly mortgage insurance payment that goes into an escrow account, where it accumulates until the mortgage servicer forwards it to the FHA. 
Private lenders usually require down payments of at least 3%. Conventional loans with down payments below 20% require private mortgage insurance (PMI). The typical PMI premium rate ranges from 0.58% to 1.86% of the original loan amount, depending on your credit score, until you have repaid 20% of the loan.
"For borrowers with a 96.5% loan-to-value (LTV) ratio (i.e., 3.5% down), PMI is more economical than FHA loans for borrowers with a FICO score of 720 or above. For borrowers with a 95% LTV ratio (5% down), PMI is more economical for FICO scores of 700 and above. But PMI cancels at 78% LTV, whereas the FHA loan annual premium stays in place for the life of the loan."

The Urban Institute
Many FHA mortgage holders refinance their loans once they've repaid 20%, saving them MIP costs for the remainder of the loan. Both types of mortgage insurance protect lenders should homeowners default on a mortgage payment. 
Which Factors Affect the Size of My Mortgage?
Mortgage lenders consider several factors when assessing loan amounts, including:
Income: Your total income before taxes (i.e., base salary, commissions, bonuses, tips, overtime, and consulting fees) is a crucial determinant of how much you can borrow. Secondary sources of income include Social Security benefits, investment income, rental income, alimony, and child support. When applying for a mortgage, you should enter a spouse's or co-borrower's income. Your assets may also influence the amount you can borrow.
Current obligations: Lenders want to know how much you pay monthly for a car loan, credit card debt, a student loan, alimony, child support, and other obligations. You must also disclose your monthly housing payments, whether you rent or own. Homeowners must include principal, interest, tax, and insurance (PITI) payments. Lenders use this information to calculate your DTI ratio, which influences how much they will lend you. Most lenders require a DTI that doesn't exceed 28%.
Credit history: Your credit report can limit the amount you can borrow and even disqualify you from getting a mortgage. If you have a bad credit score, expect loan offers with significantly higher interest rates.
Down payment: The more you put down, the less you need to borrow, and the easier it is to obtain a mortgage. Larger down payments reassure borrowers that you'll do everything possible to avoid foreclosure and the loss of your equity. In addition, large down payments lower your PITI payments, reducing pressure on your budget.
Property value: Most lenders impose a limit on mortgage size based on the property's value. A typical LTV ratio is 90%, although some loans (i.e., from the VA and USDA) allow up to 100%. Most mortgage lenders also make conforming loans that cannot exceed the FHFA limits for the year. 
You can increase your maximum mortgage by taking steps to improve your credit score, making a sizable down payment, and reducing your DTI ratio.
What Is a Second Mortgage?
Second mortgages are home equity loans. The value of your home minus your primary mortgage balance is your equity, and you can pledge up to 100% of it to back a second mortgage. 
A home equity loan gives you a lump sum payout that you repay monthly, similar to a primary mortgage. Alternatively, you can get a home equity line of credit (HELOC), a revolving credit line that works like credit card cash advances.

With a HELOC, you can borrow and repay at your discretion (as long as you pay the minimum monthly amount) and only incur interest on your outstanding balance. Failure to repay a second mortgage can result in foreclosure and the loss of your home.
What Are the Risks Associated With Mortgage Borrowing?
The most significant risk is being unable to afford your monthly payments, including the mortgage, insurance, taxes, and other fees. In the worst-case scenario, your mortgage lender can seize and sell your home to get its money back. Depending on the amount you owe and the home's value, you could lose all your equity through a foreclosure. 
Mortgage insurance can preserve your equity but will add to your monthly costs. You can also consider disability and income-replacement insurance to cover situations when you can no longer work. 
Another mortgage borrowing risk is overpaying. It is essential to shop around for the mortgage with the lowest interest rate and fees. You also should evaluate whether the mortgage lender imposes prepayment penalties. 
A third risk is that your home will lose value and send your mortgage underwater — which means you owe more than the home is worth. If you suddenly had to sell your home, you would have to come up with extra money to pay off the mortgage. 
You can mitigate risks of damage due to vandalism, fire, and acts of nature through appropriate homeowners insurance. You may need additional insurance to protect against floods, volcanoes, and other events not usually covered by conventional insurance. Don't forget to buy liability insurance in case someone is injured on your property.
Compare Bad Credit Mortgages When House Shopping
Bad credit loans to buy a house are available from many sources, so your low credit score won't necessarily shut you out of the residential real estate market. 
You can choose a government-guaranteed or conventional loan with relatively lax credit requirements, although a 500 or lower credit score is problematic. Special programs make buying a home possible for thousands of consumers each year.
Advertiser Disclosure
BadCredit.org is a free online resource that offers valuable content and comparison services to users. To keep this resource 100% free for users, we receive advertising compensation from the financial products listed on this page. Along with key review factors, this compensation may impact how and where products appear on the page (including, for example, the order in which they appear). BadCredit.org does not include listings for all financial products.
Our Editorial Review Policy
Our site is committed to publishing independent, accurate content guided by strict editorial guidelines. Before articles and reviews are published on our site, they undergo a thorough review process performed by a team of independent editors and subject-matter experts to ensure the content's accuracy, timeliness, and impartiality. Our editorial team is separate and independent of our site's advertisers, and the opinions they express on our site are their own. To read more about our team members and their editorial backgrounds, please visit our site's About page.