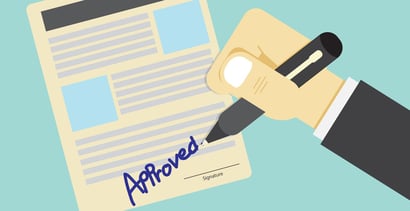 While it's true there are few guarantees in life, the loans for consumers with bad credit we review here come mighty close to "guaranteed" approval. By that, we mean most of these lenders have very flexible approval requirements that those with a blemished or scant credit history can reasonably satisfy.
Beyond providing money when needed, some of these bad credit loans also offer consumers a path toward credit repair. That's because the lender may report your payments to one or more of the national credit bureaus. If you make your payments on time and always pay the amount due, you can help build positive payment history — the most important credit scoring factor — over time.
Let's take a look at some of our expert picks for bad credit loans with guaranteed approval decisions in a matter of minutes.
Personal and Payday Loans With Guaranteed Approval
Our experts have identified the best personal loans that almost anyone can obtain. This is because the lenders take steps to limit their risks in the form of limited loan amounts or credit lines, secured accounts, high interest rates, and myriad fees. In return, these lenders offer loans to folks who otherwise may not qualify for credit.
While requirements vary, they are all reputable providers that offer loans addressing the needs of those with poor credit. Here are the best unsecured personal loans for consumers with bad credit:
MoneyMutual works with a network of lenders who compete for your business. It offers access to personal and short-term loans, usually from $250 to $5,000, and the funds are available in as little as 24 hours. The different loan offers may have a variety of payment terms from which to choose. MoneyMutual is not available in Connecticut and New York.
You may be able to secure a loan from a lender that doesn't require a credit check on 24/7 Lending Group. No credit check means guaranteed approval if you can prove you have the income to repay the loan as agreed, as well as meet the lender's basic age and residential requirements.
CashUSA.com can connect you to a lender willing to lend up to $10,000 that you can access as quickly as the next business day. To qualify, you must be at least 18 years old, be a U.S. citizen or permanent resident, earn a specified amount of income per month, and have a checking account, phone number, and email address. Loan terms and fees vary by lender, but CashUSA.com is a free service.
While no direct lender can guarantee you'll be approved for a loan, the lenders that partner with SmartAdvances.com will do their best to get you an offer. You'll have the chance to review the terms of the loan, including the loan amount, interest rate, and repayment period, without any obligation to accept the loan offer.
BadCreditLoans.com finds easy-to-acquire loans ranging in amounts from $500 to $10,000. However, those with poor credit typically receive loan offers no greater than $1,000, The website points out that it can connect you to lenders who require no collateral and welcome all credit scores. You must satisfy age, residence, and income requirements, and have a checking account, email address, and phone number.
CreditLoan.com may be the fastest online loan network, potentially getting you a same-day emergency loan if you apply early in the day. The company welcomes subprime borrowers seeking personal or payday loans for poor credit. Its lender network works with consumers of every stripe, even those with limited or poor credit. 
BillsHappen® network of bad credit personal loan providers can put cash into your bank account as soon as tomorrow. The company may arrange multiple loan offers from $500 to $5,000. BillsHappen® won't check your credit when prequalifying your loan request.
PersonalLoans.com can find offers for larger personal loans of up to $35,000. Your offer amount, if any, will depend on your credit history, income, and applicable state law. PersonalLoans.com's lender network offers peer-to-peer loans, personal installment loans, and personal bank loans. Many of the loan providers offer repayment terms from 90 days to 72 months and APRs up to 35.99%.
CashAdvance.com works with a network of short-term lenders to get you cash quickly. U.S. citizens 18 years and older can apply if they meet the income and employment requirements and can provide a phone number, email address, and checking account number. Lenders will deposit your loan proceeds in your bank account and may automatically collect your payments from there.
Are There Guaranteed Loans For Bad Credit?
We think the right term is virtually guaranteed when referring to the lenders in this article. That is to say, the vast majority of applicants will receive approvals from these creditors, but inevitably, a few will be denied. There are no guarantees when it comes to the lending industry, unfortunately.
The typical reasons for application rejection center around recent derogatory events, such as a bankruptcy, tax liens, foreclosure, or other debt collection. Or you may not meet the lender's requirements, such as having a checking account, a minimum monthly income, a telephone number, and a valid email address.
Payday lenders work off a different game plan. They aren't interested in your credit score and instead rely on your next paycheck to guarantee your loan. Payday lenders require you to have an income source and a valid identification and may require an active checking account registered in your name. You'll also need to be at least 18 years old. 
Payday lenders typically want to see a work history of 90 days or longer at your current employer, which they may verify by checking your pay stubs.
How Does a Bad Credit Loan Work?
The reviewed loan facilitators operate similarly. They all use networks of personal and payday loan providers that welcome subprime borrowers. 
Loan Networks
Our lender list consists of websites that find direct lenders willing to entertain your loan request. The nine reviewed companies share the following features:
They do not provide direct loans or have any say on the loan terms offered to you by network members.
They accept your loan request form online, which they use to prequalify you. If you meet the prequalification standards, they submit your request to one or more network lenders.
They don't perform hard inquiries of your credit. It doesn't hurt your credit score when you submit a loan request to them.
They charge no money for their service. Instead, they earn a lender's finder fee when you agree to a loan from their network.
Their prequalification criteria include the following:
You must be at least 18 years old.
You must be a US citizen or permanent resident with a valid Social Security number or equivalent tax ID.
You must earn enough monthly income to repay the loan.
You need an active checking account in your name.
You need a working phone number and email address.
Each lending service sets its own minimum monthly income requirement, which may begin as low as $500. 
Note that MoneyMutual can provide you with either a payday or a personal loan. Some other lending networks specialize in just one type. MoneyMutual has long received our top ranking.
Personal Loans
Personal loans do not require collateral, instead relying on the lender's assessment of your creditworthiness. A personal loan is an installment loan, meaning you make fixed monthly payments for the loan term (usually ranging from three to 72 months). You reduce your monthly payment by accepting a more extended term but increase the loan's total cost. 
You'll pay interest on your remaining balance and can pay off the loan early, without penalty. As described earlier, the APRs on personal loans can vary from mid-single to low-triple digits, depending on your credit score. 
Personal installment loan providers check your credit when you apply. These credit check loans can result in a one-to-eight-point drop in your credit score and a notation on your credit report. The item remains on your report for two years but impacts your score for only one.

Payday Loans
Payday loans charge outrageous interest rates (on the order of 400% to 800% or more), but if you don't roll them over, the high APR applies for only a few weeks. Your credit score isn't essential to a payday lender, who instead relies on your wages to cover the loan amount. 
When you apply for a payday loan, the lender will check your employment and income, but generally, these are no credit check loans. Loan amounts are modest, seldom exceeding $1,000, and you must repay in full on your next pay date.
If you can't afford to repay the loan on the due date, the online lender will add the interest to your loan principal and roll the repayment date forward to the following pay date. This is dangerous territory because repeated rollovers can result in unpayable debts and a slide into bankruptcy. 
Online payday loans differ from the storefront variety in a few ways:
A storefront payday lender may require you to deposit a post-dated check to cover the amount due on the payment date. Online payday lenders access your checking account to deposit the loan proceeds and then automatically draw the repayment amount on the due date.
You can collect your money from a storefront payday lender in a matter of minutes, which is good if you need an emergency loan. An online lender almost always requires at least one business day before depositing the funds into your checking account.
You can arrange an online payday loan in the comfort and security of your home or workplace. If you go to a storefront payday lender for a short-term loan, you are prey to everything from prying eyes to muggers.
Payday lenders serve wage earners who have limited or poor credit. If you have a choice between a payday or a personal loan, you'll spend a lot less on the latter type of short-term loan.
What Credit Score Do I Need For a Bad Credit Loan?
You don't need any credit score to get a payday loan. That's one of this loan type's biggest attractions. Payday lenders don't check for a poor credit score, and applying for one of their loans doesn't affect your credit. 
Bad credit personal loan providers do check credit, and some lenders may turn you down when your credit is lousy. But many personal loan lenders have flexible attitudes toward credit scores, relying on other indicators such as the debt-to-income (DTI) ratio. 
Your DTI indicates whether you can afford new debt, and some lenders accept ratios as high as 50%. 

Your poor credit score is also immaterial for certain other poor credit loans, including title, pawn, equity, and secured loan offerings. All of these rely on collateral to secure your loan. While easy to get, remember that you can lose your property if you fail to meet the loan's obligations. That means you may find yourself without a home or a car if you default.
Unsecured bad credit personal loans are less risky since they don't require you to issue a lien on your personal property. A direct lender must go to court to wrest your assets from you if you default on an unsecured loan, a costly and risky pursuit. From a risk viewpoint, this is the best bad credit loan. 
Moreover, you can file for bankruptcy to protect your unsecured assets from creditors, although you may end up losing them anyway under a Chapter 7 bankruptcy. You can retain your assets under Chapter 13 by agreeing to repay at least some of your debt. 
If you have a secured personal loan, the direct lender will have a much easier time seizing the collateralized asset. Bankruptcy does not protect you when you default on a secured personal loan. 
Can a Bad Credit Loan Help My Credit?
You can do your credit a world of good by repaying a personal installment loan on time. In fact, 35% of your FICO Score hinges on your payment history. 
To get a score boost, you must pay all your bills on time, every time. If you fall more than 30 days behind, your creditor can report your delinquency to a major credit bureau and send your score plunging. 
We specify personal loans and not payday loans as a way to improve your credit because bad credit personal loans pull your credit when deciding your loan application, whereas payday loans do not. Only loans that perform hard credit inquiries are likely to report your late payments to a credit bureau. This is the best bad credit loan type for rebuilding your credit score. 
But any debt that goes into collection will likely appear on your credit report, with devastating impact on your already bad credit score. Payday loans won't ever help your score, but they may harm it if you fail to repay.
If you want to improve your credit, do the following:
Pay your bills on time.
Keep your credit utilization ratio below 30%
Remove any derogatory mistakes from your credit reports.
Refrain from applying for more than one loan or credit card within a six-month span.
Don't close old credit card accounts.
Use a mix of different debt types.
No matter how low your bad credit score falls, you can rebuild your credit by straightening up and flying right. The reward will be easier credit approval, lower interest rates and fees, and access to more rewarding credit cards. Better credit can give you a better lifestyle and greater financial independence. It's a good thing.
Which Loan Company Is Best For Bad Credit?
It is hard to choose the best loan company, mainly because none of the five reviewed here actually provides loans. Rather, they work with a network of lenders (sometimes including peer-to-peer lenders and banks) to connect you with a loan provider.
It is the loan providers who decide whom to accept, how much to lend, and how much to charge. The loan companies we reviewed in this article all share certain features, such as not charging for their service and having similar application requirements.
Having said that, our experts have evaluated the best personal loan companies and have given the top score (4.8 out of 5) to MoneyMutual.
Among the reasons why this lender edged out the competition are:
It has successfully connected more than 2 million customers with short-term loan providers.
The website boasts of quick decisions and quick funding, in as little as 24 hours.
You can receive a short-term loan of up to $2,500.
It is a member of the Online Lenders Alliance and the Community Financial Education Foundation.
The website implements security from Norton and McAfee.
In many ways, cash advances from unsecured cards offer stiff competition to online personal loans. If you can obtain an unsecured card, you can get a cash advance without any additional paperwork or approvals.
Less helpful are cash advances from secured cards, as they limit credit to an amount equal to your deposit. However, if you can establish a relatively high credit limit on your secured card, you will save a substantial amount on fees and interest.
The unsecured cards in this review feature certain charges, such as upfront program fees and monthly service charges, that you don't find on secured cards. The purchase APRs on some secured cards are significantly lower than those charged by their unsecured cousins.
Cash advances can also be more flexible than personal loans. You can vary the amount you pay back to the credit card issuer each month if it is no less than the required minimum. Because credit cards are revolving accounts, you can repeatedly borrow and repay your cash advances without having to apply for another loan.
How Can I Get Approved For a Loan With Bad Credit?
The lending websites we feature in the article all specialize in finding loans for folks with bad credit. These lenders have carefully engineered their loan products to provide themselves with enough protection to permit the underwriting of risky loans.
Depending on which company you connect with, you can expect any loan offer to be for a modest amount and a high APR.

When lending to consumers with bad credit, the loan providers often look to the applicants' income. Typically, the lenders want to see at least $800 to $1,000 per month in income after taxes. That can come from a job or from other sources, such as Social Security or disability insurance.
A good strategy for landing a loan is to start with a secured credit card. Even if it's a modest initial deposit (most cards require a minimum deposit of $200), you can use the card to help improve your credit score. The secured-card providers in this article all report your monthly payments to the three credit bureaus: TransUnion, Equifax, and Experian.
You can help your credit score by paying on time, paying more than the minimum balance, not exceeding your credit limit, and paying off the entire balance as quickly as you can. As you establish your responsible use of the account, you can request a higher credit limit and deposit more cash into the security account.
After six months to a year, you may be eligible to trade up to an unsecured credit card. Eventually, your good credit habits may enable the providers of personal loans to make you an offer.
Even if you don't actually need the loan at the time it's offered, it's a good idea to take the loan and then repay it in full over the following few months. This will make it easier to obtain a personal loan for a larger amount when you really need it.
Can I Get a Loan From a Credit Union With Bad Credit?
Credit unions are like banks, except they are much friendlier, as members are also owners. The National Credit Union Administration (NCUA) developed the Payday Alternative Loan (PAL) to help federal credit union members avoid expensive payday loans. PALs come in two varieties:

PALs are much less expensive than payday loans. Depending on the PAL type, you may qualify for a loan of up to $2,000 with a full year to repay. You must be a credit union member before applying for a PAL. 
Although PALs are easy to obtain, credit unions can't guarantee loan approval. You may find yourself scurrying to another credit union if the first one turns you down. Loan networks are more convenient because they can put you in touch with several lenders all at once, increasing your loan approval prospects.
Moreover, the networks work with various loan types — if one type doesn't pan out, you can try another.
How Can I Get a Loan Without a Credit Check?
Many folks with bad credit resort to payday loans, since these don't typically check your credit score. Payday loans are risky and expensive. The risk is that you'll fall into a debt trap in which the fees mount so high that you'll never get out of debt — they are expensive because of high APRs and late fees.

Title loans can also be predatory. In a title loan, you assign your vehicle's title to a lender. The title serves as collateral, and the lender doesn't have to check your credit to approve the loan. However, like payday loans, title loans can be awfully expensive and you risk losing your car if you default on your payments.
Frequenters of pawn shops are familiar with another loan source that doesn't require a credit check. You bring in something you own, and the pawnbroker will give you a modest loan, usually for only a small percentage of the item's worth. You can redeem your pawn ticket by repaying the loan or simply forget about retrieving your possession and keeping the broker's payment.
You can also get a cash advance without a credit check from a credit card, where you borrow the money from your available credit limit. You can withdraw the funds from an ATM and will likely be charged a cash advance fee for the convenience. Be sure to read and understand the terms of your account before using your card.
Read the Fine Print Before Agreeing to Any Loan Terms
If you have bad credit and require emergency cash, you may be willing to pay a high interest rate and nosebleed fees to obtain your money. Rather than succumbing to predatory lenders like the providers of payday and title loans, consider the lending websites we review in this article.
They are all reputable companies that may help solve your cash crunch without taking you to the cleaners. And, by repaying your loan or cash advance responsibly, you just may be able to increase your credit score. In all circumstances, understand all the terms of your loan and how much it's going to cost you.
Remember, lenders cannot legally hide fees, so check carefully before proceeding.
Advertiser Disclosure
BadCredit.org is a free online resource that offers valuable content and comparison services to users. To keep this resource 100% free for users, we receive advertising compensation from the financial products listed on this page. Along with key review factors, this compensation may impact how and where products appear on the page (including, for example, the order in which they appear). BadCredit.org does not include listings for all financial products.
Our Editorial Review Policy
Our site is committed to publishing independent, accurate content guided by strict editorial guidelines. Before articles and reviews are published on our site, they undergo a thorough review process performed by a team of independent editors and subject-matter experts to ensure the content's accuracy, timeliness, and impartiality. Our editorial team is separate and independent of our site's advertisers, and the opinions they express on our site are their own. To read more about our team members and their editorial backgrounds, please visit our site's About page.