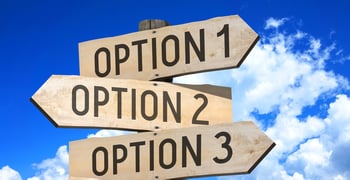 People with bad credit often think financing is out of their reach. But not only are some great bad credit lending options available to them, getting ready cash is just one of the advantages. Loans are one of the best ways to rebuild your credit history because they reveal your financial responsibility.
When you make on-time payments each month, you show lenders you're able to maintain a budget and meet your obligations. This measure of creditworthiness is represented by an increase in your credit score.
But that's not the only benefit to a bad credit loan. By improving your credit history, you'll have access to better credit cards, auto loans, and all sorts of financial products.
Personal Loans | Credit Cards | Auto | Home | FAQs
Bad Credit Personal Lending Options
Finding a loan option despite having a poor credit history is as easy as it's ever been. That's because the internet hosts many online lending marketplaces that specialize in finding loan options for consumers who have bad credit.
Lending marketplaces each partner with several lenders who review your single prequalifying application all at once. You could potentially receive multiple loan offers to choose from in a matter of minutes.
Short-term loans up to $5,000
Online marketplace of lenders
Funds available in as few as 24 hours
Simple online form takes less than 5 minutes
Trusted by more than 2 million customers
Not available in NY or CT
| Loan Amount | Interest Rate | Loan Term | Loan Example |
| --- | --- | --- | --- |
| Up to $5,000 | Varies | Varies | See representative example |
Loans from $500 to $10,000
Receive a loan decision in minutes
Get funds directly to your bank account
Use the loan for any purpose
| Loan Amount | Interest Rate | Loan Term | Loan Example |
| --- | --- | --- | --- |
| $500 to $10,000 | 5.99% - 35.99% | 3 to 72 Months | See representative example |
Quick loans up to $5,000
Submit one form, get multiple options
All credit ratings welcome
Requires bank account and SSN
As seen on CNN, FoxNews, and others
| Loan Amount | Interest Rate | Loan Term | Loan Example |
| --- | --- | --- | --- |
| $500 to $5,000 | Varies | Varies | See representative example |
These marketplaces help lessen the impact of applying for credit too often. Every time you submit an application for any type of credit, the lender will submit an inquiry to the credit reporting bureaus to access your credit profile.
These inquiries live on your credit report for two years. Lenders don't mind two or three inquiries in your file, but once you go beyond that, they may see you as desperate for credit after receiving multiple declines. Too many inquiries can lower your credit score.
But since you only submit one prequalifying application to each marketplace, you won't add multiple inquiries to your credit report.
Plus, since each marketplace partners with lenders from around the country, you'll have access to several financial institutions that are competing for your business. That type of competition can make loans easier and more affordable to obtain.
And most of the lenders on this list work quickly to approve your loan. In many cases, you can go from application to loan funding within one business day.
Just remember that whichever marketplace you choose will not act as your lender. The website simply connects you to lenders. When you choose the lender that best suits you, who will then be required to complete its loan paperwork. Once you choose a lender, you will no longer interact with the loan marketplace, and you won't pay any fees to the marketplace for the service.
Credit Card Options for Bad Credit
Credit cards are one of the most popular financial products because they offer revolving lines of credit, which means you can reuse the credit after you pay it off. There are two main types of credit cards for consumers who have bad credit: secured and unsecured.
A secured credit card is one that's backed by a refundable security deposit that you make at the time of application. An unsecured card is a traditional credit card that has no security deposit or other collateral to back it up.
Since the bank has no recourse if you stop making payments or default on your debt, an unsecured credit card often has more strict standards for approval. There are several unsecured credit cards designed for bad-credit consumers. You'll find some of the best below:
All credit types welcome to apply!
Free access to your Vantage 3.0 score From TransUnion* (When you sign up for e-statements)
Initial Credit Limit of $300 – $1,000* (subject to available credit)
Monthly reporting to the three major credit bureaus
See if you're Pre-Qualified without impacting your credit score
Fast and easy application process; results in seconds
Free online account access 24/7
Checking Account Required
| Application Length | Interest Rate | Reports Monthly | Reputation Score |
| --- | --- | --- | --- |
| 9 Minutes | 24.99% - 29.99% (Variable) | Yes | 8.5/10 |
Easy pre-qualification process with fast response
Less than perfect credit is okay
Online servicing available 24/7 at no additional cost
Unsecured credit card, no security deposit required
Account history is reported to the three major credit bureaus in the U.S.
| Application Length | Interest Rate | Reports Monthly | Reputation Score |
| --- | --- | --- | --- |
| 8 Minutes | 24.9% | Yes | 8.0/10 |
Move money from your PayPal account to fund your prepaid card account.
Earn cash back and personalized offers, just for using your card.
With Direct Deposit, you can get paid faster than a paper check.
Card issued by The Bancorp Bank, Member FDIC. Card may be used everywhere Debit Mastercard is accepted.
Click PayPal Prepaid Mastercard® for additional features & program details, and to request a Card.
| Application Length | Interest Rate | Reports Monthly | Reputation Score |
| --- | --- | --- | --- |
| 8 minutes | N/A (Prepaid) | No | 9.5/10 |
Just keep in mind that banks often charge higher fees and interest rates on these cards to negate the risk they take by extending credit to you. That doesn't mean that you'll always be stuck with these fees.
You can prove your financial responsibility over time and eventually lower your interest rate and eliminate several fees. The key to succeeding in this task is to make all your payments on time and never take on more debt than you can handle.
One late payment can sink your credit score more than 100 points and instantly undo the months of hard work you put in toward rebuilding your credit. And that late payment can continue to affect your score for as long as seven years.
Bad Credit Auto Lending Options
Unless you live in a big city with amazing public transportation options (which seems like an oxymoron), you need a car to get you where you need to go.
But cars are expensive, and finding a loan for a vehicle when you have bad credit may seem like an insurmountable challenge. Thankfully, many online lending marketplaces specialize in auto loans that consider applications from consumers with all types of credit.
Network of dealer partners has closed $1 billion in bad credit auto loans
Specializes in bad credit, no credit, bankruptcy and repossession
In business since 1999
Easy, 30-second pre-qualification form
Bad credit applicants must have $1500/month income to qualify
| Interest Rate | In Business Since | Application Length | Reputation Score |
| --- | --- | --- | --- |
| 3.99% - 29.99% | 1999 | 3 minutes | 9.5/10 |
Free, no-obligation application
Specializes in auto loans for bankruptcy, bad credit, first-time buyer, and subprime
Affordable payments and no application fees
Same-day approval available
Connects 1000's of car buyers a day with auto financing
| Interest Rate | In Business Since | Application Length | Reputation Score |
| --- | --- | --- | --- |
| Varies | 1994 | 3 minutes | 9.0/10 |
Loans for new, used, and refinancing
Queries a national network of lenders
Bad credit OK
Get up to 4 offers in minutes
Receive online loan certificate or check within 24 hours
| Interest Rate | In Business Since | Application Length | Reputation Score |
| --- | --- | --- | --- |
| Varies | 2003 | 2 minutes | 7.5/10 |
You may find some of these loans easier to acquire than a personal loan because an auto loan has inherent collateral.
A lender knows that if you default on your loan, it can repossess the car, sell it, and recoup some of the money lost in the loan. With an unsecured personal loan, the lender has few options, other than to sell your loan to a collections agency for pennies on the dollar.
You can submit a single prequalifying application, and the marketplace will submit your request to several partner lenders. In a matter of minutes, each lender will render a verdict on your application, which means you could quickly receive multiple loan offers.
Keep in mind that every lender has different terms it may offer you for your loan. Research each offer carefully before choosing a winner.
If you receive a loan offer that meets your needs, the marketplace will direct you to the lender's website where you will complete the loan paperwork and link an active checking account where your funds will be deposited.  In most cases, the lenders can provide a loan certificate or funding within 24 hours, though this may take longer if you apply during the weekend or on a bank holiday.
Bad Credit Home Lending Options
Perhaps the only thing more important than a car in today's fast-paced society is a safe and happy place to live. Apartments can work for a while, but rent isn't going to get any cheaper. As rental rates continue to climb, affordable housing becomes much harder to find.
Mortgages are among the most difficult loans to acquire. That's because they're often six-figure loans that require consistent payments for up to 30 years.
Lenders take a lot of risks when extending these loans — especially to someone who has bad credit. But decades of interest payments can provide a tremendous profit to lenders. That's why several lenders today work with bad-credit consumers to help them get into their own homes.
Refinance loans, new home purchase, and reverse mortgages
Compare lenders with no obligations or fees
Simple and secure form
Receive up to 5 free rate quotes in 2 minutes and see what you can save on your payment.
Rates are at historic lows
| Interest Rate | In Business Since | Application Length | Reputation Score |
| --- | --- | --- | --- |
| Varies | 1979 | 4 minutes | 8.5/10 |
Options for home purchase or refinance
Get 4 free refinance quotes in 30 seconds
Network of lenders compete for your loan
Trusted by 2 million+ home loan borrowers to date
Interest rates are near all-time lows
| Interest Rate | In Business Since | Application Length | Reputation Score |
| --- | --- | --- | --- |
| Varies | 2004 | 4 minutes | 8.5/10 |
Easy to OwnSM programs give options for those with lower income, limited credit history, and low down payment needs.
Provides the potential for minimal out-of-pocket expenses with seller contributions.
Offers loans that don't require monthly mortgage insurance.
Requires less cash upfront for your down payment and closing costs.
| Interest Rate | In Business Since | Application Length | Reputation Score |
| --- | --- | --- | --- |
| Varies | 1852 | 6 Minutes | 8.0/10 |
Many of these lenders partner with government programs that back your loan and allow you to purchase your new home without the standard 20% down payment. In many cases, you can find a loan with as little as 3% down.
Depending on the amount of your loan and your agreed upon interest rate, you could become a homeowner and pay less every month than you do for rent.
A mortgage loan adds to your credit mix and goes a long way toward rebuilding your credit history when you make consistent on-time payments. Once you've succeeded in increasing your credit score, you can attempt to refinance your loan at a lower, more affordable interest rate.
What Are the Different Ways to Borrow Money?
Lenders have been around for a long time. Recorded history shows people lending currency thousands of years ago, well before we traded paper for goods and services.
There's no shortage of ways to borrow money today. You can start with the traditional personal loan.
Whether through a bank, credit union, or online lender, you can apply for the money you need, and, if approved, receive your funds and repay the debt and interest charges over time.
Personal loans allow you to use the money any way you want. There are also more specific loan options that allow you to borrow money. These include mortgage loans for a home or auto loans for a new vehicle (which can include a car, motorcycle, boat, or other means of transportation).
Secured and unsecured credit cards are another way to borrow money. These revolving lines of credit often appeal to consumers because they allow you to reuse the borrowed money after you make payments.
A secured credit card is one that's backed by a refundable security deposit you make at the time of application. Typically, the amount of your security deposit will equal your new credit limit. Your secured credit card issuer will return the security deposit to you when you close your card account — as long as there is no outstanding balance owed to the bank.
You can also borrow against a 401(k) plan, but you lose any compounding interest that would otherwise accrue on your balance. And, your plan may have a restriction that you cannot add funds until your loan is repaid, which may take up to five years. This can cause you to lose a lot of money for your retirement.
You can always ask to borrow money from a friend or family member. This, of course, places risk on your relationship and is only advisable if you know you can repay the person back as agreed to.
And, as an absolute last resort, you can turn to payday lenders. These short-term loans are meant to get you through to your next paycheck, as they have ultra-high interest rates and rollover fees if you can't pay the loan back by the due date.
Can You Get a Personal Loan with a Credit Score of 550?
Thanks to the internet, many loan options exist today that weren't possible just a decade ago. This is evident through the number of personal loans available to consumers who have sub-600 credit scores.
Many independent lenders exist around the country that cater to this demographic even as traditional banks and credit unions are less eager to grant loan requests to borrowers with credit scores in this range.
Depending on where you live, however, you may not have access to one of these lenders. But thanks to online lending marketplaces, you can submit one prequalifying application and reach dozens of lenders all at once.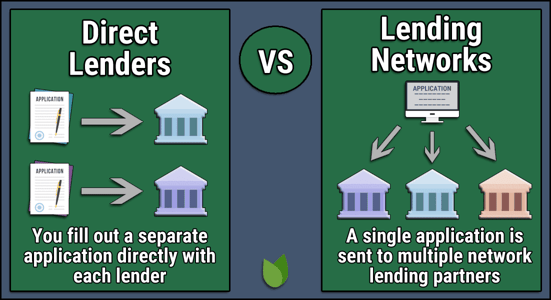 You'll often receive loan decisions from your chosen marketplace within minutes. Depending on your credit history, you could receive multiple loan offers with varying terms to choose from.
Some lenders on these networks even provide loan options to consumers with very bad credit — including recent defaults and/or bankruptcies.
Just remember that these loans won't come cheap. Lenders take a big risk when extending an unsecured personal loan to someone who has a history of missed payments. To offset these risks, you'll often find origination fees, application fees, and high interest charges that can make these loans quite expensive.
But the lure of that added profit makes these loan packages attractive to many lenders. That means it's easier for you to find a personal loan despite having a credit score of 550.
How Will Bad Credit Affect My Interest Rates and Terms?
Lenders are risk-takers by nature. Any time you lend money to someone, you run the risk that the borrower will not return your funds.
There's a difference between lending your friend $10 until payday and loaning $1,000 to a complete stranger. You may do the first one as a favor — but the second has to come with some sort of benefit to the lender.
That's where interest charges come into play. Lenders charge these fees — often a percentage of your overall balance that's calculated monthly — to make the loan worthwhile to their bottom line.
They often use your credit history to decide how much to charge you — and a bad credit history can cost you a lot. If you have a sterling track record of on-time payments, a lender will see you as a less-risky borrower and not charge you as much for your loan.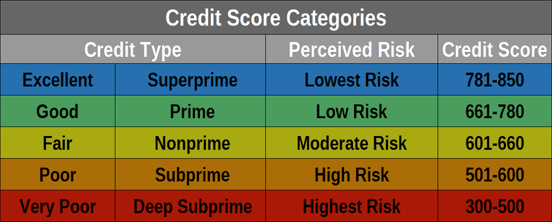 But if you have a history of late payments or defaults, a lender may have reservations when lending to you. After all, if you default on your loan, the lender's only option is to sell the bad loan to a collections agency, which means big losses for the lender.
To offset those risks, the lender will often include higher interest charges that make the loan more profitable if you pay it off.
Bad Credit Won't Exclude You from All Lending Options
We all make mistakes. While some are worse than others, there's always time to make up for your miscues and start fresh.
With one of our bad credit lending options, you can start rebuilding your credit history without breaking the bank.
And, over time, you can leverage your on-time payments to unlock potential loans that provide more affordable terms, higher balances, and the opportunity to live the life that you're working so hard to accomplish.
Advertiser Disclosure
BadCredit.org is a free online resource that offers valuable content and comparison services to users. To keep this resource 100% free for users, we receive advertising compensation from the financial products listed on this page. Along with key review factors, this compensation may impact how and where products appear on the page (including, for example, the order in which they appear). BadCredit.org does not include listings for all financial products.
Our Editorial Review Policy
Our site is committed to publishing independent, accurate content guided by strict editorial guidelines. Before articles and reviews are published on our site, they undergo a thorough review process performed by a team of independent editors and subject-matter experts to ensure the content's accuracy, timeliness, and impartiality. Our editorial team is separate and independent of our site's advertisers, and the opinions they express on our site are their own. To read more about our team members and their editorial backgrounds, please visit our site's About page.