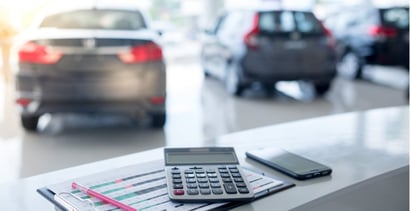 Although bad credit may have pummeled your opportunities for a zero-interest rate loan, you do have bad credit car finance options. The bad news is that as a subprime borrower — someone with a credit score below 670 on an 850-point scale — your financing options for a car purchase are somewhat limited.
Companies that offer bad credit auto loans aren't desperately seeking low risk, "safe" borrowers with perfect credit, and their relatively high interest rates on subprime loans reflect that. This high interest serves as compensation for assuming the risk posed by borrowers with bad credit histories.
You can access these lenders and dealers directly or through marketplaces that connect them with potential borrowers.
Finance Options | Before Applying | FAQs
Best Bad Credit Car Finance Options
A credit score under 670 doesn't necessarily strand you due to an inability to get an auto loan. Nor does bad credit force you to sign an agreement with an auto lender known for its predatory lending practices.
Organizations exist that will either finance your car or connect you to companies that will and do so without making you feel you've been roped into a car loan that's likely to further damage your credit. AutoCreditExpress.com, CarLoan.com, and MyAutoLoan.com are three companies that offer a straightforward process to help people with bad credit finance cars.
With just one application and a soft credit pull, these three marketplaces allow borrowers to compare multiple loan offers for which they qualify.
Network of dealer partners has closed $1 billion in bad credit auto loans
Specializes in bad credit, no credit, bankruptcy and repossession
In business since 1999
Easy, 30-second pre-qualification form
Bad credit applicants must have $1500/month income to qualify
| Interest Rate | In Business Since | Application Length | Reputation Score |
| --- | --- | --- | --- |
| 3.99% - 29.99% | 1999 | 3 minutes | 9.5/10 |
AutoCreditExpress.com (ACE) is a network of lender and dealer partners that has closed about $1 billion in auto loans for consumers with damaged credit reports due to defaults or other financial difficulties.  ACE partners work with you even if you have bad credit, no credit, or have had a repossession or bankruptcy.
If you're in need of bad credit financing, ACE connects you to new and used car dealerships and lenders willing to grant you sub-prime financing with zero or a minimum down payment.  The ACE network includes U. S. and Canada-based dealers and lenders who work with you despite a fair or terrible credit history, lack of credit history, or an inability to make a down payment.
If you've filed for bankruptcy or are facing repossession, AutoCreditExpress.com links you with those that specialize in lending to borrowers whose credit is negatively affected by these court proceedings.
The ACE loan approval process is straightforward: First, based on the information you provide, a website tool calculates an estimated loan approval amount. Next, you apply for a car loan. Then, an ACE partner reviews your application, assesses your financial situation and your vehicle requirements, and decides if you should lease or buy a vehicle. Finally, the dealer or lender suggests the financing option that's right for you.
Free, no-obligation application
Specializes in auto loans for bankruptcy, bad credit, first-time buyer, and subprime
Affordable payments and no application fees
Connects thousands of car buyers with auto financing daily
| Interest Rate | In Business Since | Application Length | Reputation Score |
| --- | --- | --- | --- |
| Varies | 1994 | 3 minutes | 9.0/10 |
The Car.Loan.com marketplace matches ethical lenders — those that eschew questionable business practices, such as bait-and-switch, hidden fees, and last-minute surprises — with subprime buyers. The marketplace helps people with good credit, bad credit, thin credit, or no credit find auto financing with a car dealer whose personnel are trained in special finance.
If you have a FICO score of 620 or less, Car.Loan.com helps you get a bad credit auto loan approval by matching you with car dealerships and lenders whose loan qualifying criteria include a valid driver's license, qualifying income, and a stable residence. Once selected, the lender or dealer considers your unique credit profile to grant you the best opportunity possible to obtain a bad credit loan.
Even if you've filed for bankruptcy, a Car.Loan.com lender may work with you to finance a used car. In the case of a Chapter 7 bankruptcy, the marketplace accepts your application following a meeting between you and your creditors. In the case of a Chapter 13 repayment program, a dealer can help you take the necessary steps during the court process to buy a car now.
If you have no credit, a Car.Loan.com dealer may arrange for special financing that allows you to buy the car you need and build your credit. As you make timely payments, you establish your credit, which may make your credit score rise over time.
Car.Loan.com offers a safe and secure online loan application process. You complete a credit application by providing personal information, including your name, address, income, and employer name and address. Then, you compare your loan options and select a preferred lender.
Loans for new, used, and refinancing
Queries a national network of lenders
Bad credit OK
Get up to 4 offers in minutes
Receive online loan certificate or check within 24 hours
| Interest Rate | In Business Since | Application Length | Reputation Score |
| --- | --- | --- | --- |
| Varies | 2003 | 2 minutes | 7.5/10 |
MyAutoLoan.com is an online auto loan marketplace that connects borrowers who have poor credit with experienced lenders that guide these car buyers through the loan application process.
During the loan approval process, the marketplace lender will consider not only your credit score but your entire financial profile to determine your creditworthiness. The site's lenders consider your income, job stability, debt-to-income ratio, and other factors.
With MyAutoLoan.com's tools and resources, you can estimate the bad credit auto loan amount you can borrow, the interest rate on the loan, as well as your monthly loan payment. What's more, the marketplace offers ready access to finance and credit guides, and a set of car loan requirements to direct your collection of documentation that will support your loan application.
MyAutoLoan.com connects you with lenders that specialize in helping borrowers with credit problems. Potential borrowers with Chapter 7 or Chapter 13 bankruptcies must have their bankruptcies discharged or dismissed before they can apply for an auto loan.
Steps for Financing a Car with Bad Credit
A car is a big purchase to begin with, but when you add the sales tax, interest, and other charges and fees, this purchase quickly becomes impossible for some consumers. What's more, uninformed borrowers with low credit scores can pay thousands of dollars more to finance a car than those with good credit.
So, if you have bad credit, the more knowledgeable you are of the steps you need to take to finance a car before car shopping the better.
Assess Your Current Situation
Don't think about buying a car with an auto financing loan until you're sure that you can pay your existing bills on time. If doing so remains a problem, then call your creditors, explain your financial situation, and negotiate monthly payments you can afford. And if negotiations are successful, request a written copy of the new agreement.
Also, ask each creditor how a new agreement will be reported to the credit bureaus: account not paid as agreed or new loan terms now being paid as agreed?
Get a Free Copy of Your Credit Report from the 3 Credit Bureaus
You can gauge the damage of your past creditworthiness by requesting a free copy of your credit report from each major credit reporting bureau through the AnnualCreditReport.com website. Review your open accounts, credit limits, the number of times you have applied for credit, and your payment history.
If you see entries that caused a decrease in your FICO score, take note of the frequency and significance of your credit missteps.
As you review the credit reports from Equifax, Experian, and TransUnion, remember that each credit bureau will generate a FICO score based on data that bureau collects and documents in your credit report. If one score differs significantly from the other two reports, make sure you understand why. Then take steps to ensure you practice financial habits that improve rather than further diminish your score.
Remember that your credit score, which is based on your credit history, will influence your car loan's interest rate and terms.
Check Your Credit Report for Errors
Each lender decides what information to submit to one, some, or none of the bureaus. And under the Fair Credit Reporting Act (FCRA), that information must be accurate and complete, according to the FCRA's Furnisher Rule. Still, a study conducted by the Federal Trade Commission found that 1 in 5 consumers have an error on their credit report.
Each bureau will produce a different credit score based on the data it collects. So if the bureau has incorrect information, your score could be less than it should be due to errors.
These are reasons enough for you to verify the accuracy of your credit reports, paying special attention to any negative marks on it. If you don't recognize a debt or credit card account and its amount, ask the credit bureau to remove it. Equally important, confirm the report includes the correct names and addresses of your current and prior employers.
You can receive your credit or FICO score from the credit bureaus for a fee, but a bank or credit card company with which you do business may already provide you with a free FICO score in its mobile app.
Dispute Errors in Your Reports
When a credit bureau's algorithm is calculating a borrower's credit score, it doesn't evaluate the validity of the information it processes. Consequently, it's common for a credit report to include errors, as mentioned above, but finding those errors is your job.
If during a review of your report, you find an error, challenge it. The credit bureau websites make available electronic options with which you can upload documents, such as paid bills, that support your claims.
If you have a reasonable explanation for your poor credit score, consider adding a note to each credit bureau's report that explains the source of your problem, such as a job loss or major health concern. While these considerations have no effect on the calculation of your FICO score, a creditor may understand the circumstances of your hardship.
Pay Your Late or Past-Due Accounts
Improving your credit scores before you apply for auto financing may help you negotiate better payment terms and a lower interest rate, which can save you money. Commit to paying off loans and focus on those debts, such as credit cards, that when eliminated, give your credit score a boost.
Begin by paying accounts in collections and missed or late payments. Going forward, pay at least the minimum on every card or bill with a balance on time.
Also, if you pay more than the minimum payment on the debts with the highest interest rate, you'll bring the overall balance down more quickly. Your payment history is one of five factors used to calculate your FICO score.
Keep in mind that while paying off installment debts, such as a student loan, may improve your spirits, it will do little to improve your credit score. This is true for paying off your mortgage as well.
Also, don't close accounts in hopes of raising your credit score. Doing so increases your credit utilization ratio — the amount of credit you are using relative to your total credit limit — which is likely to lower your score, not raise it.
People with FICO scores of 760 and above usually have debts less than 7% of their available credit. For a good score, try to keep your utilization rate between 10% and 30%.
Additionally, consider delaying your used car purchase if you expect your credit score may soon reach the next tier and focus on improving your score. Depending on your credit situation, doing so may improve your auto loan terms.
Consider a Cosigner
A cosigner is legally obligated to repay your loan if you stop making payments. In this way, a cosigner with good credit lowers the risk that you, as a subprime borrower with poor credit, pose to the lender. Consequently, the cosigner not only effectively boosts your low credit score, but also positively affects the interest rate of your loan.
Enlisting a cosigner is not to be taken lightly, however. If you don't repay your debt, you risk ruining your relationship with that person.
Determine the Monthly Payment You Can Afford
When you know the monthly loan payment you can afford, you're more likely to choose a car that is priced appropriately for your budget. Begin by learning the key components of a loan:
Amount financed: The dollar amount of the credit that's extended to you or the loan's principal.
Down payment: The amount of the car's price that you pay the car dealer or lender, which lowers the amount financed.
Annual Percentage Rate (APR): The rate, expressed as a percentage, the lender charges to finance your car purchase.
Term: The time during which you'll make auto payments, which is the difference between the loan closing date (the day it's opened) and its maturity date (the day final payment is due).
Monthly payment amount: The dollar amount the borrower pays the lender each month.
To calculate your first monthly payment, divide a loan's annual interest rate by the number of payments in a year. Next, multiply the quotient by the loan's principal amount.
The equation for a simple interest loan is "I (interest) = P (principal) x R (rate) x T (number of time periods).
Set Aside Your Down Payment
Prepare to negotiate your loan by researching the current interest rates and terms that are available. Using your estimate for the fair price of the car you'd like to purchase, calculate and set aside your down payment. You do so by multiplying the price of the car by the percentage of that value that the lender requires for a down payment.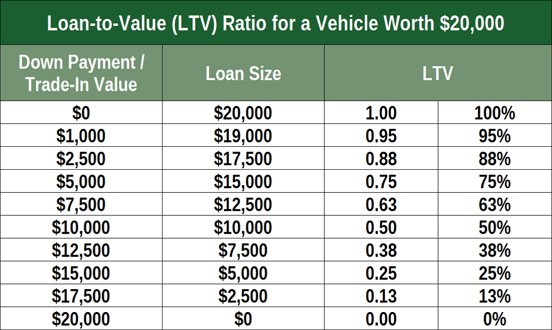 Your down payment decreases the amount you'll borrow, which lowers the loan's interest rate, the amount of your monthly payments, and the term of your loan. Your down payment will influence the lender's decision on whether to approve your loan.
Research Car Models and Prices
You may dream of owning a certain car, but you should first research those that are likely to be in your price range. Websites like Edmunds.com help potential car buyers research their choices through car reviews and tools that appraise the value of a car you intend to trade-in, or shop for certified preowned cars.
Another part of your car buying research should include understanding a vehicle's safety ratings and crash test results. Equally important, get an insurance quote for the car you'd like to buy and add that monthly payment to the car payment you calculated earlier.
If you're shopping for a used car, visit CarFax.com to learn about a car's history, including the number of repairs and owners it's had. Then, check for manufacturer recall notices on the maker's website.
Before you research lenders or visit a used car dealership, get an estimate of the price of the car you want to buy. You can go to sites, such as Edmunds.com, to determine a car's true market value and compare a manufacturer's suggested retail price (MSRP), dealer invoice, and trade-in value.
Research Lenders that Focus On Subprime Buyers
As a first step, understand the differences between banks, credit unions, dealer-related finance organizations, and auto loan marketplaces. Doing so will help you understand why conventional lenders set a high bar for a borrower's credit score when considering whether to approve a loan.
Next, identify reputable used car dealerships, lenders, or marketplaces that focus on borrowers with low credit scores who are in need of bad credit auto loans. These lenders are sometimes known as bad credit car dealerships.
Although the interest rate offered by car dealers or other subprime lenders is typically higher than that offered by credit unions or banks, they do grant auto loans to those with "fair" FICO scores — a score between 580 and 669.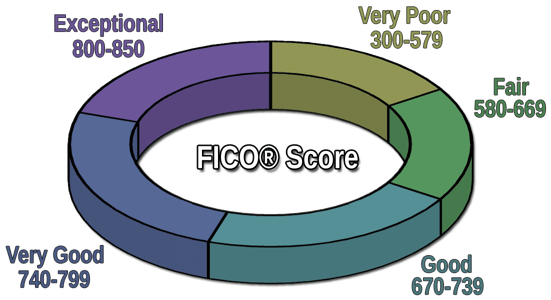 But keep in mind that although the price of a used car will be less than that of a new car of the same model, it can be more expensive to finance a used car.
Apply for a Car Loan through an Online Loan Marketplace or Car Dealership
A car loan marketplace is a free resource that grants you access to reputable lenders and tools that make the car budget and loan application, and the negotiation process a simple one. By working with a car loan marketplace, you may qualify for a loan, receive a lender's quote, and compare rates in a relatively short time.
Once you submit your application, lenders will rely on your FICO score to place you in a category, such as deep subprime, according to your credit history. This classification will influence the loan quotes you receive.

Compare the offers and select two or three that seem to suit your circumstances the best. Use this preapproved loan, if necessary, to negotiate loan terms with car dealers or their financial partners.
With dealer financing, you obtain a loan from the dealer who sells the car to you. You and the dealer form a contract whereby you buy a car and agree to pay the loan's interest, principal, and agreed-to fees by a certain date. Once you sign your loan agreement, the dealer usually sells it to a bank, finance company, or credit union that will collect your payments.
No dealer will have an incentive to offer you a low interest rate unless you have a preapproved offer from another firm. So, have a preapproved financial agreement in place before you begin negotiations with a dealership or its preferred lender. Doing so will allow you to focus your negotiations on the car's price and trade-in, rather than price, financing, and trade-in.
What is a Bad Credit Car Loan?
A bad credit car loan is one that's issued to either a subprime borrower — someone with a credit score of under 600 on an 850-point scale — or a borrower with a short credit history. In the case of the subprime borrower, the bad credit may be the result of the borrower's history of late payments, maxed-out credit cards, or any other financial misstep that lowers a credit score.
But despite a bad credit history, some lenders consider a subprime borrower to be a creditworthy borrower and sets the interest rate, fees, and financing terms accordingly.
How Does Bad Credit Car Financing Work?
Being on the brink of financial disaster does not disqualify a borrower from buying a car. Unlike a personal loan, a car loan is secured by collateral — namely, the car — so your creditor knows you will have an incentive to pay off your loan. Consequently, it can be easier for someone with bad credit to get a loan secured by a car than to get an unsecured one.
Even so, your lender will set the car loan terms according to your creditworthiness. The annual percentage rate (APR) you will be offered on the loan will vary from one lender or financial service provider to the next, as will the maximum loan amount and the repayment period. Whether applying for the loan is free will depend on the lender.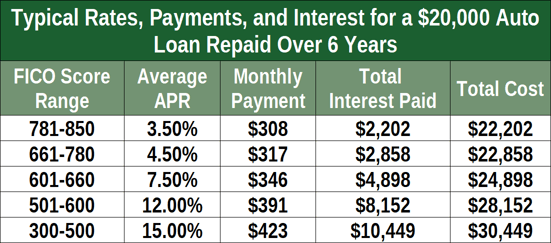 Because the application process and loan terms vary from one car dealer, lender, or financial service provider to the next, carefully read the loan terms and make note of any fees or other requirements of the loan.
Will I Be Required to Make a Down Payment?
Some subprime borrowers have little money for a down payment. But you should do everything possible to scrape up the cash needed for a minimum down payment. Some dealerships and lenders may approve your loan without a down payment, but it will cost you over the term of the loan.
While a dealer may ask for 20% of a car's sale price down, you may get by with something less, such as $1,000 or 10% down. During the loan approval process, the down payment mitigates the negative effect of a bad credit rating and makes loan approval more likely because money down confirms your commitment to owning the car at some point.
The larger your down payment, the less money you must borrow, and the lower your loan-to-value ratio. That means your payment amount will be less as will be the interest you'll pay on the loan's principal. In addition, the larger your down payment, the lower your annual percentage rate may be.
What Will My Monthly Payment Be?
In general, your monthly car payment is determined by the price of the car, the length of your loan, the amount of your down payment, and the loan's interest rate.
Your car loan interest rate is determined by interest rates that are set by the Federal Reserve and your credit score.  But the total interest you'll pay is dependent on the term of your loan and the cost of the car you buy minus your down payment. Your auto loan will include simple interest, which is a percentage of the amount you borrow.
Lenders charge much higher interest rates for subprime loans. These rates rise as the number of subprime loan delinquencies increase.
Also, the shorter the loan's term, the lower the interest rate, and the longer the term, the higher the rate. So, while a longer loan term may allow you to buy a more expensive vehicle, and pay smaller monthly payments, it costs you in the long term.
Can I Get Financed Through a Car Dealership if I Have Bad Credit?
Due in part to the easing of underwriting standards, delinquency rates among auto finance lenders are high for subprime borrowers. So, as a consumer, you'll have to eat the cost of your bad credit in the form of a higher down payment or higher monthly payments.
Even so, it is possible to identify reputable used car dealerships, lenders, or marketplaces that finance cars for borrowers with low credit scores. These lenders are sometimes known as bad credit car dealerships or buy-here-pay-here (BHPH) lots.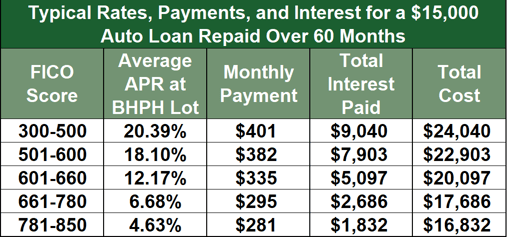 Car dealerships and other subprime lenders, however, typically charge a higher interest rate on their loans than those offered by credit unions or banks.
Can I Get Financed Through a Credit Union if I Have Bad Credit?
It's possible to shop separately for your car and the financing, which may enable you to obtain a lower-cost loan. Both credit unions and community banks will consider subprime borrowers.
Credit unions may offer members with bad credit a more personalized, nonautomated underwriting process, which may increase your odds of loan approval. Because a credit union takes time to understand the story that led to a member's credit problems, it may approve a loan to someone with bad credit that resulted from a temporary financial crisis due to, say, job loss.
Compare Bad Credit Car Finance Companies Online
Before you complete a loan application, consider your lender alternatives for a few days. Doing so gives you time to identify the auto finance offer that truly meets your expectations.
When comparing lenders for bad credit score loans, realize that dealer and finance company offerings for those with ugly credit will vary. For instance, some will have a credit score minimum and others won't. Likewise, only some will offer flexible terms on repayment fees and the length of the loan.
In addition, some auto dealers profit not by selling cars but by tacking on hidden finance charges and other unnecessary add-ons like credit insurance in the loan agreement. If your only credit option is a high-interest loan, it's important to understand the interest rate, monthly payment schedule, and other fees the loan agreement stipulates.


Major auto lender websites offer a means to review their policies and procedures and calculate a loan's likely interest rate and monthly payments. Review this information to judge if you'll be able to make the required loan payments before you visit a lender's website.
A reputable lender will also access your bank account information and FICO score to determine if you can afford a certain loan amount. If you don't feel the lender's recommendation is an appropriate one based on your income, existing debts, and credit information, speak with someone else.
Finding a manageable balance between what you can afford to pay and the company's offerings and policies is essential. So, ask a lot of questions, and get all terms of your agreement in writing.
Someone with a bad credit score may be hesitant to commit to yet another loan transaction that could go bad. Matters may seem even worse in light of the current economy. And when you add rumors about questionable lending practices, such as bait-and-switch and hidden fees, it's understandable that you may dread the entire auto loan process.
But ethical car dealers and lenders do exist, as do marketplaces that grant you ready access to bad credit auto financing, such as Auto Credit Express, Car.Loan.com, and MyAutoLoan.com. These marketplaces and lenders offer subprime borrowers the tools and resources needed to identify ethical lenders and learn about and be approved for a vehicle purchase.
Advertiser Disclosure
BadCredit.org is a free online resource that offers valuable content and comparison services to users. To keep this resource 100% free for users, we receive advertising compensation from the financial products listed on this page. Along with key review factors, this compensation may impact how and where products appear on the page (including, for example, the order in which they appear). BadCredit.org does not include listings for all financial products.
Our Editorial Review Policy
Our site is committed to publishing independent, accurate content guided by strict editorial guidelines. Before articles and reviews are published on our site, they undergo a thorough review process performed by a team of independent editors and subject-matter experts to ensure the content's accuracy, timeliness, and impartiality. Our editorial team is separate and independent of our site's advertisers, and the opinions they express on our site are their own. To read more about our team members and their editorial backgrounds, please visit our site's About page.