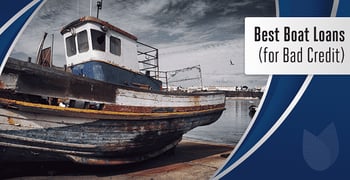 While beef may be "what's for dinner," Americans still love their fish. In 2016 alone, the U.S. commercial fishing industry landed 9.6 billion pounds of seafood worth $5.3 billion, and recreational anglers caught more than 371 million fish.
Whether they did so for business or pleasure, many of those fishing fanatics cast their lines from the deck of a boat. And while the average cost of a boat can vary — from $30 up to $3 million for civilian vessels — it's safe to say many people are likely to finance their fishing craft.
With poor credit, finding a way to finance a boat purchase can be harder than most other types of financing. Small personal loans may be possible, but you'll be best off with collateral of some sort. In the article below, we'll take a look at the best bad credit boat loans we could reel in, including personal loans, home equity loans, collateral loans, and dealer financing options.
Personal Loans | Home Equity Loans | Collateral Loans | Dealer Financing
An Online Lending Network May be Able to Help
Personal installment loans are some of the most flexible types of financing, usable as cash once they're deposited into your bank account.
While the fact that personal loans are generally unsecured means you won't need a down payment or collateral, it also means your credit profile will play a large role in the size of the loan you can obtain.
For example, some of our top providers offer loans of up to $35,000 to well-qualified applicants, but those with the worst credit may not be offered the maximum amount.
Other than credit cards, personal loans have some of the highest APRs found on credit products. If possible, you should explore other types of boat financing that may provide a lower interest rate before you take on a personal loan.
If you do choose to go the personal installment loan route, be sure to thoroughly explore all factors of your loan offers. Don't simply choose the loan with the lowest monthly payment, as it will likely be the most expensive loan overall.
Instead of focusing solely on any one factor, look at them all, including the monthly payment, how long you'll have to repay the loan, and the APR for the loan. Of course, that's not to say you should always choose the cheapest loan; be sure you can afford your monthly payment to avoid trouble down the line.
You Can Use a Home Equity Loan to Buy a Boat
In its most basic sense, home equity is the amount of value your home has above and beyond the amount you owe on it. For example, if your home is worth $200,000, and you only owe $100,000 on your mortgage, you have $100,000 equity in your home.
With a home equity loan, home equity line of credit (HELOC), or cash-out refinance, you can use the equity in your home to make important purchases — such as financing a boat. Most institutions that offer home loans will offer home equity and refinance loans, including those available through our top providers.
As stated, there are several ways to use the equity in your home to finance outside projects or purchases, but each method has its own particulars.
For example, cash-out refinance loans essentially replace your current mortgage, so you'll need to qualify for a refinance mortgage loan to pay off your old loan. The difference between the size of the new loan and what you owe on your current mortgage is given to you as cash.
Home equity loans and HELOCs, on the other hand, simply use your equity as collateral for a new loan in addition to your current mortgage. This means you'll need to repay a home equity loan or credit line separately, usually within a period of five to 10 years.
On the plus side, since all are forms of collateral loans, your credit score will play less of a role than other types of financing.
Try a Collateral Boat Loan from a Bank or Credit Union
If you're interested in a more traditional form of boat financing — aka, a direct bank boat loan — then your options are likely fairly limited.
Not every bank will offer boat financing — even major mainstream banks — and those that do will have fairly strict requirements. In general, you'll want at least fair credit (but good is better) and a down payment of 15% to 20% of the boat's purchase price.
7. U.S. Bank Boat Loans

Based out of Minneapolis, Minnesota, U.S. Bank has over 3,000 branches across the country. Boat loans from U.S. Bank can be obtained by qualified applicants in amounts ranging from $5,000 to $150,000. Loans can be used to finance all types of new and used sailboats, motorboats, and yachts, as well as large U.S. Coast Guard documented vessels and boat trailers.
8. SunTrust Bank Boat Loans

Primarily located in the Southeast, SunTrust has over 1,400 branches across the region and is headquartered in Atlanta, Georgia. SunTrust offers two types of boat loans based on the size of the craft, with LightStream Boat Loans for regular craft (of $5,000 up to $100,000) and Marine Loans available for boats of at least 25 feet in length (of $25,000 up to $4 million).
9. Wells Fargo Boat Loans
Wells Fargo is one of the largest banks in the US, with over 5,300 retail financial centers across the country. The bank offers a range of specialty vehicle financing, including watercraft. Boat Loans are available for crafts up to 26 feet in length and Yacht Loans are offered for vessels over five net tons or greater than 26 feet in length.
Credit unions and/or smaller community banks may have more relaxed credit score requirements or minimum down payment amounts, so you may want to check locally if you fail to qualify with a major bank.
You can search the National Marine Lenders Association (NMLA) database to find another lender that offers boat financing. The NMLA's list includes banks, credit unions, finance companies, and other loan originators that offer recreation boat loans to consumers.
Some Boat Dealers May Offer In-House Financing
As with other types of vehicles, many boat dealers may offer in-house or third-party boat financing to their customers. As with direct bank loans, however, you'll likely need at least decent credit and a fairly good-sized down payment.
But while dealers may have access to certain deals — such as manufacturer incentives — to help make your new boat more affordable, dealers will probably be unlikely to offer financing to those with poor credit, particularly if you don't have an appropriate down payment.
The Right Financing Can Help You Set Sail
Whether grilled or fried, boiled or baked, seafood is a big part of life for many Americans. And the billion-dollar fishing industry is definitely proof of that.
But fish don't just volunteer for the plate; thousands of people and boats are out there hauling them in.
Unfortunately, if your credit is poor, your odds of qualifying for boat financing are pretty low. While you can make up for this — to a point — with a significant down payment, your best bet may simply be to work on improving your credit score before buying a boat.
Advertiser Disclosure
BadCredit.org is a free online resource that offers valuable content and comparison services to users. To keep this resource 100% free for users, we receive advertising compensation from the financial products listed on this page. Along with key review factors, this compensation may impact how and where products appear on the page (including, for example, the order in which they appear). BadCredit.org does not include listings for all financial products.