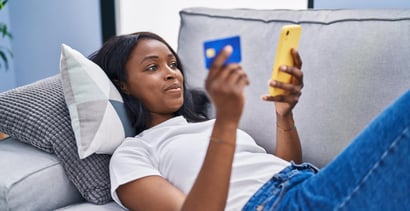 If you'd like to own an American Express card, you'd do well to learn your chances of approval before you submit an application. You can begin by understanding AMEX's credit score requirements. But if you have a bad credit score, be prepared for disappointment.
American Express Does Not Offer Credit Cards For Bad Credit
The American Express policy regarding credit cards for bad credit is not to offer any. Successful applicants typically have a credit score of 660 or higher. 

The cold fact is AMEX doesn't want you as a customer if you have poor credit. On behalf of our readership, we say, "Harrumph!" But we also say don't get mad; get even. 
We've assembled a collection of AMEX card alternatives that welcome consumers with imperfect credit. What these cards lack in prestige, they make up for in egalitarianism. 
And for those subprime consumers jonesing to carry a card bearing the American Express logo, we discuss the issuer's trio of prepaid debit cards. You can get them regardless of your credit score. 
The alternative credit cards we review allow you to improve your credit through responsible use. So we'll look at a few American Express credit cards you may want to consider once you've rebuilt your credit. 
Get that credit score above 670, and victory can be yours!
Best Alternatives to AMEX Cards For Bad Credit
These unsecured credit cards are available to consumers with bad or limited credit. You can avoid their high interest charges by paying your bill in full each month.
The Aspire® Cash Back Reward Card aims to attract consumers with fair or bad credit. You can prequalify for the card by showing enough income to pay your monthly bill. You can redeem the card's cash back rewards annually as a statement credit.
Aspire offers the best credit card among these alternatives for consumers who want to avoid program fees and security deposits. The card may waive its annual fee after the first year. Unlike other cards in this review, this one supports balance transfers. The Bank of Missouri issues the Aspire card. 
The Revvi Card welcomes applicants with a less-than-perfect credit history. You should receive an instant decision when you apply for this cash back credit card. MRV Banks, the card issuer, will check your credit when you apply. The credit check may have a small impact on your credit score. 
Although this card provides cash back, you must wait six months after the account opening before you can start redeeming your rewards. The bank imposes annual and program fees, but it waives first-year charges for cash advances and monthly servicing.
The Fortiva® Mastercard® Credit Card provides an initial credit limit as high as $1,000, based on your income and creditworthiness. You can prequalify for the card without affecting your credit score. But keep in mind that preapproval doesn't guarantee final approval.
You can redeem the tiered cash back rewards from this card as an annual statement credit. The card's yearly and account maintenance fees tie directly to your initial credit limit. You must reside in the United States and be at least 18 years of age (19 in Alabama) to apply for the Fortiva Mastercard.
The FIT® Platinum Mastercard® targets consumers with bad credit and is issued by the Bank of Missouri. It will double your initial $400 credit limit if you pay your bills on time for six months. It does not offer rewards like the cards above.
Your application must include your Social Security number and estimated gross monthly income. Bank of Missouri does a hard pull of your credit history, which may have little impact on your credit score. This card waives its cash advance and foreign transaction fees for the first 12 months after you open your account.
The First Access Visa® Card is another offering from the Bank of Missouri. The card serves consumers who have struggled to access credit. Applying takes only a few minutes, and you'll receive a response in 60 seconds or less.
The card, like the others featured in this article, provides an interest-free grace period to help you avoid interest charges by paying your bill in full. The bank reduces your annual fee after the first year. It also waives its fees for cash advances and monthly servicing during Year One.
American Express Prepaid Debit Cards
You don't need a credit history or bank account to own a prepaid debit card. They operate similarly to the debit cards you get from your bank, except your deposits reside in the card's independent account. 
Because debit cards don't extend credit, they are a favorite among consumers who have no use for credit scores or bank accounts. These cards are your best bet if you insist on having an AMEX card with bad credit.
6. Serve® American Express® Prepaid Debit Account
The Serve® American Express® Prepaid Debit Account is unusual because it offers cash back rewards and special AMEX offers. To get one, you must be at least 18 and have a Social Security Number and a valid email address.

Unlimited 1% cash back when you spend money in stores or online
Card price: $3.95 at retail locations, $0 online
Cash reloads: Up to $3.95
In addition to the cash back Serve card, you can get a no-rewards version with free reloads. 
7. Bluebird® American Express® Prepaid Debit Account
The Bluebird® American Express® Prepaid Debit Account is a no-fee prepaid card with the same signup requirements as the Serve card. Because it's a debit card, it won't help you build credit.

No monthly or foreign transaction fees
ATM withdrawals: $0 in-network, $2.50 out-of-network
Cash reloads: Up to $3.95
The card lets you get paid up to two days faster through free direct deposits. Roadside assistance is available with a phone call.
What Is a Credit Card For Bad Credit?
A credit card for bad credit operates similarly to regular credit cards. You receive a credit line to finance purchases and cash advances. You must pay the minimum monthly payment, but you can avoid interest by repaying the entire balance.
In many ways, subprime credit cards have unique characteristics tuned to the risky nature of their holders. Let's take a deep dive into the features of credit cards for bad credit.
Interest Rates
Interest rates are significant in two situations: 
You finance your purchases over multiple billing cycles. Virtually all credit cards offer interest-free grace periods for when you pay your entire balance by the payment due date. The grace period extends from the end of the billing cycle (the latest statement date) to the cycle's payment due date, an interval of at least 21 days. If you only make a partial payment, the balance will accrue interest until you repay the unpaid amount.

Your card has no grace period. A few credit cards don't provide grace periods and immediately charge interest on all purchases. The interest accrues until you make full payment. These cards usually feature low APRs, but consumers would do well to avoid them altogether.
Unsecured subprime cards usually charge 24.99% to 36% interest. Unpaid balances can significantly increase your purchase costs. 
Secured credit cards — cards that require a security deposit — typically charge lower APRs because the cash collateral buffers the issuers' losses from late payments and defaults. 
Fees
Unsecured credit cards for poor credit charge the highest and most varied fees. Almost all charge an annual fee, and many impose a setup/program fee and/or monthly maintenance fee. Some subprime cards waive the cash advance and maintenance fees for the first year.
Credit Limits
Unsecured cards for bad credit typically have initial credit limits of $300 to $700. These tight limits severely curtail your buying powers. Issuers set these low limits to reduce default costs. The better subprime cards may increase your credit limit after you make a series of on-time payments.

Your security deposit sets your credit limit if you have a secured credit card. You can increase your limit by bumping up your security deposit. After establishing a record of timely payments, the credit card issuer may refund your deposit, converting your card to unsecured.
Rewards
A few unsecured cards for bad credit offer rewards, typically cash back on eligible purchases. You may encounter cards that offer multiple reward tiers, but a flat cash back rate is equally probable. Cards with the least stringent credit requirements typically don't offer rewards or bonuses.
In this review, the Revvi Card, Fortiva® Mastercard® Credit Card, and Aspire® Cash Back Reward Card provide rewards on eligible purchases. Interestingly, the Serve® American Express® Prepaid Debit Account also offers cash back rewards. 
Subprime cards, even secured ones, typically don't offer signup bonuses or 0% intro APRs.
Benefits
Don't look for much in the way of benefits from subprime credit cards. Their most significant benefit is to report your activity to one or more of the major credit bureaus. 
Reporting can boost your credit score, but only if your payments are consistently on-time. Most cards for poor credit also provide liability protection and free credit scores.
Just having a credit line, albeit a modest one, is a benefit because it lets you stretch your payments over multiple billing cycles. You'll need solid credit if you want a card with good benefits, such as travel insurance, airport lounge access, or free baggage check.
How Do I Apply For a Subprime Credit Card?
Most issuers let you prequalify for a subprime credit card before applying. You should consider prequalifying for a new credit card for the following reasons:
You'll instantly know whether you are eligible for the card. Prequalification doesn't guarantee final approval, but failing to prequalify puts you out of the running.

You won't trigger a hard inquiry on your credit report. Hard inquiries can impact your credit score, although the effect is usually minuscule. The prequalification process typically uses a soft pull that doesn't affect your score.
To prequalify for a card, complete an online request form with your primary identification, employment, income, debt, and housing information. Submit the application form and expect an immediate approval decision.
You can apply for the card if you successfully prequalify or skip the prequalification step entirely. In either case, please read and understand the card's terms and conditions first. 
If you apply and receive approval, your new credit card should arrive in seven to 10 days. But if the card charges a setup or program fee, the credit card issuer won't send the card until you cough up the money. You do not have to prepay an annual fee, which will appear as the first transaction on your initial statement.
How Does A Prepaid Debit Card Differ From a Credit Card?
Prepaid cards do not provide credit. They are similar to bank debit cards, except prepaid cards draw on funds you deposit into the card's account instead of a bank account. In fact, prepaid cards are perfect for folks who prefer not to have bank accounts but instead rely on prepaid debit cards to make shopping easier. 
The following chart summarizes the differences between credit cards and prepaid debit cards:

You can use a prepaid card at any establishment that accepts credit cards with the same logo (i.e., Visa, Mastercard, or American Express). 
Of the two prepaid cards in the American Express universe, our top choice is the Bluebird® American Express® Prepaid Debit Account, mainly because it eliminates transaction, monthly, and network ATM fees. 
The Serve® American Express® Prepaid Debit Account is similar — it charges more fees but offers more reloading options. You can reload this prepaid card in several ways, including online, through direct deposits, and at designated retail locations.
How Can I Use a Credit Card to Build Credit?
Credit cards, when used responsibly, can dramatically increase your credit score. FICO, the leading credit scoring system for consumers, uses five factors in its scoring algorithm, and credit cards figure into all five. 
Let's look at each of these factors.
Payment History
The FICO model assigns 35% of your credit score to your payment history. Simply put, your score will slowly rise if you pay your bills on time. 

On the other hand, creditors report payments that are 30 or more days late, and these delinquencies can quickly damage your score. Late payments remain on your credit reports for seven years.
Your score will drop further if you experience collections, defaults, repossessions, foreclosures, or bankruptcies. The bottom line is that you must pay your bills on time to protect your credit score, even a lousy score, from further harm. 
Consider contacting your creditors and explaining your situation if you find paying your bills on time impossible. Ask if they'd be willing to restructure your debt instead of reporting you to the credit bureaus.
Moreover, you may be able to negotiate a goodwill removal of a late payment from your credit report. That is, the creditor may remove late payments from your credit report if you repay the money you owe. 
The success of a goodwill removal depends, in part, on your previous relationship with the creditor. You may have better luck reaching a satisfactory agreement if you paid late only once or twice.
In all cases, be polite when speaking to a customer rep about a goodwill removal.
Eventually, major derogatory items age off your credit reports, typically in seven to 10 years. But your credit score can recover sooner — as soon as you adopt responsible credit habits. By "responsible," we mean paying your bills on time, every time, without fail.
Amounts Owed
Your debts account for another 30% of your FICO score. Part of this factor relies on the credit utilization ratio (CUR), the amount of revolving credit you currently use divided by the amount of revolving credit available. A credit utilization ratio below 10% will yield the biggest credit score benefit.
FICO measures the CUR of each of your credit cards as well as your overall CUR. Repaying your balances can quickly add points to your credit score.
Your debt-to-income (DTI) ratio is another important measure of your indebtedness. Lenders often look at DTI when they evaluate loan applications. 
You can calculate your DTI ratio by dividing your monthly debt payments by your total monthly gross income. DTI ratios above 36% will make borrowing more challenging. 
Length of Credit History
Another 15% of your FICO score relates to how long you've used credit. FICO tracks the average, oldest, and youngest account ages and rewards you for successfully managing your credit over long periods.
Keeping old credit card accounts open is a good idea when you're rebuilding credit. Instead of closing them, use older accounts periodically so they don't go dormant.
New Credit
Applications for new credit account for 10% of your FICO score. While prequalifying for a credit card involves only a soft credit pull, applying for a card triggers a hard inquiry that can slightly impact your credit score.
FICO reasons that frequent applications for new credit may indicate financial distress. The effect on your credit score lasts a year, and hard inquiries drop off your credit report after two years. Limiting your credit applications to one every six months will probably not affect your score.
Credit Mix
The final FICO factor, credit mix, is worth 10% of your score. FICO rewards consumers for handling a broad combination of loans and credit cards. For example, if you have a travel or cash back credit card, you'll expand your mix by getting a store credit card or a charge card.
What Are Some AMEX Cards I Should Consider After I Rebuild My Credit?
While AMEX shuns consumers with poor credit, it quickly changes its tune when you boost your score into "good" territory — a FICO Score of 670 or higher. Assuming you aren't holding a grudge against AMEX, here are a few of its top credit cards.
Blue Cash Preferred® Card

The Blue Cash Preferred® Card waives its $95 annual fee for the first year. Purchases from supermarkets and streaming services earn the highest cash back rate. New cardmembers may receive a signup bonus and a 0% intro APR on purchases.
Blue Cash Everyday® Card

The Blue Cash Everyday® Card pays 3% cash back rewards on several categories of eligible purchases and 1% on all others. The card usually offers a signup bonus and a 0% intro APR on purchases and balance transfers. This AMEX card has no annual fee.
American Express® Green Card

The American Express® Green Card charges an annual fee of $150 but no foreign transaction fee. It pays bonus points for spending on dining, travel, and transit. You'll also get limited access to airport lounges and a credit for your CLEAR membership.
American Express® Gold Card

You can own the American Express® Gold Card for a $250 annual fee. You'll receive bonus points on several types of purchases and a credit when you book a stay at a property within the Hotel Collection through American Express Travel. A signup bonus may be available.
The Platinum Card®

The Platinum Card® by American Express can be yours if you don't mind spending $695 on its annual fee. Expect a generous signup bonus and membership rewards points. The AMEX Platinum Card gives you unlimited access to the Global Lounge Collection and gold status at Marriott and Hilton hotels.
Don't Let Bad Credit Prevent You From Owning a Credit Card
Our review proves you don't need the approval of some snobby credit card company to be the owner of a perfectly good card. By using your card responsibly, you may improve your credit score significantly, perhaps to the level American Express requires before it will let you join its club. 
But by that time, you'll have your choice of fine credit cards from Chase, Capital One, Bank of America, Discover, and other top issuers. He who laughs last…
Aspire® Cash Back Reward Card & Other Resources
We hope you've found our guide "AMEX Card For Bad Credit: 7 Alternatives (Sep. 2023)" to be helpful in meeting your financial needs. To learn more about Aspire® Cash Back Reward Card, our top recommendation in this guide, be sure to visit the Aspire® Cash Back Reward Card website for full details about the offer.
Our experts rate Aspire® Cash Back Reward Card as one of the best options in credit cards for those with bad credit, giving it a 4.7/5.0 rating overall. Among its features:
Earn 3% Cash Back Rewards* on Gas, Groceries and Utility Bill Payments
Earn 1% Cash Back Rewards* on all other eligible purchases
Up to $1,000 credit limit subject to credit approval
Prequalify** without affecting your credit score
No security deposit
Free access to your VantageScore 4.0 score from TransUnion®†
*See Program Terms for important information about the cash back rewards program.
** Prequalify means that you authorize us to make a soft inquiry (that will not affect your credit) to create an offer. If you accept an offer a hard inquiry will be made. Final approval is not guaranteed if you do not meet all applicable criteria (including adequate proof of ability to repay). Income verification through access to your bank account information may be required.
† Your credit score will be available in your online account starting 60 days after your account is opened. (Registration required.) The free VantageScore 4.0 credit score provided by TransUnion® is for educational purposes only. This score may not be used by The Bank of Missouri (the issuer of this card) or other creditors to make credit decisions.
For more resources similar to this "AMEX Card For Bad Credit: 7 Alternatives (Sep. 2023)" guide, see our other popular picks for those with bad credit:
Whether you choose Aspire® Cash Back Reward Card or any other option in our credit cards category, be sure to read and understand the terms before signing up. You'll find that taking the time to fully understand credit cards is one of the smartest financial decisions you can make.
Advertiser Disclosure
BadCredit.org is a free online resource that offers valuable content and comparison services to users. To keep this resource 100% free for users, we receive advertising compensation from the financial products listed on this page. Along with key review factors, this compensation may impact how and where products appear on the page (including, for example, the order in which they appear). BadCredit.org does not include listings for all financial products.
Our Editorial Review Policy
Our site is committed to publishing independent, accurate content guided by strict editorial guidelines. Before articles and reviews are published on our site, they undergo a thorough review process performed by a team of independent editors and subject-matter experts to ensure the content's accuracy, timeliness, and impartiality. Our editorial team is separate and independent of our site's advertisers, and the opinions they express on our site are their own. To read more about our team members and their editorial backgrounds, please visit our site's About page.