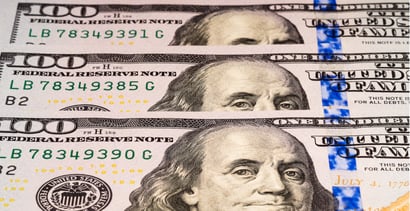 Many large banks shy away from approving $300 loans because the interest earnings on those loans aren't large enough to warrant the time it takes to complete the loan paperwork. But that line of thinking is their loss — and your gain.
If you're looking for a small loan with a competitive interest rate, you can leverage the competition among online lenders to find great deals — even if your credit score isn't the best. With the lending networks below, you can apply to multiple lenders at once. And, if you qualify, you could receive multiple loan offers to choose from.
Best Overall | Other Recommendations | FAQs
Best $300 Loan for Bad Credit Borrowers
MoneyMutual has been one of our top choices for short term loans for bad credit for a long time. The network has completed more than 2 million loans, proof that there's no shortage of opportunities for consumers to find the bad credit loan that suits their needs.
You'll fill out a short form on MoneyMutual that takes approximately five minutes to complete and reaches all of the lenders on the network.
Short-term loans up to $5,000
Online marketplace of lenders
Funds available in as few as 24 hours
Simple online form takes less than 5 minutes
Trusted by more than 2 million customers
| Loan Amount | Interest Rate | Loan Term | Loan Example |
| --- | --- | --- | --- |
| Up to $5,000 | Varies | Varies | See representative example |
You can borrow as little as $200 or as much as $2,500 on MoneyMutual, though getting approved for a small amount of $300 will generally be easier.
You may receive multiple loan offers to choose from. Each loan offer will have a unique loan term and repayment term, so study each one carefully before choosing a winner. You're under no obligation to accept any loan offer you receive.
Once you decide on an offer, MoneyMutual will direct you to the lender's website to complete the application process. Funds are then dispersed within 24 hours of being approved. MoneyMutual receives a referral fee from the lender, so you'll pay nothing to use the service.
Other Recommendations for $300 Loans
While MoneyMutual tops our list, it's by no means the only choice if you're seeking a $300 loan. The two companies below maintain similar networks and can send your application to multiple online lenders.
You can find options for an installment loan to tackle a student loan payment, an auto loan payment, or any other need you may have.
Loans from $250 to $5,000
Cash deposited directly into your account
Get money as soon as tomorrow
Bad credit OK
More than 750,000 customers since 1998
| Loan Amount | Interest Rate | Loan Term | Loan Example |
| --- | --- | --- | --- |
| $250 to $5,000 | Varies | Varies | See representative example |
CreditLoan doesn't just help connect borrowers to lenders. The network also helps educate every borrower on a wide range of financial literacy topics through its interest calculators, mortgage information, and educational blog.
Your loan amount and credit score will determine your loan term — but CreditLoan partners with lenders that specialize in bad credit loans between $250 and $5,000.
This isn't payday lending that tacks on hundreds of dollars in extra fees to a short term loan. Instead, you'll deal with a direct lender that works with your needs and financial situation to find loan products that work for you.
Short-term loan of

$100

to

$1,000

Large network of lenders
Loan decision as fast as a few minutes
Funding as soon as the next business day, if approved
| Loan Amount | Interest Rate | Loan Term | Loan Example |
| --- | --- | --- | --- |
| $100 to $1,000 | 200% - 2,290% | Varies | See representative example |
If you're looking for $300 loans that disburse quickly and you have no other place to turn, CashAdvance.com may be able to match you with a lender that can meet your needs.
This payday loan network accepts applications from people in search of emergency loans. If you can meet the income requirements set by each payday lender, you can likely qualify for a short term loan. These loans are not available in all states.
Keep in mind that these loans feature a repayment term that typically ranges between two weeks and one month. Interest rates can quickly climb to triple digits, making these loan products immensely expensive if you can't pay your debt on time.
That's why CashAdvance states on its website that "short-term loans should only be used as last resort options in situations of financial emergency. Make sure to review all terms before agreeing to a loan offer."
How Can I Get a Loan for $300?
A study conducted by The Federal Reserve found that 4 in 10 Americans do not have enough money set aside to cover a $400 emergency. That means that you aren't alone when searching for a small loan.
Most people first consider a local bank or credit union when they need a loan. While just about every traditional financial institution makes most of its money off the interest earned from loans, they often aren't eager to approve small loans.
That's because loans take time and resources to approve and fund. Most of the time, the interest earned from a $300 loan isn't enough incentive for a bank to put in the effort.
But there are dozens — if not hundreds — of online lenders that specialize in short term loans for consumers who have bad credit. And you won't have to fill out hundreds of applications to try your luck with them.
That's because loan networks, such as MoneyMutual and CreditLoan.com, partner with several of these lenders and work as referral services to connect you to the loan you need.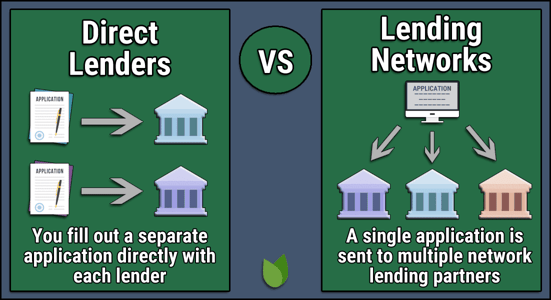 Each network allows you to complete a short application on its website. The network then sends your application to each direct lender. The lenders all have online underwriting systems that can approve or deny your application in a matter of seconds.
Each network has different lending rules. For example, MoneyMutual considers applications for loans of up to $2,500, whereas with CreditLoan, you may qualify for a loan of up to $5,000.
Loan decisions are sent to your email within five minutes. If you qualify, you may receive multiple loan offers from the network. Carefully study the offers you receive because they will each have a unique loan term, repayment term, and interest rate.
The network is not the lender. Instead, it profits when you accept a loan through one of its lenders. Each lender pays referral fees to the network for completed loans. You pay nothing to use the service.
If you decide to go with one of the loan offers you receive, the network will direct you to the lender's website to complete your loan paperwork digitally. Once you're done, the lender will wire the borrowed funds to your bank account within one business day.
How Fast Can I Get a Loan?
Just like race cars, internet service, and postal delivery, you often have to pay for speed.
Lenders don't mind getting your money to you fast. After all, they can start charging interest as soon as you receive the funds. But you may have to pay for expedited processing or delivery if you need your money right away.
Most online lenders use ACH delivery to send money to your bank account. This is the same system most employers use to direct deposit paychecks into employees' accounts.
ACH is an efficient way to get you your funds within one business day. But if you complete your loan paperwork on a weekday or holiday, you may have to wait a little longer to receive your money.
Other lenders will send the money to your account via a wire transfer for a fee. A wire transfer takes a matter of seconds, but typically costs between $15 and $50 to complete. If what your lender charges is on the high end of that scale, you may end up paying nearly $50 to receive your $300 loan a day early. Yikes.
Another option is to consider local lenders. This may include a credit union, an independent direct lender, or a payday lender. These businesses can often cut you a check for your borrowed funds as soon as you qualify.
Just keep in mind that many traditional banks aren't eager to take the time to process applications for small loans. A payday lender will happily consider your needs, but the interest rate you'll likely receive will almost certainly make it worthwhile to wait the one business day needed for an online lender to deposit your funds.
Long story short, if you need money today, you can expect to pay for expedited delivery. But if you can wait one day or more to receive your money, you will likely find many more options that cause less damage to your wallet.
If time truly isn't a factor, you can consider applying for an unsecured loan through a credit card for bad credit. Just about every credit card in this category will feature initial credit limits of between $250 and $300 or more.
And, since it's a revolving credit line, you can reuse the money on your card once you've paid off your previous charges. The interest charged will also be much lower than the interest charged on most short term loans.
When Will the Loan Need to Be Paid Back?
Your loan's repayment term will depend on the type of loan you accept. You're likely to find two main options — installment loan or short term payday loan — when researching small $300 loans.
Both vary in many ways, including how long you have to repay the debt.
An installment loan allows you to repay the debt in fixed payments over time, usually monthly, though some lenders may require a payment every two weeks.
You'll have a fixed number of months to repay your installment loan debt. The larger your loan amount, the longer your repayment term. For $300 loans, you should expect no longer than six months of payments to satisfy the debt.
A payday loan is an ultra-short-term loan that typically requires repayment within two weeks to 30 days. These loans act as a bridge to your next payday (hence the name) and often charge exorbitant loan fees because lenders know that borrowers are in a bind and need money quickly.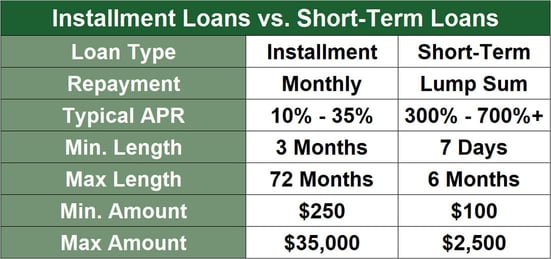 Many payday lenders will skip the credit check altogether if you meet their income requirements. If you accept a cash advance loan, be certain to pay your debt in full and on time and study your loan agreement before signing anything. Once you're officially late, a refinance cycle starts that can make it very difficult to pay off your loan without paying a tremendous added charge.
Most personal loan lenders can work with you to create a repayment schedule that works with your financial situation. Just keep in mind that the longer you extend your loan, the more money you'll spend in interest.
That's because most loans compound their interest fees on a monthly basis. Each month, you'll see more charges added to your loan to cover these fees. The faster you pay off the debt, the less you'll pay.
Do I Need a Bank Account to be Approved?
In most cases, a lender will require a bank account for approval. This makes it easier to set up recurring payments and give the lender the peace of mind needed when approving a bad credit loan.
If you're searching for $300 loans online, you'll almost always need a bank account for approval. Most online lenders operate in different cities and states. Since your lender may be several hundred — or thousand — miles from you, the business will want you to provide bank account information for payment purposes.
If you search for a short term loan locally, you may find a lender who is willing to skip the bank account requirement if you meet certain income requirements. In this case, the lender will likely tack on an extra service charge or add to your interest rate for that convenience.
You will also likely have to make in-person payments by cash or check at the lender's local office. Few banks or credit unions will consider your application if you do not already have an account at their institution.
That said, if you qualify for a bank loan, you can typically create an account in a matter of minutes by depositing the minimum balance requirements. That could complete the requirements needed to get your loan.
Keep in mind that your bank account isn't the only factor that goes into approving your loan application. You'll also need a satisfactory credit score — though many of the lenders on our list above work with borrowers who have bad credit.
Can I Get a Small Loan from a Credit Union?
Some credit unions will consider your small-dollar loan application if you've had a checking account for at least one month. These loans were part of a government program that aims to help consumers find an alternative to expensive cash advance loans.
The Payday Alternative Loans (PALs) don't have hard-set minimums but max out at $2,000. The credit union may also charge an application fee for your loan, though that fee cannot exceed the actual costs the institution incurs to process and approve your application.

Repayment terms for a PAL loan range between one and 12 months, each with a unique monthly payment requirement. Account holders can have no more than three active PAL loans during a six-month period.
Contact your credit union to see if you qualify and if it participates in the program. You can receive your borrowed funds as cash or deposited into your active checking account by the time you leave the branch after signing your paperwork.
And, since every credit union is a member-owned financial institution, they'll typically offer more affordable interest rates and flexible repayment terms.
Can I Get a Student Loan of $300?
Student loans have risen in popularity over the last decade — which has also brought about a wave of debt that prompted U.S. Treasury Secretary Steven Mnuchin to pause interest charges on Federal student loans during the COVID-19 global pandemic.
But while the government may have slowed down its educational lending, you'll find no shortage of private student loan lenders who are ready to lend you money so you can further your education.
The average American's student loan debt is more than $37,000. That means each borrower takes out large loans to pay for classes, books, lab fees, and other supplies. There aren't many lenders who look to specifically lend $300 as a student loan, but they do exist.
If you're a student who needs $300 to buy a textbook for next semester, you may find more luck if you broaden your scope and search for a $300 personal loan instead. You can use the funds from a personal loan for any purpose — including school expenses — and pay the debt back in installments.
While some student loans provide a forbearance period that doesn't require repayment until after graduation, you likely won't find many lenders who are eager to lend as little as $300 and potentially wait years to get their money back. If you can afford to repay the debt over a few weeks or months, a personal loan may be the best route to get you back to class.
You Can Find $300 Loans Easily Online
Lenders want to loan money. That's how they make a profit and stay in business. And small $300 loans aren't as risky as larger loans that most consumers seek.
That's why you likely won't have much trouble finding someone who is willing to look past your credit rating issues to approve your application and provide an affordable monthly payment. You may find multiple lenders willing to compete for your business by using the loan networks above.
Just be sure to study your loan agreement and make your payments on time. Doing so will limit how much your loan costs you, and help improve your credit score for the next time you're searching for a loan.
Advertiser Disclosure
BadCredit.org is a free online resource that offers valuable content and comparison services to users. To keep this resource 100% free for users, we receive advertising compensation from the financial products listed on this page. Along with key review factors, this compensation may impact how and where products appear on the page (including, for example, the order in which they appear). BadCredit.org does not include listings for all financial products.
Our Editorial Review Policy
Our site is committed to publishing independent, accurate content guided by strict editorial guidelines. Before articles and reviews are published on our site, they undergo a thorough review process performed by a team of independent editors and subject-matter experts to ensure the content's accuracy, timeliness, and impartiality. Our editorial team is separate and independent of our site's advertisers, and the opinions they express on our site are their own. To read more about our team members and their editorial backgrounds, please visit our site's About page.