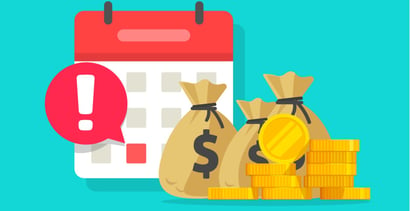 Installment loans can range from 3-month loans to 30-year mortgages. Regardless of the loan term, installment loans provide an opportunity to improve your credit and build a healthy relationship with lenders.
In fact, short term loans, like the 3-month loans we'll talk about below, may help pad your credit score and pull you out of the bad credit dog house faster. That's because you can satisfy your debt quickly with these loans and build up a succession of on-time payments and successful loan transactions.
But not every short term loan is a good financial idea. Some could sink your credit score and put you in a vicious debt cycle. Knowing the difference between the two is key when shopping for your loan.
Best Overall | Other Recommendations | FAQs
Best 3-Month Loan for Bad Credit
MoneyMutual is an online leader for consumers who have bad credit and need a short term loan. This lending network partners with lenders that specialize in bad credit loans of up to $2,500 with variable loan payment terms, including 3-month loans.
Short-term loans up to $5,000
Online marketplace of lenders
Funds available in as few as 24 hours
Simple online form takes less than 5 minutes
Trusted by more than 2 million customers
| Loan Amount | Interest Rate | Loan Term | Loan Example |
| --- | --- | --- | --- |
| Up to $5,000 | Varies | Varies | See representative example |
After you fill out a five-minute form, MoneyMutual will send your application to all of its partnered lenders. Each will use a digital underwriting program to make a decision on your application within seconds.
If approved, you may receive an email within a few minutes that contains one or more loan offers. Make sure you study each offer from every lender, as you will likely find a different loan term and annual percentage rate with each loan.
Once you've decided on a loan offer, MoneyMutual will redirect you to the lender's website. From there, you'll complete the loan paperwork and receive your borrowed funds within one business day.
Other Short-Term Loans to Consider
MoneyMutual isn't the only lending network on the block. Each lending network loan option below partners with lenders that eagerly await applications from consumers who have bad credit.
Each network offers loans of different sizes and term lengths — though just about every lender will gladly consider a short term loan candidate.
Loans from $500 to $10,000
Receive a loan decision in minutes
Get funds directly to your bank account
Use the loan for any purpose
| Loan Amount | Interest Rate | Loan Term | Loan Example |
| --- | --- | --- | --- |
| $500 to $10,000 | 5.99% - 35.99% | 3 to 72 Months | See representative example |
You'll never pay a fee to use the CashUSA.com network. Instead, lenders pay a referral fee to the network for every loan they close. In this case, you'll have access to several lenders that extend personal loans you can use for any reason you choose.
CashUSA's minimum loan length is three months, meaning you can find a short term loan that matches your needs and possibly receive your funds by the next day.
Loans from $250 to $5,000
Cash deposited directly into your account
Get money as soon as tomorrow
Bad credit OK
More than 750,000 customers since 1998
| Loan Amount | Interest Rate | Loan Term | Loan Example |
| --- | --- | --- | --- |
| $250 to $5,000 | Varies | Varies | See representative example |
CreditLoan.com lenders consider applications for loans as small as $250 — so finding a short term loan may be easier than you think. More than 33 million users have leaned on the CreditLoan network for its educational modules and tools that help them make smarter financial decisions before accepting a loan offer.
And since CreditLoan lenders are almost always online, you can submit an application whenever it's convenient for you, and you can expect an approval decision within minutes. That's truly banking on your terms.
Loans from

$500

to

$10,000

Get connected with a lender
Simple form & quick funding
Get your money as soon as next the business day, if approved
| Loan Amount | Interest Rate | Loan Term | Loan Example |
| --- | --- | --- | --- |
| $500 to $10,000 | 5.99% - 35.99% | 3 to 60 Months | See representative example |
BadCreditLoans.com specializes in just what its name says. You can access many lenders that only work with bad-credit borrowers to find installment loan products through this network.
Keep in mind that these loans may cost a bit more than a traditional loan. The network even states on its website that "short-term cash loans are somewhat expensive when compared with other loan products. They are not recommended as a long-term financial solution, and they should only be taken out for emergency financial needs."
Loans from

$1,000

to

$35,000

Large lender network
Fast loan decision
Use the loan for any purpose
Funding as soon as one business day, if approved
| Loan Amount | Interest Rate | Loan Term | Loan Example |
| --- | --- | --- | --- |
| $500 to $35,000 | 5.99% - 35.99% | 3 to 72 Months | See representative example |
PersonalLoans.com only extends personal loans (sometimes referred to as a signature loan), which means you have the freedom to choose how you use the borrowed money. You can't do that with an auto loan, mortgage, or other specialty loans.
You can find a repayment option that suits your needs for an unsecured loan of up to $35,000 on PersonalLoans.com.
How Can I Get a Loan with a 3-Month Repayment Term?
Technically, just about any loan can turn into a 3 month loan. Even if you accept a $200,000, 30-year mortgage, there's nothing stopping you from paying it off in three months (unless your loan features an antiquated early pay-off penalty).
The exception is likely a cash advance loan, which will charge exorbitant fees if you roll it over into a 3 month payday loan. That's why payday loan rollovers (and payday loans in general) are illegal in several states:

But if you're looking for a short term loan or other small loans with a competitive annual percentage rate, you may be best served by considering one of the lending networks featured above.
These networks provide access to several lenders at once. After you complete an online short form on the network of your choosing, you could receive an email with one or more loan offers in mere minutes. Most networks have specialty lenders that work with bad credit lenders to curate loans that suit their borrower's needs.
Most online lenders will consider a short term loan application because it provides a quick payoff. Just keep in mind that lenders make their money from the interest charges tacked on to loans. Since a short term loan doesn't provide much time to accrue interest, you may see a higher interest rate than normal on your loan offers.
Still, there aren't many other ways to apply for a loan from anywhere you choose, access multiple lenders, and receive your borrowed funds within one business day. That convenience is part of the reason why millions of consumers turn to these online lending networks each year.
And you'll never receive a bill or fee from any of the networks listed above. That's because they all receive referral fees from every direct lender on the network. Once you've chosen a lender, the network will direct you to the lender's website and won't take part in any other step of the lending process.
How Quickly Can I Get a Small Loan?
This depends on the type of loan you accept. Just about every lender associated with online lending networks can transfer your funds to a linked bank account within one business day. This can slow down a bit if you're applying for a loan on a weekend or federal holiday.
If you need money faster, you can consider applying for a loan through a private local lender, community bank, credit union, or through a payday lender — though the latter will likely cost you a lot more.
Local lenders can often approve your application on the spot and distribute your borrowed funds via check before you leave their office. Some lenders may keep cash on hand to pay out small loans immediately.
The same goes for a bank or credit union, which can deposit borrowed funds into your account as soon as you finish the loan paperwork.
While some credit unions take part in programs that promote short term loans for consumers who have less-than-stellar credit, you may struggle to find a short term loan option through a traditional bank. That's because these loans don't yield as much income from interest as do long-term loans, which most banks prefer.
Some online lenders can provide expedited processing and payouts for a fee. This often includes sending your borrowed money to your bank account via wire transfer, which arrives within seconds but costs anywhere from $15 to $50 to process.
Before you accept a loan, be sure to ask how fast the lender can send your funds and what fees you may encounter if you speed up the process. Since there's so much competition in the online lending space, your preferred lender may work a little faster to keep your business — if you ask nicely.
Can I Get a Loan from a Credit Union?
Bank and credit unions typically have tougher standards when considering applications — but you could find just what you're looking for at your local credit union if you can meet a few specific qualifications.
The National Credit Union Administration (NCUA) allows most federal credit unions to offer small-dollar loans called Payday Alternative Loans (PALs). These loans have a maximum loan amount of $2,000 and allow variable loan periods of up to 12 months, which means you can obtain a 3 month loan.

You must be a member of the credit union to qualify for a PAL. You must also pass the institution's lending standards and can only have up to three PALs active within a six-month period.
Your credit union may also charge a processing fee for these loans, but, by law, the fee cannot exceed the actual costs the institution incurs by underwriting and funding your loan. Some may also require you to sign up for an automatic payment program that deducts your loan payment from your bank account every month.
These loans typically have more relaxed approval standards because they're designed to help credit union members avoid payday lenders and their often expensive loan products. Not every credit union participates in the PAL program. Others may limit the number of PALs they accept each quarter.
Contact your credit union to verify its participation and availability before you make the trip to a branch to apply. If you qualify and receive approval, the credit union can deposit the borrowed funds into your account immediately, which is convenient if you're in need of quick money.
What Kind of Loan Rates Can I Expect with Bad Credit?
In short, you won't get prime rates on your short term loan if you have bad credit. But that doesn't mean you can't find good rates if you look in the right places.
Across the board, a short term loan will often have worse loan rates than a long-term loan. That's because lenders prefer loan products that can maximize their interest-earning potential. They don't make money off a 3-month loan, so they have to boost the interest rate a bit to make it worth their while.
While the average personal loan interest rate tends to hover around 9.07%, you can expect a loan offer for someone with bad credit to fall between 15% and 26% — based on how bad the credit rating is.


Other factors that will determine your interest rate will include your loan term and total loan amount. A short term loan may have a slightly higher rate than a long-term loan.
Keep in mind also that this applies only to a traditional signature loan or personal loan. If you're shopping for a loan with various payday lenders, you could potentially find interest rates that can climb into four digits if you don't pay your loan off on time.
You may also find a better interest rate with a secured loan. These include traditional products like an auto loan or mortgage or untraditional loans that include collateral.
Collateral is a valuable item you offer to a lender to secure your loan in the event of missed payments. In the case of an auto loan or mortgage, your collateral is your vehicle or home, respectively. If you stop making payments, the lender can repossess your car or foreclose on your home, sell it, and make back some of the money they have lost in the deal.
If the sales price doesn't satisfy the loan, you may still owe the lender money on top of losing your collateral. As you can imagine, lenders prefer these loans because it allows them some recourse if the worst-case scenario happens.
To promote these loans, they'll frequently offer lower interest rates with them. You'll find auto loan rates and mortgage rates are much lower than rates offered on a personal loan — especially if you have poor credit.
In some cases, a bad credit loan with collateral can have interest rates near 10%. This will depend on the lender and your credit score, but it's still better than the rates you'd get with a credit card or other traditional loan product. You may also qualify for a lower interest rate if you enroll in an automatic payment program.
Can I Get a Short Term Business Loan?
A short-term business loan is a great way for a business to get working capital when it doesn't have enough business credit history to qualify for a long-term loan or business credit card.
Most lenders understand that it's difficult to build a business credit history if you're a small operation. That's why you can often qualify for a business loan using your personal credit history. These loans often consider you as the borrower, so your on-time payments won't impact your business credit score. While that isn't an optimum scenario, it does provide an opportunity to get the funds you need to help your business.
You'll often find that the lenders in the networks above provide options for business loans using your personal credit history when researching your loan options. These loans can include varying loan terms and often allow for a short term loan with a flexible monthly payment. You typically won't find these loans at a credit union, bank, or specialized business lender since they have dedicated loan departments that only work with businesses and not with personal credit.
Your best bet to find a short term business loan is to check with an online lending network that can factor in your individual credit history when considering your request. Many such lenders can still approve applications even if you have bad credit.
That's because your business's sales and financial history can help outweigh any prior personal credit mistakes you've made. This may not be the case if you have very bad credit — such as a recent bankruptcy, repossession, or debt write-off.
Can I Get a 3-Month Loan from a Payday Lender?
A traditional payday loan is an ultra short term loan that requires repayment between seven and 30 days. That's because these loans are designed to be a bridge between paydays.
The only way to turn a payday loan (also known as a cash advance) into a 3-month loan is to roll the loan over multiple times. In short — don't ever do that on purpose.
When you accept a payday loan, you're promising to pay the loan back in one lump sum in a specified time frame. For this example, let's say that's 30 days. This loan will already charge a higher-than-average interest rate (often between 390% and 780%)
If you cannot repay the loan after 30 days, the lender will roll your loan over into a new loan — with an even higher interest rate. This continues to happen until you satisfy the debt — with very little hope of any payment assistance programs.
To highlight how expensive this can be, consider some of these horror stories. They include a consumer who took out payday loans that totaled $2,500 and ended up paying more than $50,000 in interest to satisfy the debt. Another found his $400 loan costing him more than $12,000 — which forced him to lose his apartment and become homeless.
Payday loans are so risky that most lenders share warnings on their websites that advise a would-be borrower to only use their services as a last resort. If that isn't telling, nothing is.
Can I Get a 3-Month Signature Loan with Bad Credit?
Absolutely. In fact, most bad credit lenders prefer short-term loans for new customers because it limits how much risk they take on with each loan.
Lenders that partner with the lending networks listed above all offer loan options with 3-month repayment terms. And since they're a signature loan (otherwise known as a personal loan or installment loan), you can use your funds in any way you choose.
When applying for a loan, you can specify how long you'll need to repay the debt. Depending on the lender you're working with, this can stretch anywhere from three months to six years (or longer if you're working with a mortgage lender).
Keep in mind that just about any loan can turn into a 3-month loan based on your financial situation. There's no set rule that you have to stretch your loan payments out over its full term. Even if you take out a 12-month signature loan, you can still pay off your full loan amount in three months if your finances allow you to.
In fact, it's smart to pay off any loan as quickly as you can. Every month you tack on to a loan brings more interest payments. The more months you pay, the more interest you pay.
You'll save money if you have the ability to pay your loan off in three months and still boost your credit score. While lenders want you to extend your loans — to provide them with more income — they'll look favorably at your future loan applications if you have a track record of early or on-time payments.
Find 3-Month Loans Easily Online
Obtaining 3-month loans for bad credit can be done easily online, and with recurring on-time payments, you may be able to improve your credit score. What's nice about a short term loan (not a 3 month payday loan) is that you can build up a positive monthly payment history without taking on a lot of debt. You also limit yourself to paying interest charges for no more than three months, and you can keep your loan payment generally low.
By accessing the lending networks above, you'll create a mutually advantageous borrowing relationship that can help you down the road if you're in need of a larger unsecured loan.
Advertiser Disclosure
BadCredit.org is a free online resource that offers valuable content and comparison services to users. To keep this resource 100% free for users, we receive advertising compensation from the financial products listed on this page. Along with key review factors, this compensation may impact how and where products appear on the page (including, for example, the order in which they appear). BadCredit.org does not include listings for all financial products.
Our Editorial Review Policy
Our site is committed to publishing independent, accurate content guided by strict editorial guidelines. Before articles and reviews are published on our site, they undergo a thorough review process performed by a team of independent editors and subject-matter experts to ensure the content's accuracy, timeliness, and impartiality. Our editorial team is separate and independent of our site's advertisers, and the opinions they express on our site are their own. To read more about our team members and their editorial backgrounds, please visit our site's About page.