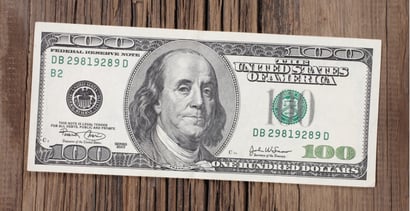 When folks with credit problems need a little extra money to get through the week, the availability of $100 loans for bad credit borrowers can make all the difference. 
Sometimes a quick, hassle-free loan of a C-note is all you need. We've got some suggestions on how to get your money today or tomorrow, without tons of paperwork or a loan committee to waste your time.
$100 Payday Loans For Bad Credit
Payday loans are a classic, if brutal, way to borrow small loan amounts without depending on your credit profile. The following two online lender networks can quickly prequalify you for an unsecured payday loan and connect you to a direct lender that can fund your request as soon as the next business day.
Short-term loans up to $5,000
Online marketplace of lenders
Funds available in as few as 24 hours
Simple online form takes less than 5 minutes
Trusted by more than 2 million customers
| Loan Amount | Interest Rate | Loan Term | Loan Example |
| --- | --- | --- | --- |
| Up to $5,000 | Varies | Varies | See representative example |
Headquartered in Las Vegas, MoneyMutual has long been our top-ranked online lender network. It works with various payday lenders that let you borrow over a short loan term despite your low credit score.
The company has been arranging online loans since 2010 and remains an ongoing success. MoneyMutual can prequalify you in seconds if you are over age 18 and earn at least $800 a month.
Short-term loan of

$100

to

$1,000

Large network of lenders
Loan decision as fast as a few minutes
Funding as soon as the next business day, if approved
| Loan Amount | Interest Rate | Loan Term | Loan Example |
| --- | --- | --- | --- |
| $100 to $1,000 | 200% – 2,290% | Varies | See representative example |
CashAdvance.com has withstood the test of time by arranging online loans since 1997. Prequalification is quick and puts you in contact with a suitable payday loan provider.
The payday lenders within its network base their unsecured loan amounts on your pay schedule and time repayment to your next pay date. You also have the option of rolling over the loan to a later pay period. You must earn at least $1,000 in monthly after-tax income to prequalify.
$100 Credit Card Loans For Bad Credit
You can get certain credit cards even with a very poor credit score. The following three can come in handy when you are short $100. You can use them to purchase gift cards, wire transfer money orders, and other cash equivalent items.
These card issuers will give you a loan approval decision in only a few minutes. Your credit line depends on your qualifications, but in all cases will exceed $100. Some cards even allow you to prequalify in seconds without harming your credit score.
Don't let a low FICO score stop you from applying – we approve applications others may not.
You don't need good credit to apply.
Just complete the short application and receive a response in 60 seconds.
When you need assistance our award-winning US-based Customer Service agents are there to help.
FICO scores are used to represent the creditworthiness of a person and may be one indicator to the credit type you are eligible for. However, credit score alone does not guarantee or imply approval for any PREMIER Bankcard® product.
| Application Length | Interest Rate | Reports Monthly | Reputation Score |
| --- | --- | --- | --- |
| 4 minutes | See Provider Website | Yes | 9.0/10 |
You don't need good credit to apply.
We help people with bad credit, every day.
Just complete the short application and receive a response in 60 seconds.
You can build or rebuild your credit: apply for a PREMIER Bankcard credit card, keep your balance low, and pay all your monthly bills on time.
Don't let a low FICO score stop you from applying – we approve applications others may not.
FICO scores are used to represent the creditworthiness of a person and may be one indicator to the credit type you are eligible for. However, credit score alone does not guarantee or imply approval for any PREMIER Bankcard® product.
| Application Length | Interest Rate | Reports Monthly | Reputation Score |
| --- | --- | --- | --- |
| 4 minutes | See Provider Website | Yes | 9.0/10 |
Earn 3% Cash Back Rewards* on Gas, Groceries and Utility Bill Payments
Earn 1% Cash Back Rewards* on all other eligible purchases
Up to $1,000 credit limit subject to credit approval
Prequalify** without affecting your credit score
No security deposit
Free access to your VantageScore 4.0 score from TransUnion®†
*See Program Terms for important information about the cash back rewards program.
** Prequalify means that you authorize us to make a soft inquiry (that will not affect your credit) to create an offer. If you accept an offer a hard inquiry will be made. Final approval is not guaranteed if you do not meet all applicable criteria (including adequate proof of ability to repay). Income verification through access to your bank account information may be required.
† Your credit score will be available in your online account starting 60 days after your account is opened. (Registration required.) The free VantageScore 4.0 credit score provided by TransUnion® is for educational purposes only. This score may not be used by The Bank of Missouri (the issuer of this card) or other creditors to make credit decisions.
| Application Length | Interest Rate | Reports Monthly | Reputation Score |
| --- | --- | --- | --- |
| 7 minutes | 29.99% or 36% Fixed | Yes | 8.0/10 |
Remember that if you can pay your balance in full before the due date, you'll avoid interest charges on purchases.
Other $100 Loans For Bad Credit
You are not limited to payday loans and credit cards when you need a fast $100 loan. Here are three thought-provoking alternatives that just may work for you.
Cash Advance Apps
Borrowers can obtain $100 to $500 from the following five cash advance apps. They all provide an alternative to a payday loan without the exorbitant interest rate and other predatory lending practices.
All these apps promise to charge much less than payday loans. In addition to their cash advance capabilities, they also provide budgeting and other tools supporting the management of small personal loans and payday loans.
Payday Alternative Loans
The predatory lending practices of payday loans prompted the National Credit Union Administration (NCUA) to create Payday Alternative Loans (PALs), a low-cost alternative from many federal and state-chartered credit unions. 

Compared with payday loans, PALs give borrowers more time to repay and cost far less (i.e., the maximum annual percentage rate is 28%). You can borrow up to $2,000 through a PAL II loan with up to a year to repay.
The PAL II program made borrowing easier by discarding PAL I's one-month waiting period for new credit union members. You can take only one PAL at a time and no more than three during a six-month period.
PALs rely on applicants' income and ability to repay rather than their credit scores. Participating credit unions may require proof of earnings. Credit unions report your PAL monthly payment activity to at least one credit reporting agency to help you build credit with responsible borrowing.
Pawnshop Loans
A fast way to borrow $100 is to hock a $200 item at a pawnshop. You may consider this a prototypical example of guaranteed approval loans. A pawnshop will offer you a secured loan at a percentage of an item's value and then charge high fees until you either redeem your pawn ticket or forfeit your property. 
If you don't redeem your ticket by a set date, the pawnshop will take ownership of the pawned item and put it up for sale. 
The best thing you can say about a pawnshop loan is that your bad credit score is irrelevant. A word to the wise: Don't pawn items that have sentimental value.
What Is Bad Credit?
The credit community denotes your creditworthiness by assigning you a score. The most popular scoring system, FICO, generally regards a bad credit score to be 580 or lower on its 300 (minimum credit score) to 850 (excellent credit score) scale. Only 1.6% of Americans have the top excellent credit score.

Bad credit stems from the mishandling of debt. Late payments and other financial missteps account for 35% of your FICO score, the single most significant factor. It's easy to ruin your credit, but it can take years to repair it. 
The path to redemption starts with always paying your bills on time and keeping your debt balances relatively low. You want to enter this path to undo the consequences of bad credit, which include limited access to loans, high fees, and high interest rates.
The three major credit bureaus (Experian, Equifax, and TransUnion) compile your credit activity and calculate your credit score using the information provided by merchants and lenders. Seriously negative items remain on your credit reports for up to 10 years and are visible to anyone who performs a credit check.
When you need a loan, you may want to first consider lenders that report your lump sum and monthly payment activity to the credit bureaus. Loan types in this category include personal loan offerings (usually with an origination fee attached), other types of installment loans, equity loans, cash advance apps, payday alternative loans, and credit card advances. 
By repaying these loans on time, you can begin to withstand a credit check and boost your credit score.
Payday and pawnshop loans do not report your payments to the credit bureaus, another reason why you want to avoid these alternatives if you can.
Can I Get a $100 Loan With Bad Credit?
Our review identifies several ways you can get a $100 loan despite having bad credit. They include:
Payday loans
Credit cards
Cash advance apps
Payday alternative loans
Pawnshop loans
Of course, you can simply borrow $100 from a friend or family member. It won't help your credit score, but the terms will probably be unbeatable.
Certain types of loans for subprime consumers are available but do not offer loans as small as $100. They include:
Small personal loan and installment loan offerings
Home equity loans 
Car loans
Private student loans
Federal student loans
Other types of secured loans
P2P loans (Person to person loans, often called P2P loans, usually start at $500.)
Note that federal student loans must, under law, report your payment to the credit bureaus. Private student loans usually do so as well.
If we had to rank the factors subprime borrowers should consider when they need quick loans of $100, we'd have to put availability first, followed by cost, funding speed, and credit reporting. However, your needs are unique and may require a different thought process. 
How Much Does a $100 Loan For Bad Credit Cost?
The cost of a $100 poor credit loan can range from nothing (possible if you borrow from a family member or friend) to a triple-digit annual percentage rate for payday and pawnshop loans. 
In the middle, you'll find loans that cost no more than 36% (about the same as bad credit personal loans), including credit card cash advances, cash advance apps, and payday alternative loans. Of these, credit card advances most closely exemplify guaranteed approval loans.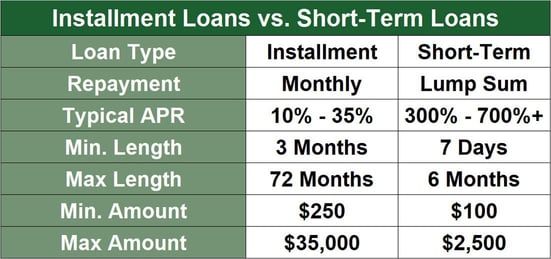 Payday loans can do the most damage when you can't repay them on time. Repeatedly rolling over a payday loan can lead to a debt spiral and even bankruptcy. Now, $100 payday loans are not likely to cause those dire consequences, but you can still avoid their punitive costs by first considering other types of loans, such as bad credit personal loans.
It's true that unsecured personal loans usually start at $200, but you may have good luck getting approved for unsecured personal loans. 
How Quickly Can I Borrow $100?
You can walk into a pawnshop with a piece of property in hand and walk out five minutes later with $100 in your pocket. It takes even less time to get a credit card cash advance — the quintessential short-term loan — from an ATM.
The other sources of $100 loans will take just a little more time to acquire. Cash advance apps and PALs can wire money to your financial institution on the same day, while online payday loans usually take at least one business day. All of these belong to the short-term loan category.
To put the timing in perspective, consider how long it takes to get a federal student loan or a mortgage. 
Consumers with bad credit can access all of the emergency loans we mention in this review. If you can wait one or two days to collect your loan, all of them should be fast enough to meet your needs.
You Can Qualify For $100 Loans For Bad Credit
When it comes to $100 loans for bad credit, you have options. On the positive side, these loans exist and are available even with a miserable credit score. Less positive are the costs, which range from high to nosebleed. 
The occasional need for a $100 loan is not a big deal. But if you find yourself constantly short of money, you may benefit from credit counseling and debt consolidation. Whichever camp you fall into, our review gives you some choices to consider. We hope you find the one that works best for you.
Advertiser Disclosure
BadCredit.org is a free online resource that offers valuable content and comparison services to users. To keep this resource 100% free for users, we receive advertising compensation from the financial products listed on this page. Along with key review factors, this compensation may impact how and where products appear on the page (including, for example, the order in which they appear). BadCredit.org does not include listings for all financial products.
Our Editorial Review Policy
Our site is committed to publishing independent, accurate content guided by strict editorial guidelines. Before articles and reviews are published on our site, they undergo a thorough review process performed by a team of independent editors and subject-matter experts to ensure the content's accuracy, timeliness, and impartiality. Our editorial team is separate and independent of our site's advertisers, and the opinions they express on our site are their own. To read more about our team members and their editorial backgrounds, please visit our site's About page.