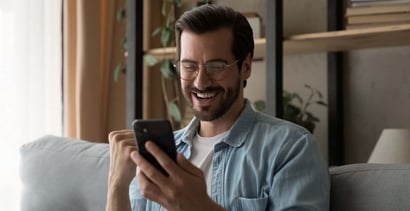 In the past few years, cash advance apps have gained popularity among employees looking to receive some of their pay ahead of time. These apps are convenient and usually free to use. But they aren't perfect and may not be available to many workers. 
We review several $100 instant loan app alternatives that may better fit your needs. They may provide a workable solution when you require a small loan.
5 Online Sources of Instant Loans
These loan networks are fast and convenient ways to circulate your small-loan request to dozens of lenders. As networks, these lenders do not make direct loans. Instead, they can find you one or more suitable lenders without charging a fee or impacting your credit score.
MoneyMutual is a cash advance provider for amounts between $200 and $5,000. You can submit its short online loan request form to get started. MoneyMutual connects you to the most appropriate lender on its network where you can finish the application process in a few minutes. The process is quick, and decisions are instantaneous. If you receive approval, the direct lender will deposit the loan proceeds into your bank account as soon as the next business day.
BillsHappen® has straightforward requirements for borrower prequalification. To apply, you submit a loan request containing your driver's license, cellphone number, bank account number, job information, and home address. BillsHappen will transfer you to a direct lender to complete the application process. The lender can approve your cash loan quickly and supply funds as soon as the next business day.
CreditLoan.com helps find a loan for consumers with subprime credit and even folks with previously discharged bankruptcies. Its minimum loan amount is $250, but it can arrange loans as large as $5,000. CreditLoan provides wide-ranging information on how to improve your chances of getting a loan and how poor credit affects loan costs.
SmartAdvances.com offers an intelligent borrowing option when you want a bad credit loan as low as $100. It insists the process is secure, safe, reliable, and fast, without hidden fees. Filling out its short loan request form takes only a few minutes. SmartAdvances will try to connect you with a direct lender willing to work with you, even if your credit is poor. 
CashAdvance.com may be able to get you a quick cash loan of $100 to $1,000. Its network of lenders quickly responds to your loan request if you meet the minimum requirements. The requirements to qualify for an online payday loan include having US citizenship, be18 or older, and have a monthly income of at least $1,000 after taxes. CashAdvance.com operates in most states.
More Alternatives to Instant Loan Apps
Consumers have several other options for quickly raising $100 or more. One or more of these may perfectly fit your needs. 
6. Credit Union Payday Alternative Loans
Some workers turn to payday advances when they need to borrow small amounts. But the fees can be astronomical, especially if you renew the loan term instead of repaying the debt within the typical one- to four-week loan term. Thankfully, the National Credit Union Administration (NCUA) developed a product called payday alternative loans (PALs) that offer a better solution to federal credit union members. 

The APRs on PALs cannot exceed 28%. Sometimes, the credit union will charge a processing fee of up to $20. Unlike payday loans, you can't roll over PALs, nor can you take more than three loans within six months.
These loans come in two variations:
PAL I. Loan amounts are between $200 and $1,000. The repayment term can extend as long as six months.
PAL II. Any loan amounts up to $2,000 are available. The repayment term can last up to 12 months.
You must first become a member of a participating federal credit union. Go to MyCreditUnion.gov to find a credit union near you. You can then open a credit union deposit account (a checking or savings account with a $5 minimum). You may get a PAL II as soon as you become a member, but you must be a member for at least one month for PAL I.
In most cases, PAL approval doesn't require a minimum credit score. Many state-chartered credit unions offer similar products with interest rates that may be lower, but the eligibility requirements may be more strict.
7. Pawnshop Loans
Pawnshops offer secured loans backed by your personal property (i.e., cameras, guns, jewelry, collectibles, etc.). You may forfeit your collateral if you don't redeem your pawn ticket before it expires. 
Pawnbrokers neither check credit nor report it. They typically lend you 30% to 50% of the item's value. Interest rate caps vary by state.
For example, Florida pawnshops can charge up to 25% monthly, but only 2.5% in California. In some states, the highest APRs exceed 300% for this type of short-term loan.
8. Auto Title Loans
Borrowers can use their paid-off vehicles as collateral for a title loan. You must assign the car's title to the lender to secure this type of loan. The process is relatively quick — it often requires no more than an hour to complete. 
Title loans feature enormously high interest rates, short repayment terms, and low payouts. Typically, title lenders let you borrow 50% to 85% of your vehicle's Blue Book value. More rarely, lenders will lend as little as 20% of the value of your car or as much as 120%. Many auto title loans end up in default.

Normally, title lenders do not pull credit nor report your payments to the major credit bureaus. But they often calculate your debt-to-income ratio to verify your ability to repay the loan. Also, they usually confirm the vehicle's value and your proof of clear title. 
If a title lender approves your loan, it will place a lien on your car in case it needs to repo it for non-payment. In the worst case, the lender can seize and sell your vehicle to recover the money it loaned you.
Few title lenders reveal their loan-to-value ratio standards. It's a good idea to speak with multiple lenders to see how much they'll offer you and what interest rates and fees they charge.
9. Sell Items Online/Garage Sale
Many folks have items lying around the house that have outlived their usefulness but could be valuable to others. Consumers can sell those unwanted goods online or through garage sales. With luck, you can quickly raise $100 or more without creating debt.
There are many online selling sites, including Amazon Marketplace, Listia, eBay, and Etsy. These sites vary significantly in the commissions they charge, how quickly they work, and the honesty of buyers. It's best to research your choices before committing to one.
Yard sales are easy to organize if you have a suitable space. Transactions are usually cash-only.
10. Loans From Friends and Family
Many folks rely on family and friends when they need a small loan. These loans are often easy to obtain but may become harder to get if you repeatedly ask for them. The repayment terms and interest rate (if any) can be pretty lenient, and credit reporting is irrelevant. 

While these loans seem ideal for small amounts, they may threaten your relationship if you fail to repay the lender. Consider the emotional risk these loans impose before asking a loved one for money.
How Do Instant Loan Apps Work?
Instant loan apps can offer a modest cash advance against your next paycheck. When you sign up, the app will examine your direct deposit history and outgoing bills to ensure you have enough money to repay the cash advance. Service from a cash advance app is usually low-cost or free. 
If you qualify, most apps can deposit the cash advance to your checking account in minutes. The app will deduct the advanced amount from your linked checking account when your next paycheck arrives.
A cash advance app limits the amount you can borrow. Most begin between $100 and $250, though many allow you to increase your limit over time.
Cash advance apps are handy if you qualify for them. But even the best cash advance apps don't lend large amounts, and you must repay the loan all at once. If you need a larger loan and would rather repay in installments, consider instead a personal loan from an online network, such as those reviewed above. The networks also arrange small payday loans that provide a cash advance you repay on your next payday.
These networks are loan-finding services rather than direct lenders. When you fill out a short loan request form, the services find one or more lenders willing to work with you. 
If you agree to a loan offer, the lender will deposit the proceeds in your bank account as early as the next business day. You then repay the loan according to its terms. 
How Do I Apply For an Online Loan?
Online lending networks prequalify your loan request before connecting you to a direct lender. You apply by submitting a loan request form with information about yourself, your income, and your expenses. The online loan services prequalify your request by checking the following items:
Age: You must be at least 18 years old.
Citizenship: You must be a US citizen or resident.
Income: You must collect a specified minimum income or benefits each month.
Bank account: You must have an active bank or credit union account registered in your name.
Identification: You must provide a Social Security number, bank account details, valid email address, and work and/or home phone numbers.
Assuming you prequalify successfully, a loan-finding service will match you to one or more direct lenders and either provide you with a list of links or transfer you to a lender's website. You then submit any additional required information and receive a final loan decision containing the amount, interest rate, and repayment terms.
Read the loan agreement carefully, as you want to avoid any unexpected fees or other surprises. If everything checks out, you can e-sign the deal and receive the money in your bank account, usually by the next day.
What Are the Pros and Cons of Small Online Loans?
Small online loans from the lending networks are payday loans. They have several advantages and disadvantages you should carefully consider before borrowing.
Pros
Speed: Filling out a loan request form takes very little time. The networks search for lenders — so you don't have to — by forwarding your information to suitable loan providers. All these steps save you time, as you don't have to search for a willing lender or enter the same information repeatedly. You can complete the loan transaction in a few minutes and receive your money as soon as the next business day. 
No credit check: This type of loan does not require a credit check. This means the loans are available for folks with all sorts of credit, or no credit at all. It also means that the loan won't impact your credit score.
Small amounts available: You can usually borrow between $100 and $1,000 through an online payday loan. If you need more, you can apply for a personal loan instead.
Quick repayment: The due date is when you receive your next paycheck or government benefits payment. You repay all at once, not in a series of installments. If you have trouble paying on time, you can roll the loan over to the next pay period for an extra fee.
Before taking an online payday loan, you must weigh its costs against its advantages.
Cons
As you'll see, payday loans are appropriate in only limited circumstances:
Cost: While personal loans (and credit card cash advances) top out at 36%, payday loans have three- or four-digit APRs. The actual cost can be manageable because the loan amount and duration are small. But beware of escalating expenses when you roll over a loan, as it may lead to a costly debt spiral.
You need a job or government benefits: Payday lenders require proof that you will receive a paycheck or government check, within the next one to four weeks, of sufficient size to repay the loan. 
Large amounts unavailable: If you need more money, you can use the lending networks to find an installment loan provider. Some can offer loans as high as $50,000, but lousy credit reduces the maximum amount available.
Doesn't build credit: Payday loans don't require credit reports from the major credit bureaus, so they don't send the payment information to the bureaus. Therefore, payday loans do not build credit. If you want to rebuild credit, consider an online personal loan instead.
Only you can decide whether the pros outweigh the cons.
Do Payday Loans Guarantee Approval?
Payday loans are easy to get if you meet the eligibility requirements we enumerated earlier. But no loan guarantees approval, and a payday lender may turn down your request for various reasons, including age, citizenship, income, and housing costs.
Nonetheless, payday loans remain popular despite their high cost precisely because they are so easy to get. Millions of workers in this country would rather use payday loans to help them cover expenses until their next paycheck.
Are Online Payday Loans Legit?
The well-established and reviewed payday loan networks are quite legitimate. They receive scores from Trustpilot, the Better Business Bureau, and other trusted independent voices. 
The Consumer Financial Protection Bureau enforces rules to prevent lenders "from attempting to collect payments from people's bank accounts in ways that may rack up excessive fees or deviate from what they expect." These protections apply to short-term loans, such as payday and title loans, as well as high-cost installment loans.
According to these rules, lenders must reasonably determine whether a borrower can afford to repay a loan. It also prohibits a payday lender from attempting to withdraw payment from a consumer's account after two consecutive payment attempts have failed unless the lender receives additional authorization.
When considering an online payday loan, make sure your state licenses the lender. This due diligence is essential because hackers steal data and masquerade as legitimate payday lenders. The BBB warns of the following red flags:
Email addresses from Gmail, Yahoo, and other general-purpose accounts
Fraudsters posing as debt collectors without written confirmation of the debt
Requests for payment via gift cards, wire services, or apps
Requests for payments that the lender will supposedly immediately return to "test" a borrower's banking information
Requests for upfront money to "guarantee" the loan
Unsolicited phone offers for payday loans
Don't take chances with no-name lenders. Be sure to vet any person or company offering to lend you money.
Why Are Instant Cash Apps Problematic?
The well-known instant cash apps are relatively safe for occasional use. But they may risk your finances if you become over-reliant on them. These apps are not a permanent solution to chronic cash shortfalls. While some are fee-free, others do charge a fee for an advance. 
A $5 fee on a two-week, $250 advance may seem harmless enough. But the APR for such a loan is 52.14%, which isn't cheap. Repeatedly relying on cash advance apps can impact your budget and financial health. 
We understand that even at their worst, cash advance apps are cheaper than payday loans. But the point is that you shouldn't rely on frequent loans from any source. Instead, you are better off addressing the reasons for a chronic cash crunch and what steps you can take to avoid the problem.
You Have Alternatives When You Need $100 Or More
Our review of $100+ instant loan app alternatives shows you have many options when you need a small loan. Anyone can occasionally run short of cash and need a loan to tide them over until the next paycheck. But borrowing is not the solution to a constant shortfall of funds. 
If you are always short of cash, consider hiring a nonprofit credit counselor. They can help you establish a workable budget and may be able to arrange a consolidation loan when appropriate.
Advertiser Disclosure
BadCredit.org is a free online resource that offers valuable content and comparison services to users. To keep this resource 100% free for users, we receive advertising compensation from the financial products listed on this page. Along with key review factors, this compensation may impact how and where products appear on the page (including, for example, the order in which they appear). BadCredit.org does not include listings for all financial products.
Our Editorial Review Policy
Our site is committed to publishing independent, accurate content guided by strict editorial guidelines. Before articles and reviews are published on our site, they undergo a thorough review process performed by a team of independent editors and subject-matter experts to ensure the content's accuracy, timeliness, and impartiality. Our editorial team is separate and independent of our site's advertisers, and the opinions they express on our site are their own. To read more about our team members and their editorial backgrounds, please visit our site's About page.