If you're searching for information on how to get a credit card, this article will walk you through some of the basics and provide information and recommendations for those with little to no credit history.
In the late 19th century, department stores and hotels began to issue charge coins to their loyal customers. These small coins, which could be slid onto key rings, allowed merchants to easily copy a customer's store account number onto a sales slip.
While the modern plastic credit card looks little like its coin-shaped ancestor, its purpose remains remarkably similar: to make it easier to purchase items without cash.
Today's cards have a number of improvements over those of yore, however, like the ability to be used just about anywhere. Getting a credit card can seem intimidating, especially if you have poor credit or lack an established credit history. Tons of great options are out there, though, and can be found with a little help.
Get Approved | Bad Credit | No Credit | Secured Cards | Free Cards | How Long
1. How Can I Increase My Chances of Getting Approved?
The approval process for any credit card can be made easier with a few simple steps. The first step is knowing where you stand. Pull your credit report and check your credit score. Lenders will be doing the same thing, and you'll want to know what they will see.
If you find any errors on your credit report, such as an incorrect balance or unfamiliar account, now is the time to fix them. Don't put this step off, as those errors could be dragging down your score. Use a good credit repair company to make the process as smooth as possible.
Once you know your situation, you can determine your credit card options. You'll have the most success getting approved for a credit card when you already know you meet the criteria. If you aren't sure if you'll qualify, use the issuer's website to check for pre-approval (also called pre-qualification) offers. This is an easy way to see which cards you'll likely be approved for, without impacting your credit with a hard pull.
2. Can I Still Get a Credit Card with Bad Credit?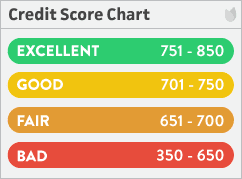 When your credit score dips below 650, most lenders will consider you to be a subprime borrower. Having bad credit is no reason to feel defeated before you've even begun, however. A lot of options are out there, including lenders who specialize in credit cards for those with poor credit.
While you'll need to make peace with the higher-than-average interest rate that will likely come with your subprime card, you'll still want to shop around for the best rates. Some cards will even come with perks, such as cash back rewards and free credit score tracking. Check out our top three credit cards for bad credit below.
Easy application! Get a credit decision in seconds.
Build your credit history – Fingerhut reports to all 3 major credit bureaus
Use your line of credit to shop thousands of items from great brands like Samsung, KitchenAid, and DeWalt
Not an access card
| Application Length | Interest Rate | Reports Monthly | Reputation Score |
| --- | --- | --- | --- |
| 5 Minutes | See issuer website | Yes | 9.0/10 |
Checking account required
Fast and easy application process; response provided in seconds
A genuine Visa card accepted by merchants nationwide across the USA and online
Manageable monthly payments
If approved, simply pay a program fee to open your account and access your available credit
Reports monthly to all three major credit bureaus
| Application Length | Interest Rate | Reports Monthly | Reputation Score |
| --- | --- | --- | --- |
| 9 Minutes | See terms | Yes | 8.5/10 |
Get the security and convenience of a full-feature, unsecured Visa® Credit Card – accepted at millions of merchant and ATM locations nationwide and online
Reporting monthly to all three major credit reporting agencies
Perfect credit not required for approval; we may approve you when others won't
Easy and secure online application
If approved, pay a Program Fee and you can access the $300 credit limit (subject to available credit)
| Application Length | Interest Rate | Reports Monthly | Reputation Score |
| --- | --- | --- | --- |
| 10 Minutes | See Terms | Yes | 8.0/10 |
+See More Credit Cards for Bad Credit
3. What Are My Options if I Have No Credit History?
Those who lack an established credit history will find it almost as difficult to get a new credit card as those whose credit histories are poor — but not quite. With no proof that you'll be a bad borrower, some companies are willing to trust that you'll be a good one, and offer you a good credit card deal.
Your First Credit Card
Getting your first credit card can be one of the hallmark occasions that mark your 21st birthday — assuming you did a little homework. Apply to carriers that advertise cards specifically for people with limited credit, or take advantage of the pre-qualification offers you see online or in the mail to increase your odds of approval.
If you're having trouble getting approved for your first credit card, you may need to look to a parent or friend with good credit to help give your borrowing history a jump-start. Try becoming an authorized user on his or her account to establish yourself in the credit world, then reapply after a few months.
Student Credit Cards
Obtaining your first credit card can be easier if you are a college student who is actively enrolled in classes, as many of the major carriers will offer student credit cards aimed at first-timers heading off to school. The best student credit card deals will come with cash back offers and student-centered perks, such as bonus rewards for good grades.
Student credit cards are likely to come with relatively low limits, but should come with a competitive interest rate. Make sure to pay the card off every month, on time, to start developing a positive credit history.
4. Do I Need a Secured Credit Card?
When all else fails, you may need to try a secured credit card. Unlike a traditional unsecured credit card, a secured card requires you to put down collateral in the form of a cash deposit. Your deposit is kept in a secured account and is only used if you default on your debt. It will be returned to you if you close the account (with no balance) or upgrade to an unsecured card.
Secured credit cards are typically the easiest to qualify for because they're backed by your deposit. The limit on your secured card will be equal to the amount you deposit, so if you plan to carry a balance, consider a larger deposit to keep your utilization rate low.

Credit lines available from $200 to $5,000. Super Low Fixed 9.99% interest rate on purchases - with no penalty rate.
No minimum credit score requirements. We invite all credit types to apply. No processing or application fees.
Helps strengthen your credit with responsible card use. Reports to three national bureaus.
Fast, easy application process. Choose your credit line and open your Personal Savings Deposit Account to secure your line.
| Application Length | Interest Rate | Reports Monthly | Reputation Score |
| --- | --- | --- | --- |
| 8 minutes | 9.99% | Yes | 9.0/10 |
No Credit History or Minimum Credit Score Required for Approval
Monthly Reporting to all 3 Major Credit Bureaus to Establish Credit History
Credit Line Secured by Your Fully-Refundable Deposit of $200 -- $2,000 Submitted with Application
Nationwide Program though not yet available in NY, IA, AR, or WI
*See Card Terms
| Application Length | Interest Rate | Reports Monthly | Reputation Score |
| --- | --- | --- | --- |
| 8 minutes | 9.99% (V) | Yes | 7.5/10 |
Receive Your Card More Quickly with New Expedited Processing Option
No Credit History or Minimum Credit Score Required for Approval
Quick and Complete Online Application
Full-Feature Platinum Mastercard® Secured Credit Card
Nationwide Program though not yet available in NY, IA, AR, or WI
*See Card Terms
| Application Length | Interest Rate | Reports Monthly | Reputation Score |
| --- | --- | --- | --- |
| 9 minutes | 19.99% (V) | Yes | 7.5/10 |
When comparing secured credit cards, make sure to look for the card offering the best interest rate. You'll also want your provider to report to all three credit agencies so you can get the most out of your credit building.
5. Are There Any Free Credit Cards?
The old saying "nothing in life is free" certainly holds true for most credit cards. Whether it's balance transfer fees, annual fees, cash-advance fees, or interest charges, just about everything you do with your credit card is going to cost something.
The only real way to achieve the dream of a no-cost credit card is to combine the right card with the right habits. To start, paying your card balance in full each month can eliminate the largest chunk of the cost of credit card ownership — interest charges. You'll also want to avoid using pricey services like cash advances.
Next, you'll want to use a card that does not charge an annual fee. These cards are available in a wide range of categories and for most credit scores. The flip side to no annual fee, though, is the card will likely come with fewer perks than those that charge for the privilege of ownership. Granted, cards with annual fees are mainly available to those with good to excellent credit because of the extra perks they offer.
Another type of credit card some people consider "free" is the 0% introductory APR card. Generally, for those with mid-prime credit scores (650+), these cards offer 0% interest on new purchases for some initial term length — typically 6-12 months, though some are longer. Watch out for high interest rates once the initial terms wear off.
6. How Long Does it Take to Get a Credit Card?
The time it takes to get a credit card will vary depending on your situation. In many instances, getting approval for a credit card when you apply online will take just a few minutes, as many companies use a computerized system.
If you are on the edge of qualifying for the card, or something in your application was questionable, the computer may indicate your application needs to be reviewed by a human. In this case, it may be several days or even upwards of a week before you know if you were approved.
Once you are approved for the credit card, it's just a matter of waiting for the card to come in the mail. Unlike the 19th century shoppers awaiting a new credit coin, your card won't take weeks or months, but mere days to reach your mailbox. Don't forget to call the number provided to activate your card.