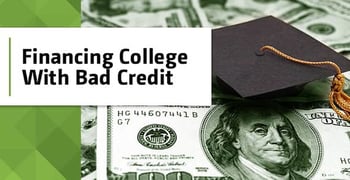 Whether you're an adult looking to go back to school or a parent funding your children's education, it's important to know that you have options, even if your credit is bad. And while it may present a slightly more challenging path when financing college — bad credit does not spell the end for hopes of earning that degree.
You can finance large expenses like tuition and housing with student or personal loans, as well as with money from scholarships and grants. Smaller expenses, like books and uniforms, can be handled by a credit card designed for consumers with poor credit. Let's take a closer look at the resources at your disposal.
1. Student Loans Lessen the Financial Burden of Education

There are two main types of federal student loans, and both can be accessed by filling out a Free Application for Federal Student Aid (FAFSA):
Stafford Federal Loans
These college loans are intended for undergraduate and graduate students enrolled at least half-time in an eligible institution. Subsidized Stafford Loans are based on financial need, and the government pays for accrued interest during school attendance.
Unsubsidized Stafford Loans are not based on financial need and the government doesn't pay the accrued interest. Both are to be repaid in 10 to 25 years and provide a six-month grace period after completing your studies before repayment begins.
Perkins Loans
These college loans serve the same student base as Stafford Loans, but the lender is the college or university rather than the federal government (which nevertheless guarantees these loans). These loans have specified maximum awards, provide a nine-month grace period and must generally be repaid within 10 years. Perkins Loans are rarer and harder to get than are Stafford Loans.
You can also apply for a private student loan from a bank, credit union, employer, or another source.
2. PersonalLoans.com Has Multiple Loan Offers
Another way to pay college costs is through a personal loan, available from well-regarded websites like PersonalLoans.com. The benefits of this website include:
Loans from

$500

to

$35,000

All credit types welcome
Large lender network
Available in all 50 states
Use the loan for any purpose
Fast loan decision and funding (as soon as 1 business day)
| Loan Amount | Interest Rate | Loan Term | Loan Example |
| --- | --- | --- | --- |
| $500 to $35,000 | 5.99% - 35.99% | 3 to 72 Months | See representative example |
Think of PersonalLoans.com as your one-stop-shopping website for any kind of personal loan you need.
3. Credit Cards Give You a Chance to Raise Your Credit Score
Credit cards are a great way to finance the books, equipment, supplies, and other incidental costs that occur when attending college. Credit cards for college students that are particularly well-suited for folks with a poor credit history are available from Credit One.
Easy application! Get a credit decision in seconds.
Build your credit history – Fingerhut reports to all 3 major credit bureaus
Use your line of credit to shop thousands of items from great brands like Samsung, KitchenAid, and DeWalt
Not an access card
| Application Length | Interest Rate | Reports Monthly | Reputation Score |
| --- | --- | --- | --- |
| 5 Minutes | See issuer website | Yes | 9.0/10 |
Checking account required
Fast and easy application process; response provided in seconds
A genuine Visa card accepted by merchants nationwide across the USA and online
Manageable monthly payments
If approved, simply pay a program fee to open your account and access your available credit
Reports monthly to all three major credit bureaus
| Application Length | Interest Rate | Reports Monthly | Reputation Score |
| --- | --- | --- | --- |
| 9 Minutes | See terms | Yes | 8.5/10 |
Get the security and convenience of a full-feature, unsecured Visa® Credit Card – accepted at millions of merchant and ATM locations nationwide and online
Reporting monthly to all three major credit reporting agencies
Perfect credit not required for approval; we may approve you when others won't
Easy and secure online application
If approved, pay a Program Fee and you can access the $300 credit limit (subject to available credit)
| Application Length | Interest Rate | Reports Monthly | Reputation Score |
| --- | --- | --- | --- |
| 10 Minutes | See Terms | Yes | 8.0/10 |
+See More Credit Cards for Bad Credit
Even if you have bad credit, you can establish a Credit One credit line of $300 to $500 dollars. Credit One cards offer several other benefits, including cashback rewards, the ability to personalize the card's design, automatic reviews to increase your credit line, and free credit score tracking. These are a few of the best credit cards for college students with poor credit.
You can use a credit card to raise your credit score, because these issuers report your card activity to the three credit bureaus.
4. Grants & Scholarships Based on Merit or Financial Need
Scholarships and grants are available to many students based on merit or financial need. However, one of the biggest problems in getting a scholarship or grant is to find out what is available and appropriate for your circumstances.
Websites such as Fastweb, Finaid.org, and Scholarships.com cut through all the confusion by providing valuable information about scholarship and grant opportunities, college comparisons, and other forms of financial aid, all based on a short profile you submit to the website. These websites are unusually robust in offering a wealth of information and search facilities – if the financial aid is out there, these two websites will find it.
Final Thoughts
There are a variety of solutions to paying for college despite bad credit. You can apply for federal or private student loans. Lenders like PersonalLoans.com provide access to loans even when your credit is bad. So do some credit cards, such as Credit One. You can also use websites like Fastweb.com and Scholarships.com to secure grants and scholarships. Even if you have bad credit, you have choices to fund your education.