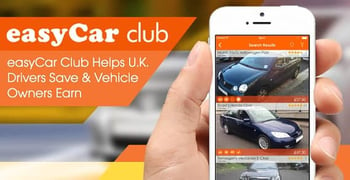 Experts share their tips and advice on BadCredit.org, with the goal of helping subprime consumers. Our articles follow strict
editorial guidelines
.
In a Nutshell: easyCar Club, a U.K.-based peer-to-peer car rental marketplace, allows automobile owners to make money renting out their vehicles to drivers looking for a cheaper alternative to traditional rental agencies or seeking to avoid the large costs associated with vehicle ownership. Its 50,000 members, 5,000 vehicles, and optimal marketing tools for owners position easyCar Club as a leader in the trending "sharing economy."
Consumers throughout the world are shifting the paradigm on how goods and services are exchanged. Startups like Airbnb and Uber have grown exponentially in popularity and within record time, showing us just how quickly things are changing.
Leading consultants at Oliver Wyman recently forecasted that the global "sharing economy" will expand to 12 times its current size, reaching $300 billion within nine years. The United Kingdom is right at the forefront of this charge, as 70% of its residents have used a sharing economy platform to make or save money.
This is great news for companies like easyCar Club, a U.K.-based peer-to-peer rental marketplace that allows automobile owners to make money by renting their vehicles out to drivers looking for a cheaper alternative to traditional rental agencies and vehicle ownership.
Insurance and maintenance can cost upwards of £1,200 ($1,591) per year, so drivers seeking to avoid these costs benefit greatly from easyCar Club's economically priced rentals. Vehicle owners and drivers are joining the so-called sharing economy revolution every day by signing up for easyCar Club's free membership.
Though a number of peer-to-peer car rental companies have sprouted up in the U.K. recently, easyCar Club is the only one that offers insurance from the country's leading insurer, more than 10 years experience in the car rental industry, and optimal marketing tools. Those facts coupled with its 50,000 members and 5,000 rental cars is why easyCar Club is increasingly becoming the leading choice for car rental in the sharing economy.
"Our aims for car owners are to empower people to maintain vehicle ownership and provide a better way of monetising underused cars (rather) than to sell them," Richard Laughton, CEO of easyCar Club said. "For renters, we want to support local communities with car access and make rentals more affordable and convenient."
Your Idle Vehicle Is an Untapped Revenue Source
There are more than 31 million cars currently on the road and over 31 million people currently employed in the United Kingdom, according to studies by Statista and the Office for National Statistics. Odds are pretty good that most of these workers aren't driving their cars for the duration of their work days. Some automobile owners are partnering with easyCar Club and taking advantage of their vehicles' idle time by renting them out to drivers across the country.
Owners are able to earn more than £3,000 ($3,978) per year in easyCar Club's peer-to-peer rental market. This is huge for people looking to make some additional cash while they're at work or not using their vehicle on the weekends.
"From the car owner's perspective, easyCar Club is free to use and their earnings on average cover the upkeep of their car, which really helps reduce the cost of ownership, Richard said. "Our owners earn an average of £1,500 (1,989) per year, while the cost of insurance, MOT (Ministry of Transport) and maintenance typically comes to £1,200 ($1,591). We have owners who've earned far higher than that average, though, with many topping £3,000 ($3,978) per year."
Joining the club as an owner is easy and only takes about 10 minutes. To sign-up, owners' cars must first meet eligibility requirements:
Cars must be less than 15 years old at the time of joining
Mileage must be below 120,000
Replacement value must be £40,000 ($53,040) or less
Most makes and models in the U.K. are accepted, with a small number of exceptions
Beyond these items, the only other major requirements are that vehicles must be a roadworthy car or van that is serviced regularly.
Once signed up, easyCar Club will provide owners with a free starter kit and best practices on how to maximize the revenue they earn by renting their vehicle. Once up and running, all owners have to do is select the times their vehicle is available to rent, and drivers will begin seeing it in search results.
Owners don't have to worry about who's renting their cars. easyCar Club verifies the identities of all their drivers and ensures that their past driving records are clean before granting them membership. Drivers and owners are also encouraged to rate each other after a rental. This way, owners can base their decisions to rent to drivers on the ratings of other owners.
There are three pricing options that car owners can follow when they sign up:
Market Pricing – Looking at the value and "class" of a vehicle, easyCar Club checks which prices they're currently offering on their conventional car hire brokerage (easyCar.com) and assigns a price accordingly. This takes into account seasonality, day of week, length of rental, and location.
Market Pricing Tracker – This is similar to Market Pricing, but in this case owners can choose to add a discount/premium depending on how they personally value their car
Custom Pricing – This allows owners to choose their own price: per hour, day, week, or month.
The guidance from easyCar Club is to start with the market pricing with a slight discount (so as to make up for a lack of previous bookings and reviews on the club), which can then be increased as you gain experience. Owners can switch between different types of pricing options whenever they like.
Join the Club: Renting a Car Doesn't Have to Break the Bank
For drivers looking to save money on rentals or seeking to avoid the cost of owning a car altogether, easyCar Club's peer-to-peer marketplace is a great option.
"Using easyCar Club makes real financial sense for people who want to use a car occasionally, rather than investing in buying your own car," Richard said.
"Research shows that people only use their cars an average of 4% of the time, and the cost of insurance, MOT and maintenance comes to around £1,200 per year. Add in the cost of finance and depreciation, and you find that buying and maintaining a car is usually far more expensive than renting someone else's car through easyCar Club for the times that you actually need it."
Membership for drivers in easyCar Club is free and signing up is easy. To be eligible for membership, drivers must:
Be aged between 21 and 70 years old
Be a current U.K. resident with a U.K. residential home address
Hold a valid driving license from the U.K., EU/EEA, the U.S. or one of the following countries: Andorra, Australia, Barbados, BVI, Canada, Falkland Islands, Faroe Islands, Gibraltar, Hong Kong, Japan, Monaco, New Zealand, Republic of Korea, Singapore, South Africa, Switzerland, and Zimbabwe
Have held a full valid driving license for a minimum of 12 months (or 36 months, if you're under 25)
Have no more than 6 points (CU, SP & TS prefixes only) on your license (U.K. license holders) or no more than 2 speeding convictions (non-U.K. license holders) and no bans or disqualifications
Not have any non-motoring criminal convictions
Have had no more than two fault claims in the last 3 years, or no more than 3 non-fault and fault claims in total in the last 3 years
Once signed up, drivers can browse the more than 5,000 vehicles on the site. All of easyCar Club's vehicles are competitively priced and high quality. Owners will either meet with drivers at the start of the rental to hand over the keys and give a rundown of the vehicle, or keys can be picked up from a secure key safe near the vehicle.
The benefits of easyCar Club aren't only open to those born in the UK. UK residents from abroad can also take advantage of the savings offered by easyCar Club, as driver's licenses from the European Union, United States, and 17 other countries are accepted.
easyCar Club Is Helping Drive the "Sharing Economy"
Without a doubt, the days of the sharing economy are upon us, and easyCar Club is surely at the forefront of shaping the way forward.
"We expect to see continued growth with micro-entrepreneurs who are using the service to make additional income through renting out their cars," Richard said. "We have one owner who used his easyCar Club income from one vehicle to purchase two more cars, and he now rents out all three. He has made £4,000 in six months."
Richard notes that easyCar Club's aim is to provide everyone access to rentals and new cars, and future partnerships will work to push that goal ahead. "We're launching a partnership with Wheels4Sure.com, a company which helps make new cars available to people who have a proven income but struggle to access mainstream credit for a variety of reasons," he said. "We will be helping people to rent out their leased cars, to make extra money when they are not in use and help cover the cost of the lease."
easyCar Club plans to continue to grow across the U.K. and extend its reach internationally in the next 12 to 18 months. This ensures that easyCar Club will have a nice chunk of the $300 billion the sharing industry is forecast to generate within the next nine years.
"One of the things that's great about easyCar Club is its flexibility — car owners can use it on a relatively casual basis to make connections in their community, or as more of a home business," Richard said. "We have a great mixture of casual owners who help out local renters and are keen to promote sharing, alongside micro-entrepreneurs who are driven to make the most of their assets in a more focused and professional way."