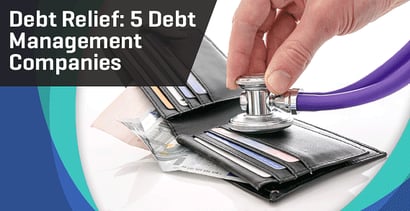 In college, my roommate was addicted to fast food; she loved its ease, and its caloric goodness — but her waistline wasn't really a fan. To combat the problem, she embarked on a series of diets, though nothing seemed to work for long. As an outsider, it was plain to me that her problem was not the particular diets — though some of them were obvious nonsense — but rather, her lack of discipline.
She would stick to one of these diets for a couple of weeks before inevitably reaching her breaking point and racing to the nearest drive-thru window for the greasy goodness she craved. Without the dedication to embark on a significant lifestyle change, she was never going to defeat her fast-food demons.
As with my roommate's journey to attain her ideal weight, reaching a debt-free state can require a lot of financial discipline, and an overhaul of your financial habits. A good debt management company can take charge of your debt and establish a plan to get you back on track and debt-free.
Read on to see our top five picks for debt management companies to consider, or use the menu to learn more about debt management and how to compare companies. Our debt management 101 section provides an overview of when to when to consolidate, settle, or manage your debt and we'll explore secured versus unsecured debt.
Debt Management Companies | Debt Management 101 | Important Considerations
5 Expert-Rated Debt Management Companies
When you've done the research and determined that debt management is the best solution, it's time to pick the right debt management company. Our experts have rated and reviewed five great companies to get you started.
Requires $10,000 or more in credit card debt
Free, no-obligation debt analysis
Specializes in credit card and medical debt
Also handles debt from personal loans, private student loans, lines of credit, and collections
Does not handle IRS, utility, federal student loans or mortgage debt
Long-term program to relieve debt over 24-48 month period
| Better Business Bureau | In Business Since | Free Consultation? | Reputation Score |
| --- | --- | --- | --- |
| A+ | 2009 | Yes | 9.5/10 |
National Debt Relief is our top-rated offer because it is one of the largest and most reputable debt relief companies in the country, offering its customers financial education and one-on-one customer service. See its 9.3 out of 10 rating (based on 2,100+ reviews!) on Trustpilot.
2. Consolidated Credit Counseling Services
This offer is currently not available.
| Better Business Bureau | In Business Since | Free Consultation? | Reputation Score |
| --- | --- | --- | --- |
| N/A | N/A | N/A | N/A |
Consolidated Credit is proud to share it's helped more than 5 million people conquer their debts through 20 years of personalized strategies, making it our second-best choice for debt management services.
Below are our runners-up — visit each one to make an informed decision based on your specific goals and what each of these services brings to the table.
100% confidential, no-obligation consultation
Specializes in unsecured debts over $10,000
In business since 2000
Options for debt settlement, consolidation, and tax debt
Get a 100% free, personalized savings estimate from a debt professional
| Better Business Bureau | In Business Since | Free Consultation? | Reputation Score |
| --- | --- | --- | --- |
| (No Grade) | 2000 | Yes | 9.0/10 |
Toll-free assessment: 1-855-299-9573
Minimum $10,000 in debt required
Learn about your debt relief options
AFCC accredited member
Resolve debts in as little as 24 to 48 months
$5 Billion in debt resolved – #1 in America
| Better Business Bureau | In Business Since | Free Consultation? | Reputation Score |
| --- | --- | --- | --- |
| A+ | 2002 | Yes | 9.5/10 |
5. DebtBenefit.com
This offer is currently not available.
| Better Business Bureau | In Business Since | Free Consultation? | Reputation Score |
| --- | --- | --- | --- |
| N/A | N/A | N/A | N/A |
Having trouble deciding? Keep reading to learn more about the types of debt relief and what to consider when choosing a debt management company.
The Wide World of Debt Relief
At one time, the main way out of debt for anyone was bankruptcy — liquidate everything and start over again. While it may seem like a good way to eliminate some or all of your unsecured debts, beware: filing for bankruptcy can sink your credit score by hundreds of points. Bankruptcies are also sticky; they stick to your credit report for up to 10 years and have to be declared on certain employment and government forms — for life.
Your best bet is to find an alternative to bankruptcy — but which one? Debt settlement is not the same as consolidation, and debt management is its own story. Start by knowing which option fits your needs.
When to Consolidate, Settle, or Manage Your Debt
If the biggest issue you face in your current debt situation is the pressure of high interest rates, then you may just need debt consolidation. In consolidation, you pay off all of your existing debts with a single new loan — one with a much smaller interest rate. The process simplifies your payments (you pay one lender instead of several), but is really only useful if you can get a good rate.
If you don't qualify for a better rate or have a particularly large debt, one route may be debt settlement. In this process, a debt settlement company determines an amount they believe your lender is likely to accept to clear your debt. You make monthly payments into a managed escrow account until this amount is reached, then the settlement company approaches your lender. If they reach an agreement, the funds go to the lender and your debt is considered paid.
Debt management is the full-service option; many management companies can help you consolidate or settle your debt. However, they can also work directly with your current lenders to establish a payment plan that will allow you to pay back your debt and repair your credit. The management company will often negotiate lower interest rates and smaller monthly payments, ensuring the plan is maintainable. The process also involves speaking with a credit counselor who can help you make smarter financial decisions.
Secured vs. Unsecured Debt
Your options for debt relief will rely heavily on the types of debt you carry. In general, your debt will either be considered secured or unsecured.
Secured debts are pretty much what they sound like — debts that have been secured, usually with some sort of collateral. Your mortgage and auto payments are secured debts; if you default on the debt, the lender can take ownership of your collateral to recoup losses.
Unsecured loans have no such assurances built in, so if you default on an unsecured debt, the lender has to work the legal system to get its money back. Credit cards are the primary source of unsecured debt, though some types of medical bills and installment plans also qualify.
Important Considerations
Not all debt relief solutions are right for every situation, and not all debt management companies are the same. It is important to make sure you know everything you can about the company you choose and any agreements you enter into with them.
How to Compare
When choosing a debt management company, there are many important factors to take into account, including reputation and services. Here are a few general considerations when comparing debt management companies:
Fees: Some companies may charge an initial setup fee, though many offer free consultations; others charge a monthly service fee.
Nonprofit Status & Accreditation: A company's status as a nonprofit, its standing with its trade organizations, and reputation with the BBB can all be good indicators of its legitimacy and ethics.
Debt Limitations: While there are some debt management companies that will take on any debt, most will require you to meet a certain minimum amount — usually around $10,000 or more.
Types of Debt: While most debt management companies will only work with unsecured debt, some may accept limited secured debts. There may even be variation in the types of unsecured debts they're willing to handle.
Education/Counseling Services: The resources available to you for credit counseling and general debt education can make or break your management program. Financial knowledge is financial power.
In the end, choosing the right debt management company comes down to knowing exactly what you need, and then doing your research. Never enter into a debt management program unless you feel comfortable with the company.
Words of Caution
While there are a number of options for finding relief from debt, none of them are without consequences. First off, it takes a lot of time and energy to complete a debt settlement or management program. The process can take 24-60 months to complete, and requires complete dedication; missing even a single payment can cancel the entire agreement. Additionally, there will likely be limitations on getting new credit cards or loans during the program's duration.
There are also credit score ramifications; while not as severe as those endured during bankruptcy, debt settlement can have an important impact on your credit report. Even debt management can have credit implications, especially if your management company fails to make your payments — another important reason to find a reputable company.
Achieve a Healthy Financial Life
It's never too late to take charge of your choices and start making healthy lifestyle changes. Even my college roommate managed to ditch her drive-thru addiction and adopt better habits; the last time I saw her, she had taken up CrossFit and was in fantastic shape.
The right debt management company can help you make the changes you need to achieve a healthy financial life, and become debt-free. They'll help you achieve and maintain new habits designed to shed that extra debt — for good.
Advertiser Disclosure
BadCredit.org is a free online resource that offers valuable content and comparison services to users. To keep this resource 100% free for users, we receive advertising compensation from the financial products listed on this page. Along with key review factors, this compensation may impact how and where products appear on the page (including, for example, the order in which they appear). BadCredit.org does not include listings for all financial products.
Our Editorial Review Policy
Our site is committed to publishing independent, accurate content guided by strict editorial guidelines. Before articles and reviews are published on our site, they undergo a thorough review process performed by a team of independent editors and subject-matter experts to ensure the content's accuracy, timeliness, and impartiality. Our editorial team is separate and independent of our site's advertisers, and the opinions they express on our site are their own. To read more about our team members and their editorial backgrounds, please visit our site's About page.