Whenever my old roommate and I would take a trip together, we would clash over the best way to pick a restaurant. While she was all in favor of just randomly choosing — she felt they all had an equal shot of being good — I was more of the do-a-little-research mentality. After all, if they have an equal chance to be good, they have an equal chance to suck, too.
When it comes to the subprime credit card market, borrowers may be inclined to use my roommate's method to select a new card. If they're all going to have the same high rates and fees, why bother researching?
While many cards geared toward those with bad credit will have similar downsides, they all have their own qualifications and perks that may make one a better fit than another. One example is the Credit One Bank Visa credit card, which stands apart from some of the competition by offering cash back rewards. And Credit One reviews reveal a card well-suited for the subprime credit card market. Below, we'll take a closer look at the Credit One card as well as some other worthy options to consider.
How to Apply | Benefits | Considerations | Top 5 Alternatives
Applying for a Credit One Credit Card
Applying for a Credit One card is done in two stages, with the first differing only by delivery method. To start, users go through a pre-qualification process to make sure they meet the minimum requirements for the card. The pre-qualification process does not affect your credit and can be completed through the link below.
See if you Pre-Qualify without harming your credit score
Track your progress with free online access to your Experian credit score, terms apply
Looking to rebuild credit? We report to the major credit bureaus monthly
Accounts are automatically reviewed for credit line increase opportunities
Make paying your bill easier with the ability to choose your payment due date, terms apply
Stay in-the-know with customizable account alerts via email and text
Receive 1% cash back rewards on eligible purchases, terms apply
Enjoy peace of mind with $0 Fraud Liability
| Application Length | Interest Rate | Reports Monthly | Reputation Score |
| --- | --- | --- | --- |
| 8 minutes | 19.49% - 25.49% Variable | Yes | 9.0/10 |
If you've already received a pre-approval letter in the mail, you can skip this initial step by entering the approval code on your letter here.
Once pre-qualified, you will fill out a full credit application and agree to an official credit check. In most cases, responses take only a few minutes, but may take longer under some circumstances.
The Best Reasons to Get a Credit One Card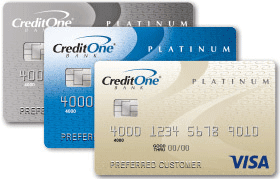 Credit One Bank credit cards are designed specifically for subprime applicants, so the best reason to get one is to rebuild your bad credit. Responsible use, including limited purchasing and full, on-time payment every month, can help rebuild credit, as Credit One will report to all three credit agencies.
The Credit One Bank Visa is also an unsecured card, so you won't need to put down a deposit in order to receive credit. Additionally, the Credit One Bank Visa offers 1% cash back on all of your purchases. This is an unusual perk for a subprime card, as most geared toward bad credit users don't offer any rewards.
Considerations for the Credit One Bank Card
Because the Credit One Bank Visa is geared toward subprime borrowers, it will be easier to qualify for with bad credit than some other cards. However, this also means the terms are not going to be great. Expect to see a relatively high APR, especially if your credit score is particularly low.
You may also want to consider making multiple payments throughout the statement cycle, as, unlike most prime credit cards, Credit One starts charging interest as soon as you make a purchase. Keep in mind you can only make four payments per statement cycle.
You'll also see your first annual fee as soon as you activate the card, with the amount dependent on your individual offer. After the first year, the annual fee will be charged to your card in monthly installments, so keep an eye out and pay them promptly.
5 Alternative Credit Card Options for Bad Credit
While the Credit One card is a solid contender in the subprime credit card market, it isn't the only option. Here are our expert's top five picks for credit cards for those with bad credit.
+See More Credit Cards for Bad Credit
Build Your Credit, Not Your Debt
While it may be tempting to use my old roommate's method at decision-making and just select a credit card at random — don't. Unlike a bad meal, it can take months, or even years, to recover from a bad credit decision.
However, no matter which method you use to select your next credit card, always, always, always pay it off in full every month. Carrying a balance, especially on a high-interest subprime credit card, will only make it more expensive, and much harder to maintain good credit-building behavior.