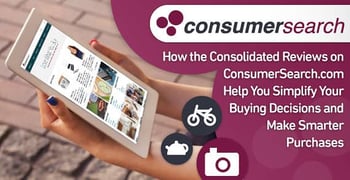 Experts share their tips and advice on BadCredit.org, with the goal of helping subprime consumers. Our articles follow strict
editorial guidelines
.
In a Nutshell: Whether you shop in stores or online, chances are you rely on product reviews to help you make the best purchase and get the best deal. For many, though, sifting through the review chaff to find the trustworthy morsels can be a pain in the neck. ConsumerSearch.com consolidates the most reliable product reviews from all over the Web, then analyzes the results to produce the most accurate consensus possible, providing both the best product overall, and the product with the best value. Each complete product report also includes a detailed Buying Guide, laying out the features that you should look for — and which ones are all marketing hype. ConsumerSearch not only helps take the guesswork out of finding the products with the best reviews, but they make it simple to find the features you are most looking for — and that fit your budget.
I remember a time, long ago, before the Web was World Wide and the internet was in our pockets, when the sweet, discordant sounds of dial-up serenaded us as we hopped online. It was a time when more people wrote letters than they did emails, phones only made phone calls, and books came on paper.
Back then, when you wanted to buy a product, you turned to your family and friends for advice. If you didn't personally know anyone with the experience you needed, you relied on your friendly neighborhood store clerk, who always seemed to have an opinion on the best products to be had and the best deals in the store.
Over the years, as retailers and their products have moved online, so, too, have the shopping masses — and they have brought their opinions with them. Over time, the internet became flooded with product reviews (and the sites that housed them). Soon, the influx of new voices began to muddy the waters, until, one day, we woke to find ourselves in the giant mess that is the modern review space.
Really, trying to find any sort of consensus among the plethora of product reviews can be like finding two identical needles in, well, a needle stack. To make matters even worse, companies have caught on to the purchase power tied to the review and have started planting their own — fake — needles in the stack.
"Now, with large sites like Amazon, you have the problem where companies are basically hiring people to write reviews for them," said Carl Laron, a Senior Editor for review consolidation site ConsumerSearch.com. "Often, it's based on experience which reviews are legitimate and which ones look really shaky."
Started in response to Founder Derek Drew's own trouble finding reliable product reviews online, ConsumerSearch cuts through the review mess, and filters the good information from the bad. Through in-depth research and analysis, the site consolidates the cacophony of voices into the most accurate product reviews possible, based on the most reliable and unbiased reviews available online.
"The issue is, who do you trust? How do you know which review sites are accurate or credible? That's the genesis of ConsumerSearch," explained Carl. "Our methodology is, basically, reviewing the reviewers."
The Most Credible Reviews Available — All in One Place
As anyone who has ever visited an online forum can tell you, there's very little consensus on the internet. For product reviews, it can be nearly as bad, especially when both the good and the bad reviews need to be taken with the proverbial grain of salt. Weeding through the nonsense could take hours or days — or minutes, if you use ConsumerSearch.
"We're basically the shortcut," said Carl. "Rather than someone having to spend all that time, themselves, to read all the reviews and try to figure out which products they want — we essentially do that research for them."
The site covers over 200 types of products, in categories ranging from home and garden to computers and electronics. While the site doesn't contain reviews for every item ever made, they have just about anything the average consumer needs.
"There are products that, quite honestly, most consumers just aren't going to be interested in. We also want to weed out the bottom products that are pure junk. So, we basically want to look at products that are good performers at good values, and also good budget picks."
According to Carl, it can take anywhere from two days up to a full week to compile a ConsumerSearch product report, due to the extent of their research. They take thoroughness seriously.
"Our research process starts with an overview of all of the available resources that are out there," Carl described. "We judge review sites based on their credibility, their expertise, their track record — things like that. There are a lot of low-quality sites out there that don't add any information. Then, we rank the reviewers."
It's not just experts or individual reviewers; the team also looks at user review sites such as Amazon. "We also include user reviews sites, which are largely retail sites at this point," said Carl. "At one time, there were a lot of independent sites, but those have dropped in quality in recent years."
Once they've scoured all the possible review sources, the team does the really heavy lifting: finding commonalities in the mass of online opinions to determine the best product overall, as well as the best product for the budget conscious.
"We put everything together, then try to find a consensus between experts and users as to which products are really the best products and the best values," Carl explained. "Our final review recommendations are then based on what that consensus is."
The real key to the work done by the ConsumerSearch team? It's done by the team. "Our content is 100% human-created," stressed Carl. "We don't scrape other sites; we have a live human being look at each review, and make the judgments themselves. There are just too many variables."
Buying Guides Teach You How to Determine the Best Product for Your Budget
Of course, as the team at ConsumerSearch knows, finding the right reviews to listen to is only part of the product review battle. For many consumers, the flood of information can make them unsure of which features they even need the product to have.
"A lot of times, when people start shopping — if someone doesn't know a product area, they don't even know the right questions to ask," said Carl. To help combat the problem, the team includes a detailed Buying Guide with every product report.
Each Buying Guide includes a rundown of the most important features for a particular product to most consumers, so shoppers can make their own educated comparisons and never pay for a feature they don't need. The guides also include a number of questions consumers should ask themselves during the process to help clarify which features are most important.
"What we hope to do with the buying guide," Carl said, "is, one, try to point out what actually matters when you're looking at a product. And two, open up some questions a buyer should ask themselves to help them figure out what they actually need. You're sometimes buried under an avalanche of manufacture claims, and need to determine which ones really matter, and which ones are just marketing hype."
Sure, it's great that your new tent has a USB port — but does it keep the rain out?
"There are also things that sometimes people just don't think about," added Carl. "In a personal example, I was looking at a coffee maker for myself, and I realized the type of coffee maker I was looking for — I didn't have enough clearance from the countertop to the cabinet."
Eliminate Buyer's Remorse with ConsumerSearch
While I may still occasionally yearn for the digital days of yore, I have long since traded in my dial-up modem for the gloriously high speeds of broadband, and my phone is smarter than the average bear. Unfortunately, embracing the conveniences of the modern world also means embracing the downsides — like store clerks who don't have a clue about the products they sell.
For product reviews and recommendations, we must now follow the masses online — and we follow the smart masses to ConsumerSearch. Perhaps one of the last places online where reviews are judged and consolidated by people, not programs, ConsumerSearch, and the team behind it, is making it easier for millions of people to shop smarter.
"It's fun to find the great products. It's also fun to find the ones that aren't so great — and warn people about them," said Carl. The team at ConsumerSearch practices what they preach, often picking up the very items they've recommended to others. "We really do become advocates of the products we review. I'll finish a report and think, 'I really want to go out and buy this now, because it actually is that good.'"